Dell Technologies announced new VxRail systems running on VMware vSphere version 8. The organization also introduced updates to its APEX portfolio.
The recent introduction of VMware vSphere 8 prompted various data center infrastructure vendors to launch compatible systems, such as Data Processing Units (DPUs). The programmable processors should bring higher application performance and efficiency in data center and network environments.
Dell Technologies is introducing a new range of VxRail systems that run VMware vSphere 8. DPUs are part of the new systems, which should provide better performance for applications, networking and lower costs. The systems also support the latest version of storage architecture VMware vSAN (version 8).
The VxRail systems are more compact than older versions, making them easier to position in edge locations like factories and hospitals.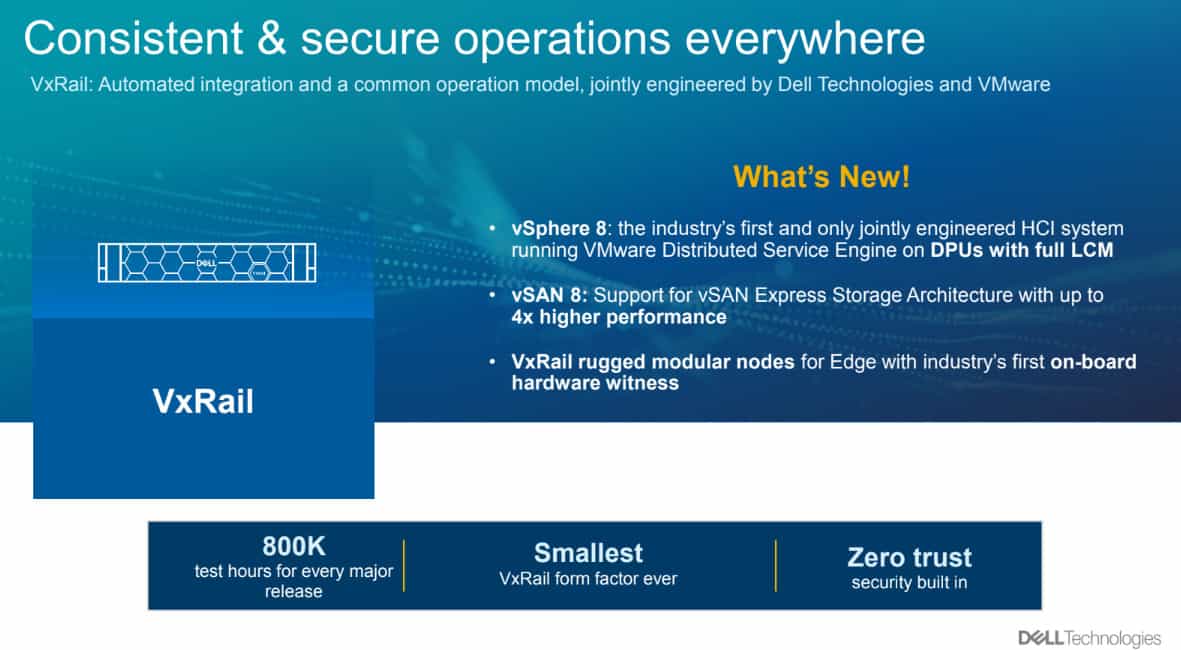 APEX Updates
In addition to physical hardware systems, Dell Technologies announced new VMware solutions for Apex, its IaaS service. APEX Cloud Services with VMware Cloud are able to support managed VMware Tanzu Kubernetes Grid services. This allows developers to more easily develop container-based applications through the interface of VMware vSphere.
Furthermore, APEX Private Cloud and APEX Hybrid Cloud now offer compute power-only options that should bring more flexibility. The services allow customers to independently scale their compute power and storage resources.
VxRail Systems for AI
Dell Technologies also announced the Dell Validated Designs for AI – Automatic Machine Learning service. The service includes hyper-converged VxRail systems configured for running AI development software, such as H20.ai and Nvidia. According to Dell Technologies, the service allows users to view and create new AI models up to 18 times faster.
The new Dell VxRail systems will be available later in the year.