IBM acquired Red Hat in order to become the No. 1 hybrid cloud company. With the integration of Red Hat Ceph and Red Hat OpenShift Data Foundation, IBM is taking the next step in this effort. This integration should ensure that a uniform storage architecture can be used from edge-to-core-to-cloud.
With IBM's acquisition of Red Hat, a few things were immediately made clear. Red Hat remains an independently operating company. It will keep its own CEO and product portfolio. For IBM, OpenShift would become the basis for everything it would develop around (hybrid) cloud. In other words, the two companies would use OpenShift as the development and deployment platform for hybrid cloud applications.
Integration of Ceph and ODF logical next step
With the above in mind, today's announcement is quite a logical one. If IBM and Red Hat are already sharing a platform for applications anyway, it also makes sense to tighten relationships on storage. Today's announcement is more than pulling the two divisions closer together, by the way; IBM is fully incorporating Ceph and ODF. So it will no longer be Red Hat Ceph Storage, but IBM Ceph. ODF will be integrated with IBM Spectrum Fusion, which we talked about in a previous article.
The idea of today's announcement is that IBM is filling gaps in its portfolio with this. It can now offer software-defined storage for all possible components of a modern infrastructure. With Ceph, for example, it can now offer hyperscaler storage. The merger of ODF and Spectrum Fusion represents the merging of two container storage technologies. This should provide a solid boost to this component within IBM. On the other hand, Ceph now becomes more widely available. Within Red Hat, it was focused only on OpenShift and OpenStack.
Part of growth strategy, not consolidation
With the transition of Ceph and ODF to IBM, those at Red Hat also follow suit. Brent Compton, Senior Director for Red Hat Storage, emphasized during a briefing we had that this is not at the expense of jobs. It's really the intention, according to him, to actually grow. The go-to market for these products will also go entirely to IBM. Here Compton does want to send a very clear message to existing Red Hat customers. Existing OpenShift, Ceph, and OpenStack (ODF) storage customers can continue to simply turn to Red Hat to renew licenses and make other purchases. And customers who buy Red Hat OpenStack will always get Ceph storage with it as well.
Compton then also makes the following promise: "Everything [Ceph and ODF, ed.] will remain 100 percent open-source and development will be 100 percent upstream-first." In addition, IBM will assume so-called Premier Sponsorship of the Ceph Foundation. Members of that foundation will ensure the development of the Ceph open-source project.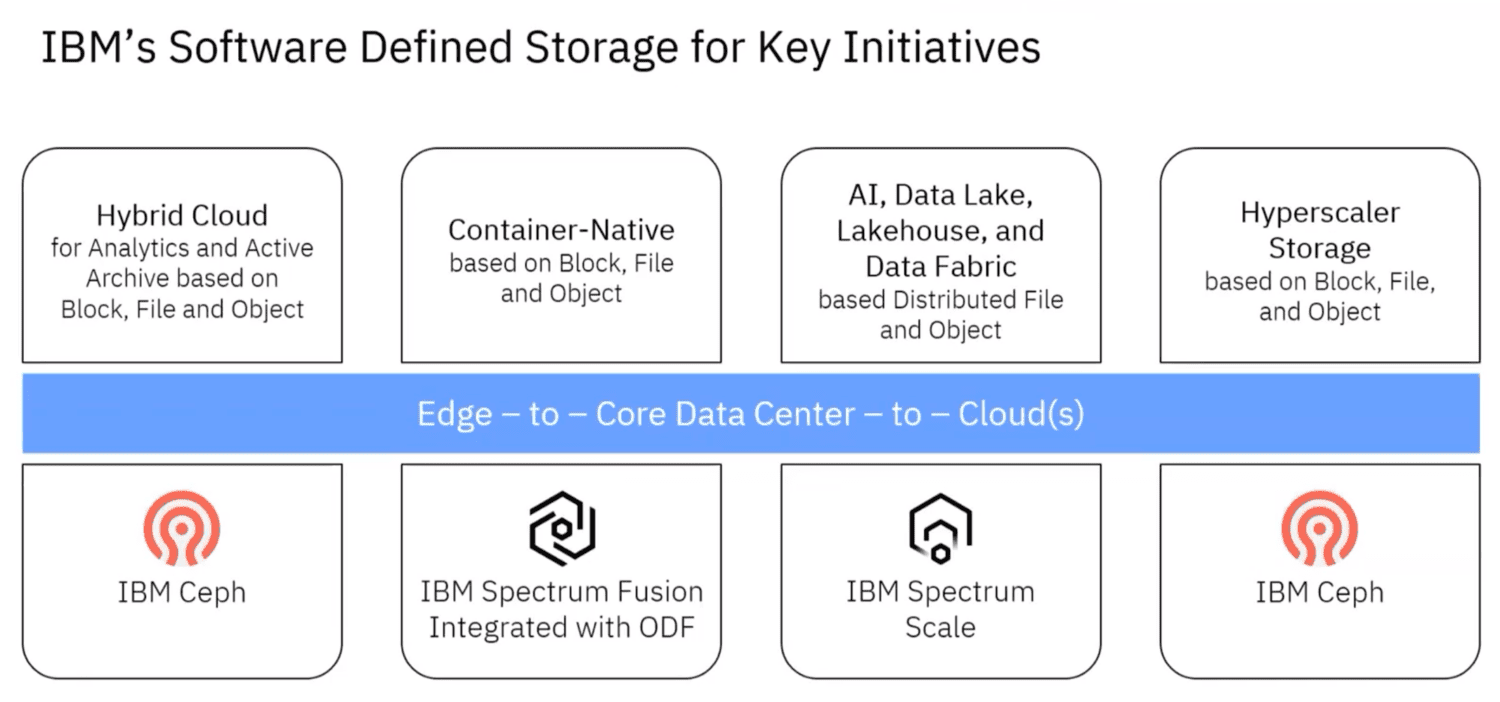 For Scott Baker, the CMO of IBM Storage, the merger is one that focuses on applications rather than operations. According to him, it is becoming increasingly clear that it is about hybrid applications, not necessarily about operations or architectures. This also means creating the environment for that. That is not obvious in a hybrid world. With today's 'acquisition' of Red Hat Storage, that is now possible, at least when it comes to storage. That is, the underlying (software-defined) architecture for the so-called edge-to-core-to-cloud is now the same everywhere. In addition, you also get a consistent offering of data services, for example in the area of data protection.