The GSMA board is meeting urgently to discuss what to do with the Mobile World Congress. A decision may be made today as to whether or not to cancel the MWC. Nokia announced today that it will not participate in the exhibition.
Yesterday we already explained in a blog that the 2020 edition of the Mobile World Congress is hanging by a thread. So many large companies have already cancelled that it doesn't really make sense to continue.
Furthermore, we receive reports and we see reports in other media that a lot of vendors still have doubts about their participation. Deutsche Telecom was one of the big doubters and has confirmed to Reuters that they will cancel their attendance. Earlier today, AT&T and Sprint already announced that they would not participate. As a result, five major telecom providers have already dropped out, and given that the board of the GSMA consists of top people from telecom providers, it is clear that a large number of members are not in favour of continuing with the event.
Nokia and Ericsson are the cornerstone of MWC
Globally, there are three established parties developing mobile network technology for mobile networks. For a network mast you can contact three parties: Huawei, Nokia and Ericsson. The entire Mobile World Congress relies more or less on these three parties, two of which are definitely not coming. This is a major drain on resources and explains the urgent meeting of the board.
Other media position the MWC as a smartphone event, but that is only a small role of this congress. The MWC is mainly about network technology, where top people from providers socialise and watch how they are going to build their next mobile network (5G). Which providers they want to use for this, which solutions there are. Which software optimisations they can do with certain vendors. There are also a lot of deals being made. The smartphones that are presented there are mainly aimed at enticing telecom providers to include them in their product range.
Domino effect is a fact, complete cancellation closer and closer
The complete cancellation of the Mobile World Congress is getting closer and closer as the list of companies that cancel is getting longer and longer. There is a domino effect, because one company after another cancels, while the United States still has to wake up. The empty spaces in the halls are large and difficult to fill in such a short period of time. The question is also what the added value of the event is, now that so many parties are not there. In Hall 2 and 3, where the largest stands are located, the vacancy rate has now risen to 30 to 40 percent.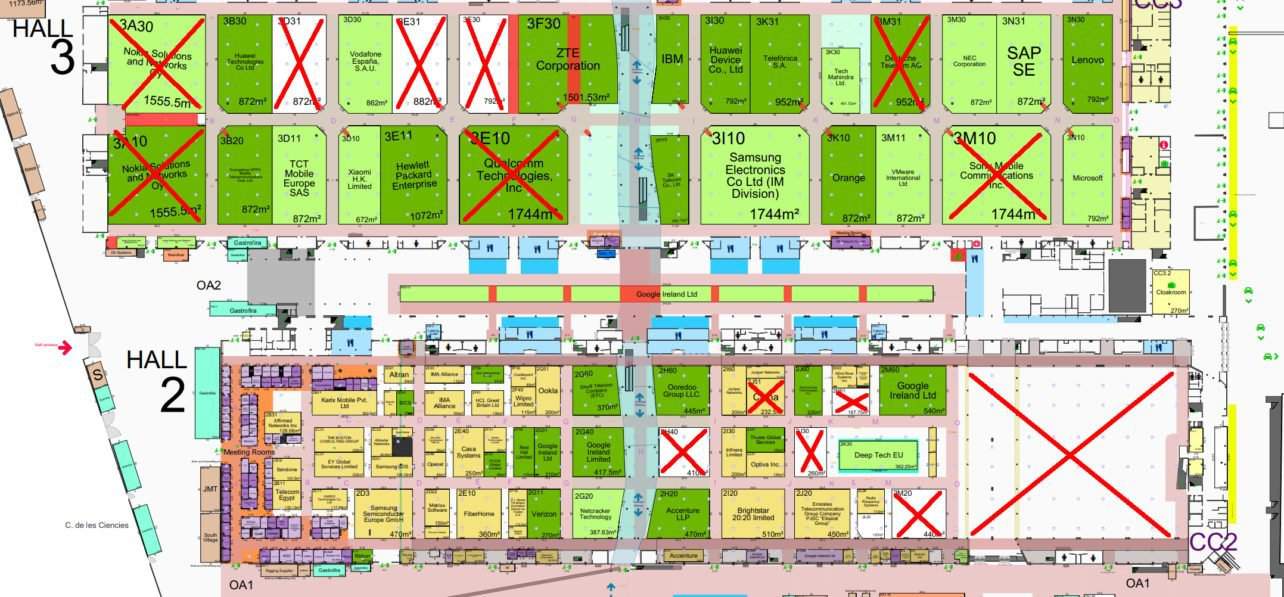 The reason for the cancellations is still the same: companies do not want to expose their staff, partners and customers to an increased risk of contracting the Corona virus.
What is striking, is that in the coming weeks, there will be more large events where parties do not seem to cancel their attendance. For instance, there is an RSA conference in San Francisco where the entire cybersecurity market is present, with over 40,000 visitors. At the beginning of March there will be the famous Auto Salon in Geneva, with 700,000 visitors. Maybe, because less attendees are from China, the risk and fear might be smaller. The Mobile World Congress itself normally attracts over 100,000 visitors.