Google introduces a new Chrome extension that gives users more information about ads. The extension shows how many ads are loaded on a web page, which advertisers are active and what user data is used to display personalised ads.
With the new extension, Ads Transparency Spotlight, Google hopes to provide more transparency about which ads users see and why. The new extension uses a new API called Ad Disclosure Schema. With this API, advertisers can communicate how their ads work.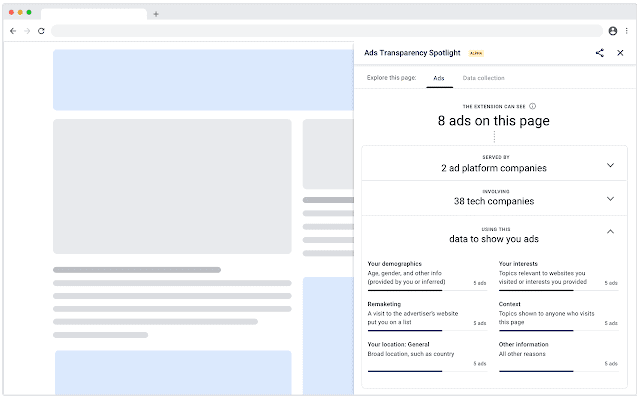 The new extension displays information about the number of ads visible on the specific webpage, a list of advertisers behind the ads and the reasons why users see those specific ads. Personalized ads are based on a combination of several factors:
Age, gender and other information.
General location (country and city) and specific location.
User interests (websites visited and other information).
By visiting a specific website, the user is added to a marketing campaign.
Other information and topics that each website visitor gets to see.
In addition to direct advertisers, the extension also lists other companies in the advertising industry that are responsible for matters such as analytics and tracking scripts on web pages. Google links to each company's privacy policy which states what user data they collect and how they store that data.
Increased transparency
Ads Transparency Spotlight is part of a wider Google initiative to make advertising more transparent and to regain user confidence. The company started to phase out third-party cookies last year and introduced a built-in ad-blocker in Chrome.
Just last week, Google presented the Trust Token API to address the lack of third-party cookies. The technology behind these cookies was used to track users with extreme accuracy over the internet, but these cookies were also used to combat fraud and bots. The new API generates unique crypto keys for each user which prevents advertisers from tracking the user but still allows websites to determine whether it is a bot or a real person.