French company Thales plans to buy (parts of) Atos, a cybersecurity business dealing with IT consultancy. The potential $3 billion deal is a move by Thales to test the political determination for consolidating France's cybersecurity defenses.
Thales is Europe's largest defense electronics company. Its adviser, Centerview Partners, has approached several private equity firms, including Bain Capital, to find out if there could be a joint offer to complete the deal in a move that will see Atos broken up.
According to sources that spoke to Reuters, Thales would acquire the big data and cybersecurity business (BDS) while the private equity funds would take the remaining IT services operation.
No official comment from Atos
Thales said it is in talks with Atos over the potential takeover in a statement. With CEO Patrick Caine at the helm, Thales said it is possibly interested in cybersecurity assets that could be up for sale.
Atos did not get back to Reuters when requested to comment. Shares in Atos went up 10.32% at 1515 GMT after the Reuters report came out, while Thales stock went down by 3%. Atos' share price has gone down to its lowest level since mid-2012.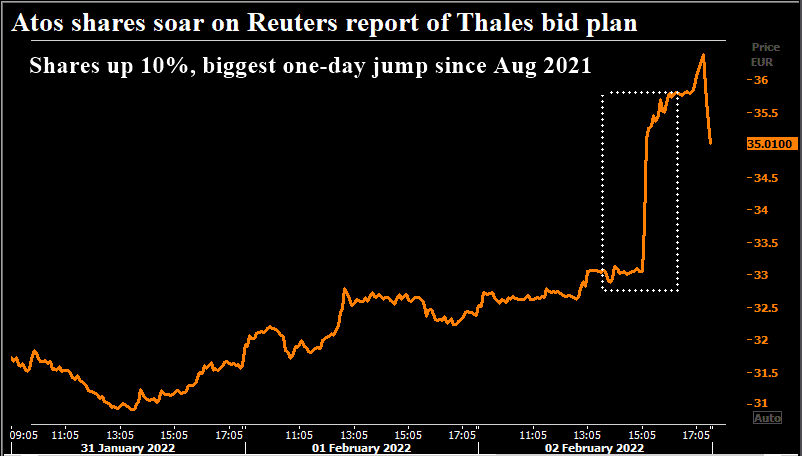 A sensitive topic
Recently, the company gave two profit warnings in seven months, presenting a target for private equity acquirers. Any sale will likely have to deal with opposition from Emmanuel Macron's government, which may be reluctant to see a company like Atos, which is a source of national pride, broken up and sold to foreign investors.
The atmosphere around Atos is politically charged. The former French Prime Minister Edouard Phillipe was named to its board in 2020, and it was led for more than a decade by European Commissioner Thierry Breton.