Google Cloud recently introduced the Chrome Enterprise Connectors Framework. This portfolio should make Chrome OS and Chromebooks more secure in enterprise environments.
The Chrome Enterprise Connectors Framework offers four new options for managing and securing Chrome OS devices.
Firstly, the framework includes several security integrations. Supported solutions include BlackBerry UEM and Samsung Knox Manage, which are used to manage employee devices. VMware Workspace ONE, a popular management platform, is supported as well. Okta's authentication solutions and Splunk's data platform can also be integrated, as well as products from Palo Alto Networks and CrowdStrike.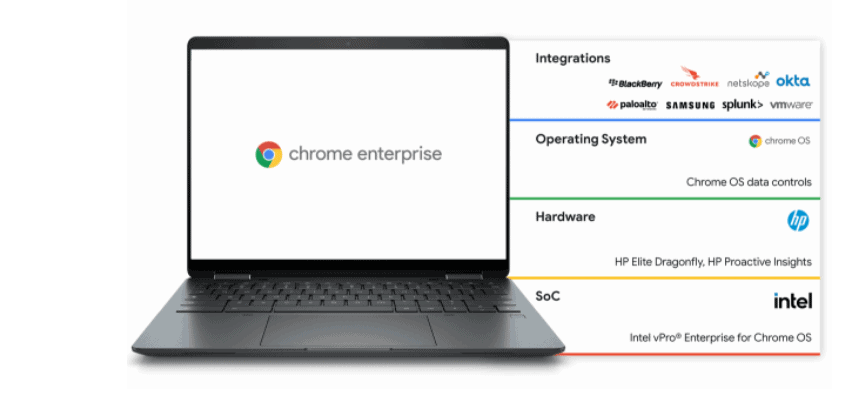 Data breach functionality
Secondly, the platform features Chrome OS Data Controls, a toolset for preventing data breaches. Chrome OS Data Controls allows administrators to manage data sharing and sensitive access on Chrome OS devices. Administrators can assign restrictions to device functionality that risks data loss, such as copying and pasting, print jobs and taking screenshots of certain data.
Hardware solutions
Thirdly, the framework offers hardware and SoC security. HP Proactive Insights, a tool for managing HP devices, is supported. the same goes for Intel vPro Enterprise SoC, which boosts security through Key Locker and Intel Total Memory Encryption (TME). Key Locker protects disk encryption keys to prevent data leaks. Intel TME encrypts data that passes from the processor to the system environment.
The Chrome Enterprise Connectors Framework is now available.