SecureMe2 launched a new version of Cyberalarm. The solution analyzes network traffic to detect misconfigurations and cyberattacks. The latest version helps resolve found threats.
Cyberalarm is a Network Intrusion Detection System (NIDS). SecureMe2 tailors the solution to Dutch organizations. Cyberalarm has two variants: a version for small and medium-sized companies (SMEs) and a version for enterprises. The SME version consists of a small appliance, while the enterprise version runs on a server.
Both versions achieve the same goal. Cyberalarm is a speed camera for network traffic. The server or appliance scans network traffic for suspicious packets and misconfigurations. The solution generates an alert when malicious traffic is detected. Monitoring systems are typically expensive and time-consuming, but Cyberalarm is an exception to the rule. Accessibility is key.
New in Cyberalarm
Cyberalarm has grown over the years. Back in 2021, the solution offered little to no support for resolving attacks and misconfigurations. Though Cyberalarm was highly effective at alerting risks, it did not advise on an appropriate course of action. SecureMe2 recently expanded the solution. The dashboard of the new version shows responsive actions for found threats.
According to SecureMe2, Cyberalarm features an increasing number of tools for alert analysis. "A set of new and improved insights makes it even easier for companies to ensure business continuity", the organization said.
"You have to assume that cybercriminals will penetrate your network sooner or later", CEO Aad van Boven said. "Furthermore, cybercriminals are often in your network for weeks before an attack actually takes place. It's not just about preventing an attack, but also about acting efficiently the moment an attack occurs."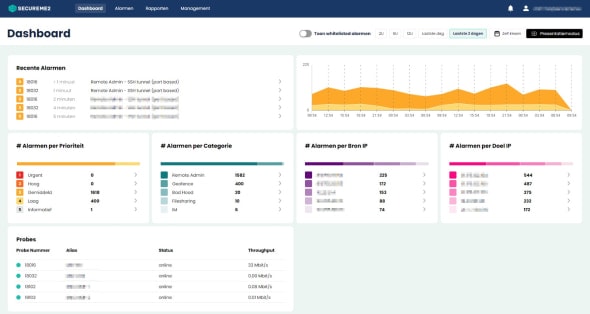 The technology
Cyberalarm runs amidst a corporate network. Network traffic is routed through the appliance or server. Cyberalarm scans the traffic for various patterns. SecureMe2 purchases threat intelligence from third-party vendors to recognize hostile patterns.
When a threat or attack pattern is found, the solution raises the alarm. Misconfigurations come to light as well. Users can configure Cyberalarm to detect systems communicating on the wrong network.