Today Samsung announced two new lines. Not only does the Galaxy line of smartphones get an update, there will also be a new line of the Galaxy Book. We were already able to take a very close look at the Samsung Galaxy S23 and the Galaxy Book3. In this article, we discuss our impressions of the Samsung Galaxy Book3, Book3 Pro, Book3 360, Book3 Pro 360 and the Book3 Ultra.
It is not easy even for Samsung to compete among the established names in the laptop market. Samsung stopped selling its laptops in many European countries many years ago. Last year it announced a return in a couple countries. This means though competition. Especially if you look at the prices of Samsungs laptops. Samsung does not want to be the cheapest with their laptops, but be a premium brand. Then it is not easy to beat the big laptop manufacturers in the market. It also won't help that Samsung enters the market with relatively few SKUs. Especially in the business market, you then easily run the risk of having just nothing at a price point where other manufacturers do have something to offer.
TIP: Also read our hands-on with the Samsung Galaxy S23, S23+ and S23 Ultra.
More models
Samsung has also realized that it needs more choices. Therefore, the Galaxy Book3 line is a bit more extensive than the previous generation. There are five models in total: the Book3, Book3 Pro, Book3 360, Book3 Pro 360 and the Book3 Pro Ultra. Prices for these models range from 999 euros for the 15-inch Galaxy Book3, to 2999 euros for the 16-inch Galaxy Book3 Ultra. The Book3 Pro comes in at 2099 euros for the 14-inch version and 2199 for the 16-inch one. The 13.3-inch Galaxy Book3 360 goes for 1599 euros, the 15-inch one for 1699 euros. Finally, the Galaxy Book3 Pro 360 with a 16-inch screen diagonal costs 2299 euros. All these prices include VAT.
The distribution between the models is roughly the same as last year. That is, there are convertibles and clamshells. The models with "360" in their name can fully flip the screen and come with a touchscreen, the other models cannot and have no touchscreen.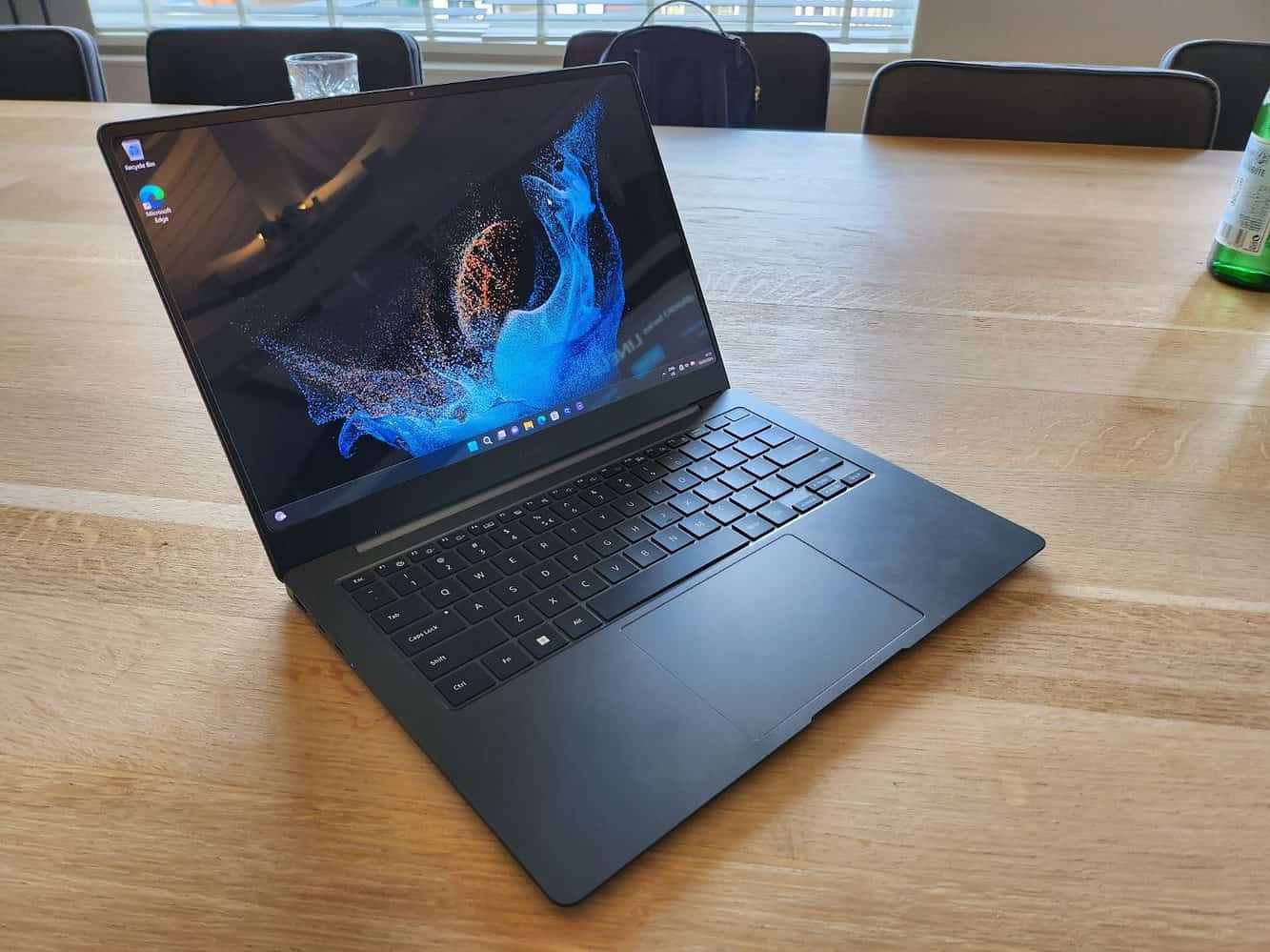 Emphasis on ecosystem and performance, not so much portability
During a presentation of the new models, a Samsung spokesperson indicated that laptops these days are not so much about portability as they are about ecosystem and performance. At least that is the conclusion Samsung has drawn from the surveys it regularly conducts. The new line does reflect that focus on ecosystem and performance.
Looking at ecosystem, Samsung makes quite a point of the integrations between the Galaxy Book3 and the Samsung Galaxy phones. With things like Link to Windows (on the smartphone) and Microsoft Phone Link (on the PC), you can link between smartphones and PCs. As far as we know, this is also possible with phones and PCs of other brands. What is not possible by default is using a tablet as a second screen with a laptop. However, that is possible within Samsung's ecosystem.
Furthermore, it is now also possible to do a real-time sync of RAW photo files between the smartphone and the PC. Another new step in the ecosystem for Samsung is the availability of Samsung Pass, its own password manager, on Windows. This was already available on Android, of course, but now it is also available on the PC. Finally, Samsung also has Single Sign On. Signing in to your Samsung Account syncs the new Galaxy Book3 laptops with the Galaxy services you use on other devices.
Better panels, bigger touchpads
Overall, the Galaxy Book3 models feel better than last year's series models. The build quality feels just a bit better. Last year, we found some models to feel quite fragile. That is not the case with this new generation. The entry-level model, the Galaxy Book3, is clearly the model where the least attention was paid to build quality, though. That one is plastic, where the other models are made from aluminum. It is also a lot thicker than the other models.
The difference between the Book3 360 and the Book3 Pro 360 is also obvious. The Pro 360 has a noticeably rounder design and a much larger touchpad. A larger touchpad works a lot nicer in our experience. Of course, part of this difference will be due to the Pro 360's larger screen diagonal (16 vs. 15 inches), but the difference is really quite significant. You can clearly see the difference in size of the touchpad below, comparing the two photos: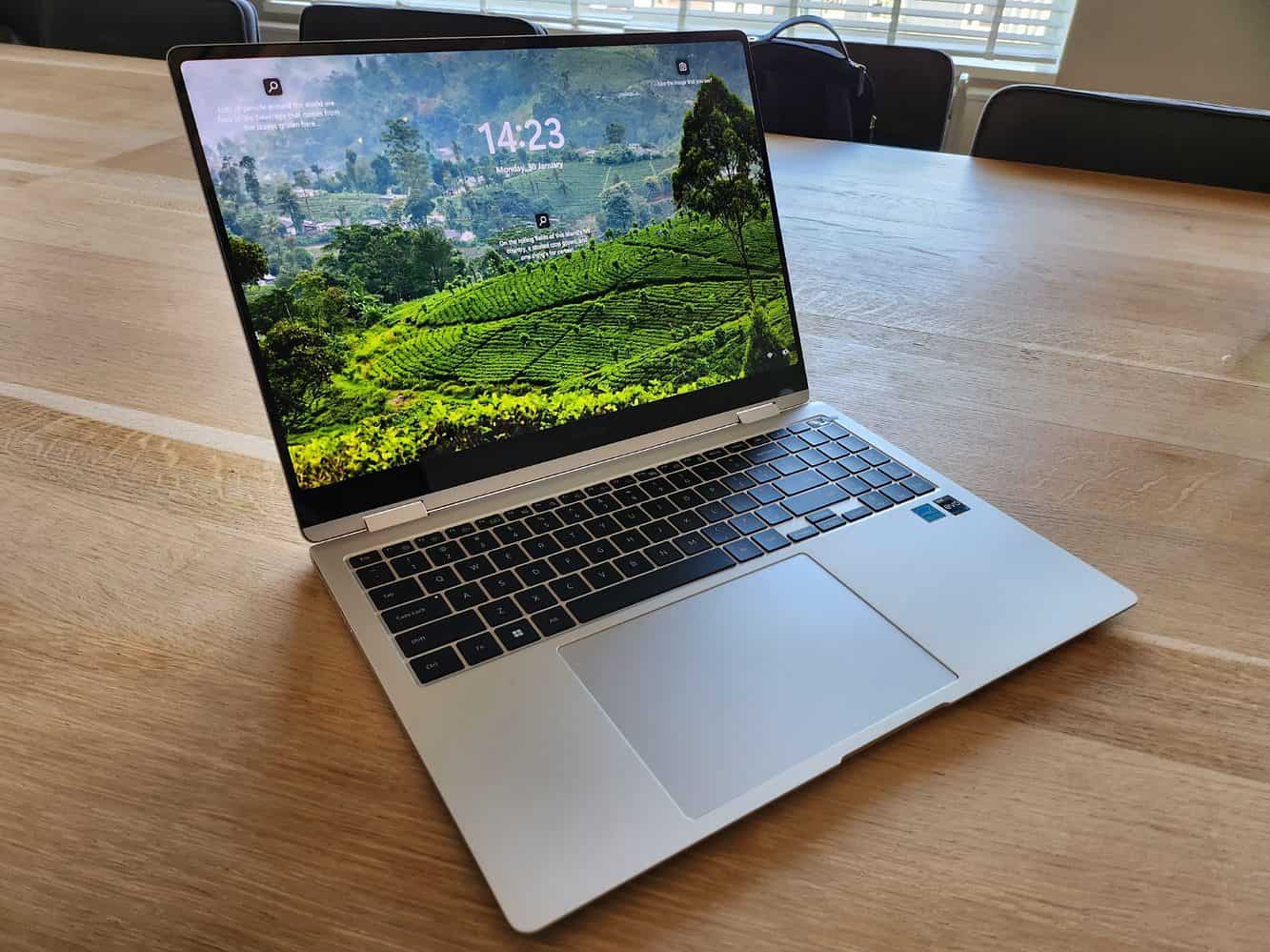 Samsung also put better panels in the laptops. At least, if you go for the Pro or the Ultra. Those now have a 3K resolution of 2880×1800 pixels. So 16:10, not 16:9. That doesn't seem like a big difference, but vertically it provides just a bit more space. These screens have a refresh rate of 120Hz. That makes for smooth operation. In other words, the image jerks less than at lower refresh rates. Especially if you switch from 60Hz, this is quite noticeable. Furthermore, these panels also have a large color space (DCI-P3). This will be especially interesting for people who work a lot with images and thus need accurate colors.
From a business point of view, we find it a pity that there is not also a version with a matte panel. That is especially nice to have if you travel a lot. Then you often don't have much to say about where you are going to work, so not even about the incident light. Then a matte screen works significantly nicer than one that reflects all the light.
Thunderbolt on (almost) all models
Looking at the connectors, at first glance we see almost no differences there on the models we have seen. On the one hand, we see an HDMI connector and twice USB Type-C on all models. Only the Galaxy Book3 has a USB-A connector here as well. Furthermore, we see some differences in terms of Thunderbolt. The two Pro models you see in the photo, the 14-inch Galaxy Book3 Pro and the 16-inch Galaxy Book3 Pro 360, have a lightning bolt at both ports. Both ports support Thunderbolt. For the Book3 360, Samsung kept it to one Thunderbolt port, while the Galaxy Book3 has none at all. On the other hand, in terms of connectors, we see a USB-A connector, microSD card connector and 3.5mm jack on all models.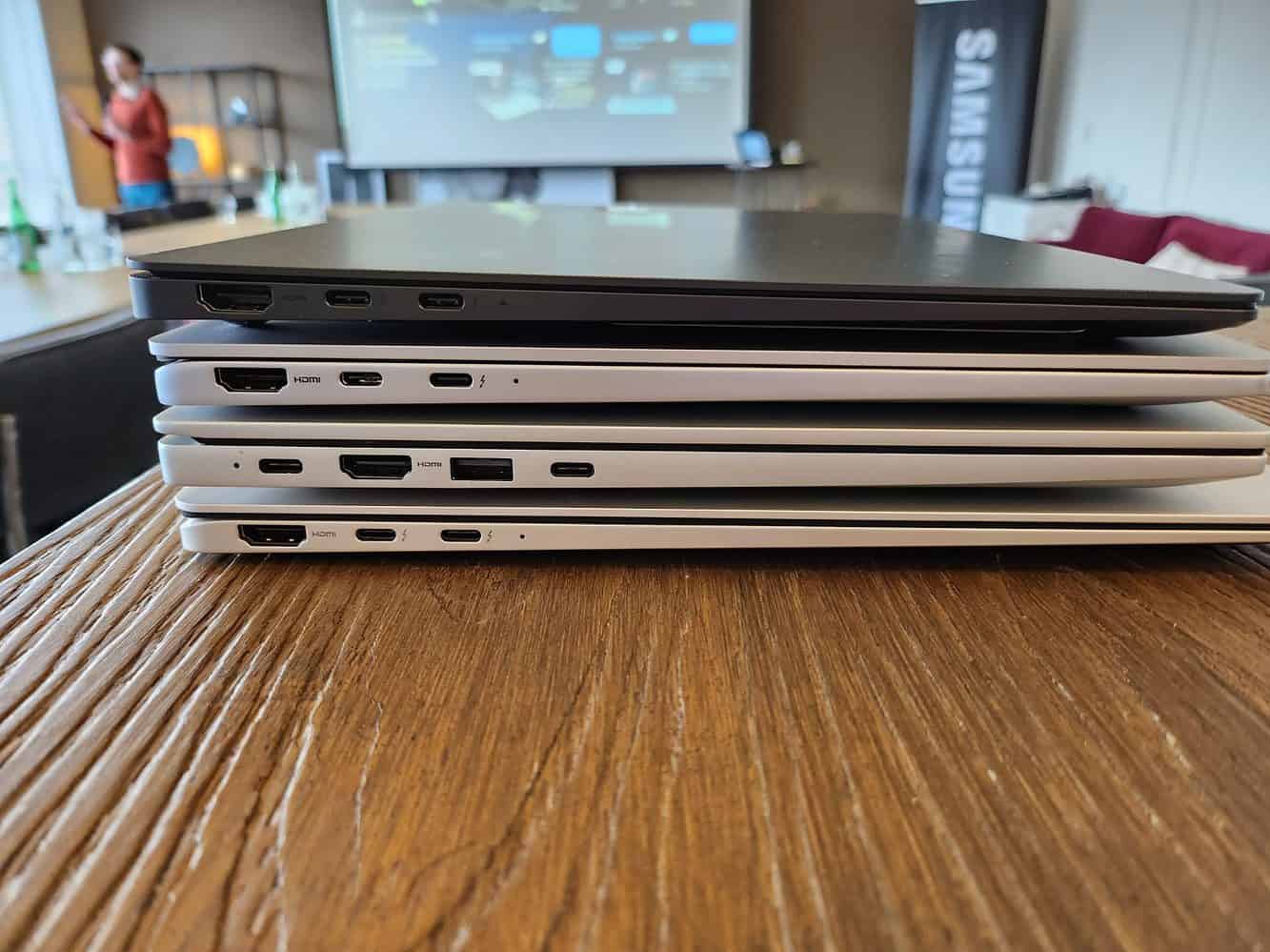 As is the case with the new Samsung Galaxy S23 models, we also see with the Galaxy Book3 that almost all models feature Wi-Fi 6E. Only the Galaxy Book3, which is the entry-level model, has "only" Wifi 6. That means it cannot use the 6GHz band. Of course, for Wifi 6 and Wifi 6E, your access points and/or wifi routers also support it.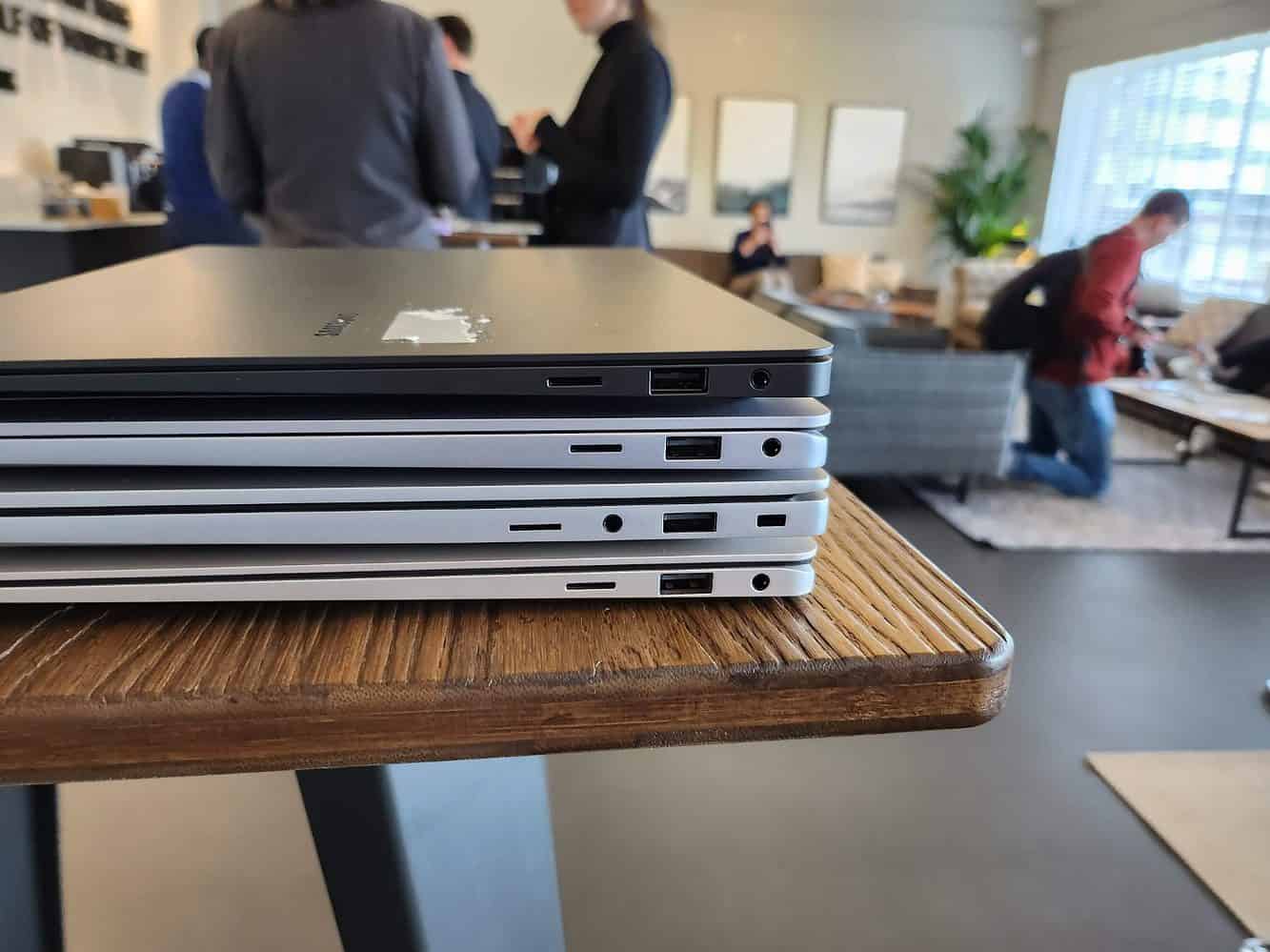 Samsung Galaxy Book3 Ultra
The absolute flagship of the new Samsung Galaxy Book3 line is undoubtedly the Galaxy Book3 Ultra. Unfortunately, no copy of that model was available during the session we attended. One reason is that there is still an embargo on the dedicated graphics card in that model. That is Nvidia's GeForce RTX 4050. This is a laptop GPU eagerly awaited by many. Hence, the Galaxy Book3 Ultra will be available later than the other models. Whereas you can place pre-orders for the other models starting today, for the Galaxy Book3 Ultra this will only be possible starting February 17.
In addition to a dedicated Nvidia GPU, the Galaxy Book3 Ultra also houses a processor from Intel's latest generation, codenamed Raptor Lake. Also in the Galaxy Book3 Pro and Pro 360 is a chip from this generation. In all models, it is a Core i7. We do expect it to be more powerful in the Galaxy Book3 Ultra than in the other models. We have not seen the specifications of the two "non-Pro" models, so we cannot say for sure which processors they come with.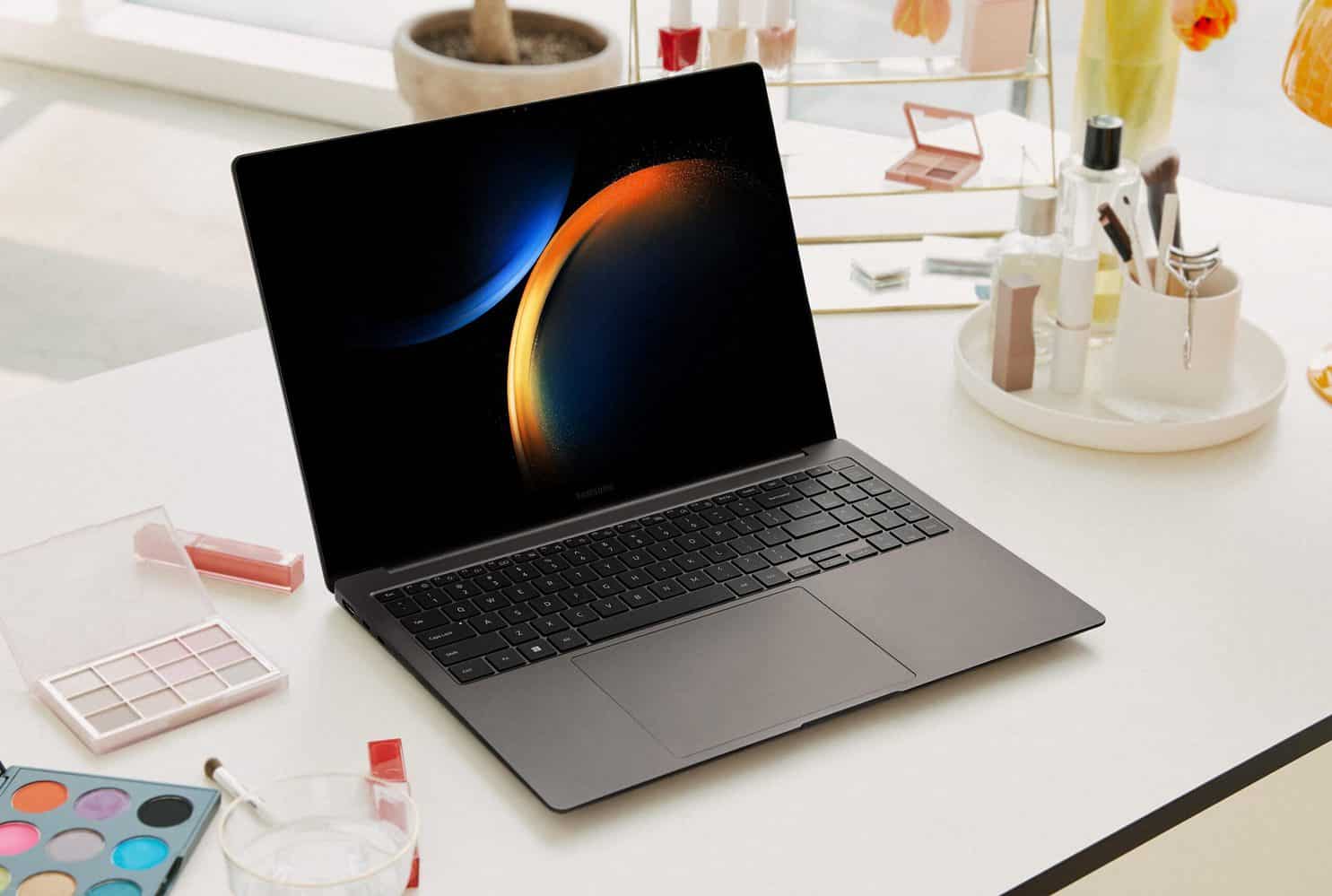 So exactly which Core i7 is in which model, we do not know at this time. What we do know is that Samsung plans to release a Core i9 version of the Galaxy Book3 Ultra as well. This will obviously be marketed at an even higher price than the 2999 euros that the Core i7 Galaxy Book3 Ultra costs. So that will be one for the real enthusiast.
Finally, it is relevant to mention that the Galaxy Book3 Ultra charges a lot faster than the other models in the lineup. In fact, Samsung puts a charger in the box that charges at 100W. By comparison, on the Galaxy Book3 Pro and Pro 360, that's 65W. This while the Ultra's battery is the same size as the 16-inch Pro and Pro 360, at 76Wh.
Will it be a success?
Ultimately, the big question is whether this new Samsung Galaxy Book3 line, unlike the previous line, is going to succeed in the market. It is clear that Samsung is betting on premium, something they also do with their smartphones. We get that feeling with the more expensive models in the new line as well. It is clear that these models are high-end laptops. Furthermore, the integration within and between Samsung's ecosystem and Windows can certainly help make life easier for users.
Samsung seems to have chosen a strategy that can be compared to that of Apple. That company also focuses primarily on the premium segment and puts a lot of emphasis on the ecosystem. However, we wonder if this is the best approach for Samsung. Apple users are not likely to switch anyway, so Samsung will not win many souls there. Besides, Apple invented the ecosystem game, so that is many times better integrated than what Samsung can offer.
Eventually, Samsung will have to compete with parties such as Lenovo, HP and Dell. It will undoubtedly manage to carve out a position in the market, but that will be among the other smaller players, we suspect. You can also achieve quite a lot with that, as other brands in the market have shown. But playing a margin role does not really suit Samsung. So we are curious to see how this will develop.
From a business perspective, Samsung's offering right now is not hugely interesting for larger organizations. If the entry-level model starts at 999 euros (including VAT), we don't expect huge orders from organizations that need to replace an entire fleet. Especially not when you consider that this entry-level model is actually not very interesting. So then you should already start looking at the Book3 Pro if you're not looking for a convertible. And that starts at 2099 euros. Then there are plenty of better options on sale. In addition, larger organizations will usually wipe the image on the laptops and put a bare installation on them. Then all the built-in smart additions don't make much sense. So the focus in terms of business target group will probably be more on the somewhat smaller enterprises. There these rules do not apply.
Price list and specifications
Finally, below we list some prices we got from Samsung. Below that, you can see the full specifications of the Galaxy Book3 Ultra, Galaxy Book3 Pro and Galaxy Book3 Pro 360 (click up for readability). We received detailed information from Samsung only on these three models. There is apparently less emphasis on the "non-Pro" models, the Book3 and the Book3 360.
Price list: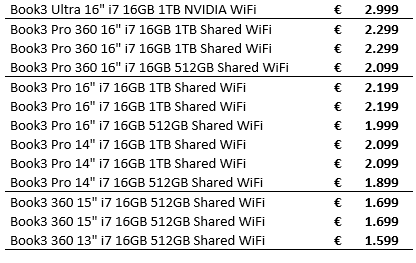 Specifications Samsung Galaxy Book3 Ultra, Galaxy Book3 Pro, Galaxy Book3 Pro 360:
Samsung Netherlands has supplied us with the spec sheets, so unfortunately they are in Dutch. But since the specifications are pretty basic, we do think many readers will understand them.