The Microsoft Surface Go 2 is an affordable Windows tablet that is ideal for on the go. The device is light, optionally equipped with 4G support and you can turn it into a full-fledged PC with a few accessories. Techzine is determined to find out if this 2-in-1 tablet is the ideal work partner for on the go.
Practical and complete
The design of the Surface Go 2 is very pleasant. The device has relatively small bezels which, according to Microsoft, give it a 10.5-inch screen in a 10-inch housing. Although it sounds nice and is a nice upgrade compared to the first Surface Go, compared to other modern tablets this is not that special.
What is special compared to other tablets is the complete design of the device. The Surface Go 2 has a solid kickstand that can lay almost flat and is sturdy in every corner. In terms of connectors, the Surface Go 2 is well equipped for a tablet: in addition to the USB-C port, it has a magnetic charging port, a 3.5-millimeter audio jack and a pogo-pin connector for an optional Type Cover. A microSD memory card slot is hidden underneath the kickstand.
If you consider the Surface Go 2 to be a full-fledged computer, it's a pity it doesn't have a USB-A port. Microsoft omitted the port to save space. It is, of course, possible to connect a hub to the USB-C port with USB-A ports and add any other connectors.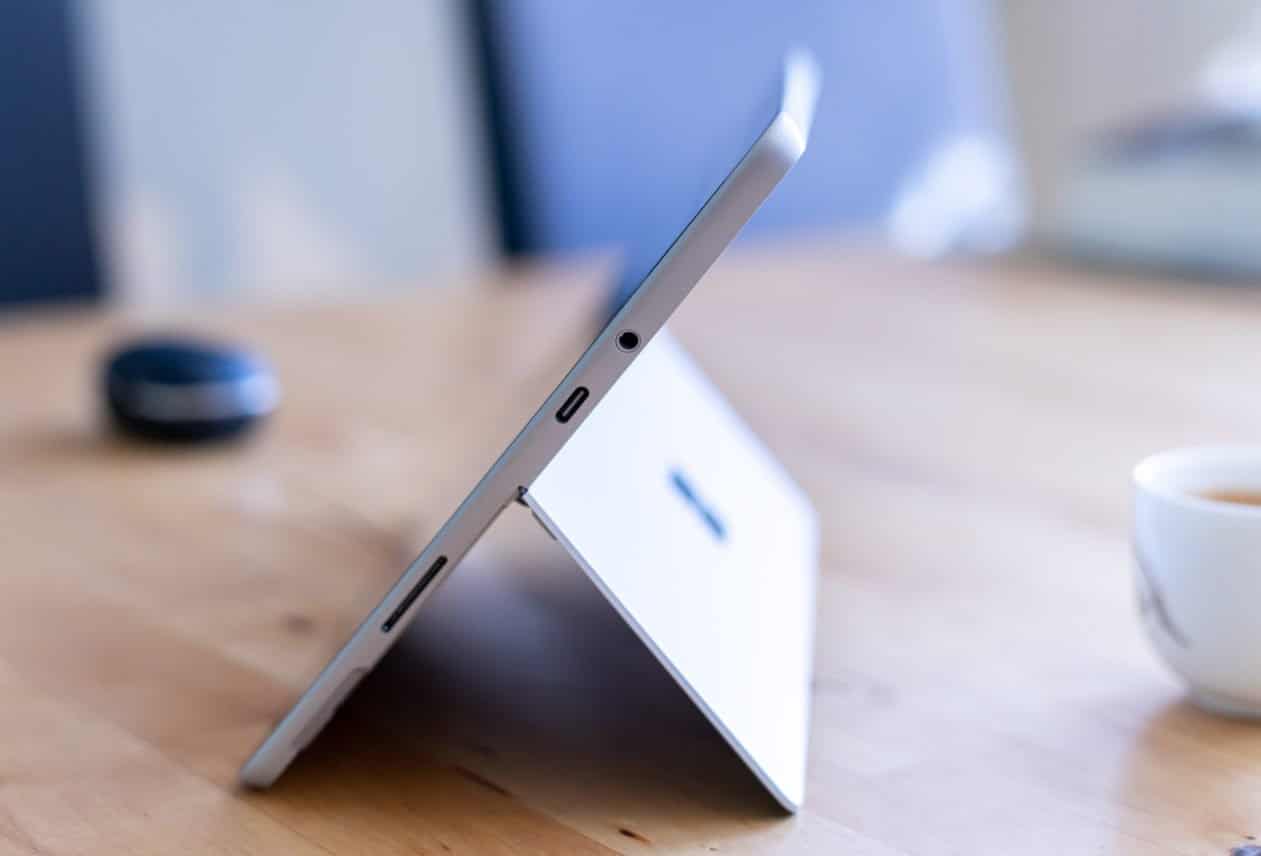 The Surface Go 2 has a camera both in the front as in the back. The front camera supports Windows Hello facial recognition, which works well. In terms of quality, the camera is more than sufficient for a video call, which is what you will most likely use it for. The quality of the rear camera is rather poor, if you want to take any proper photographs don't bother with this device. But for scanning QR codes or other productivity applications, it works fine.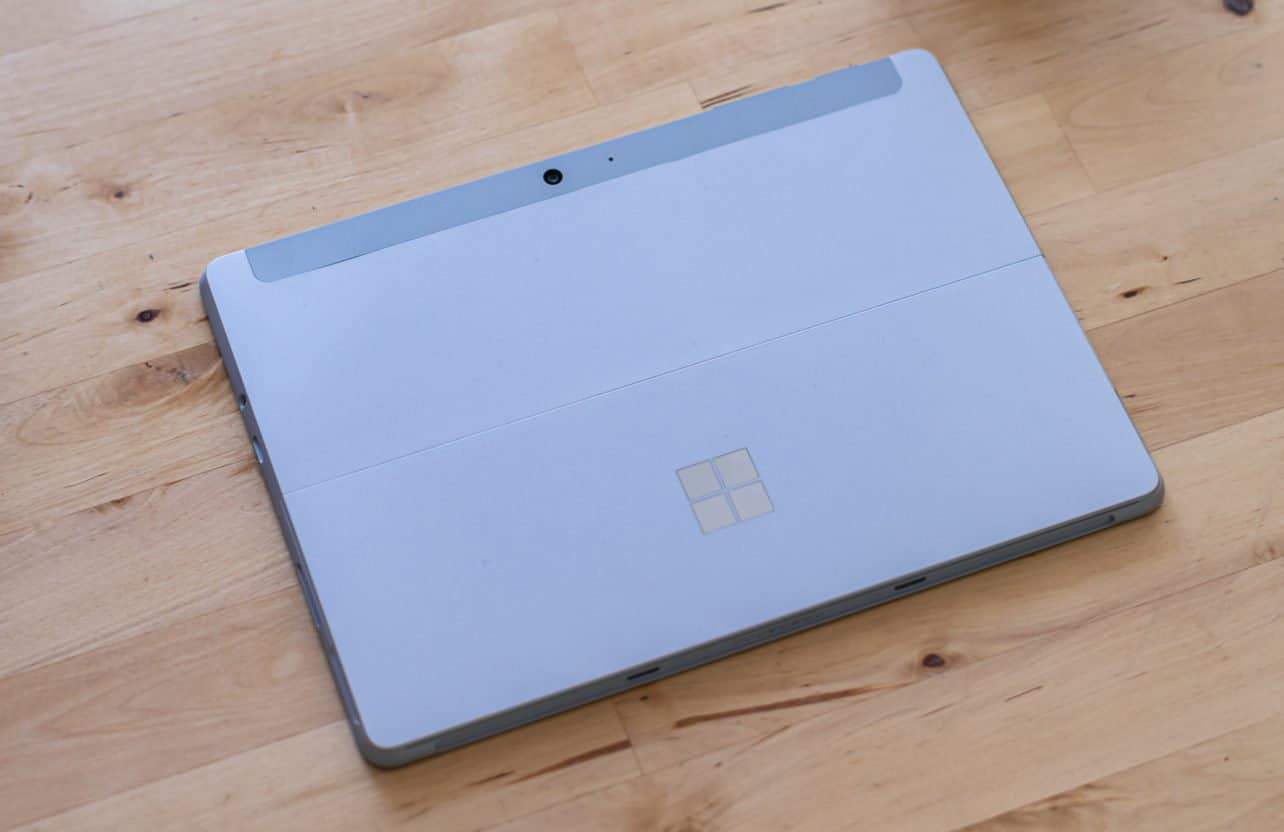 The Surface Go 2 features a speaker on both sides of the screen, and together they produce a surprisingly good stereo sound, especially for a tablet. It is more than enough for watching a video or playing an audio clip in a presentation.
Tablet with PC ambitions
We already mentioned the kickstand on the back of Surface Go 2. It's sturdy and makes the tablet a lot more versatile straight away. If you want to use the device like a laptop, the kickstand makes it easy to angle the screen to do just that. Microsoft has a Type Cover available that protects the screen and provides the tablet with a full keyboard. Unfortunately, the keyboard is not the best to type on, but it's enough to reply to some emails on the train, for example. For more serious work, you can also link the Surface Go 2 with a Bluetooth keyboard and mouse.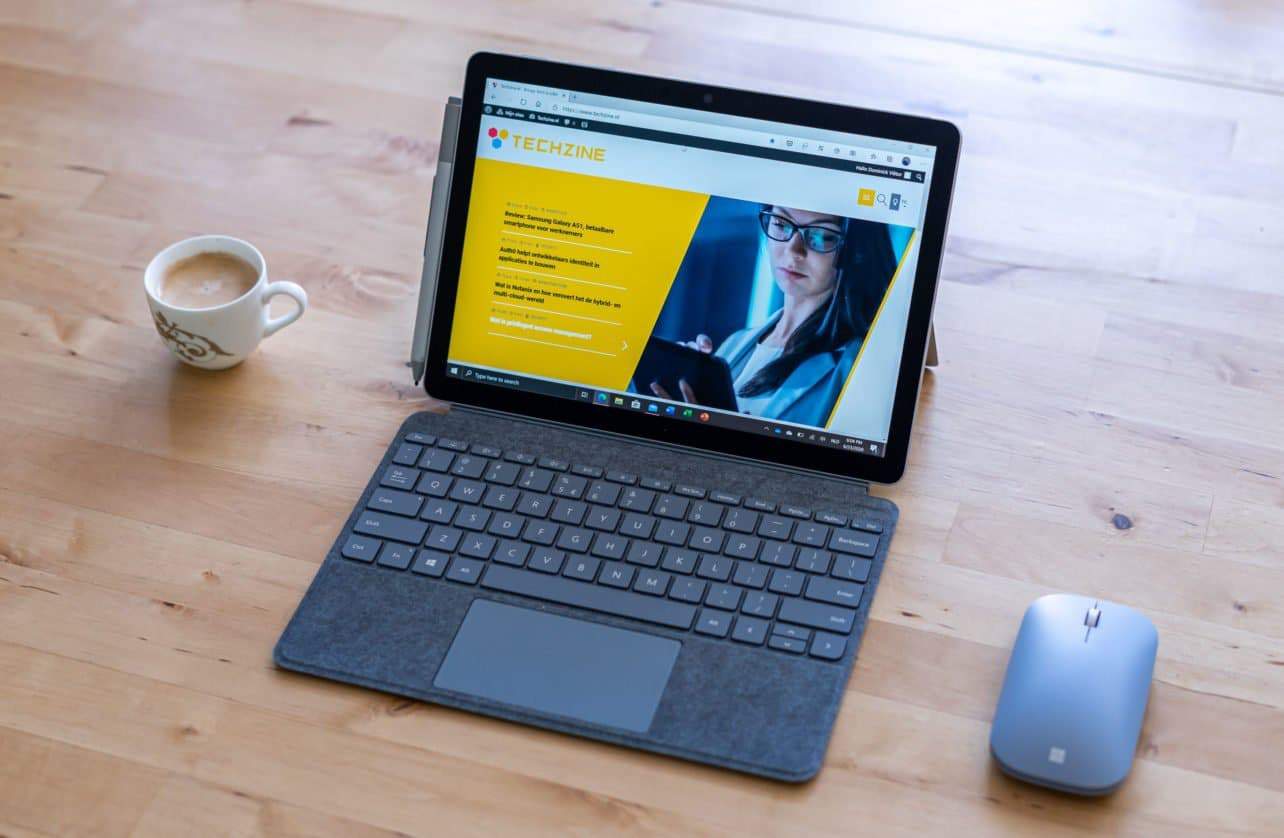 You can also almost fully lay down the kickstand in 'studio mode'. In that case, you can use the (optional) Surface Pen to make some drawings or write down notes, for example. Microsoft supplies a Whiteboard application for this purpose, but it is also possible to install more extensive drawing programs.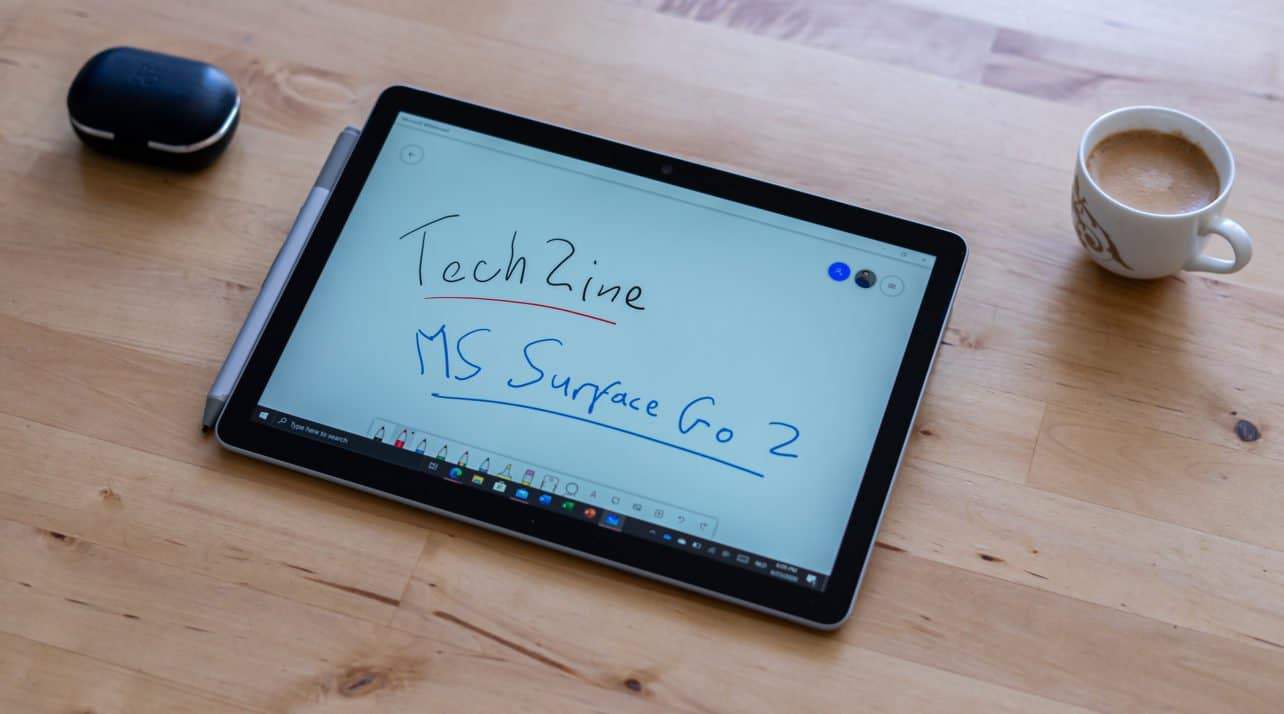 Alternatively, you can just hold the Surface Go 2 in your hand like a classic tablet. It is remarkably light and manageable for how expansive it is. Because the Surface Go 2 is also available with 4G support, it is very suitable for outdoor use.
Disappointing performance
The Surface Go 2 can be configured with an Intel Core M3 (8th generation) or Intel Pentium 4425Y processor. These platforms obviously lack power, and the limitations of an x86 system are immediately apparent. In this format and for this price, it is virtually impossible to equip a system with a powerful chip and sufficient battery capacity.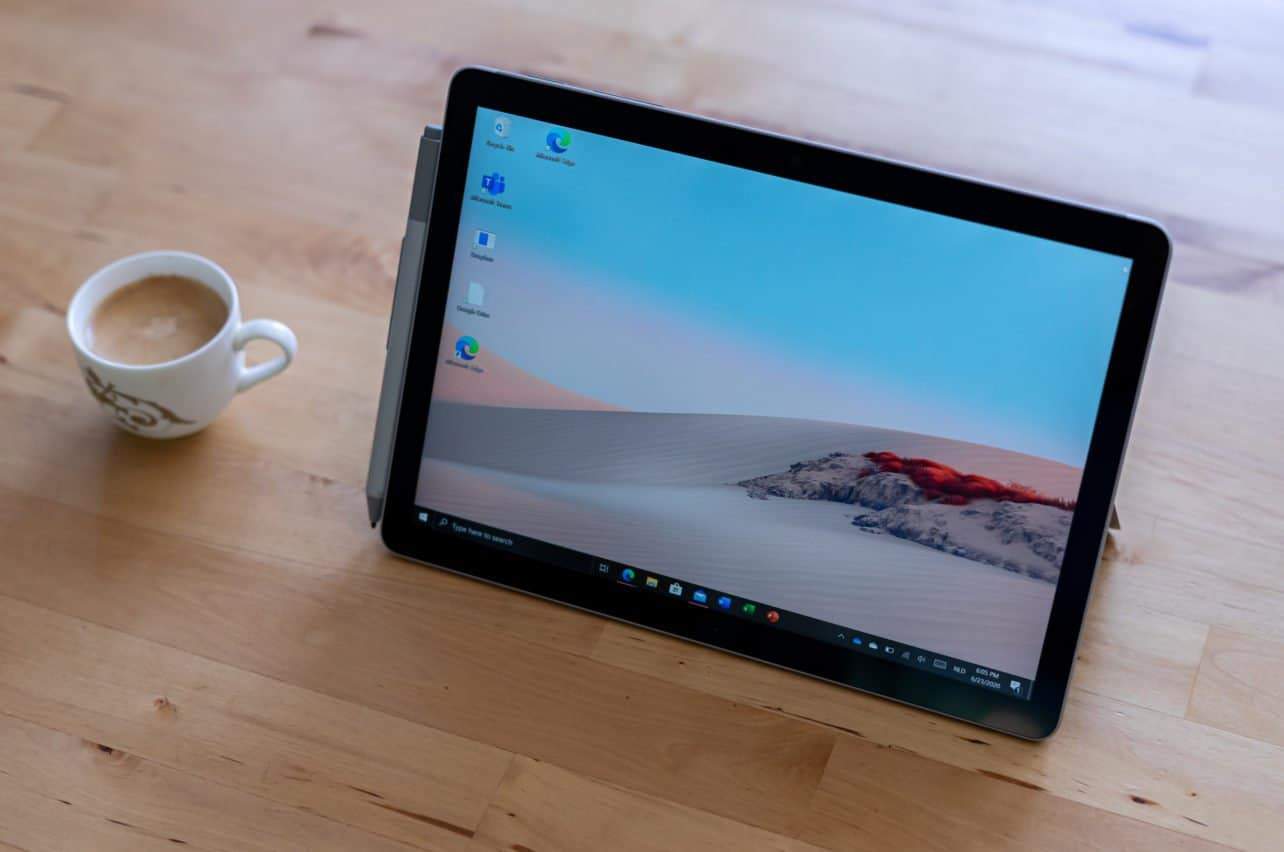 Microsoft gave us the Surface Go 2 with Pentium 4425Y processor and 8GB of working memory to test out. It's powerful enough to process and browse simple documents, but even then it's not fast. An iPad or Android tablet is simply significantly faster. The Surface Go 2 is as comprehensive as a computer, but also performs as an affordable computer. If you plan to use the Surface Go 2 mainly as a tablet, that's a distinct disadvantage.
Windows 10 S mode
The Surface Go is equipped with Windows 10 in S mode. This is a stripped-down version of Windows 10 that boots up faster and only works with Microsoft-authenticated programs. This makes the Surface Go 2 safer, but also means that some frequently used programs will not run on this version. Google Chrome and Adobe Photoshop are some examples.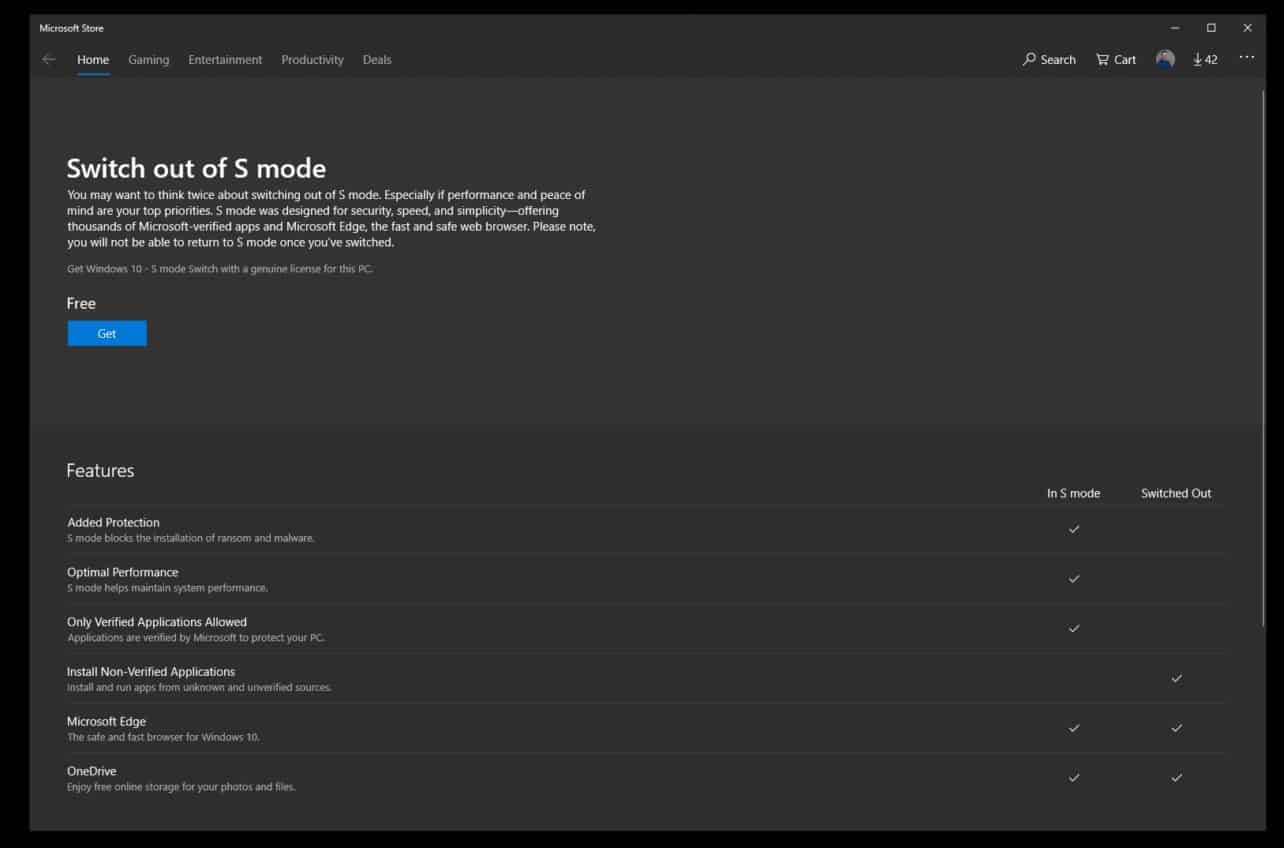 However, it is possible to switch from Windows 10 in S mode to the full version of Windows 10 on Surface Go 2. You can easily make that switch using a program in the Windows Store. Reverting back to S-mode is possible, but must be done via a recovery image which means all of the data will be lost. However, this applies to all devices running on Windows 10 in S mode, not just the Surface Go 2. It is a good thing Microsoft offers that choice.
Good battery, decent screen
According to Microsoft, the Surface Go 2's battery lasts 10 hours with simple office work. In our opinion, that's a pretty optimistic estimate, but around 8 hours should be feasible with little effort. In any case, the battery is good enough as far as we are concerned. An improvement on its predecessor is that the Surface Go 2 can charge quickly, it can be charged up to 80 percent in one hour. This does require a Surface dock; the supplied charger is slower.
Tip: Review: Microsoft Surface Book 3, the king of productivity
The display of the Surface Go 2 is functionally sound. The screen has an aspect ratio of 3:2 and a resolution of 1920×1280 pixels. This means that the screen is longer than a standard 16:9 screen and is therefore ideally suited for productivity tasks such as reading and editing documents and browsing websites. Split-screen multitasking, on the other hand, is somewhat less effective.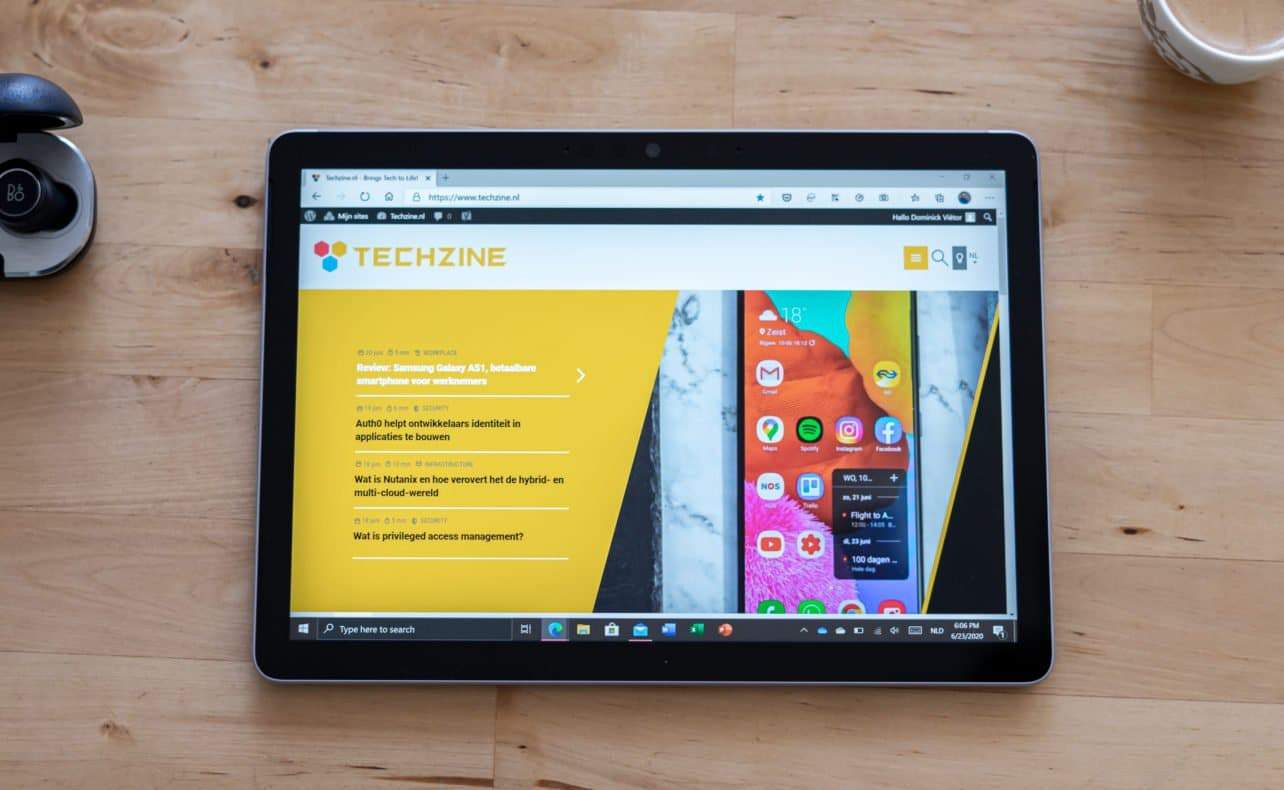 The quality of the screen is reasonable. The colour reproduction is quite muted. For most activities, this shouldn't be too much of a problem, but it's a shame if you want to use the tablet for multimedia or drawing. The screen brightness is sufficient, and also the white balance of the screen is reasonably good.
Conclusion
The Microsoft Surface Go 2 is a very versatile device, ideal for anyone who needs just a little more than a tablet but doesn't need a full laptop or expensive Surface. The Surface Go 2 is light, practical and mobile like you are used to from a tablet but it can also serve as a simple computer. The kickstand and the optional Type Cover and Surface Pen help.
With a starting price of 509 euros, the 2-in1 tablet is relatively affordable and also available with 4G support so you can work anywhere. Windows 10 in S mode is enough for easy use and makes this device faster and safer.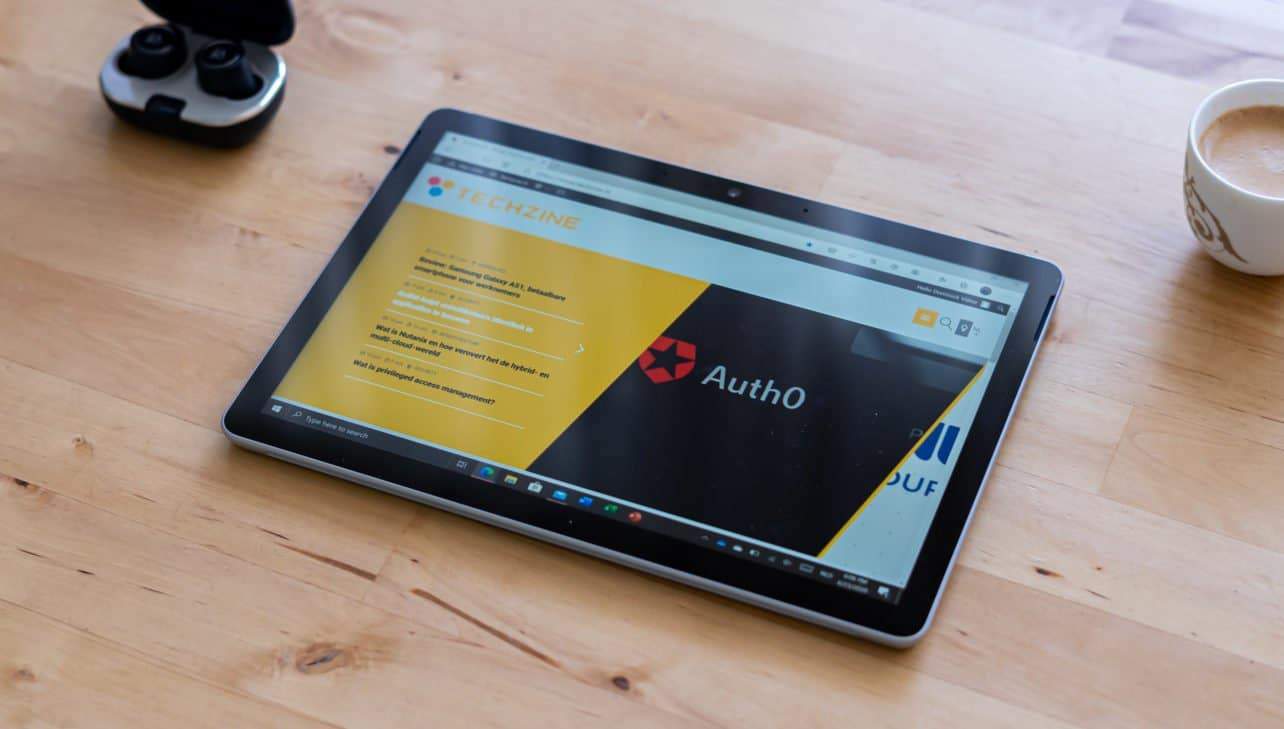 However, the Surface Go 2 also has clear drawbacks. Because the tablet uses x86 hardware, it cannot compete with traditional tablets in terms of performance and the same goes for screen quality. The Surface Go 2 is therefore only worthwhile if the use of Windows software or the tablet's extensive features offer sufficient added value for you.
7.5
Extensive hardware
Complete Windows 10 software possible
Configurable with 4G
3:2 screen
Not very fast
Screen quality