In tougher work environments these days, you don't want to compromise on mobility anymore. With a device like the Samsung Galaxy XCover 5, you don't have to, is Samsung's promise. We tested that promise.
Samsung has had ruggedized devices in its portfolio for years. For example, the Korean company released so-called "Active" variants of its Galaxy S models between 2013 and 2017 (from the Galaxy S4 to the Galaxy S8). The company stopped doing that rather abruptly, only to come up with the Galaxy XCover Pro a few years later. We reviewed that device here on Techzine last year. The XCover Pro can be seen as the heir to the Active line. While it's not based on a model from the Galaxy S line, with a suggested retail price of 509 euros at its launch last year, it certainly can't be called cheap either.
You can think of the XCover Pro as the "high-end" choice for those looking for a ruggedized Samsung phone. This puts them in the same segment as the somewhat higher rated models from Cat and RugGear, for example. Above that, of course, are devices like the Zebra EC50/EC55, which have a distinctly different and more specialized target market.
A recommended retail price of around 500 euros per XCover Pro is still quite high for many organizations, however. That's why Samsung also has the Galaxy XCover line. The fourth generation, the Galaxy XCover 4 came out over four years ago. A few years ago, the Galaxy XCover 4s followed, to be followed this year by the Galaxy XCover 5. The Samsung Galaxy XCover 5 is the subject of this article. With a recommended retail price of 289 euros, it is in a price bracket that we call affordable. But is it any good?
Modest in every way
If you're looking for an advanced device with the latest gadgets and best performance, you shouldn't go for the Samsung Galaxy XCover 5. If that is what you want, then you are not part of the target audience for this device. This is a modest device in every way. That's immediately obvious from the LCD display with a diagonal of 5.3 inches and a resolution of 1480×720 pixels. Such a relatively small diagonal means that this device is very easy to use, though. It also weighs only about 170 grams. That makes this a very pleasant device to hold and operate. Not unimportant when you consider that it's a 'tool' you have to work with.
Looking further at what the Galaxy XCover 5 has to offer, we see quite an interesting SoC. It's Samsung's own Exynos 850, an SoC with 8 Cortex-A55 cores and a Mali-G52 MP1 GPU. The interesting thing about this SoC is that it is produced using an 8nm process. This makes it one of the first 8nm SoCs in this price bracket.
A smaller manufacturing process means higher performance per watt. This also means that such SoCs should be more economical than those that use a larger production process. This also partly explains the relatively small battery with a capacity of 3000 mAh. At first glance, this seems a bit small in a business device, where battery life is possibly even more important than in a consumer device. It is in line with previous models in this particular range of phones, though. The XCover 4 had an even smaller battery, 2800 mAh.
The battery is replaceable, by the way. This is more or less standard in devices like this. You never know how a working day goes, and always want to make sure that you mobile device won't die on you. Having an extra battery on you helps sets the mind at ease on this front.
Other specs, buttons and connectors
Given the target market Samsung wants to serve with the Galaxy XCover 5, people who work in demanding environments, it's not surprising that the device has been given an IP68 rating. The MIL-STD810 specification is also present. Looking at the connectors and buttons on the device, we see that Samsung has chosen to no longer place physical navigation buttons for Android below the screen. This was still the case with the XCover 4 and 4s. The other buttons have (of course) remained. Besides the on/off button and the volume buttons, we see a programmable button again. This can be linked to a specific app. Think of the Walkie Talkie in Microsoft Teams, which lets you enable Push-to-Talk communication.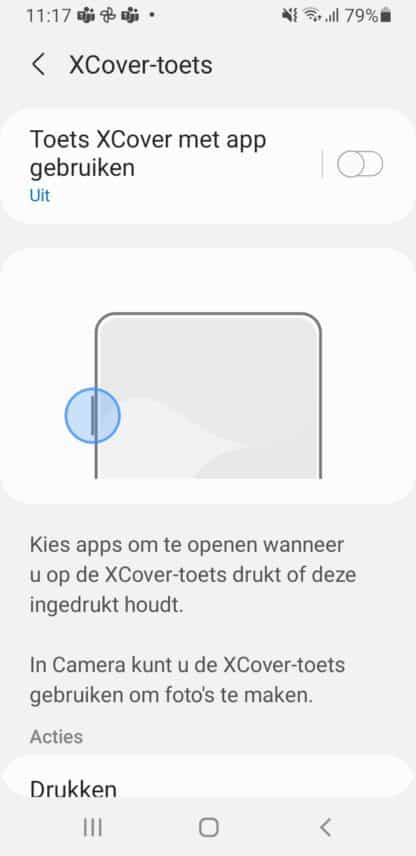 The Galaxy XCover 5 has 4GB RAM and an internal storage of 64GB. The storage is also expandable by means of a microSD card. The cameras are not really special on paper, with a 16MP variant on the back and one with a resolution of 5MP at the front. Charging is done via the type-C port on the bottom of the device at up to 15W. If you use a suitable dock, you can also charge via the Pogo Pins, the contact points at the bottom.
A final interesting feature we want to mention here is the presence of facial recognition on the Galaxy XCover 5, which is the only biometric security option on this device. A fingerprint reader is not present.
Enterprise Edition
A key feature of the Samsung Galaxy XCover 5 for the business market is the Enterprise Edition label that Samsung has stuck on it. According to Samsung's site, this guarantees you 'up to 5 years' of free security updates and a product lifecycle of 2 years. What the 'up to 5 years' means in this case remains to be seen and we would definitely ask Samsung if you are considering going for the XCover 5.
In addition to relatively long support, the Enterprise Edition label gives you the ability to use Knox Suite for a year for free. Knox Suite is a bundle of four Knox solutions: Knox Manage, Knox Platform for Enterprise, Knox Mobile Enrollment and Knox E-FOTA. These are the main Knox solutions, which you can more easily purchase together this way, is the idea.
Our experiences
As we have already indicated, with the Samsung Galaxy XCover 5 you should always keep in mind that this is not a device for everyday consumer use. As such, it should not be judged that way either. That said, we do want to give a brief impression here of how the device performs overall, whether or not that has an impact on the final verdict.
The Samsung Galaxy XCover 5 is really quite comfortable in the hand, fits easily into even relatively small pockets and can be operated reasonably well with one hand. The battery life is pretty good despite the relatively small battery. The device easily lasted a working day on a single battery charge.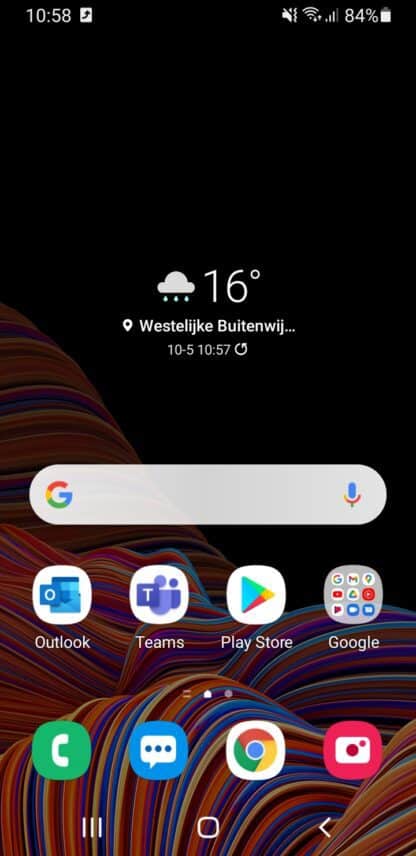 When it comes to the software, we are a little less positive. When going through the menus of the Galaxy XCover 5 or switching between apps, there's lag and unresponsiveness from time to time. This device runs on Android 11, with the relatively light Samsung skin on top. Apparently, things are still not optimally tuned. It is not the first time that we have had a similar experience with a Samsung device from the lower segments. The response of the screen to the fingers is also not always equally fast or accurate. Combined with the somewhat buggy software, this makes navigating the XCover 5 relatively hard work from time to time.
We weren't always happy about the face recognition either. It regulary refused to work. This while it seemed to have nothing to do with the environment in which we used it. Two seconds later, in exactly the same circumstances, it worked fine. This was reproducable, meaning the recognition apparently sometimes needs two bites of the apple to get it right. Either way, the facial recognition implementation seems to be something that requires some fine-tuning on the part of Samsung.
Finally, the main camera was surprisingly good. Of course it can't compete with the big boys (i.e. phones that focus on camera quality), but at least during the day it delivers perfectly usable photos. Especially if you keep in mind that we're talking about a device that doesn't have to focus on camera quality. If you work in an environment in which the objects you need to photograph move relatively fast, you should take into account that this camera isn't very fast. But that goes for many smartphone camera's in the lower regions of the market.
Conclusion
Objectively, the Samsung Galaxy XCover 5 is not a very good smartphone. For that, it just doesn't perform well enough, if you judge it along general smartphone lines. However, that does not mean that it is a bad smartphone for the environments it is intended for. After all, it does tie together some interesting aspects for business use.
Physically, it's a very nice smartphone to hold and to carry around. That is, it's relatively small and light. This is without a doubt a plus if you have to walk around with it all day in a bar or restaurant, for example.
It is a ruggedized device that can therefore take a beating. This extends the lifecycle and thus makes it more interesting to invest in for organizations.
The device has a good battery life and a replaceable battery. In business environments where you really don't want downtime from your mobile devices, this is definitely a plus.
The Enterprise Edition label means you can keep the Galaxy XCover in use for a long time. You get security updates for longer than devices that don't have such a label. In addition, you can get started for free with the Knox Suite if you want.
With a suggested retail price of 289 euros, it's not an expensive device for the benefits in points 1 to 4 above.
The above five arguments ensure that the Samsung Galaxy XCover 5 may well be of interest to organizations. You can think of enough environments in which you only use one or a few apps and you don't have much to do with the software of a smartphone. Then the smartphone is more of a general purpose tool, with extra functionality in case it is needed. As far as we are concerned, the Samsung Galaxy XCover 5 is fine on the shortlist for that kind of environment. If employees actually have to work a lot on the device itself, then we would put this device a bit lower on that list.