A PC for the home office almost automatically always is a laptop. However, there are more options. We had a Gigabyte Brix as a work pc for a while, to experience what it's like to have a mini-PC on the desk.
At first glance, the choice for a laptop is an obvious one in view of the hybrid workplace we are moving toward. Assuming that during the week you work partly in the office and partly at home, it is of course convenient to be able to use the same PC for that. Yet a laptop also has some disadvantages. In terms of performance, most laptops don't offer all that much, even if you have a laptop with a mobile processor from the higher segments of AMD or Intel. Connecting multiple hi-res monitors also often doesn't meet expectations. In addition, you generally need something like a docking station to have enough connections for all your peripherals.
Alternatives for the laptop
If you're not entirely convinced about a laptop for your (home) workplace and you want to look a bit further, then you have several options. You can of course go for an 'old fashioned' tower PC, but that will probably be too big for many people. If you don't need a separate powerful graphics card, or other physically large (PCIe) expansions, it's not really necessary either.
An all-in-one is another possibility, but there are not too many of those in the Windows world. Apple's iMac is usually the only viable option. Recently, some beautifully colored variants of this came onto the market. These are excellent systems, but many organizations will still be standardizing on Windows. They are also quite expensive. Furthermore, an all-in-one includes a monitor. It may well be that you don't want that because you have your own preferences in that department.
Related to the all-in-one, but slightly different, are systems like the Dell Optiplex Ultra, which we discussed earlier this year. That's a monitor base with a PC inside, on which you can mount a monitor of your choice. A big advantage of such a system is that everything is modular. Not only the monitor can be adjusted to your own taste (within certain limits regarding size). You can also replace the PC itself with a more powerful one. That makes it quite an interesting future-proof proposition for the business user. However, you must take into account that not all monitors fit on the different types of feet of the Optiplex Ultra. The smaller stand of the two can carry monitors up to 27 inches, the larger monitors up to 40 inches.
The mini-PC
The mini-PC is a final alternative to the laptop in home office situations that we want to highlight here. The Gigabyte Brix that we will talk about further on falls into this category. The name of this type of PC actually indicates what it is. It is a very small PC. The internal components are similar to those of a laptop (except for the screen, of course), but in a very compact case.
Benefits of a mini-PC include full-fledged network connections (in addition to WiFi and Bluetooth, Ethernet as well) and a comprehensive number of connectors. The higher-end models often allow you to connect up to four monitors simultaneously. Given the compact size of a mini-PC, you can often conceal it inconspicuously. This can be done behind the monitor, for example, by mounting it using a vesa mount kit that's often supplied with the mini-PC. This not only makes it a suitable form factor for a neat home office. It also has its merits for digital signage or a point of sale applications.
Of course, there are also disadvantages to a mini-PC. The main disadvantage is that many models come as barebones by default. That is, you only get the housing with a motherboard and thus the processor. You often have to add an SSD, RAM, and a Windows license yourself. That's not an insurmountable problem in itself, but something to take into account. Of course, there are also mini-PCs sold that are completely "finished". If that's what you're looking for, you should pay close attention when ordering.
Furthermore, the combination of a small casing and relatively potent processor can cause the more powerful models to cool quite enthusiastically. The fans in a mini-PC are naturally small and small fans tend to make the most noise. Another obvious disadvantage is that a mini-PC does not come with a monitor. You have to buy a separate monitor. Finally, this form factor is not specifically intended for mobile use, although you can easily take a mini-PC to another location if you want to.
As we mentioned above, the internal components in mini-PCs are generally not much different from those in laptops. That is, they also contain mobile processors. A desktop processor simply doesn't fit. Still, you can assume that the processor performance of a mini-PC is better than that of a laptop. The cooling is usually better, which also ensures that the processor clocks back less quickly because it gets too hot. Furthermore, you often have more freedom to choose RAM and SSD than with the average work laptop. If the performance isn't good enough, you can easily put in more RAM, for example.
Gigabyte Brix BRR5-4500
Now, let's take a look at the mini-pc we've been working with for a few months, made available by Gigabyte, the Gigabyte Brix BRR5-4500. With a purchase price at webshops of around 400 euros (including VAT), it is not a hugely expensive device. Mind you, you're getting a barebone then. This means you get a mini-PC with a motherboard and processor, but no RAM or SSD.
Kingston was kind enough to make RAM available for the sample. Our sample sports two Kingston KVR32S22D8/32 modules, which means a total of 64 GB of RAM. Gigabyte further chose the 1TB version of its own AORUS Gen4 7000s as the SSD for this mini-PC. SSD plus RAM adds an extra 500 euros to the price of the system; 300 euros for the RAM and another 200 euros or so for the M.2 SSD.
All in all you end up with a price tag of about about 1000 euros for the whole system. But you can also choose much cheaper memory and a smaller and therefore cheaper SSD. You don't need 64 GB of RAM for most usage scenarios anyway. 8 or 16 GB on a system goes a long way. 16 GB can be purchased for around 60-70 euros. A 500 GB M.2 SSD should not cost more than 100 euros. You then end up with a much more reasonable amount of less than 600 euros. That's more or less the price for a half-decent laptop.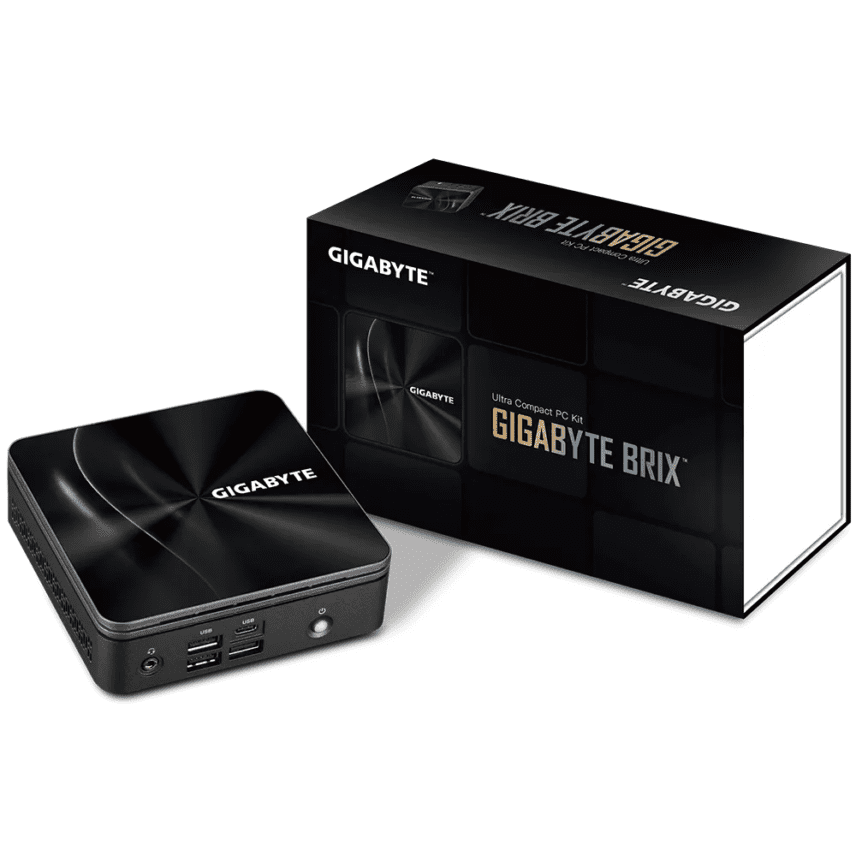 Please note that not all components fit easily into a mini-PC. The dimensions of the Gigabyte Brix BRR5-4500 are 34.7 x 119.5 x 119.5 mm. This means that Gigabyte had to remove the casing from the SSD to fit it into the Brix BRR5-4500. So you should pay close attention to that when buying the parts.
Many ports
As already pointed out, one of the advantages of a mini-PC like the Gigabyte Brix BRR5-4500 is that it has a lot of ports. Especially in combination with a monitor with an additional USB dock, it's hard to imagine you need more of them. In total, we count five USB-A ports (USB 3.2 Gen1) and two USB 3.2 Gen2 Type C ports. Three of the USB-A ports are on the front. This is smart for this type of port, as that makes them easier to reach. Handy if you need to quickly plug in a USB stick or charging cable, which still often use that connector. The headphone jack is also at the front.
On the back we see two more USB-A ports and a Type C port (the other is on the front). Both Type C ports also serve as DisplayPort connectors. That means you can connect a monitor to it. Of course, you can also use the Mini DisplayPort connector and the HDMI port. So in total you can connect four monitors to this one little PC. Even better, all four of these can have a 4K resolution, with the refresh rate at 60 Hz/fps.
We are generally not very fond of mini-connectors like Mini DP or Mini HDMI. This is because you need a new kind of cable for that. The chance that you already have one is just not that great. Standard full-size ports are then more convenient. On a mini-PC, however, these kinds of ports are almost impossible to avoid, given the limitations. If you prefer a mini-PC with only full-fledged connections, Gigabyte also has the Intel-based Brix BSi5-1135G7, among others. That model has four full-size HDMI ports. However, that device is quite a bit larger: 196.2 x 44.4 x 140 mm. If we take the largest size of both devices, we're talking about 19.5 vs. 11.9 cm. That's really a big difference for this form factor.
The last port on the back of the Gigabyte Brix BRR5-4500 is also a special one. Not so much because it's the LAN port, even though you never really see these anymore, especially on laptops since the rise of the Ultrabook. But mainly because this is a 2.5GbE connection, not the standard 1 GbE. This allows you to work faster on large files that you need to ingest and send regularly. Of course, the rest of your network has to support it too, otherwise it's no use to you. Also good to mention here is that the wifi module is also modern. It is an 802.11ax (Wi-Fi 6) module.
TIP: Be sure to read up on this standard by reading our comprehensive story about the new Wi-Fi standards if you want to know more about why Wi-Fi 6 and Wi-Fi 6E are a significant leap forward in wireless networking.
The very last connector is the one for the power supply. The Gigabyte Brix BRR5-4500 is powered by a 90W adapter. Also included in the box is a vesa bracket, which allows you to hang the device on the back of a compatible monitor.
AMD Ryzen 5-4500U
Internally, in addition to the Kingston memory and the Gigabyte AORUS SSD, the processor is obviously of great importance. In this version of the Gigabyte Brix BRR5-4500, Gigabyte has put the AMD Ryzen 5-4500U. The barebone can also be purchased with a Ryzen 7-4800U, Ryzen 7-4700U and with a Ryzen 3-4300U.
The AMD Ryzen 5-4500U is a mobile processor, which you can also find in laptops. So you should not expect miracles from it in terms of processing power. If we look at the ranking on userbenchmark.com, we see that it can be found somewhere in the middle of the rankings. That means the Gigabyte Brix BRR5-4500 doesn't replace a workstation, not even a mobile workstation like the Dell Precision 5550 that we recently reviewed (in Dutch). You should really think of this as a replacement for lugging a standard work laptop back and forth between home and office.
The Ryzen 5-4500U was introduced to the market in Q1 of 2020. It is, however, the first AMD mobile processor to be baked on TSMC's 7nm FinFET process. By now not so special of course, a mere two years later, but it does indicate that the processor was developed with limited power consumption in mind. For laptops, this is obviously more important than for a mini-PC like the Gigabyte Brix BRR5-4500. Still, given energy prices, even for home workers, it never hurts if a mini-PC doesn't consume too much power.
The U variants of the Ryzen 4000 chips, to which the chip in the Brix BRR5-4500 also belongs, are designed with a Thermal Design Power of 15W. The H variants have a TDP of 45W. This is yet another indication that the 4500U in the Gigabyte Brix BRR5-4500 consumes relatively little power. Thanks to its six cores, processes and workloads that can use it can be efficiently distributed across up to six threads. SMT, or Simultaneous MultiThreading is not available on the Ryzen 5-4500U, so you really do have to make do with those six threads. Not very surprisingly, the GPU is also integrated into the Ryzen 5-4500U. A dedicated graphics card won't fit in the Gigabyte Brix BRR5-4500 anyway.
What's the Gigabyte Brix BRR5-4500 like to use?
As mentioned above, we were able to work with the Gigabyte Brix BRR5-4500 for several months. Those months also coincided with a period when we were able to go on the road again on a regular basis. This is relevant, because it also allowed us to experience working with two devices: a laptop on the road and the Gigabyte Brix BRR5-4500 in our home office.
All in all, we're pretty pleased with working with a mini-PC, in this case specifically the Brix BRR5-4500. First of all, it's a lot more powerful than the laptop we normally use. That is, everything is a lot faster, from booting up to installing programs and opening them. Now, we have to admit that we work with an HP EliteBook 1030 x360 G3. That's already a slightly older model (about 3 years), but one with a high-end mobile Intel Core i7 of that time on board. Our particular configuration set you back well past 2000 euros when it came on the market. You can expect something from that even after a few years. In addition, many organizations will also use their laptops for a long time and often start at a significantly lower level. So the comparison is valid, we think.
Besides the better performance, it is also very nice to have all the ports on one little box. They are also, as mentioned earlier, well distributed throughout the device. We were able to put the DisplayLink dock from Targus back in its case, at least temporarily. This saves some space on the desk, but also removes several annoying compatibility issues between dock and laptop. The Type-C/Thunderbolt output of the HP laptop and the Targus dock did not always get along. This frequently resulted in errors in displaying content on the external monitor. In addition, it also caused interference with the dock's headphone output.
The above compatibility problems are, of course, exemplary. That is, it is undoubtedly related to this particular combination. Not all combinations of dock and laptop will exhibit this behavior. However, the point is that with an additional device, you always add an additional point of failure to your setup. With a mini-PC and a monitor attached you do not have this problem. Of course you may still run into an issue, but then the cause is at least a lot easier to identify. In the case of our dock and the laptop it always ends up in finger pointing at each other. As a user, that does not help you at all in the end.
One downside to the Gigabyte Brix BRR5-4500 is that it does really get quite noisy. The fans don't stop very often and when they are active, they make quite a bit of noise. Many people may get used to it, especially if they often work with headphones on, but we can imagine that this can be experienced as annoying.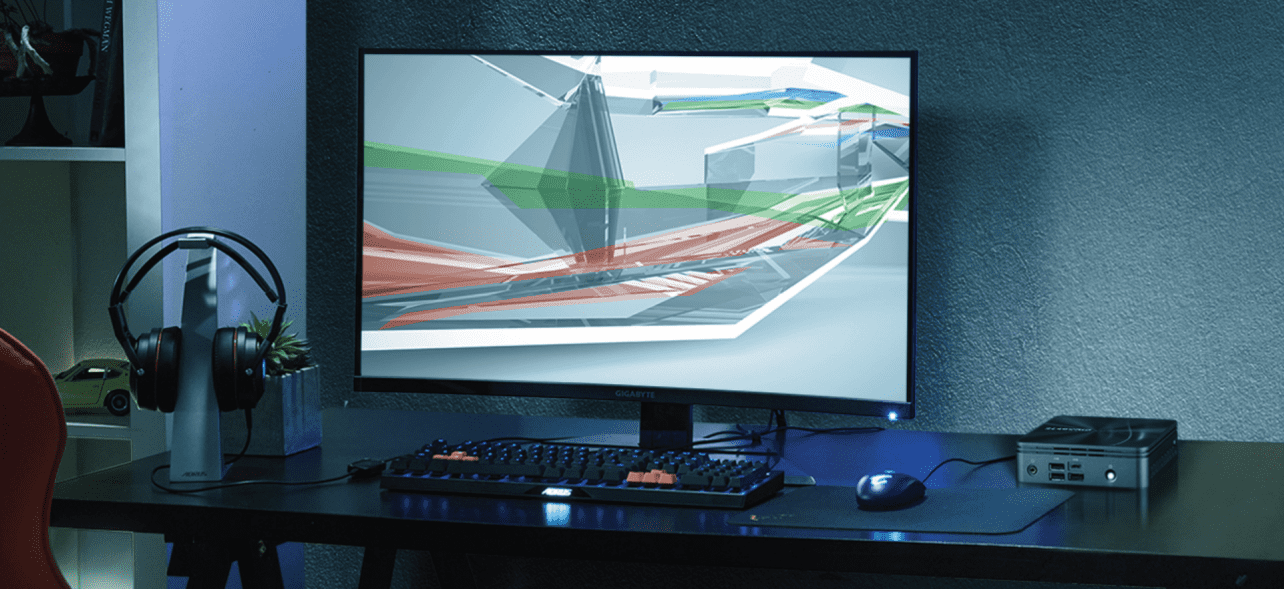 Different way of working
The main challenge in using a mini-PC is that you have to work with multiple devices. One for your (home) office, one for on the road. This not only entails double costs, but also requires a specific way of working. That is, you should take the cloud as the starting point. Storing things locally is not practical and even undesirable, because then you can't access them from anywhere. If you work on documents in an environment like Box, which we do, then you don't have this problem. You can access your files anytime, anywhere. Of course, even then it is important that you make at least one (local) backup, which you synchronize with the cloud environment.
In terms of the applications you use, working with two devices will also have an impact. Double licensing costs are obviously not the intention, for example. The obvious choice would be SaaS applications. That will not always be possible, for example with very heavy programs. However, these are not the programs that you usually want to run on a laptop or mini-PC, so we don't see many problems in that respect.
Finally, working largely in the cloud also brings some advantages from a governance and compliance standpoint. After all, you're working with a single set of data, not multiple copies. In terms of security, this also offers some advantages, of course. If you can cover this centrally and protect it properly by means of access controls, in theory at least you reduce your attack surface.
Conclusion
All in all, you could say that using a laptop and a mini-PC alongside each other for your employees has an effect on several levels. First of all, as far as we are concerned, it creates a more pleasant and productive working environment for employees. A mini-PC will usually deliver better performance, in a compact housing, but with enough connections to do your job well. In terms of management (remote or on-site), having a single throat to choke in case of problems is also nice.
In addition, a mini-PC also allows you as an organization to take a good look at how modern your IT environment actually is and whether you can improve it. Since you work with multiple devices, this also means that you have to centralize things. Specifically, that will mean that you need to make more use of the cloud. If all goes well, you'll also have a better overview of where your data is and whether it's secure enough.
If we look specifically at our experiences with the Gigabyte Brix BRR5-4500, we are convinced of the added value of this mini-PC for the workplace. We could do our work better with it than with a laptop, which was the most important criterion for this test. Of course, the financial picture must be right if you want to introduce this in your organization. That will be different for every organization. We would certainly consider it, especially now that many employees will be working from home more often. Then a good workplace is even more important than it already was.