Salesforce showed some innovations in the field of speech at its recent Dreamforce conference. This not only concerns speech recognition, by means of Einstein Voice Assistant, but also the analysis of speech in conversations with customers.
In the United States, half of households already use a speech assistant in the form of Amazon Alexa or Google devices, but this technology is less prominent in Europe. The fact is that, in the future, we will be preparing for more voice communication with our devices. What exactly this will look like is sometimes hard to imagine. Salesforce is doing its best to showcase new initiatives to make work easier.
Talking to Einstein all day long
Salesforce presents Einstein as the speech assistant you can talk to all day long in all Salesforce products. Einstein can provide a daily briefing, whether you are on target with your sales target, how it relates to previous quarters, etc. It works for short and powerful questions and answers, but often it misses some details.
If you go to a customer, you can ask Einstein for preparation. You will then be presented with some figures. Think of a number of outstanding problems or actions. You just miss details. Not that it is better if Einstein reads out a complete list of tasks or the sales figures of different product groups for a specific customer, that data is simply not desirable to take to you through speech. This requires combining speech with visualisation. This is only partly possible, but it will undoubtedly be much better in the near future. Dreamforce probably came just a little too early for that. With the acquisition of Tableau, Salesforce will soon be able to visualise everything beautifully, with beautiful tables, graphs and overviews. As soon as the power of Tableau will be combined with speech, everything will become even more interesting.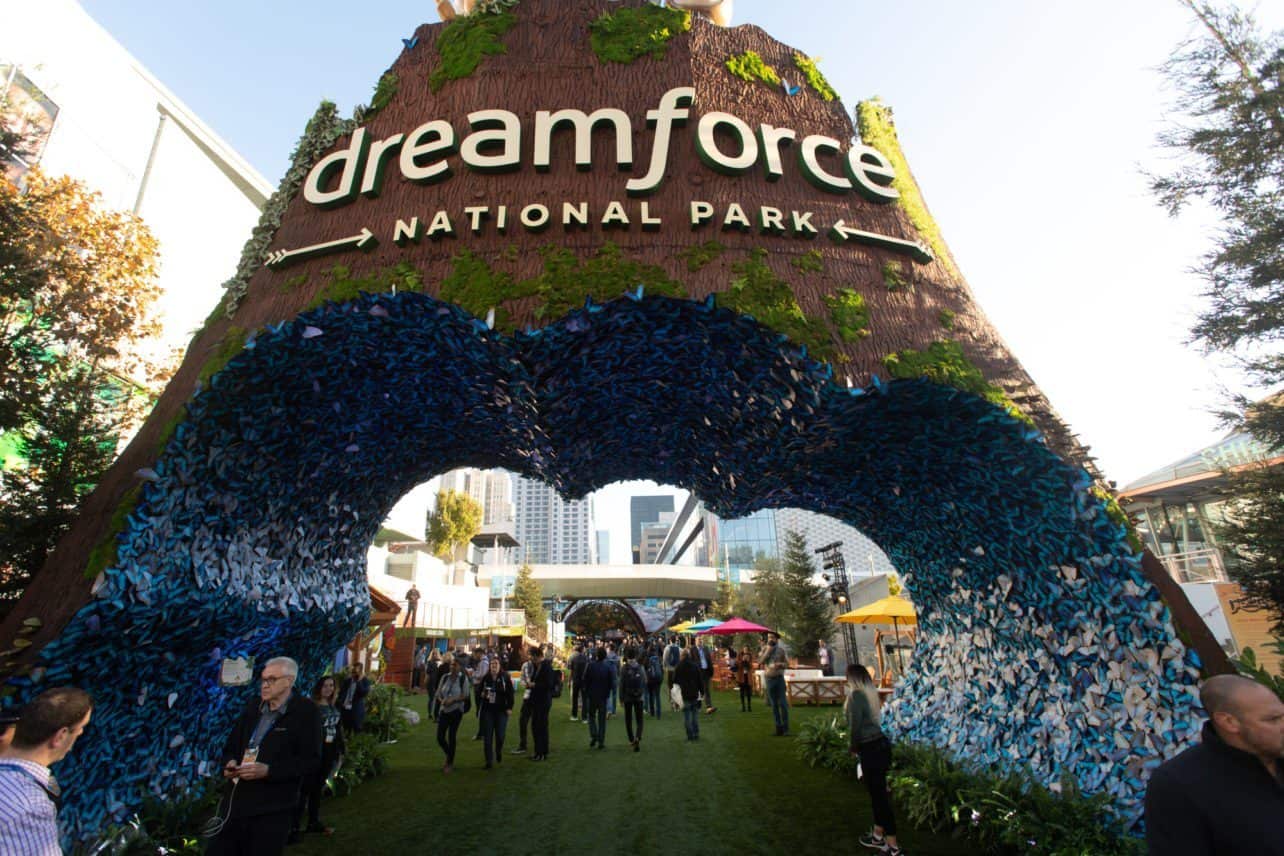 Leveraging voice technology for customer service
While speech technology is used for Einstein on the one hand, Salesforce is now also going to use it to listen to customer conversations and take action on them. The text: "This conversation can be recorded for training purposes" will soon change to "This conversation will be recorded for research and training purposes".
It will support customer service with Service Cloud Voice. Based on number recognition, they already know who is calling. Then ask a very specific question. For example, it could be a question for an airline company: will there be a seat available at the aisle with more legroom on your next flight to San Francisco? Based on this question, the system can retrieve the information of your upcoming flight, load available seats and immediately notify the employee that seat 12D is available for 45.95 euros.
For example, a technical question can also be asked, for which customer service normally has to go into a knowledge base (database) for an answer. The article in question can be shown to the employee from this database, so that the correct answer can be given immediately. The talking time with a customer service employee can be drastically reduced, because you will be helped much faster.
On the other hand, Salesforce showed a demonstration that goes one step further. Sometimes customer service is only available from 9:00 to 17:00 or, with luck, from 9:00 to 22:00. If you want to contact us outside of the office or at the weekend, an Einstein speech assistant would be able to take on some of the common tasks. In the demonstration, Salesforce showed that someone decides to extend their rental car by three days through a phone call to a computer-controlled voice assistant.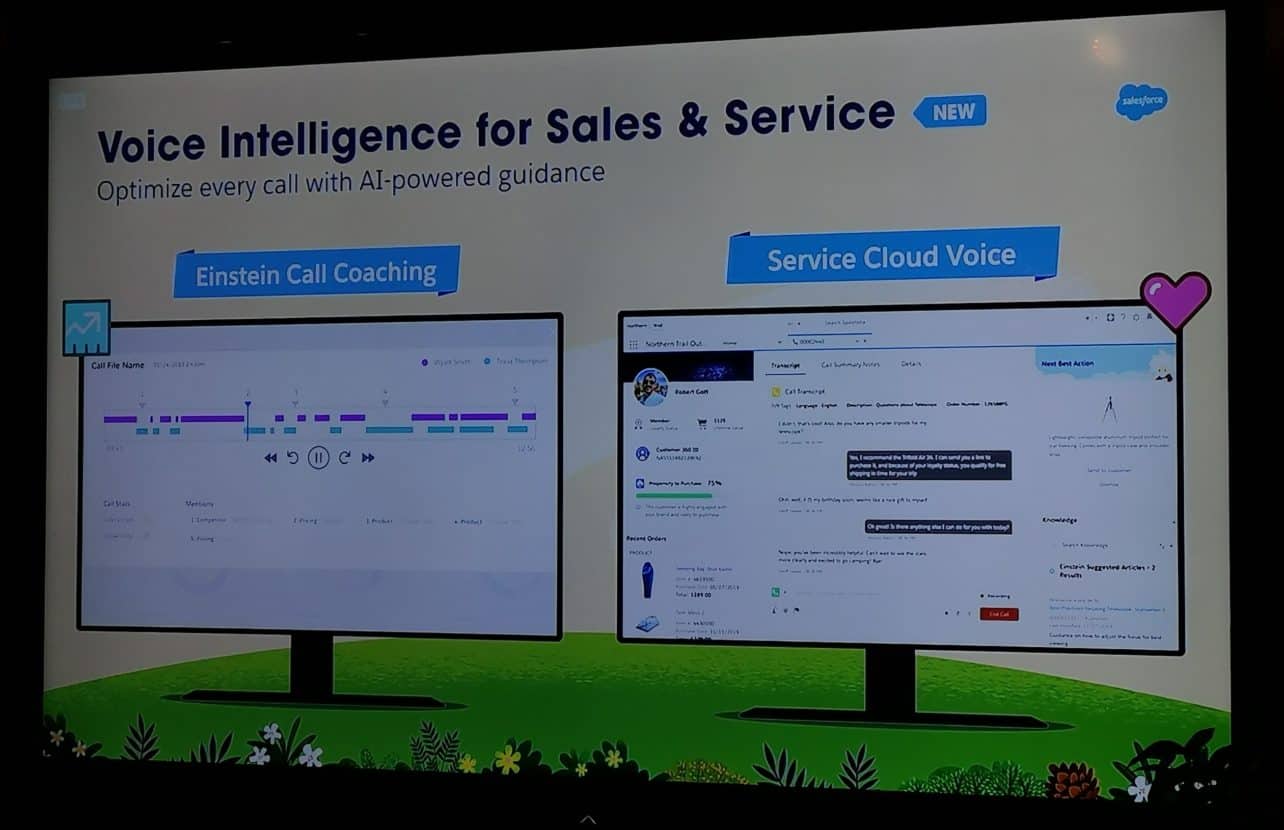 Using speech technology for sales with Einstein Call Coaching
Companies with a large sales organisation often struggle to improve their sales processes. There are a lot of calls to customers and potential customers, but at some point in the conversation things go wrong and it doesn't lead to a sale, even though it might have been expected.
Why does a customer choose not to purchase the product or service during a conversation? There may be several reasons behind it. For example, the product does not meet expectations, it cannot be delivered at home or the product is too expensive. By analyzing all the sales conversations with Einstein, insight can be provided. This way you can find out that customers in 45 of the conversations indicate that the product is too expensive or that 35 percent would like to have the product delivered to their home address.
This feedback can then be used to see if the conditions can be adjusted. Perhaps the feedback leads you to the conclusion that you need to come up with better arguments to convince the customer.
This brings us to the next feature Einstein Call Coaching. Salesforce can respond directly to certain arguments of a customer, by showing exactly what the sales person has to say or offer. In this way, it is easier to jump in if, for example, a competitor is mentioned in the conversation. This can be done in real time, so that the customer does not realize that the sales person has a digital tool.
The big question is whether Einstein Call Coaching is allowed legally.
There's another big hurdle to take Salesforce with Einstein Call Coaching. Legally, this product is on extremely thin ice. There is no problem with the Cloud Voice Product Service; the customer is immediately informed when the call is made that the call is being recorded and analysed.
This is not the case with a sales call in which the sales person calls outside and approaches the customer. This is a legal problem. "You may only record a conversation if you have a legitimate interest in it, with a good substantiation, objective and short retention period. This is certainly not the case with a sales meeting," says Arnoud Punt of Aecius Legal Advice. The sales person will therefore have to announce immediately that the interview will be recorded. You don't have to be a sales expert to understand that this is not a great entry point at the start of the interview. "Good afternoon, this is John Smith, calling for electricity company Blinking Light, this conversation will be recorded for research purposes." So, this is quite the obstacle for Einstein Call Coaching. The response to this will differ for each country and culture.
This does not mean, however, that the product has no chance of success from the outset. Besides the differences for each country and culture, there are also organisations that are often called by customers with an interest in ordering something. If customers dial in themselves, it is easy to play a tape that the call is recorded, as most callers are used to that by now.
At Salesforce, we asked the go-to-market team how they feel about this, they do not yet have a solution for this threshold. It still has to be investigated and a suitable solution has to be found.
It is clear that speech has the future, and at Salesforce it is a development with a lot of focus. We now have to wait for the products to be available at the beginning of next year, and Salesforce will continue to develop the products, possibly in more languages as well. At the moment, Einstein Voice is only available in English.