Prior to Dreamforce, the major Salesforce conference, we visited the first U.S. Decathlon store in San Francisco to hear how it innovates with the help of Mulesoft. Mulesoft was acquired by Salesforce last year.
For those unfamiliar with Mulesoft, Mulesoft is a specialist in connecting different online services. Through the use of APIs, Mulesoft can make one solution talk to others. So, that's a real integration partner, and also the reason why Decathlon came to Mulesoft in their search for a new innovative model.
Decathlon already had the necessary stores outside the United States, now more than 1600 stores in 52 countries. In 2016, it decided to make a new attempt in the United States, after having closed all stores in the country in 2006. The lesson learned from this is not to bring the current European model to the US, but to try to innovate and enter the market in a new way, in which the focus should be on innovation. The store had to offer a new experience. The Decathlon brand had to be sold, to convince the Americans.
There's nothing wrong with learning from tech giants
Decathlon decided to open its first store in San Francisco, in the heart of innovation, near Silicon Valley. It's a city where a huge number of sports can be done, such as on the hills and in nature parks. In addition, there is a large group in San Francisco that aspires to a healthy lifestyle and has sports high on its agenda. If you don't manage to succeed in San Francisco, then Decathlon won't succeed anywhere in the United States.
With only five people, Decathlon travelled to San Francisco to set up a new kind of store. What's striking is that some of it was copied from the biggest tech giants, such as the Apple Store. There are no longer any real cash registers, the checkout is done by an employee with an iPhone. Furthermore, all employees are trained internally with the necessary sports knowledge so that they can give advice to customers who visit the store. It's really about providing added value and maximising customer satisfaction. In this way, a brand with value is created.
Decathlon has the same range of products worldwide
Nothing has been adapted regarding the product range. The products sold in Europe are also available in the United States. The product vision fits just as well in the US as it does in Europe, so there has never been a consideration to make radical changes. Decathlon develops its own sports products and sells them in its own stores. The aim is to make affordable products and to make the quality as high as possible within that price point. Decathlon is a kind of IKEA for sports equipment, but fortunately, you don't have to assemble them yourself.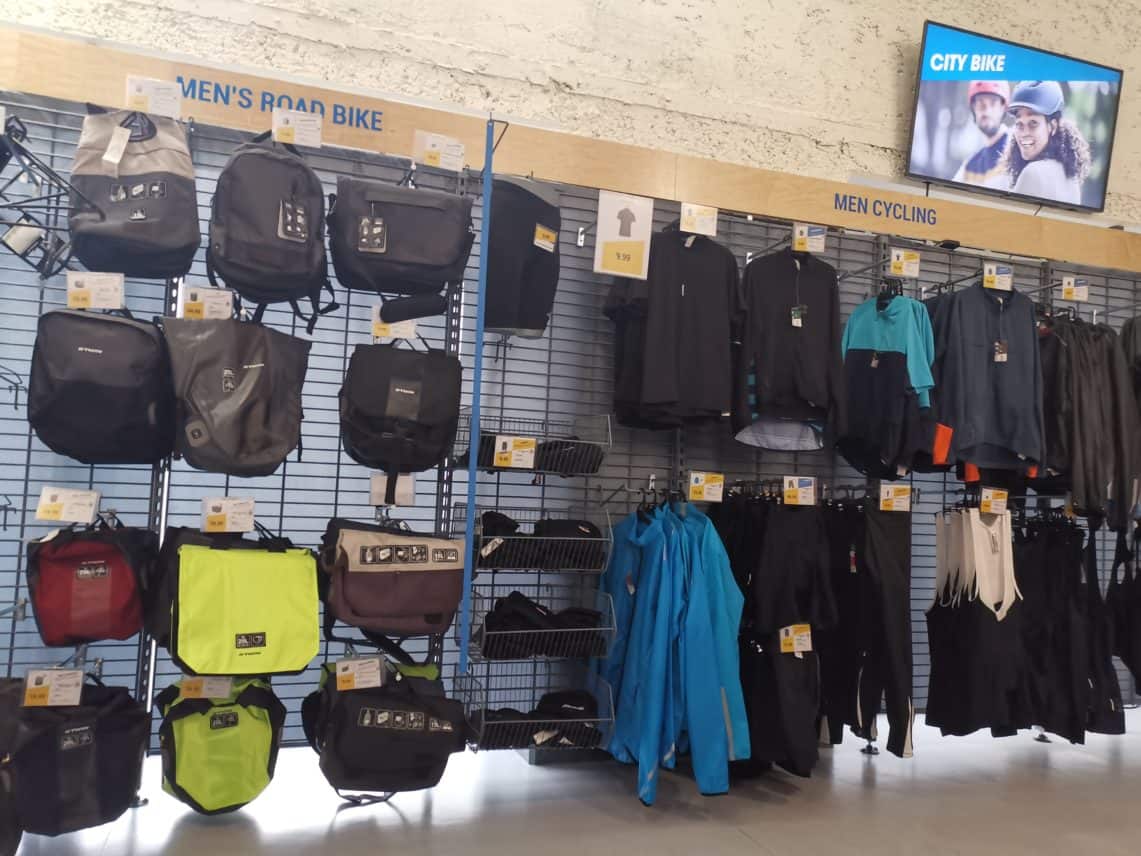 Decathlon has more than 100,000 SKUs, which means more than 100,000 different products. Not all of them can be sold in the store. The online offer and the offer that can be delivered at home or in the shop is many times greater than the offer in the shop. However, it also means that the shops are a lot fuller than the aforementioned Apple Stores, for example. The comparison with the Apple Store really ends with the fact that there are no cash registers and that there is cashless work.
Stock, checkout and theft protection, thanks to RFID
Because Decathlon is a sports shop suitable for the whole family and a large number of products are sold, people often do not buy a single product. They usually have a basket with several products. An intelligent checkout system has been developed to prevent shop staff from having to scan these products one by one. Throughout the shops, there are small counters where you can slide in a basket of products. These counters contain RFID scanners that can scan all the products in the basket. The shop assistant can simply scan the counter to fill the digital shopping basket at once with the contents of the physical shopping basket. This goes well in 98 percent of cases because 98 percent of products have an RFID label. An example of when it doesn't work: it is difficult to label a basketball with a label. These products have to be added manually.
So, the shop assistant still has to do a check to see if all the products have been added, and there is another challenge that needs to be solved. The customer can then pay digitally. After the checkout, a signal is sent to all RFID tags, which disables the alarm. This allows the customer to leave the shop without loud sirens at the exit. These RFID tags ultimately play a major role in Decathlon's innovation. From stock to checkout and security against theft.
Decathlon robot
In the Decathlon shop, a robot is also driving around to assist the shop staff. It is not possible for customers to interact with the robot. What the robot does is drive in circles in the shop and make an inventory of all RFID tags on the products. If a product is hanging in the wrong place in the shop, an employee can see this and correct it. In addition to the Decathlon stock system, the robot also performs an extra check.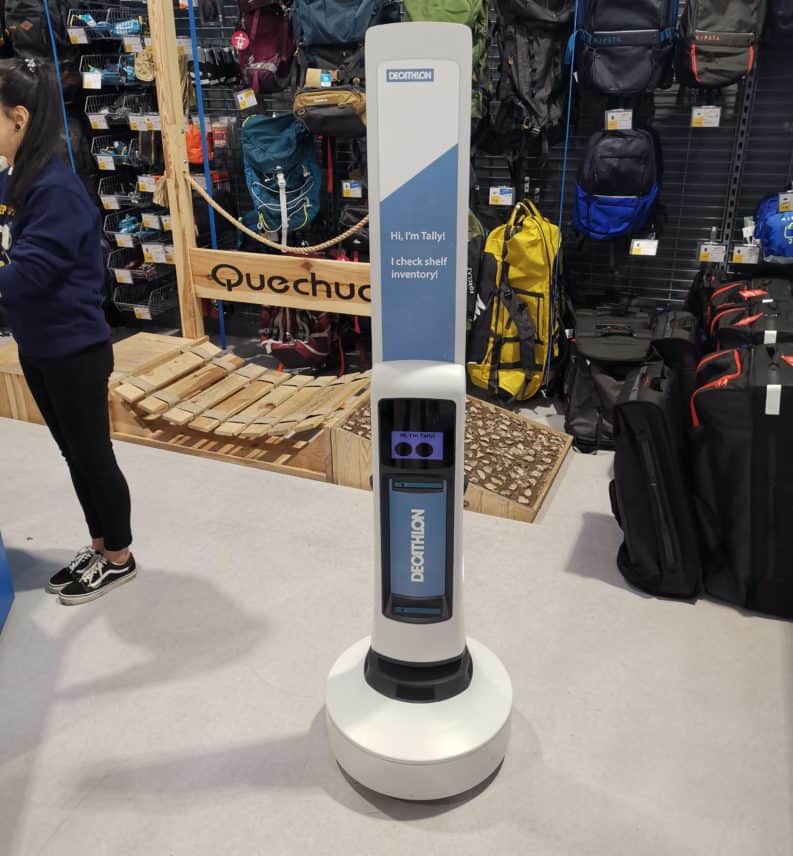 What role does Mulesoft play in all these processes?
Mulesoft is the link between all the innovations that Decathlon has applied, because despite the fact that these innovations seem to stand alone and perhaps come across as fairly simple, there is much more behind them.
Point of sale
Decathlon really looked at how they could create an innovative store concept. The first thing they did was adjust the Point of Sale. No more cash registers but iPhones to deal with the aforementioned RFID package. It was also decided not to allow cash anymore. In order to make the system as efficient as possible, it was decided to work with a payment partner, who can process both the online payments and the payments in the shop. As a result, all customer transactions run through the same system and payments can be processed quickly and easily.
The store also works with a partner for all the different American taxes. In Europe we have VAT per country, in the United States, this is different per state and sometimes even per city. That is a lot of work to keep track of and arrange. There are, however, parties who specialise in this and who can add the correct tax rate on the basis of the zip code of the customer or the shop.
Linking the product catalogue with RFID
The stock system delivered from the head office was also linked to the RFID tags. The products can not only be tracked in the stock system, but also in the shop. This makes innovative checkout possible using RFID scanners.
Try it out first, then pay
Decathlon offers the possibility to try out some products before you buy them. This is more or less a delayed order. A software module has been developed for this purpose, which makes this possible, but it must be integrated into the overall IT system.
Fraud prevention
As a chain of stores, it's nice to know that you're actually getting your money. Especially when paying with credit cards, or when customers are trying things out first and then paying, there is a risk. Fraud prevention is therefore important, as there are companies that specialise in this and that can indicate whether a person or a certain credit card number is legitimate, or whether there is a flag behind it because of problems in the past.
The solutions we have described so far are all fairly modern and have APIs. An API makes it possible to have different IT systems communicate with each other at the back. Mulesoft is the specialist in this and can have all these different systems talk to each other, and even manipulate data, so that nothing goes wrong. For example, a date can be written in different ways: 01-07-2020, 2020-07-01, 07-01-2020 or even in a Linux timestamp. Mulesoft can ensure that the data is passed on correctly.
This makes it possible to recognise the products in a shopping cart based on the RFID tag, to look up the price, to process any discounts, to make the payment, to update the stock system, to disable the alarm and to report the turnover in the financial administration. These are all different systems that have to be executed with each transaction.
No matter how simple this may sound, it is not. Certainly not if you realise that Decathlon has 70 of those modules that need to communicate with each other in one way or another.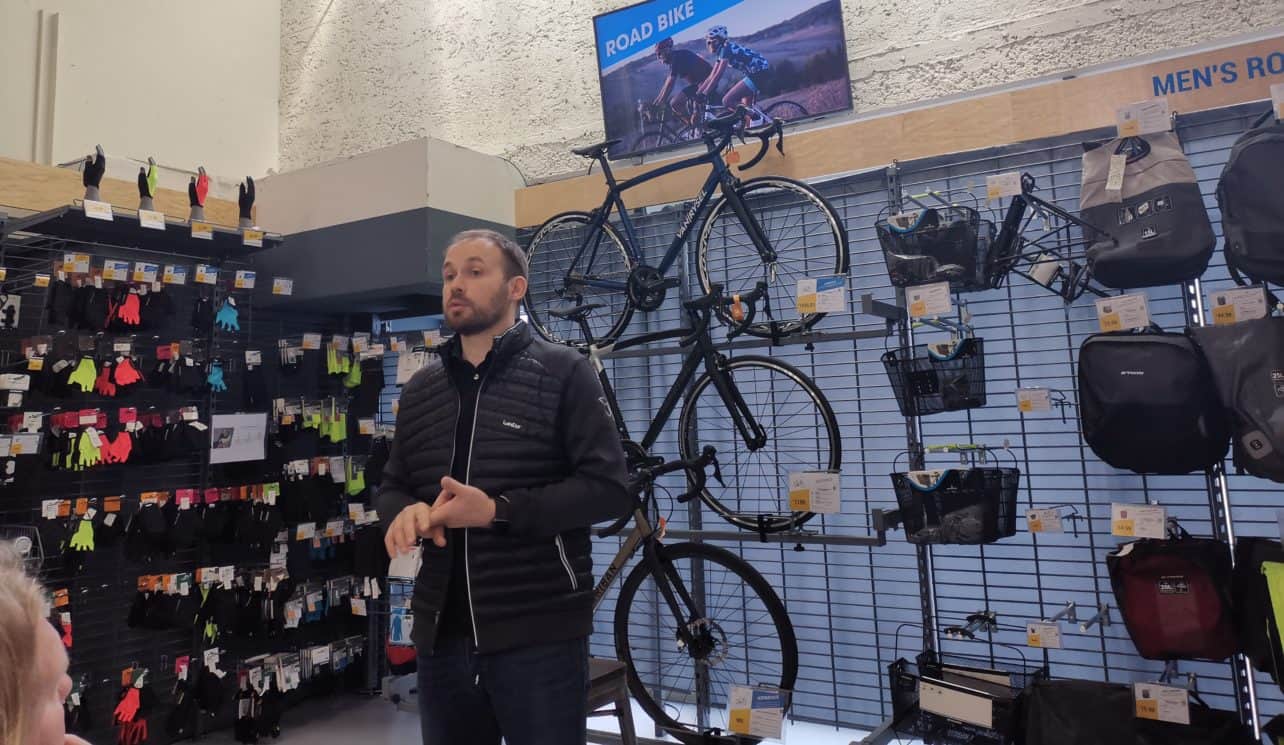 Mulesoft is also compatible with legacy systems
Finally, there is also a piece of legacy IT. Decathlon did not mention it that way, but it does come down to that in practice. The company has been in existence since 1976, which means that it has already had quite a few IT systems. This is how we understood that the financial administration and the inventory system are somewhat outdated. These do not yet have APIs, so Mulesoft can't talk to them directly.
Just not connecting the products is not an option. You simply need the stock system. First of all to know which products are available, which SKU's belong to them and to order stock for the shops. Decathlon is also listed on the stock exchange, so the American stores must also properly report their financial results in the financial system.
Mulesoft can provide a so-called layer that can be placed between the modern API's and the legacy IT systems. This intermediate layer talks via an API on the one hand, and on the other hand it can communicate using alternative methods. For example, this could take place by uploading a file via an FTP server, making an SQL injection into a database, reading out a database, or communicating via an outdated web service.
Mulesoft takes care of innovation and turns Decathlon into a brand experience
In the end, Mulesoft has become crucial in Decathlon's entire innovation process. All these IT systems talk to each other via Mulesoft. Because the shopping experience has become more innovative, Decathlon has been able to position itself as a brand, for which the experience in the shop has improved loads. The time spent by the staff is mainly spent on advising customers. A lot of small actions have been made superfluous and automated.
According to Decathlon, this has enabled the company to successfully establish itself in the US, and the chain can now compete with major sports stores in San Francisco.