Of all the data workloads that companies have to deal with today, only a small portion is really important to have direct access to them. The rest of the data workloads may cause inconvenience because they are located throughout the network. This so-called secondary data can, therefore, best be stored somewhere else. During Cisco Live in Barcelona, we met Cohesity, which uses its platform to capture this 'secondary data' and therefore helps companies to better focus on the data they really need for their business.
Anyone walking around at the last edition of Cisco Live EMEAR cannot fail to notice that the American network, data and cloud supplier also has a large ecosystem of other suppliers. In concrete terms, this ecosystem consists of a number of pillars to achieve innovation in particular. In addition to investing heavily in its own R&D, the American company constantly takes over companies to use their technology to expand its own Cisco technology, such as Meraki, AppDynamics and Broadsoft. Of course, Cisco also enters into partnerships with companies that are important for their own solutions, such as NetApp or Ericsson.
The ecosystem is being perfected with often emerging parties, mostly scale-ups, in which Cisco invests as a good match for future innovation. This involves a considerable amount of money, between 250 and 300 million dollars a year, as we have been told. Companies that are invested in are located in various areas such as storage, DevOps or for IoT applications.
Cohesity and secondary data
One of the companies in which Cisco invests is the American software-defined storage scale-up Cohesity. This company, founded in 2013 by CEO and former co-founder of Nutanix Mohit Aron, focuses on consolidating and managing 'secondary data' with its own platform and services.
Secondary data is data that includes backups of primary data, archived data or data used for testing, certain objects and analytics. In short, all data that does not need to be used directly for the most important processes within companies and organizations.
More costs and 'dark data'
Much of this data roams the entire (data center) network infrastructure of companies, in applications, but also within the various (multi)cloud environments, branch offices and edge locations. This results in a high degree of fragmentation, which, among other things, makes it difficult to retrieve data.
In addition to difficult management, there is, of course, also a large cost component. Because the data is stored in different places, it is possible that several datasets with the same information can be found everywhere. This, in turn, means costs for more storage architecture and for managing it. Finally, fragmented data means that it is unknown where all the data are located and what they contain. Cohesity calls this the creation of so-called 'dark data'.
The supplier indicates that the management and storage of these secondary data is a major problem for companies and organisations. According to Cohesity, only 20 percent of all data present in companies is 'primary data' and is therefore essential for the day-to-day running of the company. The other available data are, therefore, the data that are not immediately necessary and can be classified as secondary data.
Software-based data platform and services
To put an end to the high fragmentation of all data and to ensure that companies and organizations can use their primary data for their important business purposes completely and without problems, Cohesity developed its Data Platform and other secondary data services.
This software-based data platform, or Hyper-Converged Secondary Storage (HCSS), which is the most important product providing the storage scale-up, ensures that all secondary data is consolidated, stored and made available in a controlled manner in a single place. All this includes the various backups, the copies needed to perform tests, files, objects and data for analytics. The platform actually acts as a kind of operating system that controls such things as deduplication, compression and the optimization of the data.
In addition, the DataPlatform ensures that file and object data can be expanded and managed indefinitely. It also provides automated police management and ensures data integrity under all circumstances. The platform also offers a solution for disaster recovery.
Recently, a specific service was added that can directly prevent and detect ransomware attacks. In case fate has struck, this service can help companies to respond to these extremely malicious attacks. In this way, the platform ensures that the hackers are kept in line, and at the same time, the progress of the business activities can be guaranteed.
Link with (multi)cloud environments
The Cohesity Data Platform links the AWS and Google Cloud Platform (GCP) cloud environments to retrieve and store data or applications. Of course, Microsoft Azure is also supported.
In addition, services such as data protection, analytics and automated data management are carried out from within the platform itself. This is in order to give testers and end-users of analytics more possibilities.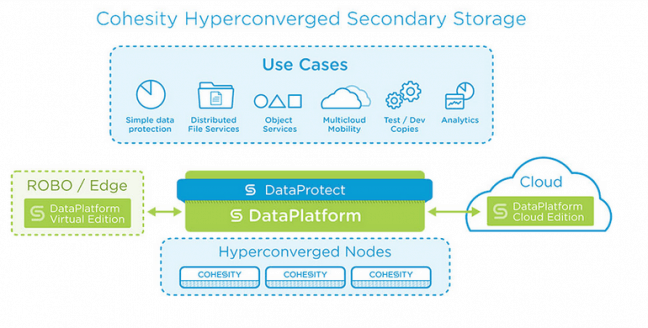 Agnostic regarding underlying hardware
During the event in Barcelona, we saw the Cohesity Data Platform in operation with, of course, the underlying hardware infrastructure of Cisco and in particular HyperFlex. The platform can also run on 'normal' Cisco UCS (Unified Computing Servers). In the configuration with Cohesity, the important primary data remain stored within HyperFlex, and secondary data are transferred to the DataPlatform.
The platform is therefore delivered for the data center environment on the HyperFlex infrastructure, but for application on the edge of the network, this is also possible with a virtual node. It is also possible for this edge environment to run the DataPlatfom virtually in (multi)cloud environments, specifically AWS and GCP, but also on the cloud propositions of other S3 service providers accredited by the storage specialist.
Furthermore, the storage specialist's solution is not exclusively reserved for Cisco's (Hyper-Converged) hardware infrastructure solutions. The DataPlatform also runs on HPE and other HCI applications. The virtual node solution is also suitable for VMware vSphere.
Other services and tools provided
In addition to the DataPlatform, as the most important product, the storage scale-up offers even more services. For example, DataProtect offers a total solution for protecting physical and virtual workloads and primary data wherever they are located in the entire network environment. The solution combines backup, recovery, replication, target storage and storage in (multi)cloud environments in a single web-based platform with a clear interface.
End users can also integrate existing licenses of other backup and replication solutions such as VMware, Hyper-V, Nutanix AHV and KVM into the platform. On the hardware side, DataProtect collaborates with snapshot-based protection for Pure Storage FlashArrays, FlashBlade, NetApp and Dell EMC Isilon, as well as NAS devices and even tape storage solutions.
Visibility and analytics
Another tool that the storage specialist offers is Helios, to obtain a complete overview of all secondary data wherever they are located. The tool supports real-time monitoring and multi-cluster management. Helios uses artificial intelligence in the form of machine learning, among other things.
The Analytics Workbench tool enables users of the Cohesity-DataPlatform to apply deeper analyses to the secondary data. These analyses can be used to develop special applications for this secondary data, to provide compliance or to deal with certain threats.
Providing a niche
Cohesity, therefore, offers interesting solutions to solve the problem of the enormous data fragmentation that companies are increasingly facing. By focusing on the 80 percent of secondary data, the company provides a niche for which there will be a lot of demand in view of the large data explosion of the coming years.
The cloud specialist does this with its DataPlatform, which works well with HCI applications from major suppliers such as Cisco and HPE. However, it is questionable whether these hardware infrastructures will be expanded with other brands, such as Dell EMC or Lenovo. Then the solution will be of interest to many more companies, we think.
The additional services such as backup, deduplication, object management and more advanced applications such as analytics make the platform even more attractive to many potential users. Cohesity's other services are also in line with this, of course.
In short, the company seems to be on the right track with its storage portfolio and solutions for secondary data. We will continue to monitor their efforts closely.