Microsoft has been expanding Dynamics 365 for years. The SaaS portfolio offers ERP and CRM software solutions. Recently, however, we have seen the tech giant making significant investments, and it seems to want to increase the pressure on its competitors. What's Microsoft's direction of Dynamics 365?
Many companies already rely on Microsoft's ERP or CRM. Moreover, recent financials from the tech giant show revenue growth from Dynamics 365. This makes it an essential product for Microsoft, although it is difficult to determine objectively how it compares to the competitors. It is generally assumed that SAP, Oracle and Salesforce dominate the market from enterprise SaaS apps.
Of course, Microsoft has enough ambitions and wants to continue to grow. Expansion of Dynamics 365 is therefore receiving plenty of attention. The recent Inspire event was used for this, while CEO Satya Nadella also had plenty to say during the Quarter Results.
Collaboration
What is becoming increasingly important in the current market and economy is using applications that support hybrid working. Collaboration solutions are critical here, as they are needed for virtual meetings and instant messages. Fortunately for Microsoft, it can rely on its Teams solution for this. The tech giant sees this collaboration solution in combination with Dynamics 365 as a powerful tool for exchanging and capturing the ideas of employees and stakeholders as they work.
For example, Dynamics 365 users can invite colleagues via Teams to view customer records, possibly supplemented with policies to ensure that only the right employees view the data. This can be useful, for example, when marketing needs to discuss specific customer issues with sales. They can share customer history and assess the customer relationship, among other things, so there is the proper context when the customer is approached. This integration can also be helpful for customer service agents, such as when sharing a plan for resolving issues.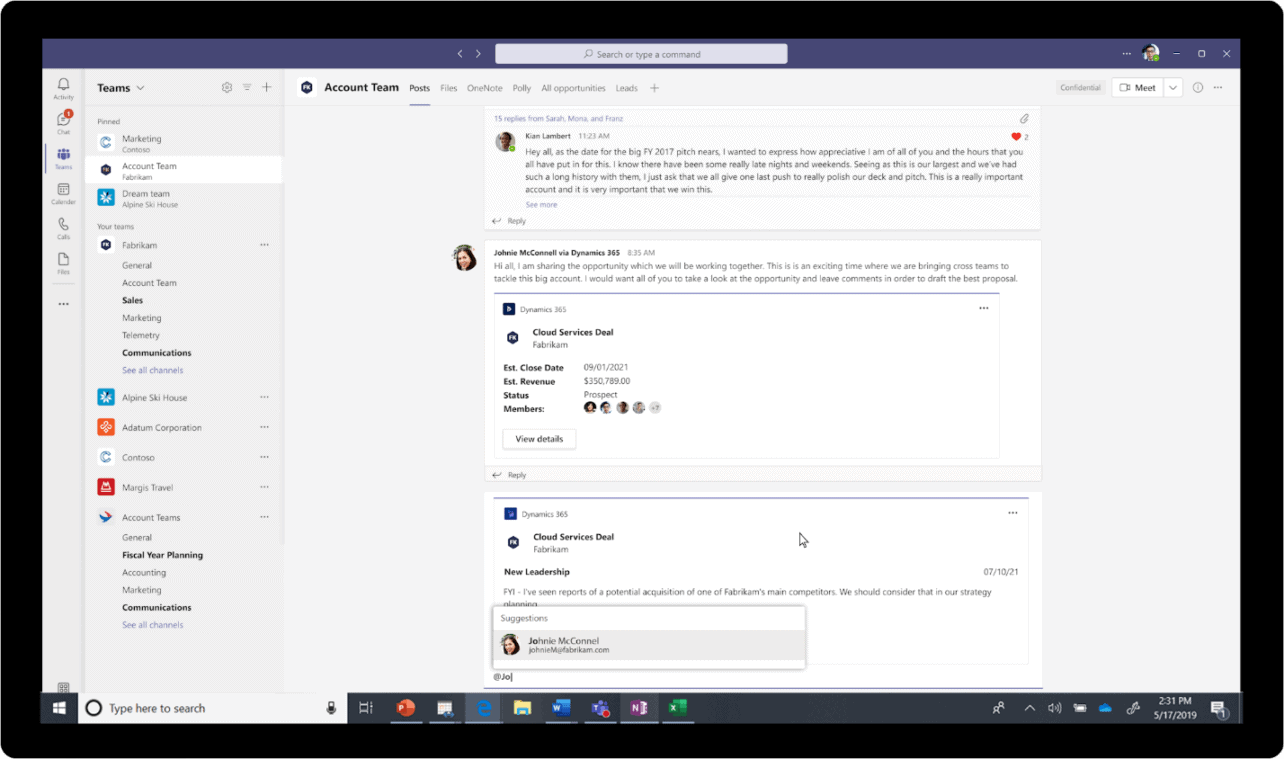 Because of this feature, it happens in several organisations that employees make changes and additions to records simultaneously. Therefore, employees receive notifications when something happens within a record that is important to them. For this purpose, users can configure which chats and channels they will use and how often they receive notifications.
During the presentation of the financials, Nadella also pointed out the importance of Teams in combination with SaaS apps. "The communications and the collaboration artifacts are part of the record. And that's what I think that this new generation of software will enable," Nadella said. "You see it in two fronts. One is Teams has become a platform not just for Dynamics, even for Salesforce, for SAP, for Adobe, for ServiceNow. They're all building great integrations into Teams and we'll foster that. And Dynamics itself, of course, will integrate deeply with Teams and embed Teams or Azure Communication Services."
Also read: Preview: Windows 11 – The modern Windows 8 with two start menus?
Automation
Besides the role of collaboration, Microsoft sees another crucial development for ERP and CRM. According to the tech giant, every employee function must be reinvented for an AI-first world. It mentions marketing, sales, customer support and supply chain in particular. SaaS solutions contain a lot of data, so applying AI to them can take such professions a step further. Think of better planning or process automation.
A simple example of what AI means for Dynamics 365 in practice is the recent availability of Intelligent Order Management (IOM). This software solution is primarily for retailers and consumer goods companies, supporting them in managing and orchestrating orders. IOM uses artificial intelligence and machine learning, among other things, to understand how a company reacts to, for example, unexpected circumstances or changes. It then makes recommendations so that the right quantities of stock are reached. This makes ordering more accessible and more automated, which changes the work of the person responsible for orders.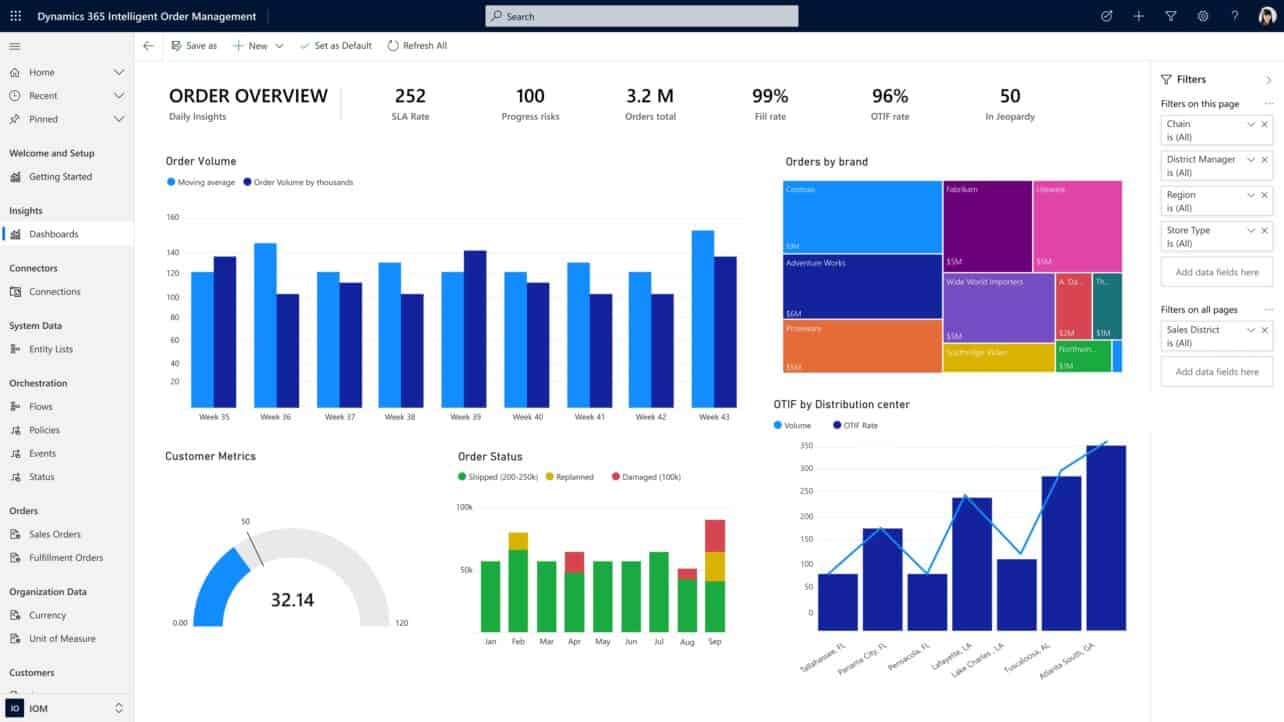 Nadella, therefore, believes that completely new process automation will take place. "It's probably one of the most exciting things we're seeing is that coming out of this pandemic, there is an absolute new chapter for a complete new suite, all the way from whether it's sales to customer service to marketing to supply chain or digital manufacturing that's all going to be reimplemented. There's going to be a complete new cycle of business-process automation that is going to be AI first and collaboration first."
Microsoft can also offer the Power Platform for this automation. This platform, according to Nadella, is resonating with users (83 per cent revenue growth year-on-year), in part because of its low code and Robotic Process Automation capabilities. This allows users to build customised apps and process automation in an easily accessible way. In addition, the business intelligence tool Power BI is part of the platform. These tools are, of course, optimised for Microsoft's ERP and CRM solutions.
Building further
The future of Dynamics 365 will mainly focus on collaboration and AI, Nadella says. That requires the necessary investments that go beyond adding integrations and models. For example, during the Quarter Results presentation, the CEO indicated that the omnichannel customer service module changed entirely in two years. "It's a completely rebuilt omnichannel customer service system, which has all the communication functionality built in," Nadella said of the redesign of the software.
Microsoft also makes regular acquisitions for Dynamics 365, which are sometimes less prominent in the news than other Microsoft acquisitions. The recently purchased Suplari is an example of this. With this, the tech giant acquires the Suplari Spend Intelligence Cloud, which can manage, analyse and optimise company spending. Through this technology, Microsoft can compete a little more with other SaaS vendors. For example, SAP with Ariba, Fieldglass and Concur has a considerable market share in this software discipline.
With this, Microsoft is in many ways preparing Dynamics 365 for the future. The basis is laid by further optimisation of the portfolio, something that according to the financial figures and CEO Nadella, is appreciated in the market. We are therefore curious to see how Microsoft will further position its SaaS portfolio in the coming period.
Also read: Windows 365 Cloud PC: cloud version of Microsoft operating system