With the Polycom Studio, you can provide most meeting rooms with a universal video conferencing solution. By universal, we mean in this case that the Polycom Studio can handle any videoconferencing application.
Polycom and Plantronics have merged, and the new company has for some time been called Poly. Before this new name was presented, the Polycom Studio was launched onto the market. That is why this video conference solution still bears the old name. It is a universal video conferencing solution because the hardware is not bundled with a specific software solution. From a computer point of view, the Polycom Studio falls more into the category of peripherals, because the device is connected via a USB cable. Windows or macOS then detect the Polycom Studio as a video conferencing solution or a very advanced webcam in no time at all.
Choice of video conference software
This means that the Polycom Studio can be used with any application that can also be used with a webcam. Whether you want to do a conference with Cisco Webex Meetings, Hangouts, Microsoft Teams or Zoom. It doesn't matter, as long as the application on your PC can handle a webcam.
Of course, the term webcam does the Polycom Studio no justice, because for a price tag of around 1,000 euros you will get a little more than a webcam. It is a videoconferencing solution for normal meeting rooms with up to eight people. Of course, this limit is not fixed, but to get a good picture of everyone and to be able to hear well, a much larger room is not advisable.
Camera & People Framing
In terms of appearance, the Polycom Studio looks a lot like a soundbar that you might have under the TV at home. The camera is mounted in the middle, and the speakers and microphones are mounted on the side. The camera has a 120-degree ultrawide lens and a 4K resolution. In theory, the video quality can be very good. We say in theory because the chosen video conferencing software has to support the resolution. The internet connection must also be fast enough. Many services still use Full HD as a maximum. The camera also has an advanced feature called 'People Framing'. This feature enables the Polycom Studio to zoom in on the person who is speaking at that moment. We have tested this, and it takes about one sentence for the Polycom Studio to capture the person who is speaking. For those sitting at the table, an LED strip at the top of the Studio shows in which direction the camera is pointing. When someone at the right side of the table is portrayed with People Framing, a small block on the right side of the strip lights up. In the neutral position, the middle LED block is lit.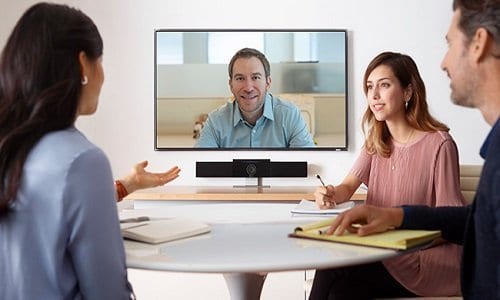 Sound, microphones and noise cancelling
Regarding the Polycom Studio's speakers, we have nothing to complain about. The voices are all very audible. Also, the sound comes across naturally. Furthermore, the Polycom Studio has multiple microphones, of course, to record all people in the meeting room when they speak, but also to filter out unwanted background noise. From crying babies, barking dogs to blowing air conditioners. This kind of technology, noise-cancelling, is something that Poly is very good at. You'll notice that right away when you start using this videoconferencing solution. The person(s) on the other end are easy to understand, but they can also understand all the people in the meeting room very well.
In terms of audio, Poly has added much more technology than regarding video. Another feature in which the company is strong. The Polycom Studio is configured in such a way that only audio within 3.66 meters of the unit is transmitted by the microphones. Everything further away is beyond what Poly calls the 'acoustic fence'. That sound is also recorded but then filtered out by noise cancelling. This makes it possible to do videoconferences in open spaces, where other people are at work, as long as they stay outside the 3.66 meters.
If this distance is not enough, due to the size of the room or table, for example when there is a need to make more than 8 people in a room audible during a video conference, an extension microphone can be purchased as an option. It can then be placed a few meters away to increase the range.
PC and monitor are basic requirements for Polycom Studio
Because the Polycom Studio does not have integrated videoconferencing software but works with every application that you can install on your PC, the unit is not independent. The Polycom Studio must always be connected to a PC. This can be done, for example, by connecting the Polycom Studio to the laptop of one of the participants in the meeting. However, a mini-PC with a large monitor or television is recommended. The mini-PC can be set up by the IT department as a meeting room so that it can also be booked in a central agenda. In addition, various videoconferencing systems can be installed on the PC, so that a conference can be set up with every customer and partner. Regardless of which system they use.
There is also good news for companies that have dozens of meeting rooms and may wish to provide several rooms with such an arrangement. Poly has developed an application that makes it possible to manage and configure all the studios in the network so that the administrator does not have to leave all the rooms for a firmware update.
Excellent alternative to expensive conference systems
Although a price tag of 1,000 euros may not sound very cheap, it is good to know that many professional stand-alone conference systems for meeting rooms are much more expensive and are often supplied bundled with software. As a result, the freedom of choice for a conference system is extremely limited. Such an independent system may be a bit more user-friendly, but more and more meetings take place, with Hangouts, Skype and Teams. Every user can handle this perfectly. Furthermore, Windows 10 automatically switches to the camera and audio of the Polycom Studio when it is plugged in.
The biggest competitor for the Polycom Studio is the Logitech Meetup. Logitech was the first to introduce a universal video conferencing solution for rooms up to eight people. The Logitech Meetup is equally expensive in terms of price, but it was a great success. Probably also one of the reasons why Poly decided to come up with a similar product. If we put the products next to each other, we do have a slight preference for the Polycom Studio. It is, of course, a much newer product; the Logitech Meetup has been on the market for about 2 years now. Poly had to outperform that product, at least. Maybe Logitech will come up with a successor soon to increase the competition a bit. We are going to see in time.