Organizations never have enough developers these days. They need to develop more and more applications in order to stay competitive in their markets. OutSystems tackles this challenge in its own way with its low-code development platform. We spoke with Bart Meursing, VP EMEA North at the company.
The promise of low-code is that you can develop applications faster and better than if you build everything from scratch yourself. You use predefined building blocks to put applications together. You also have the flexibility to customize everything down to the semicolon, whether it's specific business rules, processes or a pixel perfect interface.
The term low-code may suggest that anyone can develop applications with it. That is not the case. However, it does ensure that applications can be built and updated by developers a lot faster. In addition, developing on such a platform also offers the necessary advantages in terms of security. By using fixed building blocks, there is less risk of vulnerabilities in the code.
What does OutSystems bring you?
There are quite a few vendors low-code vendors. OutSystems (founded in 2001) is one of the pioneers among modern low-code development platforms. It also has a unique approach, if you compare it to other platforms. Most low-code platforms focus primarily or at least partly on so-called citizen developers. That is, they want to enable users from the business side of organizations to develop their applications themselves. OutSystems focuses mainly on professional developers, to give them the tools to do more in a shorter time.
OutSystems has deliberately chosen their own specific approach, Meursing indicates. There's still so much to gain for professional developers. This sounds like a platitude, but there is something fundamental behind it. "More and more developers are needed to realize the wishes of the customer, but they simply can't be found. You can't create talent in this area from nothing. So you have to go into depth for the developers who are there, to enable them to do more with the platform."
An example of this is OutSystems AI. That allows developers to bring the necessary additional intelligence into an application. Think of conversational AI to quickly build a Q&A chatbot, cognitive services to build in sentiment analysis and AI components to easily and quickly extract information from documents. In addition, OutSystems has also built AI into the development platform itself. This helps the developer during programming with advice. It also ensures that they can develop faster and that the quality of the application goes up.
TIP: Also read our article here on how OutSystems was used to develop an autonomous agricultural vehicle.
Prepared for cloud-native with Project Neo
Without a doubt the biggest recent announcement around expanding the capabilities of the OutSystems platform is Project Neo. OutSystems first announced this during its recent NextStep event. With this addition to the platform, OutSystems wants to link the model-based development it has become known for with ultimate scalability, based on a cloud native architecture, where applications run in containers. Naturally, scalability plays a major role in this. This is not easy to develop and set up within traditional environments. Within Project Neo, this should be possible in a much simpler and faster way.
At its core, Project Neo is about establishing a scalable and modern cloud architecture that is equipped for CI/CD. With this, the OutSystems platform can help organizations to continuously change and deal with a shortage of talent, Meursing says. It also provides answers to the questions that arise around the need to modernize.
With Project Neo IT can lead the charge when modernizing an organization. Of course, it is very important that they are given the space to do so. Developers shouldn't be burdened with legacy and technical debt. That will only cause delays. Here too Project Neo plays an important role, says Meursing. It is partly aimed at eliminating legacy and renewing old applications in a modern architecture. That's the future for application development, so that's where developers should be able to focus their efforts.
New business models require fast change
The body text talks about the need for organizations to be able to develop more and faster applications. Meursing gives some examples of this during our conversation. The ANWB (Royal Dutch Touring Club) has developed a new business model for its five million members with ANWB Reisopmaat. With the aid of OutSystems' application development platform, the ANWB has established an integration between the new application, the ANWB back office and third-party systems. This allows their millions of members and a whole new target group to put together a complete customized trip within a single application.
A second example Meursing mentions deals with the Red Cross. That organization had a challenge with matching the right volunteers to the right projects during the corona crisis. That was previously a manual process that could take up to an hour. With OutSystems (and Deloitte), the Red Cross built an application within six weeks to do this with virtually no delay.
How to get IT sufficiently involved?
In theory, Project Neo sounds pretty interesting and compelling. Practice, however, is often a bit less smooth than the theory. More specifically, organizations have a very diverse group of developers, all of whom have their own preferences. The big question is how to get them on board. At OutSystems they strongly believe in making their platform available to developers, Meursing says. Then they often see pretty quickly what they can build with it and become more open to it. Meursing cites an anecdote from a lead developer at a customer who initially really didn't want to go along, but is now a great advocate of OutSystems within his organization.
Of course it is important to get existing developers in organizations on board. In the future, however, it may be even more important to enthuse new developers. That's why OutSystems has special programs to attract developers and let them develop further. This already starts at universities and colleges. There, interested parties can already get started with OutSystems' technology. Here, too, Project Neo undoubtedly helps. Today's developers in training grow up with cloud, containers and Kubernetes, so that should also be an important part of the development platform they want to become proficient in.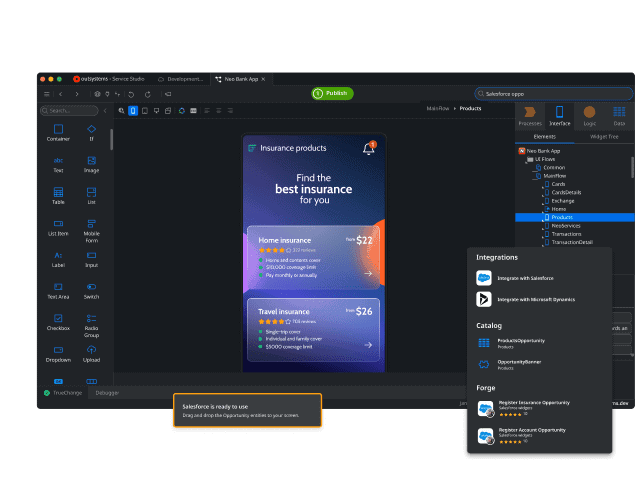 Security becomes even more important, SaaS also gets technical debt
When it comes to the future, it's not only about the cloud, and the implications of that on software development. That is, the success of OutSystems towards the future does not depend solely on being able to enthuse the right target group. In general, the demand for application development platforms will also continue to grow, according to Meursing. An important reason for this is the increased demand for DevSecOps, or integrating security considerations into the application lifecycle. Software security is getting higher and higher on the agenda at organizations. The predictability in this area of a platform such as OutSystems is very interesting.
A final prediction Meursing would like to make towards the future is that a cloud-native architecture will become default in application development. This means that the OutSystems platform will become increasingly more interesting to develop an alternative to a SaaS application, for example. SaaS applications accumulate more and more technical debt too, Meursing points out. As an example he mentions an organization with 25 different instances of a CRM application, spread across a large region. Technical debt will inevitably occur there. It can then be interesting to start working on and developing something yourself, certainly if CRM is a differentiator for your organization. That is, if a better CRM will increase the performance of the organization significantly, and therefore makes the organization as a whole more competitive in the market it operates.
What more will the future hold for OutSystems?
All in all, OutSystems has plenty of opportunities to expand its low-code development platform, to make it even more appealing for developers and organizations in general. That's what the company has committed to, we conclude from our conversation with Meursing. Whether this will be enough to combat the shortage of developers, time will tell. The fact is that developers can do more and more in less and less time. The development of Project Neo also brings OutSystems up to date in terms of cloud-native development. So it certainly looks good.
We do expect, however, that OutSystems will eventually have to think about a certain degree of horizontal expansion of its platform. That is, move towards other technologies that partly overlap with low-code. RPA, even broader deployment of AI, and maybe even process mining, to name a few technologies. All of these technologies are converging more and more, as they contain many shared concepts and fundamentally all also share the same goal: bringing automation to the next level. At the moment, however, it is not yet an issue for OutSystems, as there are still plenty of gains to be made within low-code development itself.