This week we were at SAP TechEd in Las Vegas, the conference aimed at developers. In particular, they can expect a lot of innovation around the Business Technology Platform (BTP). Substantial expansion is on the way, to make work easier and business processes better via SAP software. Time to get everything straight. After all, what do the expansions mean for developers and users?
To make sense of the extensions, it's helpful to know exactly how SAP is approaching the market today. Several times during TechEd, the software vendors talk about current crises. Think about inflation, staff shortages and supply chain disruption. In SAP's view, the biggest crisis we really need to prevent is climate change. In all those crises, SAP software can provide support, since SAP customers' core processes run through the software. The company claims 77 percent of all global business transactions touch an SAP system.
"It is our obligation to give them the best possible support for the challenges they face today and prepare them for the challenges of tomorrow," said Product Engineering Thomas Saueressig. "We connect fragmented processes and the data, to create end-to-end visibility across the entire supply chain. We automate processes, to support staff to get work done and always be one step ahead. We enable cross-company and cross-industry collaboration."
On that front, BTP takes a central role. All software solutions are brought together on the BTP to provide an integrated product portfolio. With the underlying platform BTP, SAP offers possibilities for integration, extensions, intelligence and a modular approach.
Also read: What does SAP's Intelligent Enterprise mean?
Functional Integration
Integration is really one of the focal points of the Business Technology Platform. In this area, SAP offers the Integration Suite, which is also called integration platform as a service (iPaaS). The platform makes it much easier to connect software together. Organizations often have hundreds of applications in use, where it can be useful to tie certain applications together. The Integration Suite knows the APIs of the most commonly used software, both from SAP and non-SAP systems. This makes it relatively easy to have the applications exchange data with each other.
SAP also offers the API Business Hub. This is a central place with APIs from SAP and its partners. Developers can use the place to build extensions or integrate processes. Currently, this covers more than 23 business processes, including 11 for the cloud. The API Business Hub also offers integrations for on-premises, private and hybrid deployments. In total, more than 3,400 APIs are available. This covers 90 percent of all SAP's software APIs, so extensions can be built on top of the software. If, as a user, you are missing integrations or APIs, there is the possibility of feeding that back to SAP. The company will then see if it would be interesting to start developing.
According to SAP, it is currently very easy to find the resources to set up an integration. As an example, the company cites an integration between S/4HANA Public Cloud and SuccessFactors. Within seconds you can already be at the assets to set up such an integration.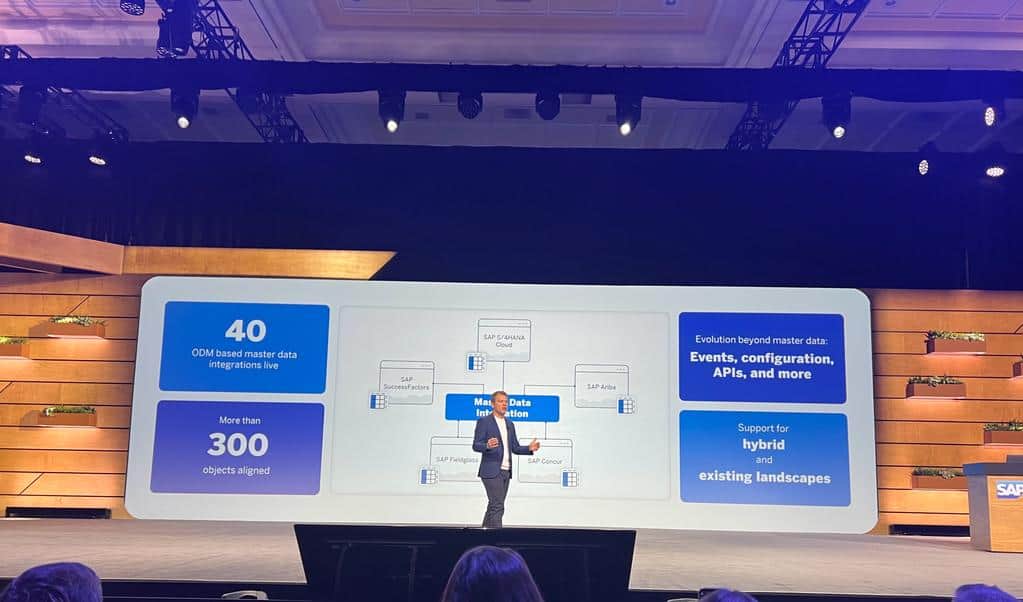 The suite qualities
The above is mostly about functional integration of business processes. However, during the keynote on the second day, SAP points out that it also considers the 'suite qualties' important. This may involve improving the user experience. SAP wants to achieve that by embracing the SCIM standard for identity management. All major SAP applications now support SCIM. In practice, it means smoother exchange of user data between software solutions.
Other integration gains should again come from the One Domain Model, with which it aims primarily for simplicity. Today, a company's integration landscape often has many point-to-point connections. It requires mapping and middleware, since the applications do not speak the same language. One Domain Model does let the applications speak the same language. The One Domain Model provides support for the cloud, but is now expanding to on-premises and hybrid landscapes. Thus, more companies should be able to use the One Domain Model.
Text continues after the box below.
SAP Build takes center
The big news during TechEd came from the low-code corner. SAP is releasing the Build platform. This product brings together existing SAP products to provide more coverage with one platform. With Build, it should be easy to build and optimise apps, automate processes and create websites. So much so that business users can also take on such development tasks. According to SAP, a necessary development to address the shortage of developers. And, the business user can, SAP reasons, be an added value in software development because of his knowledge of the work and processes.
We also wrote a separate article on SAP Build, in which we explain the platform a little further. Be sure to read the article again if you are interested in low-code.
Innovation for core applications: SuccessFactors
On the Business Technology Platform, SAP's software solutions all come together. TechEd therefore also highlighted a number of SAP core applications. One of these is Human Capital Management (HCM) software SuccessFactors for HR processes. "Human Experience Management is the foundation for developing skills of the future. You need to know who someone is to provide an individualized user experience. The better the system understands who I am, the better it can recommend valuable opportunities for me to grow. We call the data that creates this intelligence the Whole Self Model, a framework that understands not only my skills, but also my experiences and my strengths," explained Chief Product Office, SAP SuccessFactors Meg Bear.
SuccessFactors previously introduced SAP SuccessFactors Work Zone. Work Zone now falls under SAP Build and is the tool for building Web sites. "We use the power of the Business Technology Platform to deliver dynamic experiences for HR service delivery. Our customers have used Work Zone to provide personalized guided experiences for things like family leave, health and safety, vaccine management and learning experiences," Bear said. This sums up well what type of websites we should think of when we think of development with Build Work Zone.
SAP Start as access point for cloud software
Bear also unveiled SAP Start during the keynote. This solution can be deployed for SuccessFactors, but is also useful for all of SAP's other cloud software. Indeed, it provides users with relevant business information based on their job function. For example, if a procurement employee uses SAP Start, then SuccessFactors will not be able to provide much relevant information for this employee. In that case, information will come from SAP Fieldglass, for example, and perhaps some from S/4HANA.
The information ultimately comes from SAP's connected cloud solutions. Users can search and navigate to cloud solutions from SAP within SAP Start. They also get visibility into the status of tasks in the software solutions. So-called insight cards are used, showing business information from the solutions. Think project status and sales pipelines. From some cards it is possible to take action directly, for example to approve or reject a purchase request. Users can go directly from a card to the relevant software, for any additional details and actions.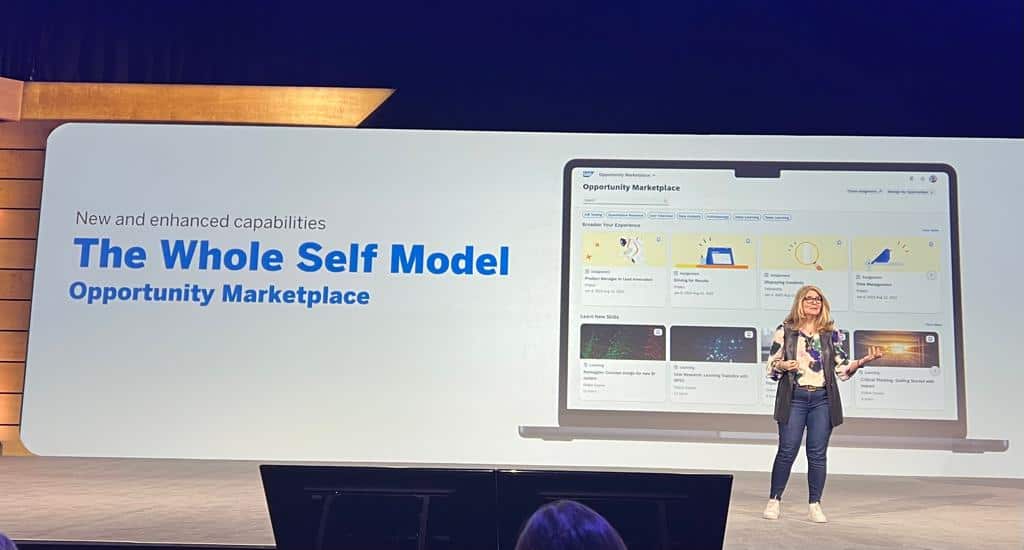 Currently, SAP Start is available as a beta. SAP Start is planned to become more widely available in the second half of 2023.
Innovation for core applications: Intelligent Spend and Business Network
Back to the core applications that SAP is focusing innovation on. In procurement and spend management, SAP has Ariba, Fieldglass and Concur, complemented by the Business Network. According to Chief Product Officer, Intelligent Spend and Business Network Muhammad Alam, customers' expectations in this area today are for an intelligent, predictable and personalized experience. Manual work should be minimized in this regard. He also sees that a "sustainability first mindset" is expected. For this, the Spend Management software has introduced Buying 360.
"We are faced day in and day out with an increasing number of challenges and unforeseen disruptions. Many already consider this the new normal. In terms of talent: it is clearly a struggle to attract and retain the best talent to deliver on your promises. To manage these constant supply chain disruptions, companies need intelligent, configurable and easy-to-use procurement applications. This is to manage suppliers and spend to make their supply chain more resilient. On top of that, modern procurement is no longer about price and policy," Alam explains. He points to meeting the expectations in the previous paragraph with Buying 360.
With Buying 360, there should always be visibility into the status of an order. This across many companies, suppliers, logistics providers and other parties. The procurement solutions achieve this by bringing all parties together on the Business Network. Millions of companies in about 190 countries are connected to this, SAP says. "It intelligently supports your spending processes end-to-end. From direct to indirect procurement and from services to temporary labor and travel and expenses. And since there's no one-size-fits-all for your individual unique needs and processes, we've invested heavily in an open architecture. It allows you to build the additional capabilities into the applications. We have 11 end-to-end scenarios that you can use out-of-the-box. We have more than 450 APIs to connect to other applications and extend your processes."
Innovation for core applications: S/4HANA
The above applications have a lot of reach, but ultimately most people know SAP as an ERP vendor. In this case, companies can use old ERP in the form of ECC, but the newer ERP S/4HANA is also gaining ground. Innovation, in particular, is going into S/4HANA. From an integration standpoint, there are 650 APIs available for customers and partners to build extensions. "And from its launch in the public cloud, SAP S/4HANA comes with fantastic low-code, no-code in-app extension capabilities. It was already there to very easily customize the UI, customize the descriptions that you find in standard applications. You can easily add some custom fields via drag-and-drop that you might have created. Drag-and-drop them into the UI, to place the blocks where they are needed. And you can delete entire sections if you don't appreciate certain sections or information," indicates Head of Intelligent Enterprise and Cross Architecture Philipp Herzig.
Tip: SAP wants to offer a best of suite platform with S/4HANA, but still lacks adoption
Herzig admits that some things were missing. He mentions the ability to write own custom code directly in S/4HANA in particular. This can be beneficial to support very complex businesses. That's why SAP is coming out with new pro-code capabilities, in the form of ABAP Cloud. This gives developers truly new opportunities to customize software to a company's needs.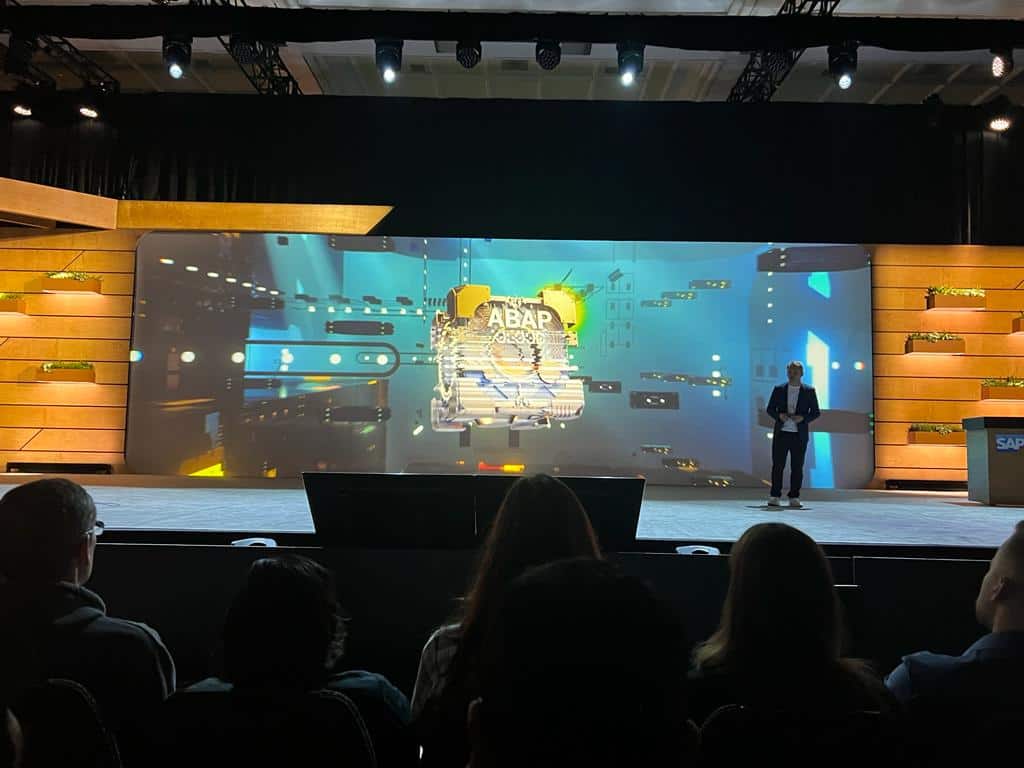 New design theme Fiori Horizon
Now that we've gotten back into the pro-code corner a bit more, it's good to bring up Fiori Horizon. SAP Fiori is the software vendor's design system for creating apps with a focus on the user experience. SAP is going to make its mobile applications more consistent with the look and feel of SAP in the coming months. This should all be based on Fiori Horizon, designing for an intuitive user experience, with accessibility and inclusivity as additional focus points.
In addition, there are new design themes, Morning and Evening. This allows the application's theme to adapt to the local time of where the user is located.
Promote collaboration via integration with Google Workspace
One last interesting development at SAP, in our view, is the collaboration with Google. Deep integration of S/4HANA with Workspace brings SAP's critical business processes closer to Google's software for everyday work tasks. It may be useful for a finance department that is doing analysis. In that case, spreadsheets between Google Sheets and S/4HANA can easily work together without having to switch between apps and tabs.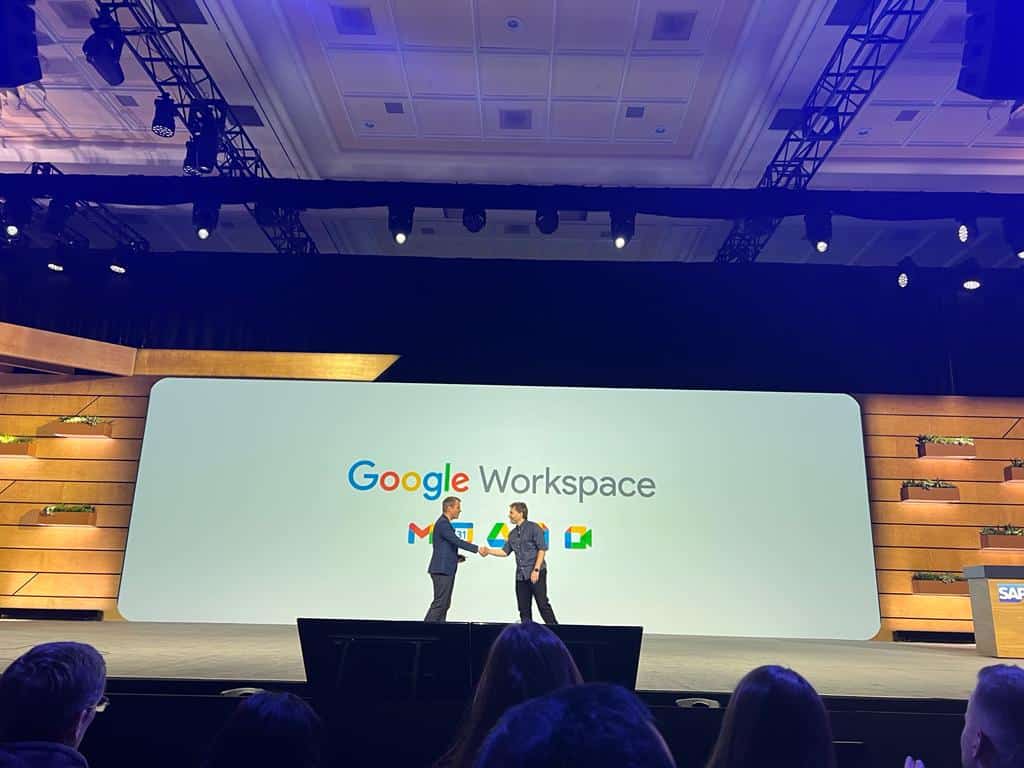 Google Workspace is ultimately widely used for sharing, editing and storing documents. The integration also allows S/4HANA users to collaborate on documents in real-time. "We can now insert enterprise data into applications that are used every day," Google said. "For example, we can comment, collaborate and edit SAP data in real time. Instantly, without confusion and risk."
The integration gives SAP users direct access to Workspace apps directly from the S/4HANA Public Cloud. They no longer have to pull files from email and Drive. Downloading and then editing for and uploading to the ERP package is no longer necessary.
Updates strengthen SAP's position
SAP hit it big at the TechEd conference with all these announcements. Developers can get to work with a lot of new innovations, which in turn will benefit users. The foundation has been built out considerably, making SAP ready for 2023. No-code, low-code and pro-code: for different scenarios, SAP offers more possibilities.