Pure Storage has recently added ObjectEngine to its portfolio, a data protection platform resulting from the first acquisition since Pure Storage has been a listed company. StorReduce was purchased in mid-2018 for an unknown amount, adding some extra expertise in the field of deduplication, data management and data migration. As a result of the product introduction, we decided to discuss it with principal systems engineer Marco Bal.
It was not surprising that a few months ago, Pure Storage purchased a relatively small company. Pure Storage is a relatively young company, growing fast and running at a loss. This combination of factors is common: with rapid growth, a lot of investments often have to be made, which results in red numbers below the line. One of these investments is often an acquisition, in this case StorReduce.
Technology brings new opportunities
If we look only at the technology offered by StorReduce, we come across software that realizes deduplication and data migration for cloud or on-premise infrastructure. It is possible to deduplicate unstructured data and then store it in an object storage service, such as the FlashBlade products from Pure Storage or Amazon S3. This is done in order to realize fast data recovery at every location.
Pure Storage did have deduplication technology in-house, but it only reached the desired level for the FlashArray series for block storage. For the FlashBlade arrays, the product line for file and object storage, deduplication possibilities were limited. These limited possibilities resulted in Pure Storage making its first acquisition.
Since then, Pure Storage has also clearly started to bridge the gap between on-premise and the public cloud, 'Pure Unified Cloud' as the company calls it. At the end of last year, they came up with block storage that runs in the Amazon Web Services (AWS) cloud. This allows business-critical applications to run seamlessly in the cloud.
ObjectEngine unites different environments better
Although the latest development was already largely possible with proprietary technology, StorReduce has been used to realize the Pure Unifies Cloud message better. With ObjectEngine, Pure Storage now has a platform for fast backups, data recovery and the ability to reuse data between private and public clouds. Bal also shared an image with us that clearly reflects this new message (see below).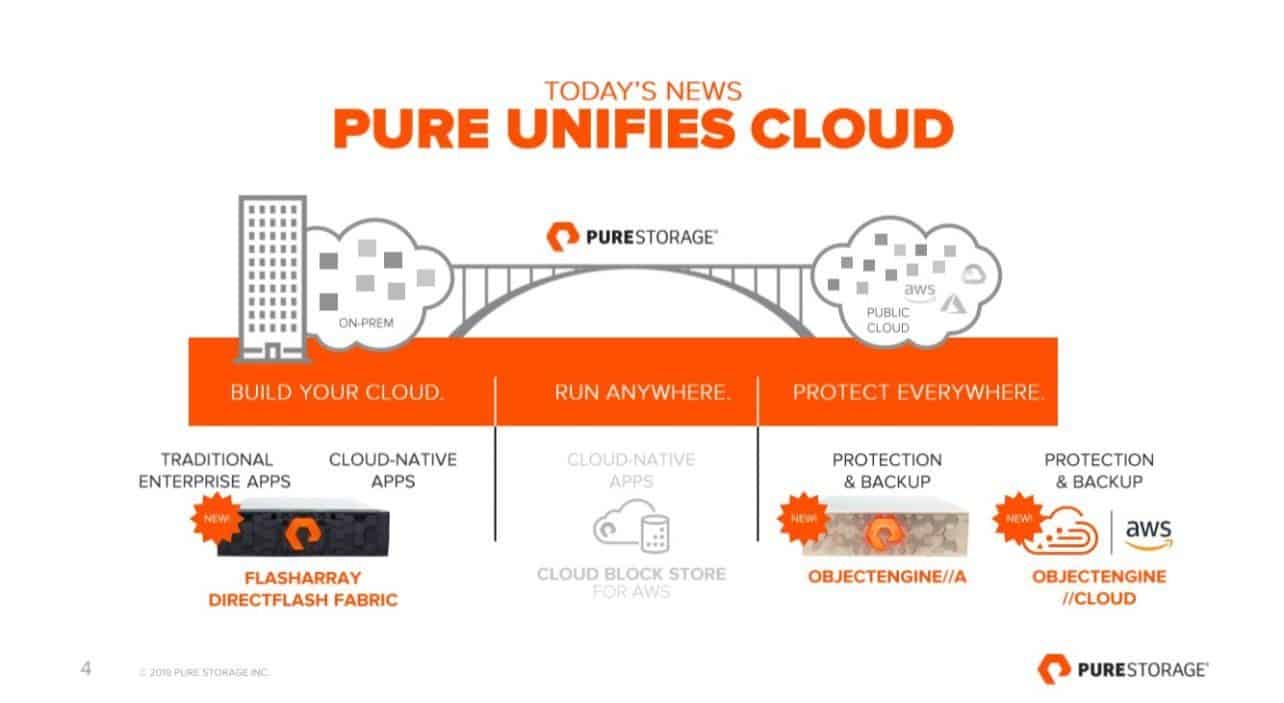 Bal sees the ObjectEngine as a big step forward compared to the traditional way of doing things, where usually a disk-to-disk-to-tape (D2D2T) method applies. With this approach, it can sometimes take days before data is restored. This has everything to do with the way data is processed. Regularly accessed data ends up on the disk and historical data on tape. A method that works, but not optimal because of the time it takes to get to the data. Especially because of the storage on tape, where data is no longer available on-premise.
ObjectEngine changes this with a flash-to-flash-to-cloud (F2F2C) architecture. The flash-to-flash part of the approach already provides an accelerated recovery time, while the cloud part of F2F2C mainly facilitates the reuse of data. After all, data in the cloud is easier to access than data on tape.
Competition is also looking for ways to get rid of tape
With this new product, Pure Storage has a platform that is focused on primary storage. In this area, it will have to compete with several players, with Dell EMC Data Domain storage being a well-known alternative. Pure Storage focuses on its F2F2C architecture to distinguish itself from such a solution, although it must be said that with Data Domain there are also methods to get rid of the disadvantageous tape part of the traditional architecture. Vendors who are able to phase out tape, in that case, develop a kind of disk-to-disk-to-cloud architecture.
The flash part as a primary storage medium has real Pure Storage properties: it can compress data and achieve fast recovery. In this respect, Pure Storage has taken a good look at how it can be distinctive with its own resources. This results in flash as a primary storage and backup tool, and cloud as a tool for data archives and disaster recovery.
Addition to known backup services
In the end, the ObjectEngine is used in addition to all known backup methods, such as Veeam, Commvault and Veritas. Pure Storage has also worked to make ObjectEngine work seamlessly with these vendors so that ObjectEngine becomes the target of these solutions. For example, the said backup providers can offer some orchestration that Pure Storage does not provide in this case.
Pure Storage has worked with Veeam, Commvault and Veritas on a number of occasions in this area. Rubrik is also one of the partners of Pure Storage, but was not mentioned at the unveiling. Zerto is also a partner that has not been mentioned yet. Bal gave a general statement in this respect: the company is always looking to add support for multiple parties. As far as we are concerned, there are also opportunities there, because Zerto and Rubrik are relevant parties today.
Different versions
Pure Storage releases the Object Engine in two different versions: a physical appliance that can be installed on-premise (ObjectEngine//A) and a cloud version in combination with AWS S3 (ObjectEngine//Cloud). ObjectEngine//A offers data recovery at 25 TB per hour or 15 TB per hour with deduplication, which also applies to the minimum configuration of 4 nodes. This is scalable by adding extra nodes. ObjectEngine//Cloud can be scaled up to more than 100 TB per hour. This makes the versions quite different from each other, but in any case it is nice that customers can choose according to their needs.