"Data is the new gold" is a somewhat hollow statement that you still hear regularly. The message did reach many companies. They realise that if they store and analyse their data correctly, they can achieve more turnover and higher customer satisfaction. But how do you store all your data? At Dell they have a broad portfolio of storage servers. Time for some clarification on the different choices in storage.
Recently, we wrote an analysis about Dell Technologies, its strategy and the future, in which the company will mainly sell its products as a service through the APEX portfolio. Dell's portfolio contains a lot of storage solutions, which also is a key focus within APEX. This gave us the idea to take a closer look at storage in a separate article. Which storage server is suitable for which situation or for which type of company? We talked to Tom van Peer, presales director at Dell Technologies.
Block, file and object storage
You can reduce every storage portfolio to three types of storage servers: block, file and object storage. But be aware that storage solutions can sometimes support multiple types of storage.
To determine which type of storage server you need, you must look at the usage. If we break it down, it more or less boils down to this: block storage is particularly useful for computers, which can put the data in blocks and can find them very fast when needed. If you have many database workloads, block storage is a requirement.
File storage is suitable for people. This type works with folders, files and logical paths, as in Windows. Finally, there is object storage, which is particularly useful for developers. With object storage, a file can be stored via so-called API calls.
If you look purely at the hardware, there is little difference. The server hardware remains a box with hard disks, SSDs, a powerful Intel Xeon processor and controllers to control the disks. The software of the storage platform makes the difference in most cases.
If we put this next to the portfolio of Dell, it looks like this:
PowerMax offers block and file storage
PowerStore offers block and file storage;
PowerVault only offers block storage;
PowerFlex offers scale-out block storage and file storage;
PowerScale provides scale-out file storage and also does some object storage;
Object Scale offers scale-out object storage;
As you can see, there is a wide range of flavours, with many storage servers also offering block and file storage. So we are not much wiser yet; time to dive in a bit deeper.
Dell PowerMax – most high-end storage server
The Dell PowerMax series is the most high-end storage server you can get from Dell Technologies. The product is almost exclusively purchased by large enterprise organisations that want a mission-critical storage solution with high availability. That high availability is 99.9999%. "This platform cannot fall over, ever. Everything is duplicated, and if something breaks down, the redundant part will take over automatically, even the software upgrades you don't notice," as Van Peer puts it.
"The PowerMax platform cannot fall over, ever"
The question, of course, is how Dell can guarantee this. Each PowerMax consists of a minimum of two nodes so that if one breaks down, the other can continue to run and keep the data available. But before a node breaks down, a lot has to happen. Every node is completely redundant: two power supplies, two storage controllers, and two connections to the hard disks and SSDs, so they remain available if a controller fails. Dell also uses Intel Xeon E5 processors, and Intel Optane drives in the PowerMax. The PowerMax also has separate encryption and deduplication chips. This ensures better performance but above all, predictability and reliability, which is what the customer expects from a PowerMax.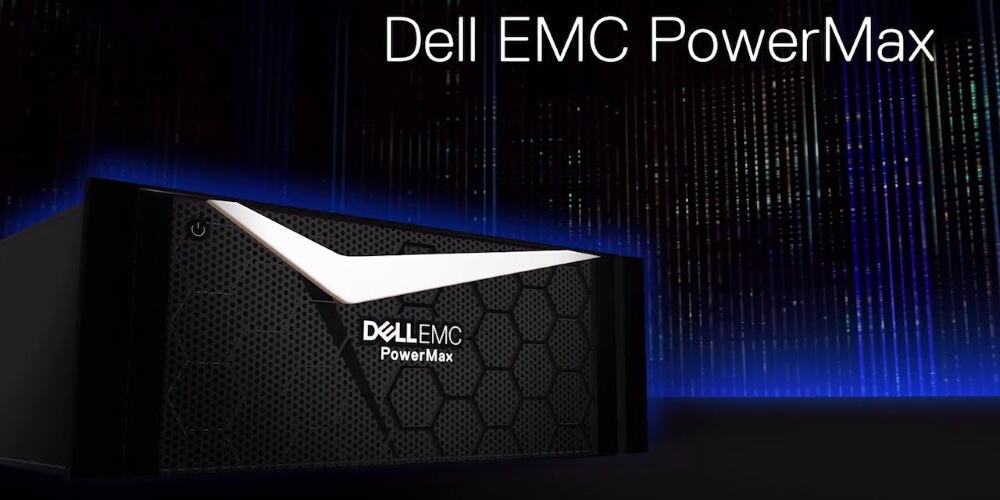 Uptime guarantee possible through good monitoring
Although the server lacks a redundant Intel processor, according to Van Peer, there is little chance that an Intel Xeon processor is the cause of a failure. An Intel processor is one of the most reliable components in a server. SSDs and RAM, unfortunately fail a lot more often. Van Peer indicates that very few components in a PowerMax actually break down. The company has developed a monitoring tool that continuously monitors the hardware. Nowadays, it's much easier to monitor hard disks, SSDs, RAM and Intel processors. As soon as they reach the end of their lifespan, they start making minor errors that have almost no effect on performance. When Dell's monitoring tool sees these errors, and an AI recognises the patterns, it automatically raises an alarm. Dell will schedule an appointment to replace the faulty component as soon as possible. That's the game changer that helps Dell offer 99.9999%.
If you look at reliability, this storage server is the best available, according to Van Peer. It does come with a price tag, which is why you will only find the PowerMax at large companies. They can combine a total of 32 PowerMax nodes in one cluster. A node can store up to 4.5 petabytes, so one PowerMax cluster can store 144 petabytes. That should be enough for most organisations.
PowerVault – simple and affordable
At the very other end of the portfolio is the Dell PowerVault. Whereas the PowerMax is packed with advanced features and high availability, the PowerVault is the entry-level model. It is very flat storage, DAS and SAN. The PowerVault is often used as a backup target. Dell also deploys the PowerVault to customers who buy PowerEdge servers (compute) but need more storage capacity that fits in a 1u server. The PowerVault can be connected to the PowerEdge as additional storage capacity.
There is little redundancy in a PowerVault other than a RAID configuration. This means that if a drive fails, the data in the array is not lost. In the end, a PowerVault is a box with a lot of storage and a somewhat less powerful Intel processor so that you can get a lot of additional storage capacity at an affordable price.
Dell PowerStore – the most popular storage server
As we start talking about the PowerStore, Van Peer gets excited. It is one of his favourite storage servers. He also states that the PowerStore is suitable for any business. There are very few storage scenarios that a PowerStore cannot solve.
PowerStore, a new software-defined storage design
The PowerStore storage server is a fairly new product, introduced in 2020. Dell wanted a better product to serve the mid-market. Any company serious about storage should be able to afford a PowerStore. That also means that all the old principles have been thrown out, and this is a very modern solution. We have already written an extensive article on the introduction of the PowerStore.
The hardware plays a much smaller role, and the innovations are mainly in the software in the PowerStoreOS. The hardware consists of a standard Intel Xeon processor, RAID controller and SSDs or HDDs. The idea behind Dell PowerStore is that it should be able to replace multiple storage systems within companies. Therefore, it is possible to offer block and file storage on one PowerStore cluster. It makes IT management much easier for organisations. PowerStore is available from one to up to four nodes, with one node storing up to 4.7 petabytes and four nodes storing up to 18.8 petabytes, which is more than sufficient for the average organisation.
Because PowerStore is completely software-driven, it also handles different workloads well, according to Van Peer. He says that whether you need to store a Windows file server, database workloads, or your entire SAP environment, the PowerStore can handle it all.
Dell PowerFlex, the alternative to PowerStore if you want more performance
In terms of cost, PowerStore and PowerFlex are, to some extent, fishing in the same pond. The Dell PowerFlex is also well within the mid-range. The big difference is that PowerFlex is scale-out storage. For example, if you have to deal with very high peaks in consumption, a PowerFlex is more suitable because you can plug in many more nodes and therefore achieve much higher performance. If there is no need for massive scaling up, then PowerStore is better.

Customers can use PowerFlex in two ways. In the first scenario, PowerFlex acts as a storage environment; the application servers use a PowerFlex client that connects with the PowerFlex block storage. In the second scenario, the PowerFlex acts as a hyper-converged infrastructure (HCI). You can run a hypervisor of your choice (HyperV, KVM and vSphere) on top of the PowerFlex platform and run virtualised VMs stored on the PowerFlex platform. There is also support for Kubernetes through Red Hat OpenShift. The containers and VMs also use the CPU power found in the PowerFlex servers.
You can also choose both. In that case, you use PowerFlex for some applications as a pure storage solution, but you also have an HCI environment. Ultimately, PowerFlex is an enormously flexible platform with excellent performance, especially as the number of nodes increases. Dell has done its own testing with 120 nodes, but it also has customers who have thousands of nodes tied together. Although the manufacturer calls this an HCI, we would like to point out that the purpose of PowerFlex is ultimately more focused on storage. If you compare PowerFlex to an HCI from VMware or Nutanix, it will lose in features. However, that is also for a different target audience and comes with a different price tag.
Dell PowerScale offers file storage with a piece of object storage
You would think Dell has enough storage servers in its portfolio, but there is still a market for PowerScale. The advantage of PowerScale is that it is scale-out file storage. For companies with seriously large file servers to serve their office environment, which is too big for PowerStore to manage, there is still PowerScale. Van Peer states that 9 out of 10 companies can get by with PowerStore for their storage needs.
"9 out of 10 companies get by with a PowerStore"
PowerScale is very popular with media companies that work a lot with video files. They can easily store all files on the PowerScale via file storage and offer them within their streaming services. Archiving, home directories for users and backup are also popular applications for PowerScale. As more nodes are added, the performance also increases dramatically. To some extent, support for object storage appeals to companies already working with more modern environments, as their developers can also store the files via S3.
However, PowerScale is not fully S3 compatible. Minor (but well-documented) differences exist in areas such as object versioning and locking. However, it provides sufficient support for a basic set of object storage functionality. The S3 standard originates from Amazon Web Services, which put object storage on the map with S3.
Companies who want a full S3 compatible object storage solution on-premise should choose Dell ObjectScale. Yet another storage server.
Dell ObjectScale – fully S3 compatible
With Dell ObjectScale, we leave the Power portfolio behind. ObjectScale is a form of scale-out object storage. ObjectScale is fully S3 compatible and will remain so. In addition, you can connect many nodes to it, increasing the storage capacity and performance at each node. For companies that want unified object storage in an on-premise environment, Dell ObjectScale is the best choice.
ObjectScale may become even more popular in the future because Dell Technologies has big plans for the storage platform.
The future of Dell Storage lies in the cloud
During Dell Technologies World, we were also informed about Project Alpine. Project Alpine aims to make all Dell storage servers, which are software-defined, available in the public cloud. The focus here is first on AWS and Azure. After that, it should come to Google Cloud.
Companies increasingly opt for a multi-cloud strategy, so parts of their IT infrastructure live in one or more public clouds, but parts will also be in their own private cloud. Dell's idea is to offer a uniform storage solution on all these different platforms. You could even link those storage platforms together so that they can exchange or synchronise data. Dell has announced its intention to offer block, file and object storage solutions in the cloud. You will probably be able to choose the type of storage in the future, and not necessarily between PowerStore or PowerScale.
Dell's cloud storage is not expected to be available until 2023 at the earliest, so we can't say much more about it now, except that Dell's storage solutions will become multi-cloud. For those who have been paying attention, this does not apply to PowerMax, because that platform is not fully software-defined; the PowerMax has custom dedicated chips that are not available in the cloud. It is also very complicated for Dell to offer a 99.9999% uptime guarantee from the cloud.
Does Dell have more storage solutions?
As we just wrote, there is still an extensive range of cloud storage to come. However, Dell has even more storage solutions. With the acquisition of EMC, the company has acquired a gigantic portfolio. During our conversation, Van Peer also briefly mentioned Unity. In our opinion, this is a somewhat outdated platform that is still popular and also maintained by Dell Technologies. In terms of functionality, it is somewhere between PowerVault and PowerStore. The fact is, however, that the future of storage does not lie in Unity. Dell's focus is on the solutions we described earlier. If you are looking for a good storage solution and Dell is on your shortlist, we recommend choosing one of the above. We hope we've helped you make your choice a bit easier.
Tip: Dell Technologies wants to relieve IT departments with APEX, but will it succeed?