Google is introducing electronic signature functionality for Google Workspace customers in an open beta. The functionality will be available in Google Docs and Google Drive.
By adding electronic signature functionality to Google Workspace, the tech giant wants to give self-employed individuals and small businesses in particular the ability to add electronic signatures to and manage documents. Without having to first print, sign, scan and email documents to request a digital signature from others.
Specifically, the feature is nothing more than a specific field that can be placed in a Google document. In the field, the recipient of the document can then place his or her electronic signature.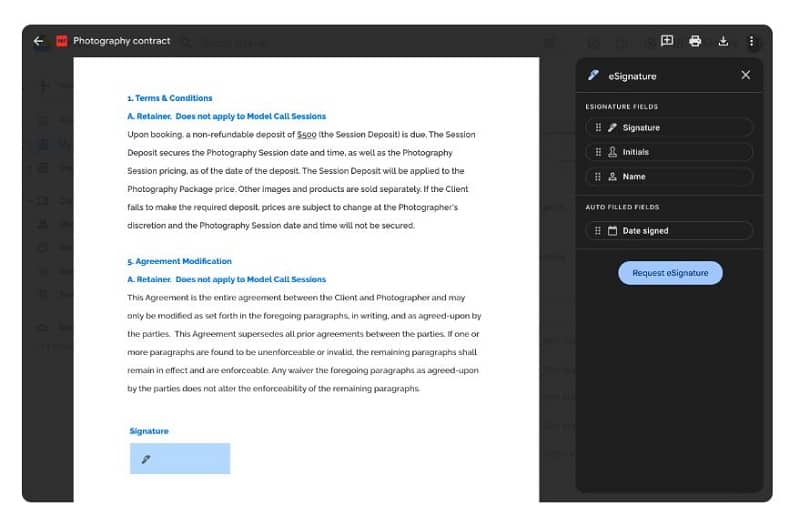 More functionality on the way
In the future, Google plans to build on this functionality with more extensive features. These include an audit trail for tracking electronic signatures in Google Docs documents, the ability to support multiple signers and sending documents for signature to individuals outside the Google Workspace ecosystem.
Furthermore, obtaining an electronic signature in a PDF file of the document in question should be possible as well.
Free for Google Workspace users
The new electronic signature feature is free for individual Google Workspace users over the next 15 days. Administrators can also sign up for the beta.
Specifically, users of Google Workspace Business Standard, Business Plus, Enterprise Starter, Enterprise Standard, Enterprise Plus, Enterprise Essentials, Enterprise Essentials Plus, Education Plus and nonprofit customers.
Also read: Google shows new classroom-oriented accessibility and learning tools