Chip manufacturer TSMC is about to receive a major order from IBM. These are specifically premium server chips for their latest mainframes. Together with AMD, TSMC wants to give smart Intel the edge with its 7 nm chips.
Intel today supplies 96 percent of the chips in data center servers according to analysis agency Trendforce. IBM has only a small market share and until now had ordered its chips from Globalfoundries. The latter, however, has thrown in the towel in the race to ever smaller and more powerful chips and continues to focus on 14 nm and 12 nm FINFET. Result: AMD went to TSMC for all its chips and now also follows IBM.
Today, only Intel (10 nm), TSMC (7 nm) and Samsung (7 nm EUV) are still in the race for ever smaller chips. Intel's stuck on a difficult transition to 10 nm for the time being. It estimates that by the end of 2019 10 nm chips will be rolled out on a mass production scale. The data center market even has to wait until 2020 for 10 nm Intel chips. It is expected that Intel's 10 nm chips will be competitive with the 7 nm chips from TSMC (and Samsung). One drawback for Intel: TSMC already bakes 7 nm chips today.
Intel competitor
IBM is looking for the best technology for its chips and automatically arrives at TSMC. However, IBM is not in direct competition with Intel because it has its own chip designs. The competition (Dell, HP, Lenovo Group, etc.) use Intel or AMD chips. Danny Kuo, IDC analyst informs Nikkei Asian Review that IBM is building the Rolls-Royce from the server segment. IBM ships a lot less servers compared to classic x86 chips, but they are much more expensive.
IBM mainframes today cost between $ 300,000 and 2 million per set. For comparison: HP and Dell build options with Intel chips that start from 7,000 euros. Because of the high bandwidth capacity and reliability of IBM mainframes, we often find them today in banks, casinos and security systems.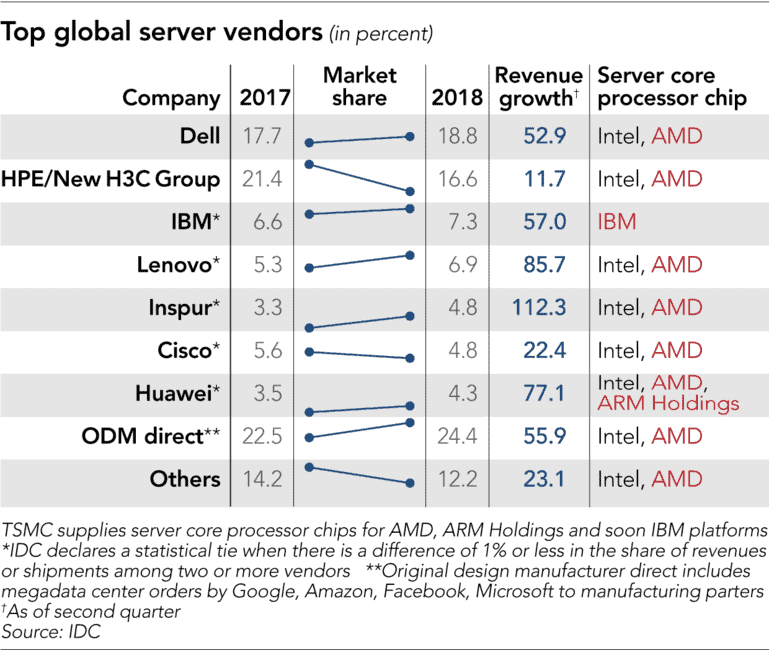 TSMC is allowed to bake the chips for the next generation Z15 mainfraime for IBM. Together with the AMD chips, this will enable the chip manufacturer to gradually break away from the large Apple contract on which they have hitherto been heavily dependent. The mobile market is stagnating, affecting TSMC's figures. It has already had to reduce its expected annual turnover three times this year.
With IBM and AMD, TSMC can make Intel's life miserable. AMD Epyc has all the assets in hand to gain market share in the server market. They need to take advantage of Intel's negative momentum to break through dominance. TSMC is already rubbing its hands with new customers in the lucrative datacenter server market.
Related: TSMC starts risk production EUV 7nm, 5nm test phase ready Q2 2019
This news article was automatically translated from Dutch to give Techzine.eu a head start. All news articles after September 1, 2019 are written in native English and NOT translated. All our background stories are written in native English as well. For more information read our launch article.