Today, HPE Cloud Volumes is expanding into Europe with data centres in the UK and Ireland. The service provides support for container platforms including Docker and Kubernetes, and is now also certified for critical healthcare applications.
HPE Cloud Volumes is a strange thing about HPE. HPE is not known for its Software-as-a-Service solutions or its cloud. Cloud Volumes is part of the Nimble Storage acquisition in 2017. The service offers block storage services to applications running on AWS or Azure. Google Cloud Platform is not supported for the time being.
A company that uses cloud-based compute resources can view its native cloud volumes in the same console they are already using. It uses ExpressRoute on AWS and VNET on Azure.
Container platforms
HPE is heavily committed to the hybrid cloud and is therefore expanding its datacenters to offer more cloud storage in local locations. This is crucial for latency-sensitive applications. It will therefore expand in the United Kingdom and Ireland in 2019. European customers get local data access at the best performance available.
HPE Cloud Volumes also supports key container platforms including Docker and Kubernetes. This accelerates the development and testing of cloud native apps and hybrid cloud workloads. The service can be tested in preview today via this link.
Finally, HPE Cloud Volumes has the full SoC 2 Type 1 certification and is HIPAA compliant for healthcare customers.
HPE GreenLake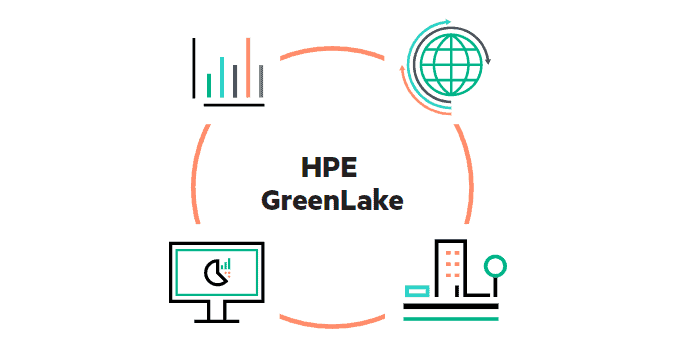 During HPE Discover in Barcelona we are told that HPE Greenlake is a success. HPE currently manages 500 petabytes of customer data as as-a-Service with GreenLake Flex Capacity. The platform offers economies of scale and simpler IT management in a pay-per-use model on-premise.
HPE is now also expanding its backup functionality with Veeam Software as part of its consumption model. With this, HPE wants to lower the threshold even further in terms of data security. The new cooperation is now active for new and existing customers.
Update 27/11 15h: The United Kingdom will be the first to receive HPE Cloud Volumes from February 2019. The rest of Europe will be covered in the course of 2019.
Related: Commvault supports new HPE GreenLake backup solution
This news article was automatically translated from Dutch to give Techzine.eu a head start. All news articles after September 1, 2019 are written in native English and NOT translated. All our background stories are written in native English as well. For more information read our launch article.