For the first time in a decade, Google has increased the prices of the G Suite. The company now charges basic users six dollars per month per user and business users twelve dollars per user. The idea is that the higher price also fits the additional functionality that G Suite has received in recent years.
G Suite, which competes directly with Microsoft Office 365, is facing a price increase for the first time in its history. For a long time, G Suite Basic cost $5 per user per month, but now costs $6 per user per month. G Suite Business go from $10 to $12 per user per month. In addition, G Suite Enterprise, which costs 25 dollars per user per month, will not be subject to a price increase.
Competition with Microsoft
A comparison with Microsoft Office 365 is not so easy to draw. Microsoft offers many different packages with different functionalities, where each different app has different prices. In any case, Office 365 Business Essentials costs $5 per user per month, while an annual Office 365 Business subscription costs $8.25 per month and Office 365 Business Premium $12.50 per month. They're all aimed at small businesses. For large companies there are other packages. For example, Office 365 Enterprise E3 costs $20 per user per month and E5 costs $35.
The prices of G Suite are therefore somewhat simpler, with simply three different packages. From 2 April, the new prices announced by Google will apply. According to the company, this is possible because it has tripled the value of G Suite by adding, among other things, artificial intelligence, meeting tools and other apps and functions.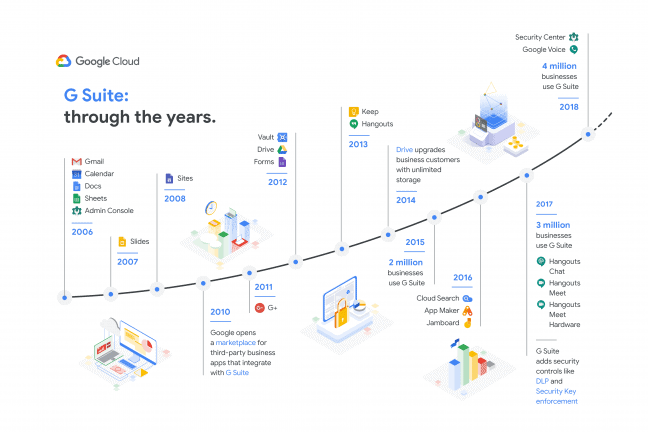 Users with an annual contract that expires after April will only be affected by the price increase when the contract is due for renewal. Google further adapts its prices to local markets. In the Netherlands, the prices are now structured as follows:
Basic costs 4 euro per user per month;
Business costs 8 euros per user per month;
Enterprise costs 23 euros per user per month.
What the new prices will be in the Netherlands is not yet known, but they will probably stay a little later than the dollar prices.
This news article was automatically translated from Dutch to give Techzine.eu a head start. All news articles after September 1, 2019 are written in native English and NOT translated. All our background stories are written in native English as well. For more information read our launch article.