Microsoft has improved the Your Phone app, allowing app notifications on Android to be synced from the phone with PCs running Windows 10. Your Phone is an app for Android phones and Windows 10, allowing users to complete tasks on different devices.
The function was announced on Twitter by Vishnu Nath, director of program management at Microsoft Mobile eXperiences. This feature is not yet available to everyone, as it can now only be used by Windows Insiders who use the Your Phone app. The new option is being rolled out in phases, according to ZDNet.
Nath also shared a screenshot of the function on a desktop. It shows that the app notifications to an Android phone are now displayed in a notification screen in the Your Phone app on Windows 10. These include alerts and messages from apps such as Twitter, OneDrive and the Google app.
Users can also delete notifications on the PC, which means they can also be deleted on the connected phone.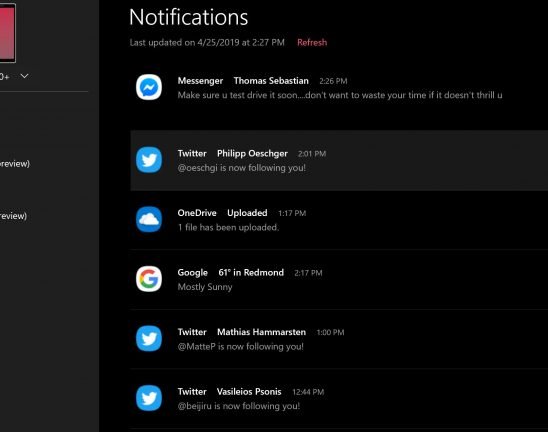 Your Phone
The Your Phone app was launched last year by Microsoft with a feature that synchronizes text messages from an Android phone with a PC running Windows 10. In addition, users could view the last 25 photos they had taken with a connected phone.
Since then, Microsoft has added new features to the app, which first tests with Windows Insiders. Earlier this year, Microsoft added badges and bold text for unread text messages. In addition, a mirroring function has been added, allowing users to use apps on their smartphone from their PC.
Until recently, the feature only worked with the Samsung Galaxy S8 and S9, and on the desktop side only with the Surface Go. Nath now states that the support for this has been extended to the Samsung Galaxy S10, S10+, S10E, Note 8 and Note 9. Support for the OnePlus 6 and 6t has also been added. Nath's team is working to extend support to other PCs.
This news article was automatically translated from Dutch to give Techzine.eu a head start. All news articles after September 1, 2019 are written in native English and NOT translated. All our background stories are written in native English as well. For more information read our launch article.