Windows 7 will stop working as of January 14, 2020. The operating system remains usable, but you will no longer receive free security updates after that date. To inform everyone, Microsoft starts showing alerts on Windows 7 systems.
Some visitors of Reddit let us know that Windows 7 shows them a notification about the end of the support on January 14, 2020. In the near future, every user may receive a notification that the deadline after 10 years Windows 7 is in sight.
If you want, you can click away the window, but there is a good chance that you will get the same message again later on. Only when you put a check mark next to Do not remind me again you will be left alone according to Windows Latest.
Advice
Clicking on Learn More provides a concise summary of what the end of support means. Microsoft focuses on the end of technical support, software updates and security updates. It clearly says that Windows 7 will continue to work, but that it increases the risk of viruses and malware. The advice is, of course, to switch to Windows 10.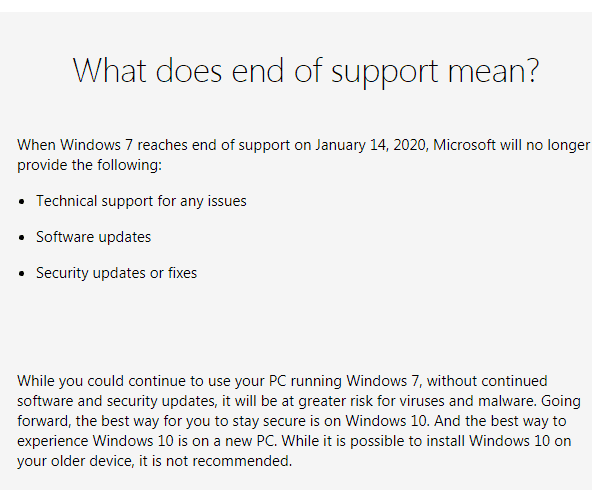 What is less appreciated is that Microsoft advises to buy a new PC. It lets you know that an upgrade is possible on a new PC, but does not recommend it. This is understandable for systems that are 10 years old, but until four years ago you could still buy Windows 7 devices in the shop. They can easily digest an upgrade without performance problems. It is possible that the advice for a new PC will only appear on older machines, but there is still a lack of clarity about this.
Paying updates
If you want to keep running Windows 7, you have to pay money. For organizations running Windows 7 Enterprise, the first year of updates will cost an additional $25 per device. This doubles in the second year to 50 dollars and even to 100 dollars in the third year. Companies can't skip a year. Anyone who signs up from the second or third year onwards will also have to pay in previous years.
For Windows 7 Pro, the prices are spicier. The first year costs $50 per handset, doubling each year to $200 per handset in the third year. Microsoft also informs customers that they can collaborate with them on price agreements. These are probably recommended retail prices and companies with a large number of licenses can discuss more competitive prices.
Related: End of Windows 7: what you need to know before you upgrade to Windows 10
This news article was automatically translated from Dutch to give Techzine.eu a head start. All news articles after September 1, 2019 are written in native English and NOT translated. All our background stories are written in native English as well. For more information read our launch article.