A leaked Intel roadmap shows some new details and confirms annual new Optane Persistent Memory (PM) modules. Cooper Lake and Ice Lake will be released as planned in 2020 and their successor Sapphire Rapids 8-channel DDR5 will receive support and PCIe 5.0.
Last month Huawei presented these leaked slides to its partners. This confirms the news from the end of April when Intel shared more details in an investor meeting. Cooper Lake (14 nm) and Ice Lake SP (10 nm) are expected in Q1 and Q2 2020 respectively. Both share the same platform (Whitley).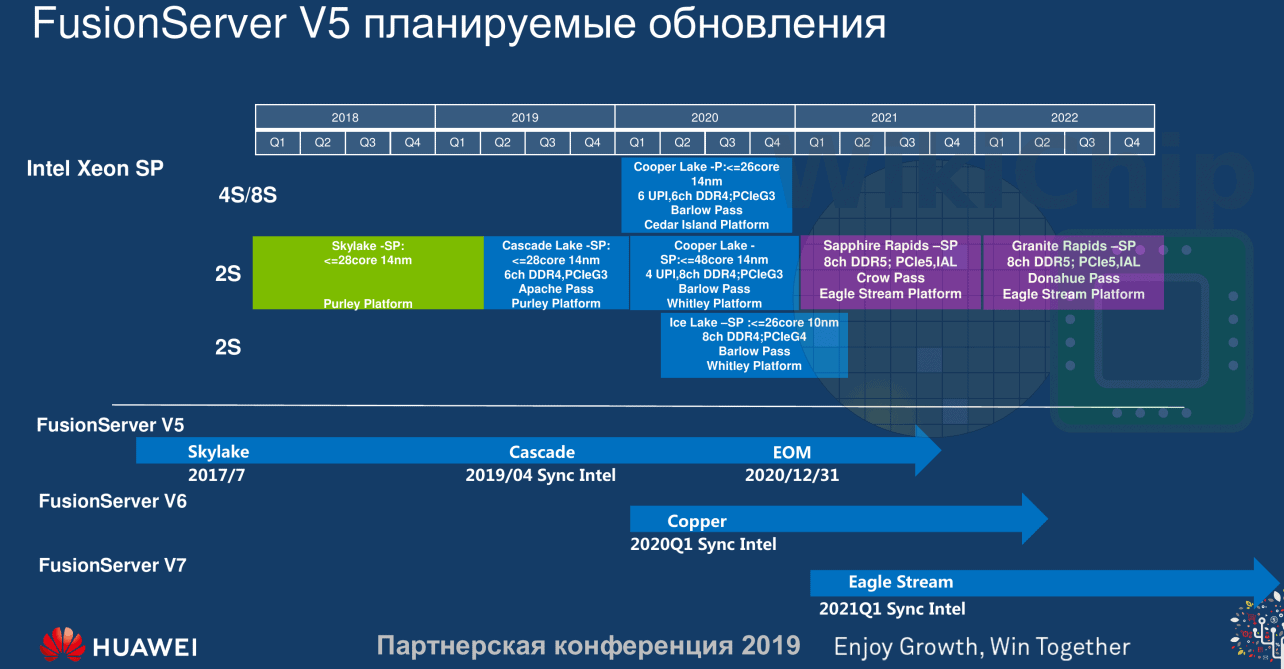 Cooper Lake-SP is available up to 48 cores. Probably two dies will be linked to each other on one chip. Cooper Lake-SP gets four UPI links and eight DDR4 memory channels. That's respectively one and two more than Cascade Lake-SP.
Ice Lake-SP only goes up to 26 cores, which probably has to do with the yield problems around 10 nm. It also supports up to 8-channel DDR4 but increases PCIe compatibility to Gen 4.
Optaneous PM
From 2021 we will be talking about Sapphire Rapids-SP on the new Eagle Stream platform. This includes 8-channel DDR5 memory support, PCI Express 5.0 and Intel Accelerator Link (IAL). The latter is an interconnect based on PCIe 5.0 and has already been renamed Compute eXpress Link according to Tweakers. Facebook, Microsoft and Google join the list of Intel and work together on this interconnect.
Both Sapphire Rapids and Granite Rapids do not have a detailed production process. Sapphire Rapids is likely to be baked at 10 nm and Granite Rapids could become the second product at 7 nm after the Intel Xe chart. As it says on the roadmap, Granite Rapids is more like a refresh of Sapphire Rapids.
Finally, Optane PM is upgraded every year with every new generation of Xeon Scalable chips. Optane PM is the Optane memory in DIMM format.
Related: Intel Xe graphics cards for data centers to support ray tracing


This news article was automatically translated from Dutch to give Techzine.eu a head start. All news articles after September 1, 2019 are written in native English and NOT translated. All our background stories are written in native English as well. For more information read our launch article.