Microsoft is releasing a major update for OneDrive including new features, improved integration with Microsoft Teams and increased upload limit. Seth Patton, General Manager at Microsoft 365, announced the update in a blog post.
OneDrive increased its upload limit from 15GB to 100 GB for OneDrive and SharePoint. OneDrive for Business also receives better integration with Microsoft Teams as part of this update. When business customers want to share files in Teams, they can create a shared link that allows them to share the file with colleagues. Soon users will also be able to send browser links to coworkers.
Add to OneDrive
Another new feature is Add to OneDrive, which should make it easier to add shared folders to your drive. This includes shared content within OneDrive and content from a shared library in Microsoft Teams or SharePoint. This new feature allows users to use the same functions in these shared files as they would typically use in files on their own OneDrive. This means content can be synced, shared and collaborated on without compromising the security of these files. Add to OneDrive will be released in the public preview this month.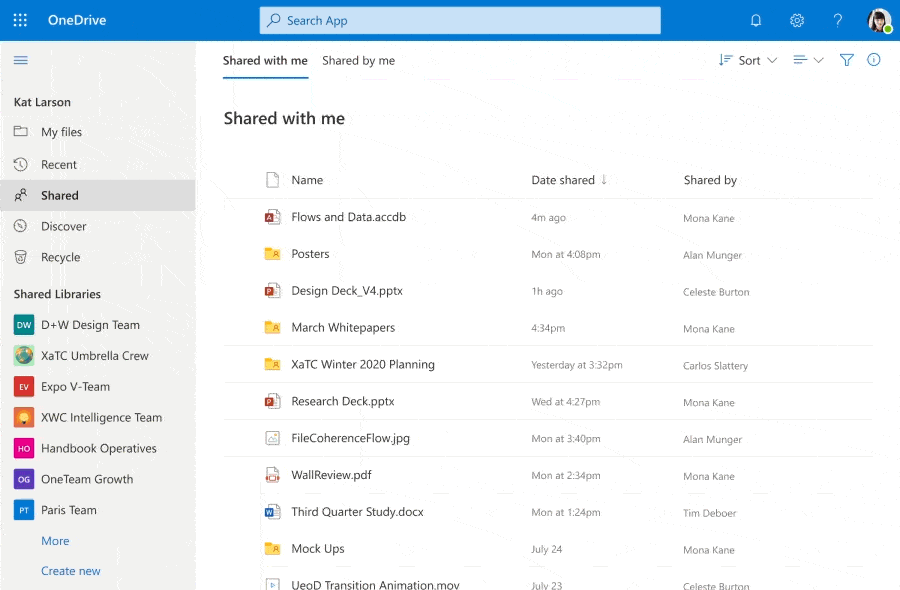 Another new feature that will soon be introduced is the ability to maintain original access to a specific document. Business users who originally had access to a document will be re-added when that document moves to a different location. These users will be notified that the file has been moved and will receive a link to reaccess the file with the same permissions as before.
Security
Security remains a significant priority for Microsoft. Admins will soon be able to set a time limit for external access to files and documents and implement multi-factor authentication through the use of one-time passwords. Later this year, all capabilities of OneDrive admins will be moved to the SharePoint admin center to provide a better and more comprehensive overview.
Soon there will also be an update for the OneDrive sync application and it will be easier to create a separate group for family and friends to share files with each other. And finally, OneDrive will introduce a dark mode for its web version. Both iOS and Android already have this feature. It is currently unknown when the new dark mode will be added.