The new announcements should make Oracle Autonomous Data Warehouse more attractive to deploy as a central data warehouse for the entire multicloud environment.
Oracle has been breaking down the walls around "walled gardens", in the words of Larry Ellison during his keynote at Oracle CloudWorld last October. It is doing this in many ways. Consider the connections it is making between OCI and other cloud environments, as well as adding MongoDB JSON support to Oracle Cloud. A third example that immediately comes to mind is making Heatwave MySQL available on AWS. And there are countless more examples from the recent past.
Oracle is not doing any of this out of charity, of course. In part, it will have to take these steps because customers are asking for them. In addition, by being more open, you can actually get more business. You become a more attractive partner to work with. That's also a good thing, of course. Today Oracle is making some announcements that should make the Autonomous Data Warehouse a bit more attractive for customers to send their data to. We briefly cover the main announcements below.
Broader support for multicloud
The first update we cover here has to do with Oracle Autonomous Data Warehouse's multicloud support. This gets a substantial boost with the addition of no less than 100 connectors. This makes it possible out-of-the-box to pull data from more than 100 SaaS services into the Autonomous Data Warehouse.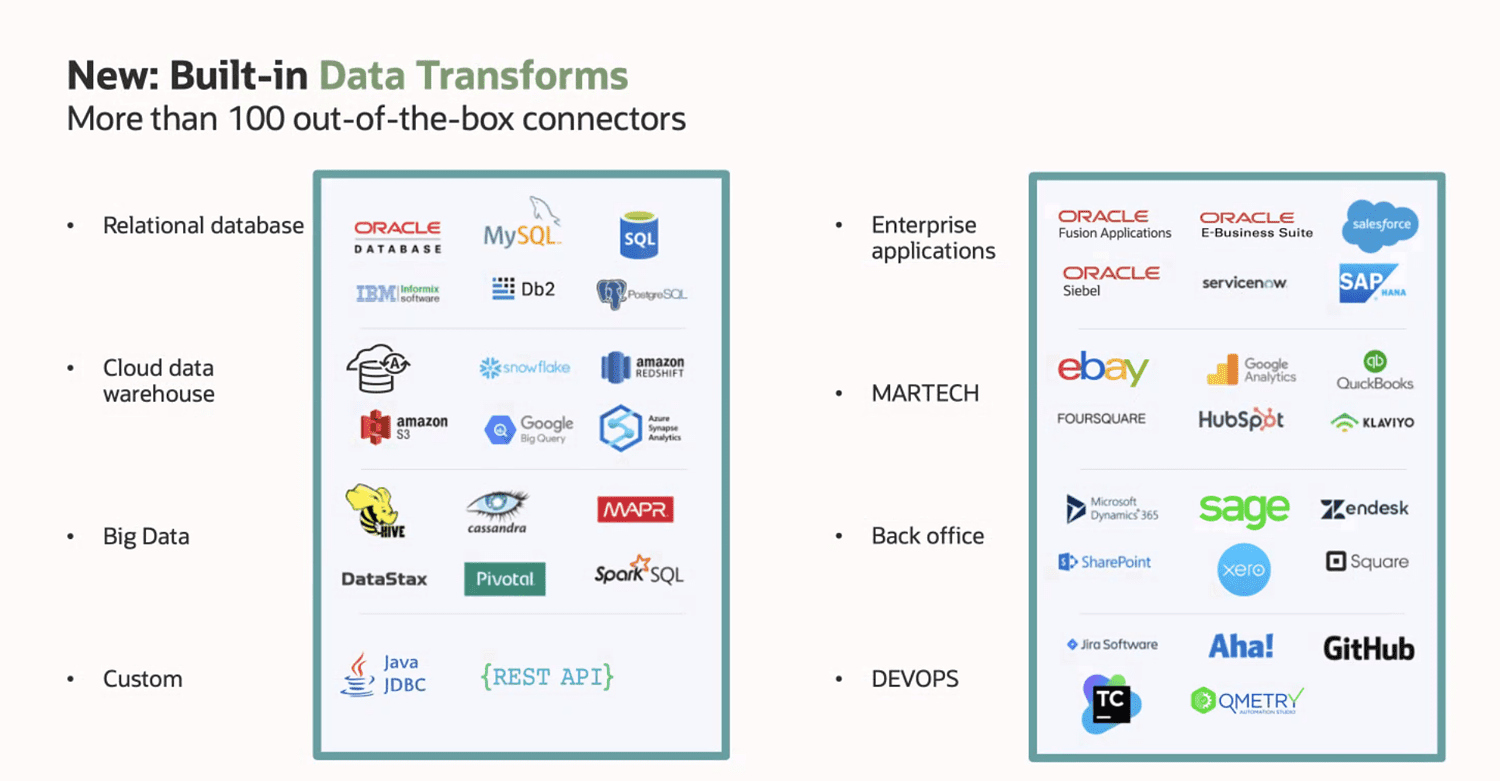 On top of the new connectors, Oracle has also added an integration with AWS Glue and you can now query Apache Iceberg tables. This way you can add data lake schemas and metadata to the Autonomous Data Warehouse.
Below is another picture of what has been added in this most recent update: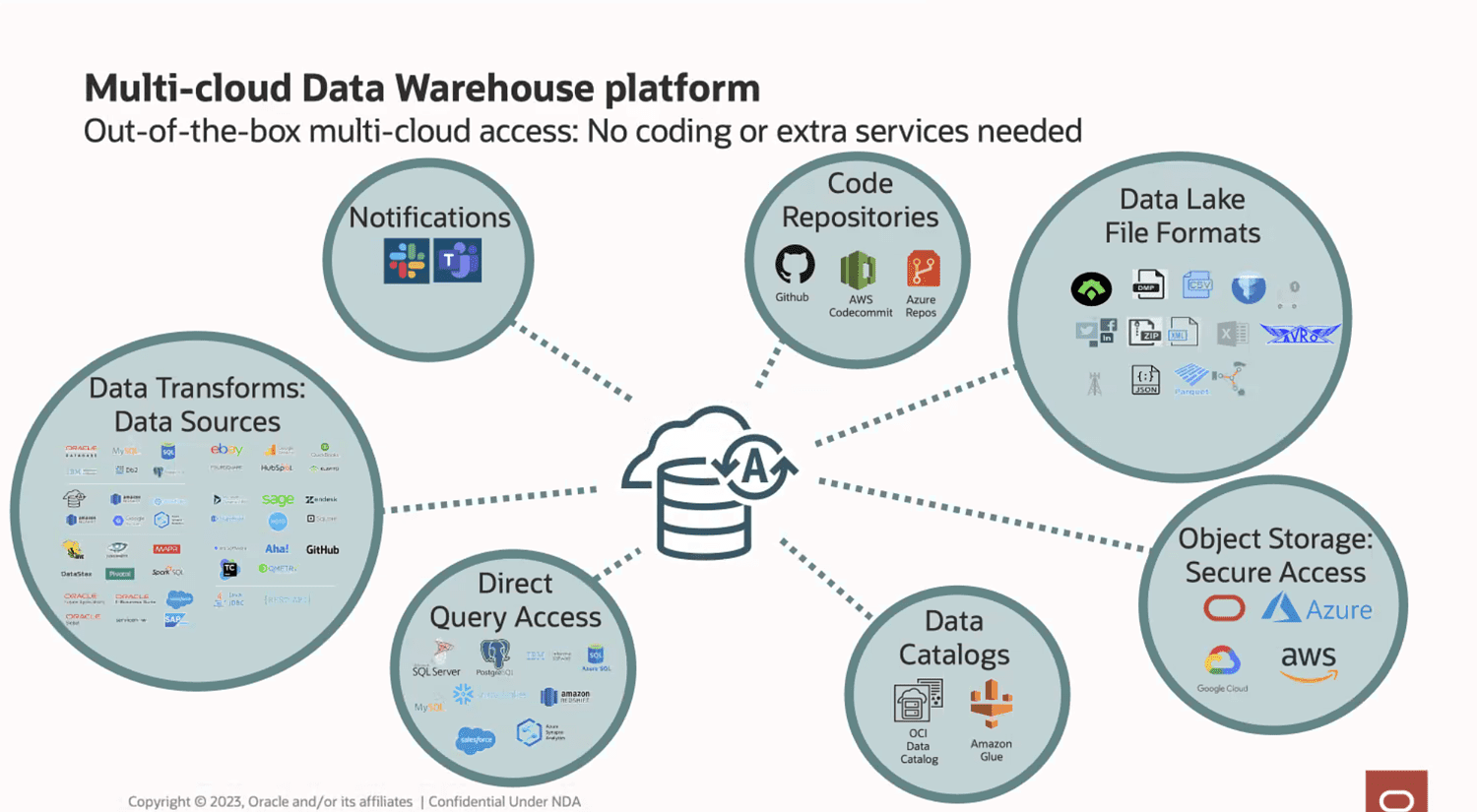 Data sharing via Delta Sharing API
A second announcement today has to do with data sharing. That also throws Oracle more open to the Autonomous Data Warehouse. Namely, it is going to use the open-source Delta Sharing protocol, which originated at Databricks. In its own words, this makes Oracle the first cloud data warehouse player to do this.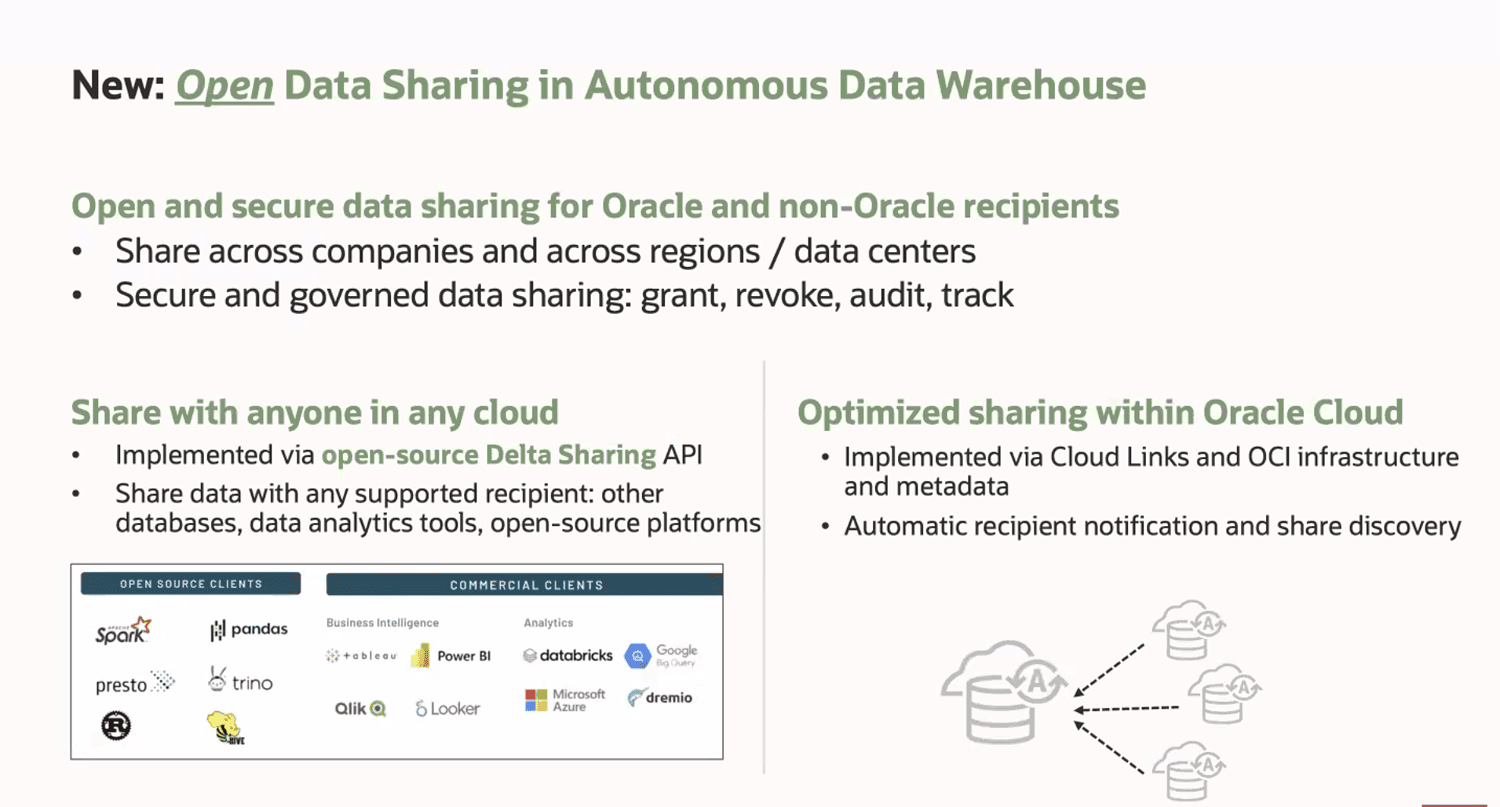 The idea is that with Delta Sharing, you can easily share data with external environments without losing control of it. Among other things, this should yield good results for things like governance. Of course, the other service must support this protocol as well.
Low-code data integration with Data Studio
Data integration is traditionally a tough job. Here too, however, Oracle has news for the Autonomous Data Warehouse. It has added Data Studio. This is a self-service cloud console that allows business analysts and data scientists based on low-code principles to manage the entire lifecycle of data, from loading through transforming and modeling to sharing. All of this without the IT department having to do anything for and about it, is Oracle's promise.
Exadata storage for the price of object storage
The latest major update Oracle is announcing today for the Autonomous Data Warehouse is a very substantial price reduction for the Exadata storage it uses. That's storage that performs well, but that also came with a corresponding price tag. Until today, because Oracle is going to cut the price by more than 75 percent. The price will come down to what you pay for object storage. That's a type of storage you don't necessarily use for performance, but primarily for archiving, for example. Exadata storage is about 20 times faster when it comes to performance in handling queries. This makes the data warehouse and datalake as offered by Oracle through the Autonomous Data Warehouse more attractive to store as much data as possible on or in. Organizations can then actually deploy this data warehouse as a data warehouse and realize much better performance and therefore also act faster, according to Oracle.