Samsung launches nine versatile monitors in its 2023 Smart Monitor series. The line focuses on customizability to your taste and work needs.
Samsung's 2023 Smart Monitor series launches new M8, M7 and M5 Smart Monitors. The screen size can go up to 32 inches with the M7 and M8 models. The M7 monitor is also available in 27 inches, which is the standard size of the M5 model.
The M5 model represents the cheaper product in the line. For a price of 219 euros, you get a monitor with Full HD resolution in exchange. Only the white option is available within the Benelux, but when you're not from that area chances are you can get your hands on a black model too.
Graphic professionals
This year's top monitor, the M8, has 4K resolution, 400nit brightness and a refresh rate of 60Hz. The M7 features the same resolution but does scale the brightness down to 300 nits. Both devices should be very suitable for the target audience of graphic designers due to a color coverage up to 99% sRGB color gamut. Connection is always via USB-C.
Another asset of the M8 monitor is its magnetic and removable webcam. That eliminates the cost of an external webcam and allows you to remove it after a meeting for privacy reasons. The camera supports FHD resolution, puts you neatly in the centre of the image via Auto Framing and features an improved Multi View, which now allows you to use Microsoft 365 and the Browser app in full screen mode.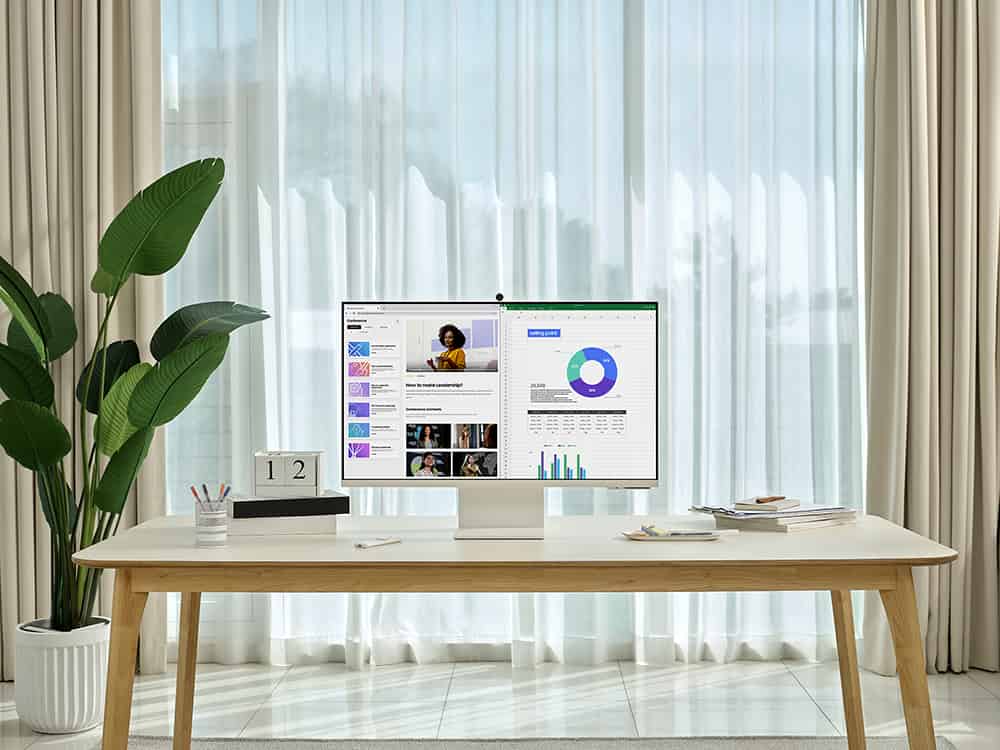 Samsung isn't just betting on the office with its monitors. With some built-in streaming services, the device should prove itself useful even after work hours. The 2023 Smart Monitor series also comes with a built-in IoT Hub, making it easy for a user to control all their IoT devices in the home.
Working vertically
Both monitors otherwise share the same design. Here, Samsung itself says it has gone for slimness, making the monitor measure 11.39mm at its thinnest point. A herringbone pattern on the back of the monitor should please the eye, which is a nice touch if your monitor is the heart of your living room. More important is the flexibility of the screen, which allows you to work horizontally and vertically.
The M8 will have a color range consisting of white, blue, green and pink. Starting this month, the monitor will be available for 699 euros. Only the white edition of the M7 will be available in the Benelux. For 27-inch screen size you pay 549 euros, a 32-inch monitor will cost you 50 euros more.