Lenovo recently announced a series of PCs that run on Android as their main operating system. This was done in collaboration with Android custom versioning and management specialist Esper. These include two desktop devices and two ruggedized IoT devices.
PCs running Android are rare. The collaboration between Lenovo and Esper, more akin to a reseller agreement, can therefore be considered quite remarkable. One reason for Lenovo to enter into the cooperation with Esper is that, in the eyes of the hardware giant, demand for PCs running Android as an OS has been increasing in recent years. This is in part to save costs, but also to use them in specific use cases.
The PC devices now jointly developed are aimed at the business (industrial) market, as well as the retail, healthcare and hospitality sectors.
Android desktops
More specifically, the collaboration consists of four Lenovo PC-devices equipped with an Esper custom version of Android: Esper Foundation for Android. The four devices also feature the Android MDM specialist's various Android management software.
The first elaboration of the collaboration is the ThinkCentre M70a. This is an all-in-one desktop, that is, including a screen. Under the hood, this Android PC runs on 12th generation Intel processors, from the i3 to the latest i7 processor, up to 16 GB of DDR4 3,200 MHz RAM memory and 512 GB of of storage capacity via a PCIe SSD, In addition, the desktop features a 21-inch screen.
The Lenovo ThinkCentre M70q Gen 3 can be mounted behind a screen and also features the latest 12th generation Intel processors, up to 32 GB of RAM and storage capacity in the form of both an SSD up to 512 GB and an HDD up to 1 TB.
IoT devices
Two IoT PC devices have also been introduced, namely the Lenovo ThinkEdge SE30 and the ThinkCentre M90n-1. Both are rugged edge clients. These PCs can be easily placed in IoT environments and serve to control certain activities.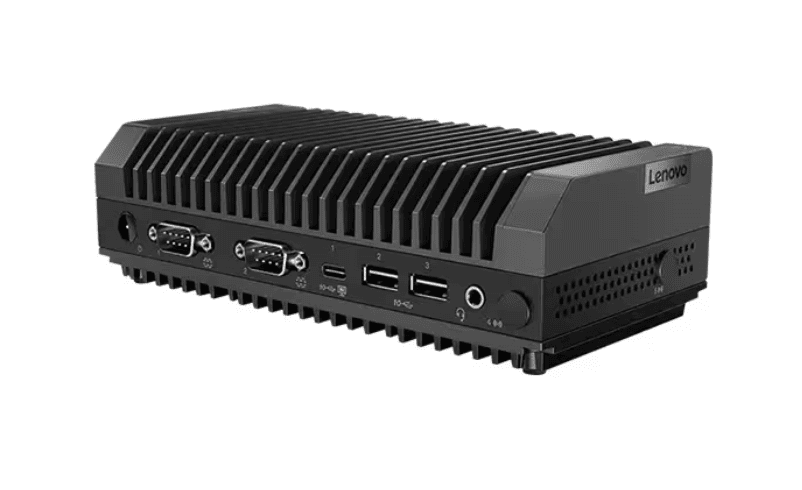 The Lenovo ThinkEdge SE30. Source: Lenovo
Also read: Lenovo adds Edge AI portfolio to its TruScale IaaS model