Recently there have been occasional leakage of details concerning the Huawei Mate 20 Pro. Today, new photos show a unique camera configuration. In addition, we have other details around the new headphones from the Chinese manufacturer.
The Huawei Mate 20 Pro has a 6.3-inch OLED display with a resolution of 3,120 by 1,440 pixels. Striking is the recess at the top of the screen. According to the site Winfuture it is a screen with an aspect ratio of 19.5:9. Furthermore, the phone runs on a Kirin 980 processor that Huawei makes on the 7nm process.
Strong camera set-up
The smartphone mainly has a strong camera set-up. Winfuture states that the three cameras are not placed underneath each other, but in a square setup. It is not entirely clear what effect this has on the shot images. We also do not yet know how many megapixels the individual sensors have and what kind of sensors they are. The phone would combine cameras with wide-angle and telephoto lenses, which would be a first for Huawei.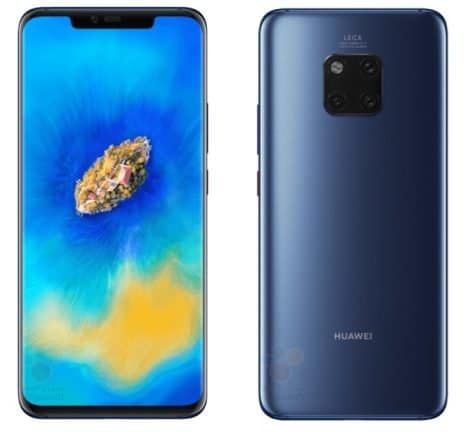 We do know that the Mate 20 Pro will have lenses ranging from 16 to 80mm in 35mm equivalent. Smartphone lenses are usually between 24 and 28 millimeters and telephoto lenses at 50mm. By allowing these focal lengths to vary so much, five optical zooms are possible. That's more than the P20 Pro, which features triple optical zoom.
The Huawei Mate 20 Pro will be officially unveiled on 16 October. Then an event takes place in London. The question is what exactly can be revealed, because it is already known that the phone is in black, blue and purple in the shop.
This news article was automatically translated from Dutch to give Techzine.eu a head start. All news articles after September 1, 2019 are written in native English and NOT translated. All our background stories are written in native English as well. For more information read our launch article.