NetApp introduces NetApp Advance, a collection of storage programs and warranties that allow customers to future-proof their on-premises environments at a lower cost. In addition, the storage and cloud specialist is also introducing a series of flash storage systems and a new entry-level storage model.
The portfolio of programs and guarantees now introduced gives customers a complete storage lifecycle that should eliminate complex, expensive and also time-consuming renewal cycles of their on-premises environments. This makes them future-proof and more cost-efficient.
The service ensures that organizations ultimately get the most efficient, secure and sustainable storage, including the necessary warranties from NetApp. This allows organizations to meet today's demands for on-prem environments, NetApp said. These include avoiding costs, complexity and disruption caused by technological innovations. NetApp aims to end this with a storage solution that is always expandable.
It also helps make hybrid cloud migrations less risky by enabling easy scaling to cloud-based storage when circumstances call for it. In addition, it provides sufficient security to increase cyber resilience and the requirement to recover quickly.
Tip: NetApp BlueXP is a big step towards true hybrid cloud data management
Concrete components
More specifically, NetApp Advance provides on-premises or cloud-based storage options, security solutions and best practices for this, including countering ransomware attacks and providing recovery expertise. NetApp also offers various sustainability and energy efficiency measures for reducing carbon emissions.
Within the program now introduced, the new NetApp Storage Lifecycle Programs offer several options. Such as free upgrades to the latest storage controllers every three, four or five years, storage drive replacement and managed software updates for ONTAP, among others. In addition, the portfolio also offers support services such as Active IQ, Cloud Insights and ONTAP Essentials.
NetApp Cloud Advantage Program
In addition, the NetApp Storage Lifecycle Program is introducing the NetApp Cloud Advantage Program. Through this program, companies can trade in their legacy physical storage controllers for fully enabled NetApp cloud solutions of their choice. With these, they can then easily scale to the cloud and meet changing business requirements – and new guarantees .
Furthermore, NetApp's 4:1 SAN Storage Efficiency Guarantee guarantees that if workload efficiency targets are not met, NetApp will restore it at no cost to the affected customer. This guarantee is available for all NetApp AFF all-flash systems.
Introducing new flash storage systems
NetApp also recently introduced its new AFF C series of flash-based storage systems. This series, consisting of the AFF C250, AFF C400 and AFF C800 versions, are all all-flash and QLX-based storage systems. These should deliver high flash storage capacity at lower cost and with a smaller storage footprint.
For this, NetApp says the systems offer guaranteed storage efficiency, seamless scalability for capacity and performance, and excellent data security, including against ransomware, among others. The AFF C-series of storage systems further run on ONTAP and are centrally managed using NetApp BlueXP for a seamless hybrid cloud experience.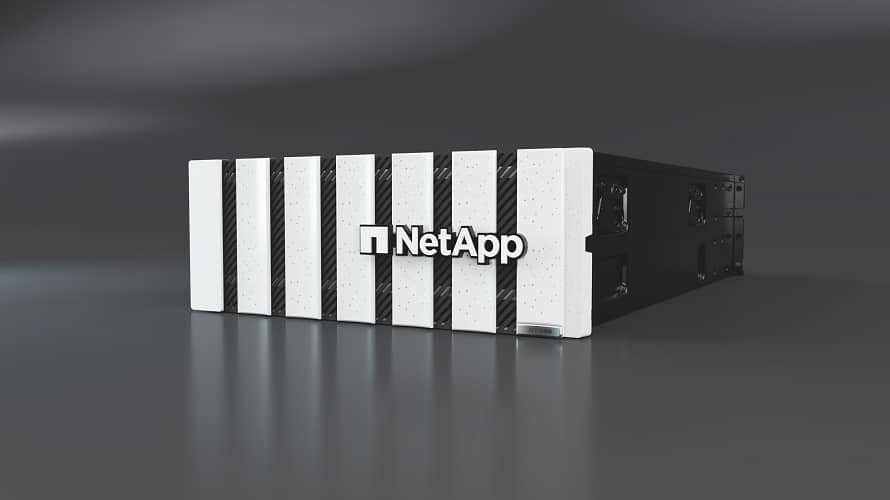 Entry-level NetApp AFF A150
NetApp is introducing the NetApp AFF A150, a new entry-level storage system within the AFF A-Series family of all-flash storage systems. This server is especially suitable for branch offices and more distributed environments and is capable of delivering entry-level enterprise storage.
Examples of the latter include providing better storage performance, offering more ability to scale and expand capacity and providing high availability with support for MetroCluster IP.
NetApp Advance and the new flash-based storage systems are available immediately.