Arm has informed customers that it will adjust its licensing model and introduce new pricing calculations for its chip technology. With this, Arm would like to boost its stock market value ahead of its upcoming IPO.
The Financial Times writes based on sources. Whereas Arm currently bases royalties on the value of the final developed processor, it soon plans to implement a different calculation. In the new licensing model, the value of the final device used by the processor will be set as the basis for the royalties to be paid.
Arm will be able to earn from the processor design more often. This is because the value of a device, such as smartphones, differs more often than the price of the processor used. OEMs, therefore, end up paying more for using Arm technology than before.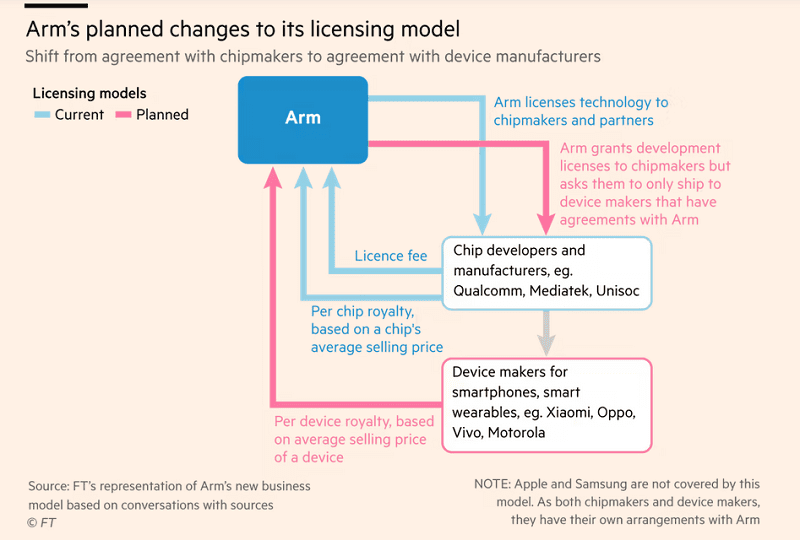 Boosting stock market value
According to the business newspaper, the reason for the new licensing model to be introduced may be that parent company Softbank wants to boost the value of Arm. The more revenue the chip technology provider gets, the higher the company's value.
The new licensing model would be tested to discover the market value of Arm's monopoly position. This is important because Softbank will soon take Arm public. The higher the value, the more investors and a higher yield at the IPO. After the IPO, Softbank does remain the majority shareholder.
Clients informed would be chip makers MediaTek, Unisoc and Qualcomm and smartphone makers Xiaomi and OPPO.
Also read: 'Banks value Arm IPO at $30 billion to $70 billion'