Microsoft has developed an automated DNA storage system. That could replace the optical storage systems on which computer systems today often rely. In any case, it is a system that limits the space needed to accommodate the world's growing data collection drive.
Microsoft believes that synthetic DNA will be the next step in the long-term storage of data. One gram of DNA can store no less than 215 petabytes of data and store it for no less than 2,000 years. If it succeeds in successfully expanding the technology, the space needed to store all the data that is collected worldwide could be significantly reduced.
DNA storage
Microsoft researchers worked with scientists from the University of Washington. Together they built a system of liquids, tubes, syringes and electronics. That was the world's first automated DNA storage service. As a proof-of-concept, the researchers demonstrated the service's ability to store the word hello in DNA and then retrieve it.
The unit cost 10,000 dollars (8,833 euros) to make. If fewer sensors and actuators are used, these costs could be reduced by a third. In any case, the unit, which consists of a series of computers, serves to code and decorate software. Digital ones and zeros are converted to the four basic letters of DNA: A, C, T and G.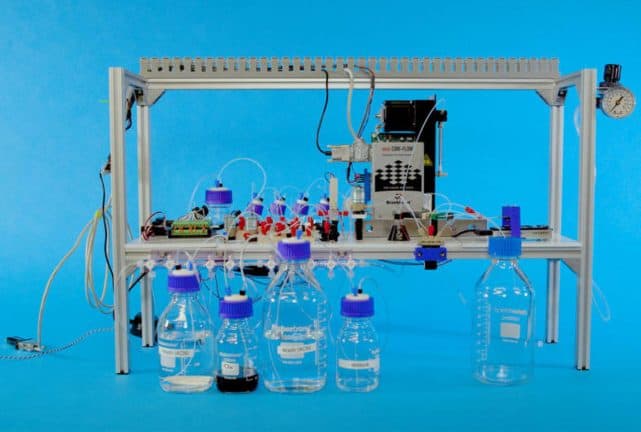 Fully automate
Our ultimate goal is to bring a system into production that looks like a normal cloud storage service to the end user – bits are sent to and stored in a data centre and then appear when the customer wants to see them, says Microsoft lead investigator Karin Strauss. To do that, we had to prove that this is practically feasible from an automation perspective.
According to Washington University lead investigators Chris Takahashi, machines are already ready to synthesize DNA, but many steps still have to be completed manually. In a data centre, you can't have a lot of people running around with pipettes in their hands. This is too sensitive to human error, too expensive and would require too much space.
This news article was automatically translated from Dutch to give Techzine.eu a head start. All news articles after September 1, 2019 are written in native English and NOT translated. All our background stories are written in native English as well. For more information read our launch article.