Synology renews the compact version of its 4-bay NAS. The DS419slim is upgraded with a faster processor and gets two gigabit LAN ports. Inside, there is room for four 2.5-inch hard drives with a total maximum capacity of 20 TB.
If you have room for a small NAS in the office, you can go to the renewed DS419slim. The system is only 15 centimetres deep and has room for four 2.5-inch drives. Thanks to the four disks you can configure RAID0 and RAID1 as well as RAID5 and RAID6.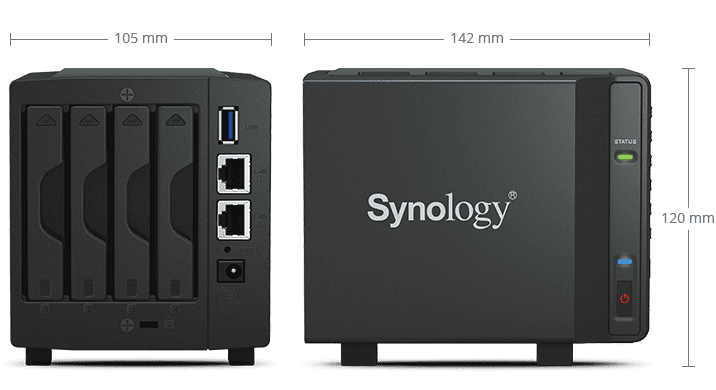 Like all Synology NAS devices, DS419slim also comes with the Disk Station Manager (DSM) operating system. Via a clear interface and an app store, you can configure the system as desired. The maximum read and write speeds are 223 MB/s and 94 MB/s respectively.
Marvel chip
A USB 3.0 port for external storage can be found on the front as well as on the back. Inside is a 32-bit Marvell Armada 385 found. The ARM chip has two cores on board and clocks at 1.33 GHz. The system receives 512 MB of DDR3L. Inside is one fan that keeps the hard disks cool.
You can connect up to eight IP cameras to the NAS. There are two licenses in the box at the time of purchase. If you want to connect more cameras via DSM, you have to pay extra. The complete list of supported IP-cameras can be found here.
The Synology DS419slim is now available and costs 378.73 euros.
Related: Synology DS1019+ review: one gear up


This news article was automatically translated from Dutch to give Techzine.eu a head start. All news articles after September 1, 2019 are written in native English and NOT translated. All our background stories are written in native English as well. For more information read our launch article.