A Gartner study shows a clear difference in spending on cloud services in different countries. The US, Canada, the UK, the Netherlands and Brazil are the top 5 most spent on cloud services as a percentage of total IT spending.

According to Gartner, the adoption of cloud services can serve as an indication of which countries will be at the forefront of the adoption of IT developments. For the use of the Internet of Things, among other things, the percentages from the study provide a basis for seeing which countries can become 'early adopters', says Gartner in the report.
By 2022, the growth of cloud services will outpace the growth of traditional IT solutions, says Gartner. This makes cloud computing one of the most influential changes in the IT market since the early days of digitization. Especially infrastructure as a service (IaaS) will grow tremendously in the coming years. Expenditure on data centres will, on the contrary, decrease slightly. Cloud shift, as Gartner calls the growth of the cloud, does not just mean more use of cloud services. It also means a tendency towards the latest and most cutting-edge technologies.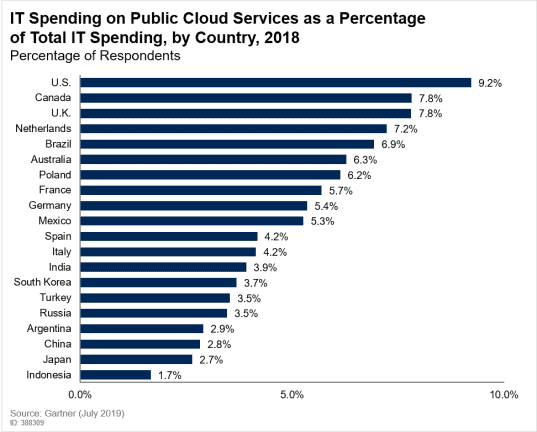 Netherlands on spot 4
The Netherlands occupies fourth place on Gartner's list above. Our country is one of the leaders in the use of cloud services. Based on Gartner's research, this means a good starting point for the adoption of new technologies in the future.
"Cloud shift is not just about cloud. As organizations pursue new IT architectures and business philosophies, they lay the foundation for new opportunities in the digital business, including next-generation IT solutions such as the Internet of Things," said Ed Anderson, Distinguished Vice President Analyst at Gartner. "Organizations that embrace dynamic, cloud-based business models position themselves ideally for cost optimization and competitive advantage.
This news article was automatically translated from Dutch to give Techzine.eu a head start. All news articles after September 1, 2019 are written in native English and NOT translated. All our background stories are written in native English as well. For more information read our launch article.