Hewlett Packard Enterprise announces its SATA Very Read Optimised SSDs. The SSDs are intended for data centres and are aimed to replace fast hard disk drives.
In a blog post, HP writes that the SSDs are intended for use in the HPE ProLiant, Apollo and Synergy platforms. They are available in 2.5″ and 3.5″ sizes and function as plug-in replacements for existing hard drives.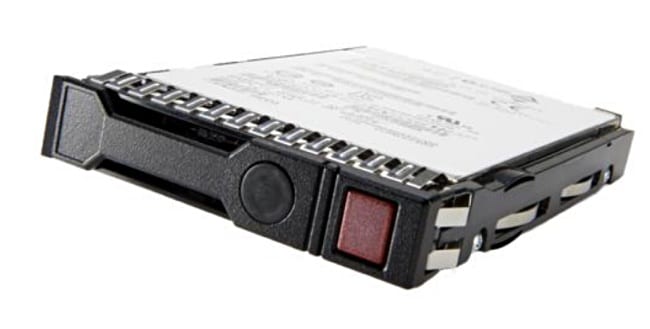 HPE promises that the SSDs are barely more expensive than comparable 10,000RPM drives and are even cheaper in terms of total cost of ownership (TCO). Compared to HPE's fastest hard drives, according to HPE, the drives are 175 times faster, have 5 times lower latency and are 3 times more efficient.
QLC memory
The SSDs are based on QLC-NAND chips and which is emphasized in their marketing. The company raves about their fast read speeds and high capacities for a relatively low price, which are areas in which QLC SSDs excel. In writing speeds, however, they lag behind TLC and MLC SDs. HPE claims that many modern workloads are 90 per cent read and 10 per cent write, so fast writes are less important for these applications.
Appropriate workloads
HPE has identified six workloads that would best fit the so-called Very Read Optimized (VRO) SSDs. In all of these situations, HPE promises that the TCO is lower than with a comparable hard disk.
SQL databases are said to be 10 times faster than hard drives;
NoSQL databases would be 7x as fast;
With Hadoop and Big Data, a server goes through a sorting operation 2 hours faster;
Object stores are 6x as fast;
Content Delivery Networks (CDN) would be able to handle 200x more users;
Training of AI and ML would be 25 percent faster.
Versions
The VRO SDs are equipped with a sata interface that supports speeds up to 6Gbit/s. The 2.5″ versions are available in 960GB, 1.92TB, 3.84TB, 7.68TB. The larger 3.5″ version is only available in 3.84 and 7.68TB. HPE offers a three-year warranty and promises that the SSDs can handle 700 times the total write capacity.
Price
Even though HPE is bragging about the prices of the SSDs, they are still much more expensive than comparable drives, including 10,000TPM models. The 1.92TB version has a recommended retail price of just under 1,000 euros excluding VAT.