Google Cloud introduced six new storage solutions. The services should speed up the migration of data-intensive workloads to the cloud.
Companies are collecting more data than ever before. Sources are diversifying. The data needs to be housed in a central location and normalized analytics.
Storage is increasingly important for data lakes, modeling and simulation, AI and ML, big data, and HPC. Therefore, storage needs to be increasingly flexible, manageable and powerful. Ideally, all storage functionality should be available on a single platform.
Six storage solutions
Google Cloud introduced six new storage solutions during the Spotlight on Storage event. According to the tech giant, the Google Cloud Hyperdisk solution is its first next-generation Persistent Disk. The service allows companies to dynamically fine-tune block storage performance for specific workloads, including I/O operations and independent throughput per application.
Filestore Enterprise multishare for Google Kubernetes Engine (GKE) allows storage administrators to quickly create a Filestore instance and slice it into pieces for simultaneous availability on one or more GKE clusters. It also provides non-disruptive storage upgrades that run in the background and guarantee 99.99 percent regional availability.
The new Autoclass feature in Google Cloud Storage should make it easier for companies to automatically manage their object storage volumes and optimize costs. This includes policies that can be applied to move data to hot or cold storage classes.
Other announcements
For analytics, newly introduced Storage Insights provide actionable insights from the large volumes of customer objects stored in Google Cloud. The tool also allows users to query objects and combine them with Big Query. The new Cloud Backup and DR service provides fully integrated data protection for companies' most important applications and databases, including Google Cloud VMware Engine and SAP HANA.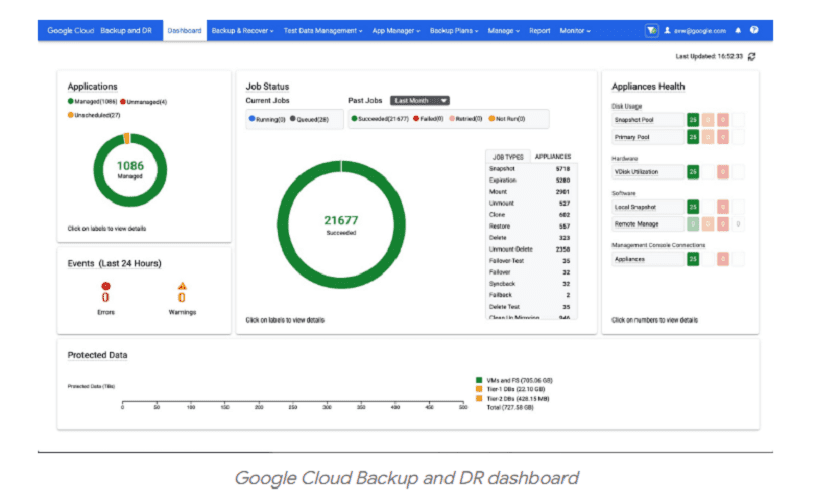 Finally, Google Cloud introduced the Backup for GKE service. The service allows customers to protect Kubernetes applications and persistent data. According to the tech giant, this is the first service provided by a hyperscale cloud provider to do so.