Big Tech companies are intensifying their lobbying the European Union and spending more money in Brussels. These are the findings from ngo Corporate Europe Observatory in cooperation with LobbyControl.
The research by the organizations that monitor corporate lobbying at the EU shows that a total of 651 companies and organizations are trying to influence EU digital (economic) policy. On average, of these companies spend less than 200,000 euros on lobbying. 25 percent even spend less than 5,000 euros.
In total, the tech sector spends €113 million on EU lobbying. This is a 16.5 percent increase from 2021 when a total of €97 million was spent.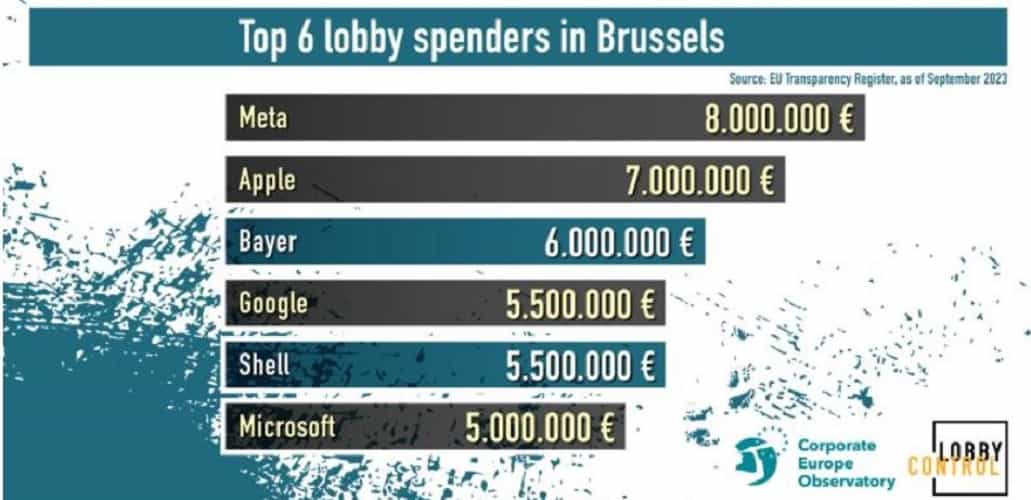 Big tech giants spend most money
Big Big Tech companies, including Meta, Apple, Google, Microsoft, Qualcomm, Huawei and AWS, spend the most money on lobbies, figures from the past two years show. In total, these companies now collectively spend 40 million euros a year on lobbying the EU. This is a third of the total spending by the (big) tech sector in this area.
Meta leads the ranking with an average annual $8 million in lobbying expenditures. In 2021, this was still 5.7 million euros. In second place is Apple with 7 million euros (was 3.5 million euros), Google is third with 5.5 million euros, Microsoft fourth with 5 million euros and Qualcomm is fifth with 4 million euros.
Meta also has the most lobbyists running around in Brussels and Strasbourg; 17.5 FTE. Huawei has 11 FTE of lobbyists at the EU, followed by Intel with 10 FTE. Google now has 8.7 FTE running around from 5.5 in 2021. AWS, from 5 to 8 FTE, and Apple from 4.5 to 7.5 FTE, also now have a larger lobby presence at the EU.
Other research findings
Other survey results are that telecom companies are often the newcomers when it comes to lobbying expenditures at the EU. Furthermore, most tech companies seeking influence at the EU come from the U.S., just under 20 percent of the total number of companies.
Companies from major European countries such as Germany, France and the UK each account for 10 percent. The number of Chinese tech companies trying to gain influence with the EU is small, less than 1 percent.
Large Chinese tech companies like TikTok and Alibaba do spend a lot of money on lobbying, 900,000 and 600,000 euros respectively. Yet this is still less than the big competitors from the US, the study concludes.
Also read: Modern cars are proving to be a "privacy nightmare"