The month of September delivered a record number of ransomware attacks.
This is the finding of security experts from the NCC Group. According to the security report, as many as 514 ransomware attacks took place. This is 32 percent higher than the quiet month of August 2023 and more than a peak in March. That month set the record of 459 ransomware attacks.
A total of 3,900 ransomware attacks have now been carried out between January and September 2023.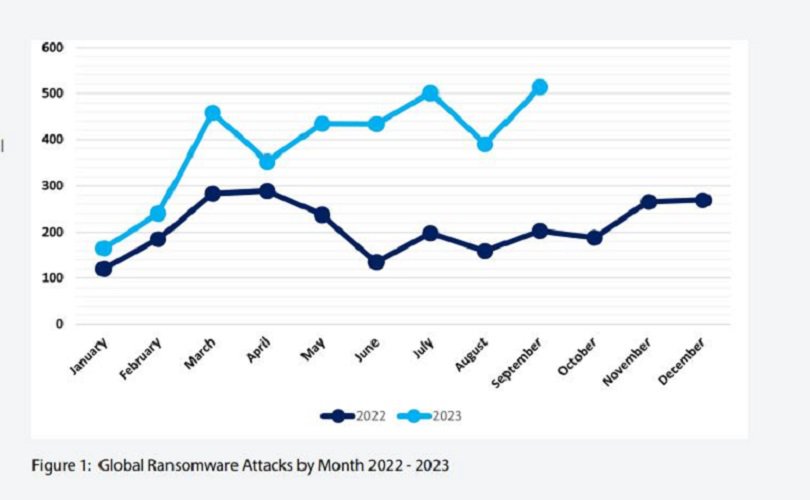 Newcomers launch more attacks
The ransomware gangs LockBit 3.0, 79 attacks, LostTrust, 53 attacks, and Blackcat with 47 attacks carried out the most ransomware attacks last month. The ransomware gang Clop was barely active in September. According to experts, it may indicate that it is preparing a new campaign.
LostTrust is notable here because it is a new player and with a push to second place in total attacks. This gang is likely a rebrand of the MetaEncryptor gang. This is because important code used by the new gang overlaps with that of the old one.
Another newcomer, RansomedVC, nestled in fourth place with a total of 44 ransomware attacks last month.
This means that in the month of September, one in five ransomware attacks came from a newcomer, according to the NCC Group.
Other conclusions
Other conclusions are that most attacks occurred in North America, followed by Europe and Asia. The most attacked business sectors in September 2023 were industrial sectors such as construction, mechanical engineering and commercial services.
More consumer-oriented sectors such as retail, media and hospitality followed in second place, and the ICT sector came in third. The healthcare sector took the fourth spot.
For the coming months, NCC Group experts expect the number of attacks to continue to increase. For all of 2023, they think the total number will be close to 4,000.
Also read: LockBit 3.0 most active ransomware gang in August