Samsung has been offering customers a wide range of smartphones and connected devices for a while. We're taking a closer look at the Koreant tech giants top-of-the-line offerings: the Galaxy S23 and S23 Ultra. In addition, we examine the integration that the Galaxy ecosystem offers when these devices are paired with the Galaxy Watch5 Pro as well as the Buds2 Pro. How do they stack up after a month of day-to-day usage?
As with any new smartphone, we begin our exploration with what's in the box. These days, it is important to make note of the fact that there is no charger in sight. Samsung has stated that it wants to prevent the endless accumulation of e-waste as much as possible. In practice, this does mean a separate purchase is required if one doesn't already own a high-speed USB-C charger. Fortunately, things get a lot more positive once we unpack the S23s.
S23 Ultra: big, strong and diverse
The first impression of the S23 Ultra is a sense of déjà vu: it is very reminiscent of last year's S22 Ultra with its angular top and bottom as well as its curved sides. Just like its predecessor, the phone comes with an S-pen housed snugly inside its chassis. The lack of innovation in this area isn't necessarily a problem, really. After all, those looking for a new flagship phone are unlikely to repeat their search on a yearly basis. The device feels weighty, but it has a good weight distribution making it a breeze to hold. As with just about every other top-of-the-line flagship, the camera array causes the phone to be at a wonky angle when put on a flat surface. A bit inelegant perhaps, but a proper case should fix the issue. Given the enormity of its 6.8-inch display, it will be tricky to operate one-handed unless you are blessed with particularly elongated digits.
The size does come with its advantages. Samsung has made room for a 5000 mAh battery, the aforementioned S-Pen and a huge screen that is almost without any bezels. Basically, it's a Galaxy Note in all but name, making it a suitable productivity machine. This brings us to its daily use: a single charge is thankfully more than enough for us not to worry about the phone going flag, even on a particularly busy day. This marks a strong improvement over the S22 Ultra, or at least its European variant. The S-Pen may not necessarily be a real necessity for most, but its well-known gesture-based navigation makes it possible to speed up actions on the phone considerably.
The biggest differentiator between the S23 Ultra and its predecessor is without a doubt its new SoC: it is a 'custom' Snapdragon 8 Gen 2 processor. It offers more efficiency and consistency in performance compared to its Exynos counterpart. Finally us Europeans don't get the inferior chip inside compared to the US. The end result is that there is plenty of headroom for future updates to not drag performance down. A welcome development, as it makes Samsung's promise of four full years of Android updates all the more enticing. As it happens, there's one extra year of security updates. At the moment, it appears that only the limitations of applications and Android animations are consistent bottlenecks to the SoC's performance.
Even with the 120 Hz on and the screen at full resolution, the Ultra remains relatively cool for a smartphone during challenging stress tests. In terms of display options, you can further extend battery life if you really need to. This can be done simply by switching to a 60 Hz image refresh rate and a lower resolution than the standard QHD+ (3088×1440 pixels). Ultimately, we wonder if this is a realistic scenario. Those who are in the market for a flagship phone will be predominantly eager to take advantage of the features offered. Given the aforementioned pros, there's little reason to curb the Ultra's potency.
What is further noticeable is that the display has a rather exuberant contrast by default. This is to be expected with Samsung, which seemingly likes to show off its AMOLED display out-of-the-box. We soon found the "Natural" colour grading significantly more attractive than Samsung's default choice. The factory settings do excel in another area: adaptive brightness. It sounds like a fairly mundane feature, but unlike, say, the Google Pixel 7, the screen is always easily visible even on a sunny day. It helps that it can display a whopping 1,750 nits. Another often underrated feature is the quality of the internal speakers. These sound extremely clear and even have some bass, something rarely seen on smartphones.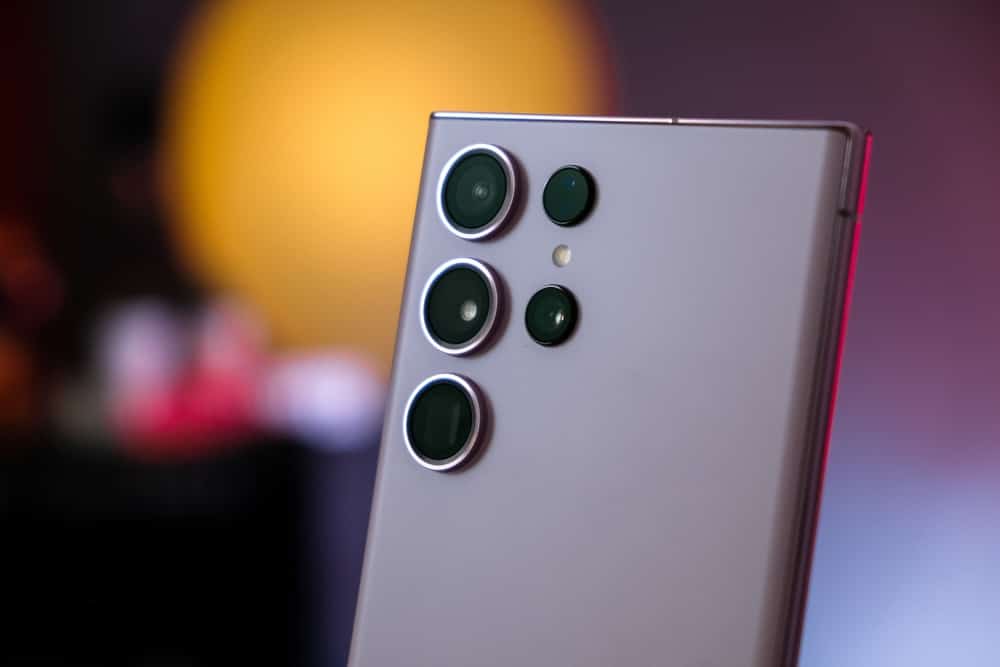 Then there's the head-turning feature of the S23 Ultra: its array of cameras. While it doesn't necessarily impress from the factory, the hardware is capable of taking incredibly sharp pictures. A 200 MP main camera is accompanied by a 12 MP ultrawide and two 10 MP telephoto lenses for various zoom modes. These are specifications that ensure that fewer software tricks are needed as with many cheaper phones.
For desktop-like use, both S23 phones offer DeX. The option for 12 GB of RAM and up to 1 TB of storage ensure that the Ultra could conceivably be a laptop replacement. It can certainly keep up with many laptops in terms of speed, let alone compared to the cheapest Chromebooks. It's not necessarily something every user will want to do, but the option is there.
Finally, for enterprise customers, we can't ignore the fact that Samsung has put a lot of effort into security. Samsung Knox makes it easy to deploy DeX within an organization and have the S23 Ultra comply with security requirements. It offers chip-level security and ensures that enterprise data can be isolated from other data traffic. Either way, it is an asset within the Samsung ecosystem, so one is not tied to the top model within the Samsung Galaxy line.
S23: a "classic" smartphone with lots of power
The switch to the regular S23 takes some getting used to. The 6.8-to-6.1 inch reduction in screen real estate doesn't sound too drastic, but it feels enormous. Or, rather, it makes the smaller phone feel diminutive by comparison. Its overall form-factor is a contributor in this area: not only is the S23 smaller than the Ultra, it is also more rounded-off and thinner. The aluminium bezel gives a premium look that arguably even the Ultra doesn't possess. The glass back feels refined, although Samsung did make the somewhat curious choice to raise the overall look of the much cheaper A54 and A34 as well. We gather from other reviews that these lower-spec devices are machined a little less precisely, perhaps due to tighter tolerances on the high-end. Still, a simple photo comparing the S23 with the A54 makes them hard to distinguish. Compared to the Ultra, the S23 is very light: 168 grams versus 234). Also, one-handed usage is back to being viable. For quick actions during a walk, for example, this is certainly desirable.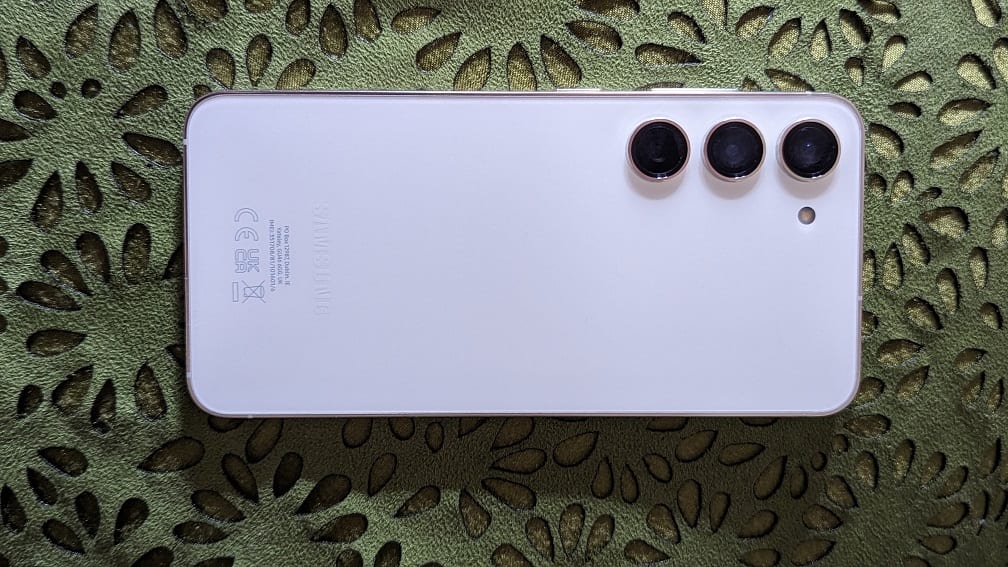 The 5000 mAh from the Ultra has given way to a 3900 mAh battery, which is still 200 mAh more than what was in the S22. Here we are once again dealing with the Snapdragon 8 Gen 2 (with Samsung tweaks). It provides the same crushing performance as the Ultra. Apart from storage and RAM, there is little else to differentiate it. The phone feels much more like a "classic" high-end smartphone from a few years ago versus the Ultra. Nowadays, even lower-end phones can end up being preposterously large. As a result, there are plenty of alternatives if the S23's size is an issue. The smallest member of the S23 family does seem to have an odd quirk when it comes to the screen: it's a lot less subtle about its adaptive brightness adjustments. Nothing to worry about a great deal as the desirable nits are still achieved, it just adjusts them a little more harshly than the Ultra.
The battery inside is smaller and it shows in everyday use. While we still easily complete the day with battery life remaining, the percentage is always smaller than it was with the Ultra. In addition, the S23 gets uncomfortably hot at times, even when "just" browsing. We get the impression that the Snapdragon could do with a bit more surface area for heat distribution after all. In terms of performance, there's thankfully no noticeable dip.
The downward step from Ultra to regular S23 is more evident in other areas. The cameras are still impressive, but are limited to a 50 MP main camera, a 12 MP ultrawide and a 10 MP telephoto lens. In addition, the audio hardware is noticeably weaker in terms of bass sounds. They simply come across as speakers you expect to be shipped inside a smartphone. In other words, there are two aspects on the hardware front where you are clearly not Samsung's most valued customer, even if you do still get the flagship chip.
Apart from the camera and finish, one question arises: what is really the added value of the S23 over, say, an A54? After all, that phone is half the price of an S23. The answer is found in a number of features such as DeX capabilities, wireless charging and the great Snapdragon chip. The A54 still contains a Samsung Exynos-SoC, which makes it no match even for the even cheaper A34 in some benchmarks. For that reason, the place of the regular S23 within Samsung's lineup becomes clear. It is a compact flagship with the performance of the Ultra without too many compromises.
Buds2 Pro and Watch5 Pro: seamlessly integrated, just a little better with Samsung
Samsung opted to also provide us with the Buds2 Pro and Watch5 Pro for this review. These two products have been on the market since mid-2022. They are however an obvious addition to any Samsung S23, S23+ or S23 Ultra. By default, the smartwatch and smartphones come equipped with a mountain of Samsung apps, which you may or may not want depending on your preferences. Android remains a plaything of all sorts of parties, but it is clear that Samsung would like to keep you within its own app range. For almost every feature there is an alternative, installable on any device.
First of all, the Buds2 Pro. These wireless earbuds manage to connect to the S23 at lightning speed and sound impressive from the get-go. For such small audio devices, the sound stage is impressively wide and there is little to complain about when using the default settings. Those looking for a slightly different soundscape anyway can dive into the software and opt for a number of adjustments. Aside from the familiar amplification of bass or trèble, there are also some nifty noise-cancelling options. With noise-cancelling on, it is remarkable how little can be heard from the outside world. This is especially noticeable when it comes to sounds on the lower end of the spectrum. There is also an option that actually allows outside noise and, in addition, one that even amplifies it. Samsung is to be commended on the functionality it tries to provide for the hearing impaired. A recent update should improve the level of sound amplification even more.
It's tough for earbud designers to meet the need of every ear shape to be found across the globe. From personal experience, the Buds2 Pro are a comfortable fit, provided you do a little twist after putting them in. The capacative touch controls do get irksome at times, though. There's the option for several presses to enable several options, but they're easily done by accident. Turn them off if you need to adjust the buds regularly, as it requires some digit gymnastics to not press them.
That leaves us with the Watch5 Pro, the smartwatch of choice when it comes to Galaxy phones. Of course, they work with any Android device, but the tight integration of Samsung apps makes it a logical match for the S23 and S23 Ultra. It can be held securely on the wrist and can then measure all sorts of things. Examples include heart rate, jogging routes and other outdoor activities. The Pro differentiates itself from the regular Watch5 with some exterior features and additional options such as Turn-by-Turn Directions. However, the usefulness of a smartwatch depends heavily on your habits. Those who care about the measurability of activities can already find out quite a bit with an ordinary smartphone. However, the Watch5 Pro offers that extra bit of access to apps without having to use your phone right away. While testing the S23 Ultra, this was quite useful. This is because that particular model is big enough to make you not want to grab it from your pocket on a packed train. Also, the Samsung Health app in particular offers a lot of motivation, despite the fact that it does come up with a notification very quickly. No, a brief visit to the restroom doesn't deserve an instant "Keep up the good work!" message just because you've been moving for 1 minute. Fortunately, this can simply be turned off.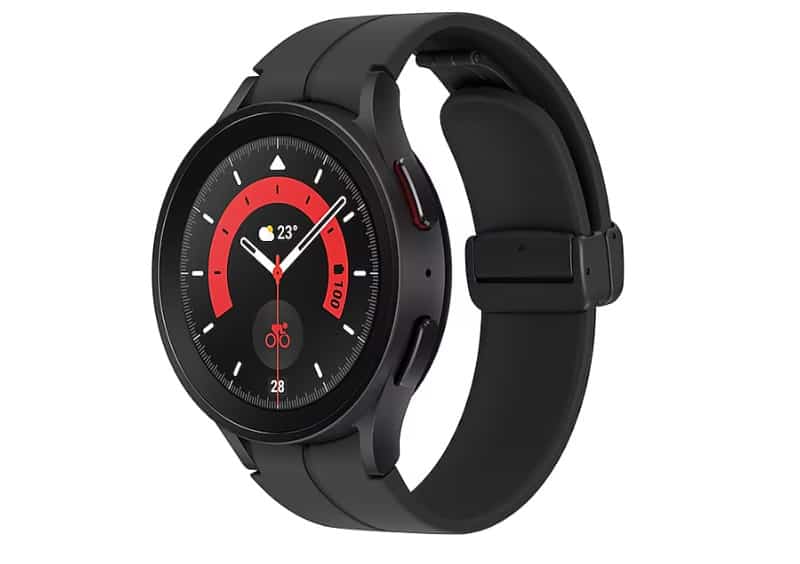 The battery life is strong in both cases (Buds2 Pro/Watch5 Pro). No one will be looking forward to charging three devices everyday, and thankfully we didn't have to. The Watch5 Pro charges with a compact wireless charging dock. Charging is not particularly swift, but is usually only needed once every two days with reasonably extensive use. The Buds2 Pro have more than enough internal battery life for normal music or podcast listening. They can be fully charged twice via the Buds2 case. All this goes pretty smoothly in practice: the Watch5 Pro occasionally ends up on the dock, while the Buds2 Pro sometimes take their turn on the USB-C charger after the phone is at 100 percent.
Conclusion: the Samsung ecosystem shows its worth
All of this adds up to a problem- and bug-free experience. Samsung has clearly put a lot of effort into integrating all the hardware and software located on these devices. Bixby voice control can be listened to via the Watch5 Pro, the Buds2 Pro and the S23. However, Google Assistant is another good option. Samsung's One UI 5.1 offers just a few more features than standard Android, with Dolby Atmos support and lots of customizability. It doesn't immediately make Samsung the equal of Apple on Android, but it will undoubtedly create more loyalty because of its seamless interaction with other Samsung devices. Consider the Samsung Family Hub, better known as a smart fridge. Those looking to transform their own home into a Samsung feast will at least be given wide berth by the Korean giant.
Ultimately, it will be the phone that is at the center of this ecosystem. In that regard, it is clear that the Buds2 Pro and Watch5 Pro can be useful as additions to it at all times. We didn't get to test the non-Pro variants, but looking at the specs sheet, it's a matter of nice-to-have features that have been cut in those instances. Think 5.1/7.1 audio for the Buds2 and a smaller battery for the Watch5.
In any case, the difference between the S23 and S23 Ultra is clear. Both phones are extremely powerful and the differences in size, battery life and cameras provide enough differentiation to set the Ultra apart. Then we end up with the issue of price. The price of the regular S23 depends heavily on sales being around, but it can be obtained for around 800 euros here in the Netherlands. We go past that amount by about fifty euros if 256 GB instead of 128 GB is desired. That 256 GB is the smallest capacity for the S23 Ultra, which costs nearly 1100 euros in that version locally. A standalone S23 Ultra with 1 TB of storage is more like 1,800 euros.
Are they worth that? Of course, that will vary enormously from person to person. In particular, if we compare the regular S23 with Samsung's offerings below it, the A54 offers less than half the asking price. However, that's a tad misleading. While the S23 and S23 Ultra are certainly no prizefighters, we can certainly say that the performance level is bound to give them staying power for years to come. We're not just talking about stress test perf, but of grunt when doing just about anything: automatically rotating the screen, switching and loading apps, taking a picture, et cetera. Thanks to the long-term support Samsung is promising, Galaxy customers can count on years of good performance, solid battery life and a slick user experience.
Also read: ASUS ExpertBook B3 Flip review – workhorse with special tricks