Synology succeeds its 5-bay DS1517+ with the DS1019+. At first glance, the NAS seems little more than a refreshment of its predecessor, but that's not counting on the two brand new M.2 slots.
Synology's DS1019+ is the only 5-bay NAS the Taiwanese company currently has in its portfolio. At first glance, the device fits perfectly in the lineup of (semi-)professional NAS systems. The product, aimed at SMEs, workgroups in larger companies or the rather fanatical enthusiast, looks like its predecessors.
The classic Synology design means that you get a black NAS with high build quality. At the front you'll find some status LEDs and a single USB-3 port, at the back you'll find a second port, two Ethernet connections and a SATA extension slot. Through that lock and a DX517 you can connect five more bays to the device for a total of ten.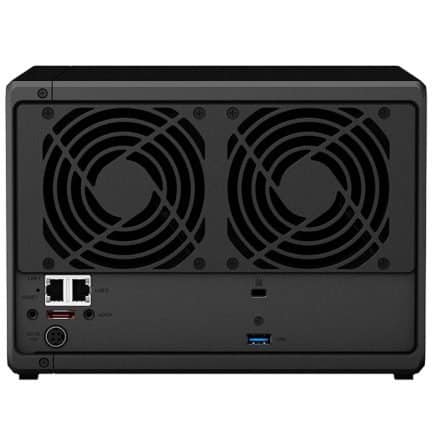 The HDD bays use Synology's fixed system. In other words, for a 3.5-inch drive, you don't need screws or a screwdriver. A solid click system keeps the hot-swappable hard drives in place. If you want to put 2.5-inch HDDs or an SSD in that form factor in the bays, you will need some screws, but they are included in the box.
Specifications
Under the hood of our test model, we find an Intel Celeron J3455 processor, assisted by 2×4 GB of RAM, accounting for 8 GB in total. This is expandable to 2×8 GB for 16 GB of maximum capacity. Compared to its predecessor, the DS1517+, this NAS doesn't necessarily offer much more computing power.
The Celeron isn't much more powerful on paper than the Atom C2538 in that NAS, although the 14 nm baking process produces a TDP of 10 watts versus the 15 watts for the 22 nm Atom. The basic clock speed at 1.5 GHz is much lower (2.4 GHz for the Atom), but the Celeron has turbocharged capacity on board (up to 2.3 GHz). The L3 cache of the quadcore CPU remains the same at 2 MB, and neither of them has multithreading.
The end result is a chip that mainly offers added value in terms of efficiency and power consumption, but is also equipped with 4K capacities. This means that the NAS can transcode 4K in real-time, which makes it ideal for video applications.
SSDs for cache
The biggest innovation for this NAS is literally hidden at the bottom. There you will find two flaps, each with an M.2 slot for the PCIe connection of NVMe-SSDs. These connections are again provided with a smart click system so that you don't need any screws to click the SSD's in the NAS. Please note that the M.2 NMVe-SSD's must have a standard format.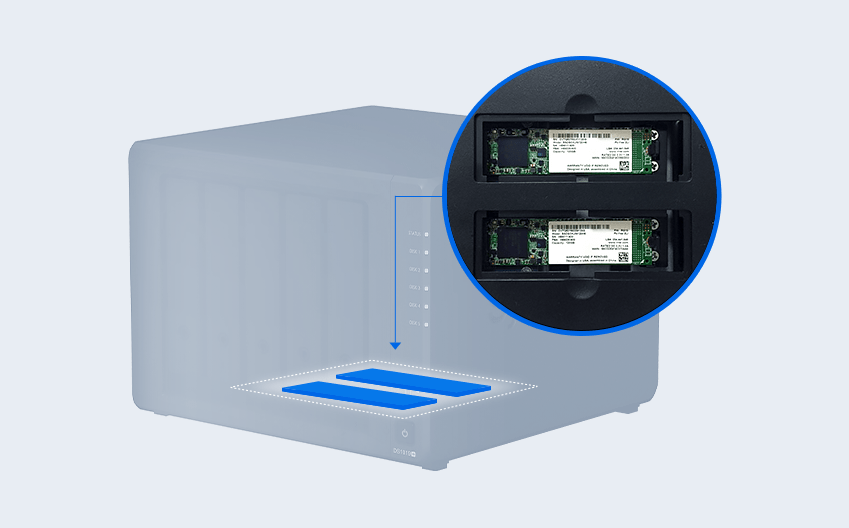 The M.2 slots are not additional SSD bays. By this, we mean that you cannot turn on the drives as flash volume. They are only intended to boost a standard volume as a cache. If you want to connect an SSD for classic flash storage, you have to insert 2.5 inch SATA drives into the HDD bays.
Excellent software
The cache is configured in the same way as the rest of the administration via Synology's Disk Station Manager (DSM). This software is currently in version 6.2.1 and is better than ever. DSM is more akin to a full-fledged operating system than a NAS interface and excels in user-friendliness.
Although the interface of other NAS manufacturers, especially Qnap, has improved considerably in recent years, in our opinion there is no real comparison. QTS 4.3.5 is also a powerful, feature-rich operating system, but compared to DSM 6.2.1, Qnap's OS is more lost on the one hand, while feeling more limited on the other. The interface looks outdated, that of Synology is just tight, minimalist and modern.
To get started, put the necessary HDDs and SSDs in the NAS, connect the device to your network, turn it on and go to find.synology.com. A clear wizard will guide you through the installation. Anyone who is a bit familiar with computers and doesn't panic when hearing terms like RAID will be able to get this NAS working.
From backup to hypervisor
Synology's strength lies more in its software than in its hardware. A huge portfolio of Synology applications is on hand in the app store to transform the NAS into a versatile server solution that offers more than enough functionality for the majority of SMEs. Think of a battery of backup apps for both the NAS itself, computers on your network or files in the cloud (Office 365 and G Suite).
You can create an Active Directory, configure a mail server (and easily import from for example Office 365) and with Drive you get a fully-fledged OneDrive alternative that runs locally instead of on Microsoft's cloud. Synology also provides you with an online office suite, chat and collaboration software, not to mention the wide range of third-party applications.
For several years now, Synology has even had its own VM management software, including a hypervisor, with the Virtual Machine Manager. We do get VMs started on this NAS, but in practice, the computing power and the available 4 GB of memory are too limited to run a virtual machine with a fully-fledged desktop OS smoothly. Even for experimental purposes, we run into a wall.
The drives
Setting up the M.2's as a cache is easy via the SSD Cache option in the Storage Manager. There, Synology provides an SSD Cache Advisor to give you an idea of how much cache you really need. Of course, to benefit from that analysis, you first need to use the NAS without a cache. Otherwise, the tool will not be able to precisely estimate what is ideal for your workload.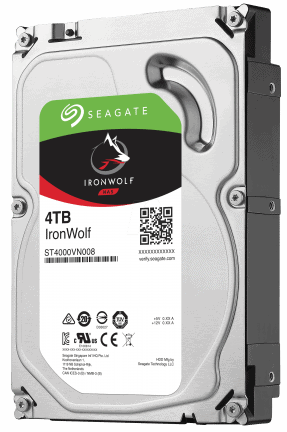 Seagate Ironwolf 4TB
We tested the NAS with Seagate's 4TB Ironwolf NAS HDDs in a Synology Hybrid Raid (SHR) configuration. SHR simply means that Synology chooses the optimal RAID configuration for the number of disks and capacities available. If you change the available drives, SHR automatically reconfigures the drives. In the M.2 slots, we put 1 TB of Western Digital WD Black SN750 SSDs, which is overkill for most scenarios.
Seagate is partnering with Synology, allowing the Ironwolf drives to appear in the NAS with their own logo. In addition, you can access IronWolf Health directly from the Health Info tab in the Storage Manager. This is an advanced version of the classic S.M.A.R.T. tests, which take into account 200 parameters.
We first tested the capacities of the NAS without cache and then with cache. We focus on storage, and especially nonsequential workloads since the limiting factors in speed for the HDDs are not this gigabit NAS, but the network and drives. Even with encryption, Synology claims to guarantee a speed of 225 MBps, and that seems to be true during our tests.
Results
We first test our setup without SSD cache to get an idea of the performance of our test system in the test network. There we consistently achieve 118 MBps sequential read and write speeds for a 2 GB test file. However, the random read and write tests are more interesting, because the cache memory has to make the biggest difference there. By default we get 73 MBps read speed for 4k random write commands. As expected, the toll on writing jobs is heaviest, with a speed of 19 MBps.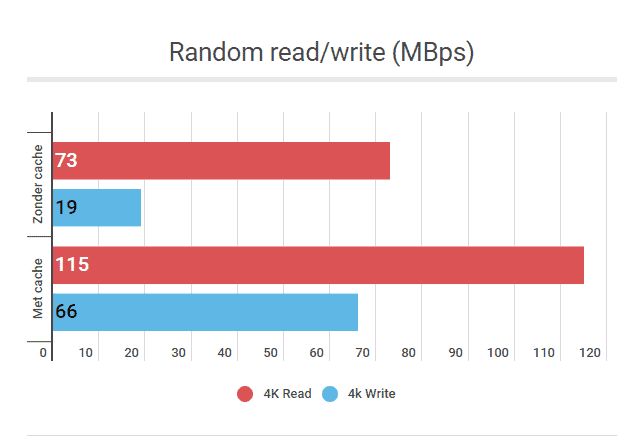 Then we activate our M.2 drives as a cache via the Storage Manager. A simple wizard allows us to create the cache in just a few mouse clicks. If you put two M.2 drives in the NAS, you have to use both for the cache. The RAID options are limited. We can't select RAID-0 for extra speed, so we are forced to choose RAID-1, the added value of which is rather limited in this situation. It takes a few seconds to create the SSD cache, after which it is configured automatically. We start with a cache of 465 GB.

Synology Storage Manager
If we perform our benchmark test again, we get exactly the same results as expected for the sequential assignments. On the other hand, we see a significant improvement: the read speed increases by about 15 percent to 115 MBps, while for the 4k random write commands we can record a gain of no less than 350 percent: the NAS delivers a result of 66 MBps.
The test shows how the addition of the M.2 SSD cache in this NAS can provide an immediate and tangible performance gain over older models.
Conclusion
The Synology DS1019+ is a very capable NAS. As a 5-bay NAS with focus on storage, standard applications and multimedia purposes, it performs as well as you can expect. User-friendliness is central, both in the hardware and the software. Installing drives is child's play and can be done without screws, while DSM makes this NAS a true entry-level server.
The option to install cache through M.2 NVMe-SSD's is unique, which adds tangible value. Of course, the NAS is not as fast as an all-flash solution, but certainly with random read and write commands you can feel the difference. This is very interesting for those who want to work with files directly from the NAS or for applications running on the device itself.
The DS1019+ is not a complete server. The Celeron CPU is much too light for that. With the full 8 GB of RAM (available in this model) and a slightly more powerful processor, we would give this NAS a gold medal. Now we have some limitations here and there. In practice, these are always niche applications. As a NAS that is central to most SME environments, we think this device is perfect.
8.6
Simple bays
Additional M.2 slots for cache
DSM software
Expandable with 5 extra bays
No USB-C connection
Light processor