More and more brands are entering the market of true wireless Bluetooth earbuds. These are now available in many types and sizes, also with active noise cancellation. However, the noise cancellation of wireless earbuds usually takes the back seat in the design process. Bose is taking a different approach, and with the QuietComfort Earbuds, the company focuses entirely on the noise-cancelling feature. In this review, we find out how that works out.
Generally, wireless earbuds are designed to be as comfortable and lightweight as possible. Models such as Samsung's Galaxy Buds Live and Apple's AirPods Pro offer active noise cancellation but lack the physical space to really expand on that feature. Sony and Bose have been market leaders for years with their noise-cancelling headphones. Not entirely coincidentally, Sony made its first attempt at excellent noise cancellation in wireless earphones last year with the WF-1000XM3. With the QuietComfort Earbuds, Bose now has an answer to Sony.
Hybrid design
One of the problems with Sony's earbuds was that they were not very comfortable. Bose does that a lot better. The QuietComfort Earbuds may be big; they're comfortable, and we can wear them for hours without any annoyances. The rubber tip covers all parts that touch your ear. Therefore, there are no hard pieces that sit against your ear and irritate after extended periods of use.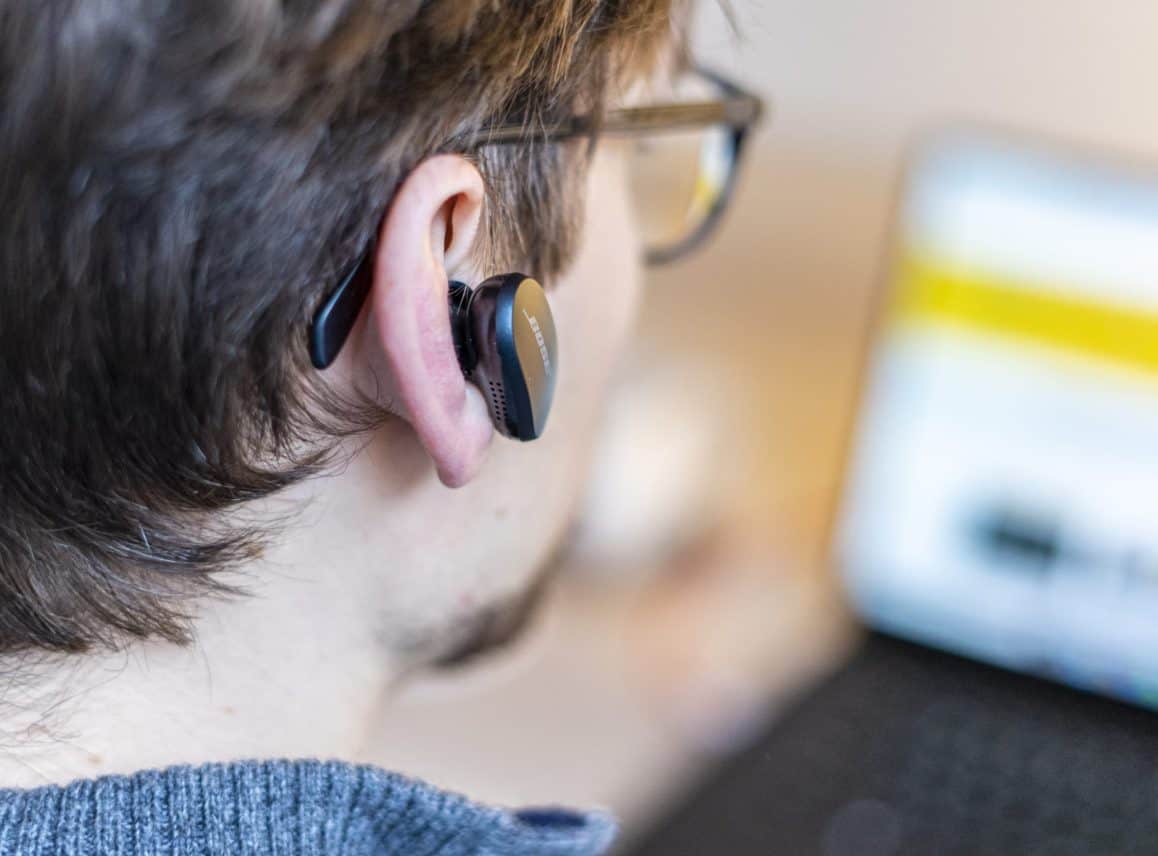 Moreover, the earbuds stay in place well. The rubber tips keep the weight on the ear and make it easy to use the Earbuds while exercising. The earbuds can handle the latter just fine: they are IPx4 splash resistant.
Yet the whole design clearly feels like a hybrid solution. Whereas with the popular models from Samsung or Apple, you hardly notice that you have them in your ear, these QC Earbuds from Bose are always clearly present. You'll also notice this when you want to lie against them, for example during a long flight. As long as the surface against which you lie is soft, it's okay, but it's never really comfortable.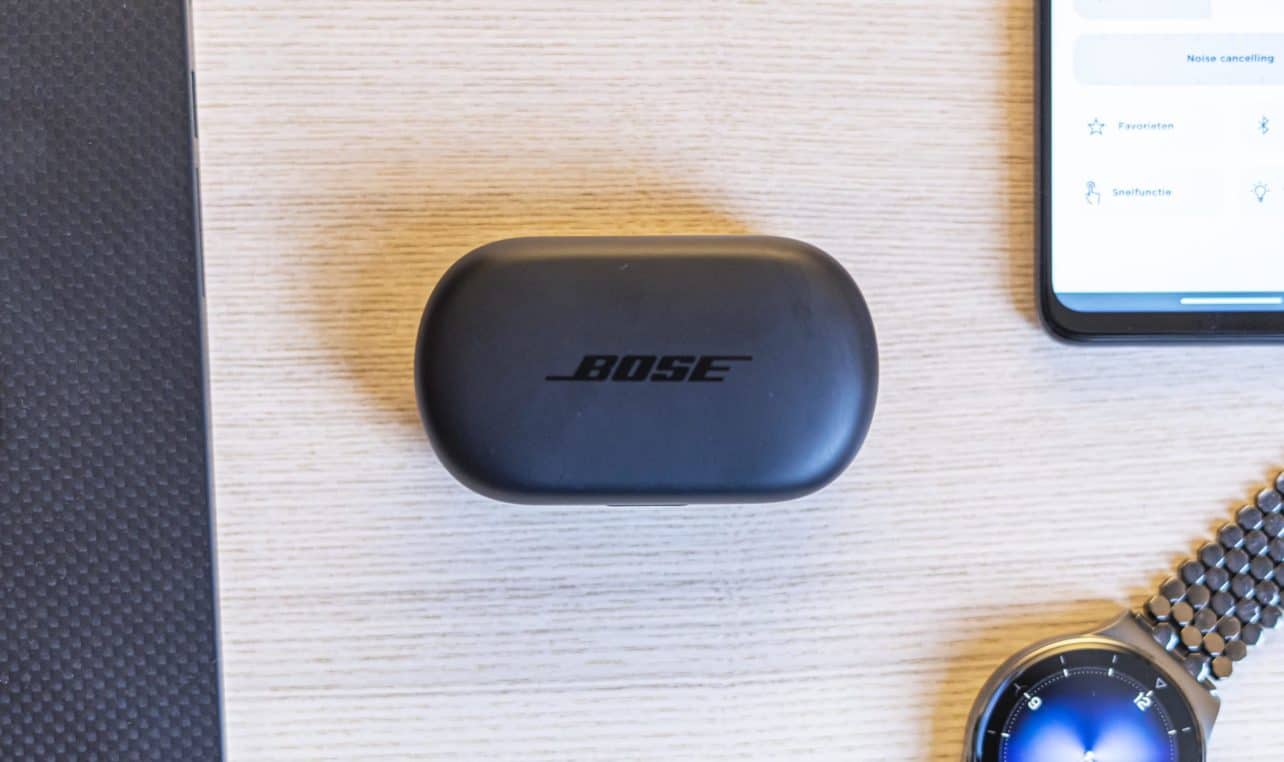 The same applies to the charging case: it is more than twice as large as, for example, the case for the AirPods. So putting it in the pocket of your pants or jacket is not really an option. That is the price you pay for the quality of these earbuds.
Sublime noise suppression
Speaking of quality, it's brilliant. The noise suppression is hardly inferior to large over-ear headphones such as the Bose Noise Cancelling Headphones 700 or Sony WH-1000XM4. The active noise suppression is slightly less pronounced than that of the well-known big headsets. The humming noises of an aeroplane or train engine may therefore be slightly more audible still.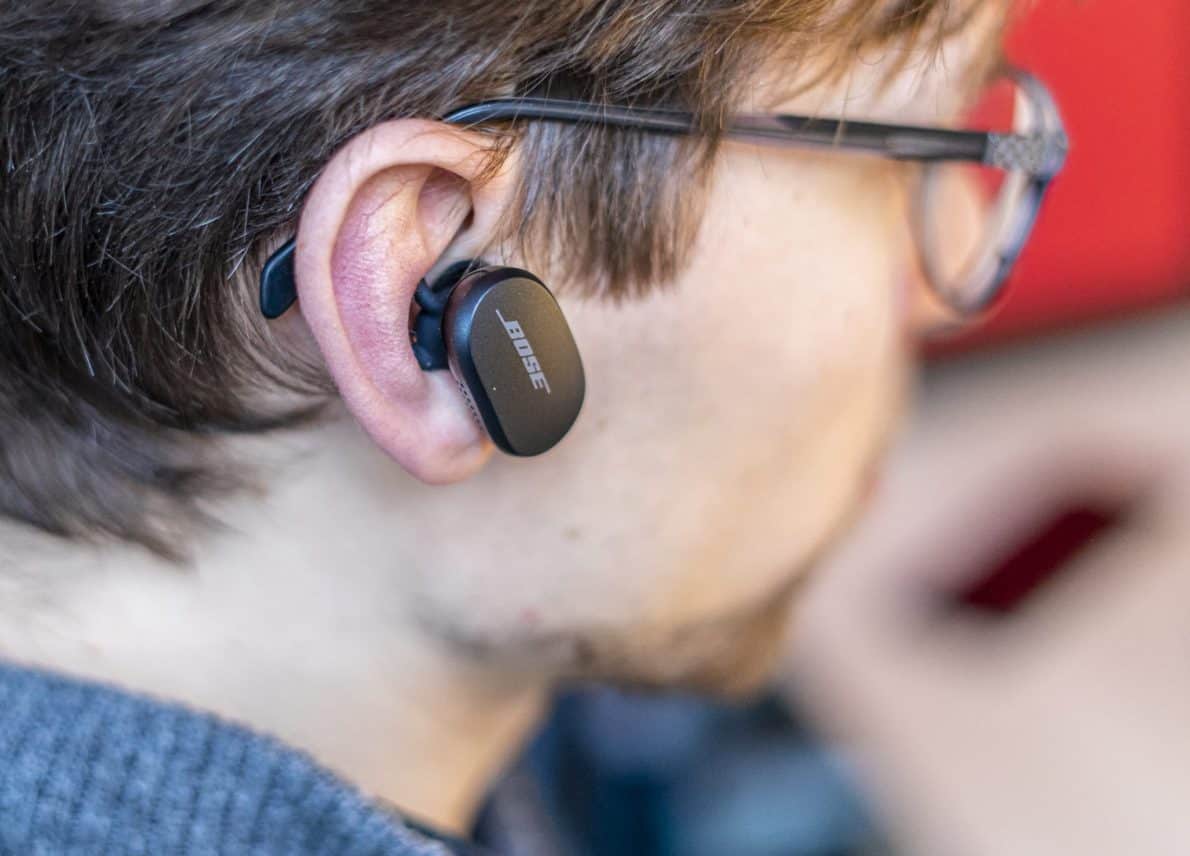 On the other hand, due to their in-ear design, the earplugs also offer passive noise reduction. This helps in suppressing some difficult to filter out sounds such as voices. In the office, these earplugs are therefore very effective.
The QC Earbuds support ten levels of noise suppression, ranging from passthrough to noise cancelling. You can control them through the app. There, you can also choose your three favourite levels, which you can then cycle through with a double tap on the left earbud. As an added benefit, the Earbuds instantly switch to full passthrough mode when either one of them is removed from the ear, making it easy to hold a conversation.
Great sound quality
Like the noise reduction, the sound quality of the QuietComfort Earbuds is excellent. The earbuds have deep bass and sound energetic and full. High notes are clear and well defined. The sound is a little squashed, but this is almost inherent to the earbuds' small shape.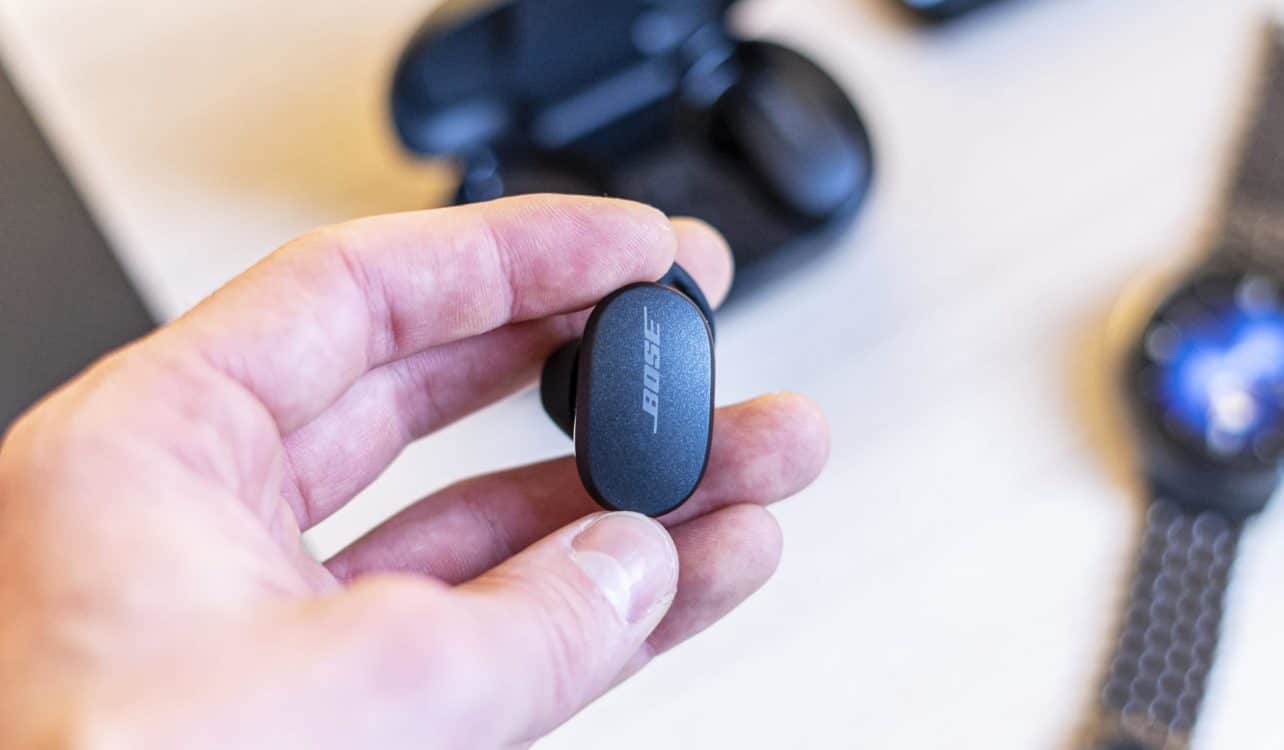 In terms of sound quality, the QuietComfort Earbuds are somewhere between traditional wireless earbuds and large headphones. They lack the spacious sound that a larger headset can provide, but sound fuller and have better bass than most wireless earbuds. A good achievement, if you ask us.
For music and speech
Music sounds good on QuietComfort Earbuds, and speech is well defined and clear. Bose has equipped the earbuds with an array of microphones, so they pick up your voice well. During phone calls or Teams calls, they do their job very well. Only when it's windy outside, do they suffer, but that applies to most earbuds.
Unfortunately, the QC Earbuds are not really suitable for watching videos. There is a relatively large delay in the connection. In a video call, this is not disturbing because the quality and synchronisation of the image is generally not perfect anyway. However, when watching a film or YouTube video in which people are speaking or singing, the lag is distracting.
Decent controls
You control the QuietComfort Earbuds via two touch-sensitive surfaces on the side. It takes some getting used to, but the Bose app does a good job of explaining it, and all the features you'd expect are there. For example, you can adjust the volume, set up a shortcut for Google Assistant or Siri, and check the battery level of the earbuds.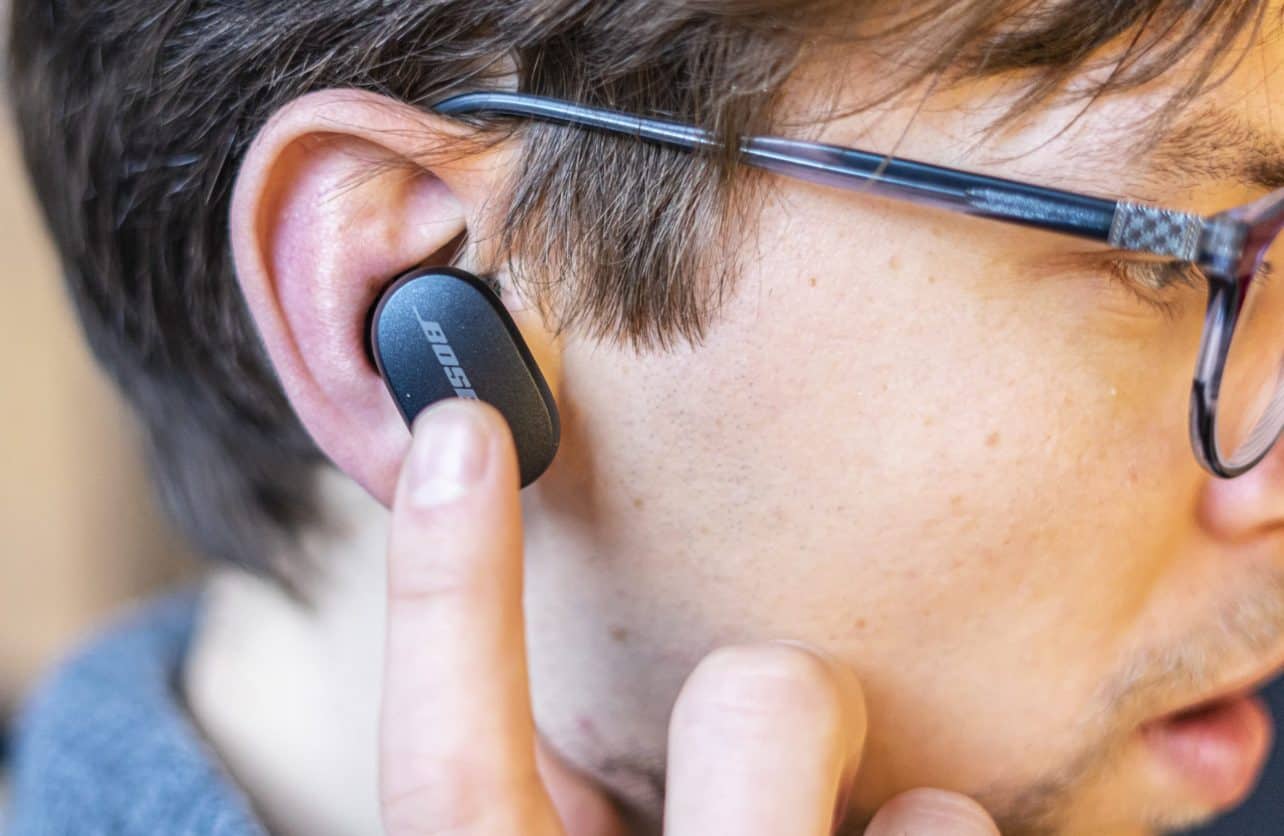 The app itself works fine, but is somewhat limited. You can adjust the volume and the degree of noise reduction and see how exactly you should operate the earbuds. There are a number of customisation options, but that's where the features end. An equaliser, for example, is not present in the app.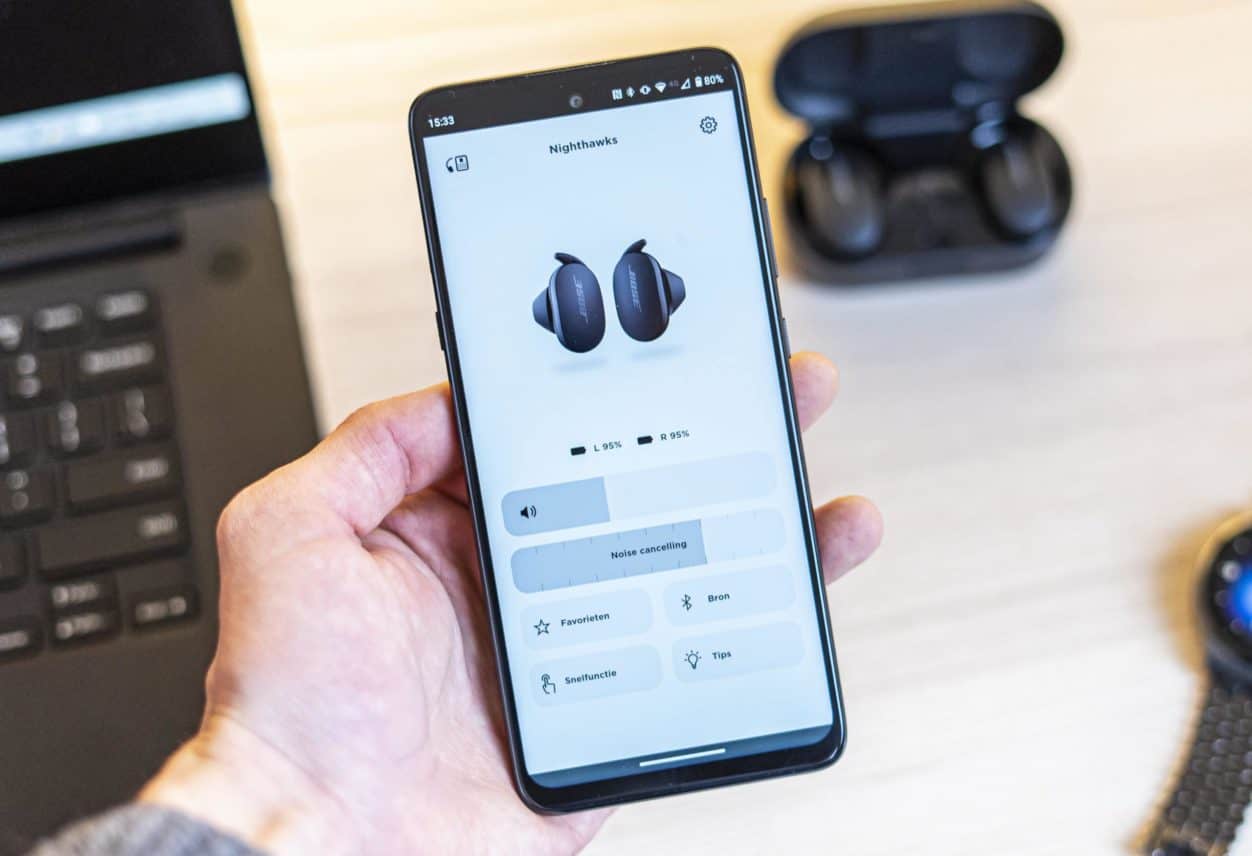 The earbuds unfortunately do not support a multipoint Bluetooth connection. This means that they can only be connected to one device at a time and cannot, like many modern headsets, quickly switch between two devices.
Enough power for a long flight
The large size of the QuietComfort Earbuds is an advantage when it comes to battery life. The earbuds last about 6 hours on a single charge, which is quite a lot for wireless earbuds. And although they won't last a full intercontinental flight, a quick recharge in the charging case during dinner is enough to get you through.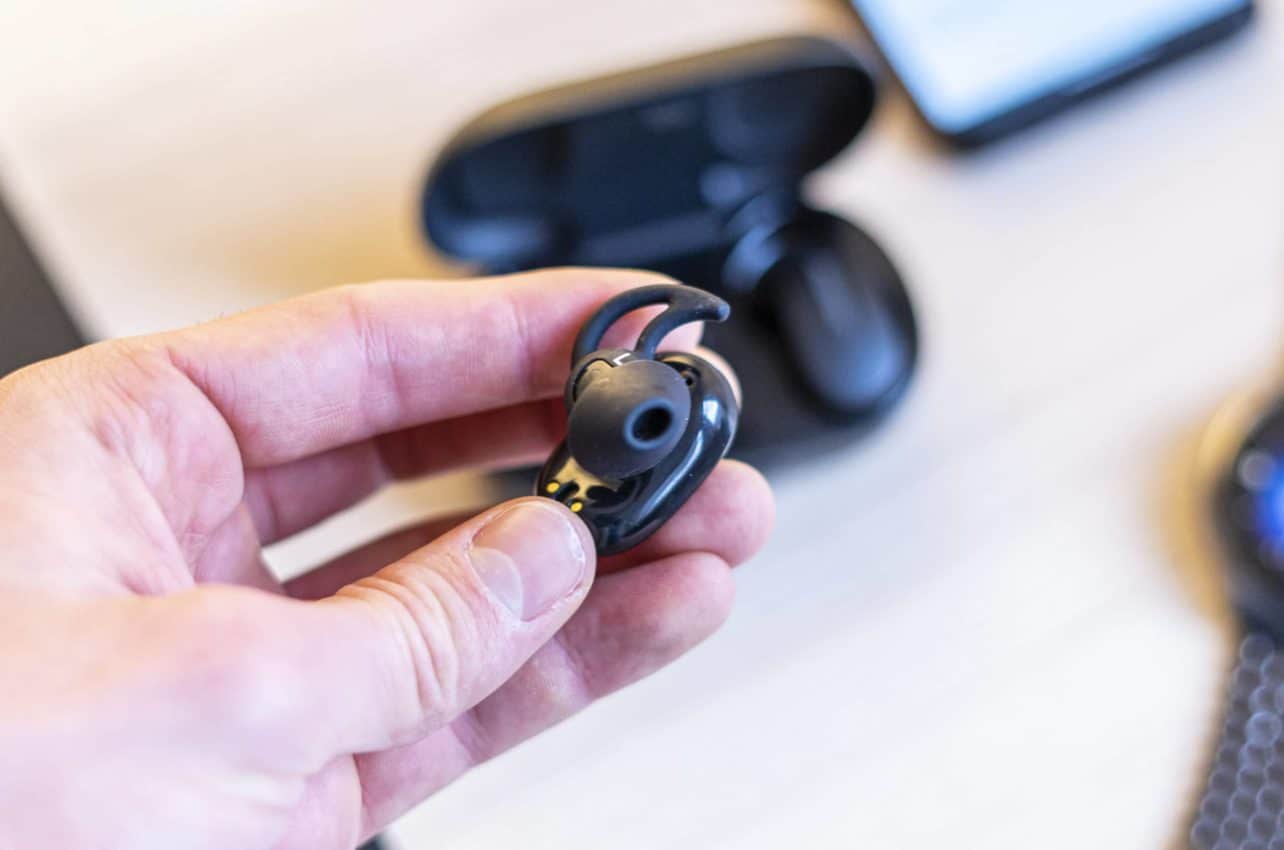 However, the battery capacity of the case is a little disappointing considering its size. You can still get two full charges in it, for a total of 18 hours of play time. Not bad, but you would say that in such a large case would house a better battery. Charging the case is done wirelessly or via the USB-C port on the back.
Conclusion
With the QuietComfort Earbuds, Bose is clearly targeting a different market than, say, the Apple AirPods Pro. The excellent sound quality and noise-cancelling make these earbuds a welcome addition to the market, instead of the umpteenth comfortable but not special wireless earbuds.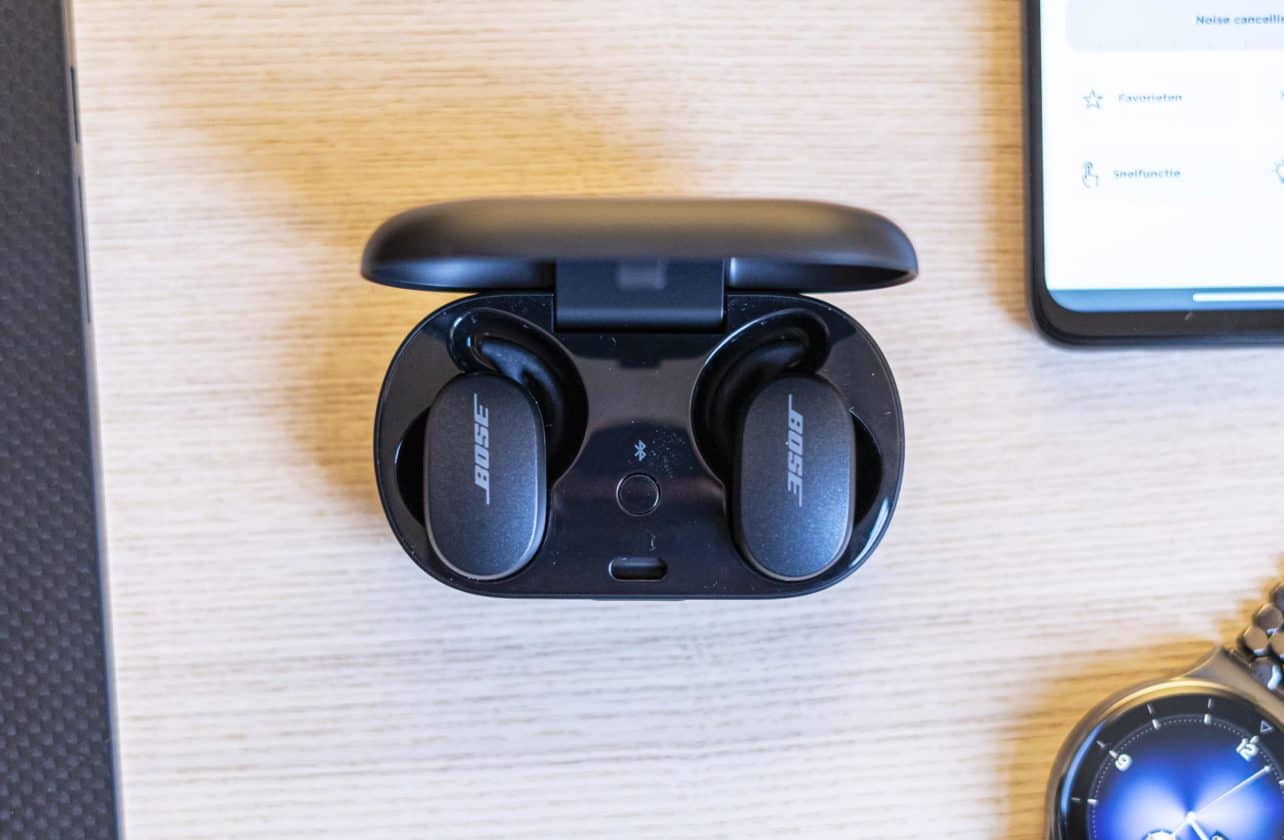 In terms of quality, these QC Earbuds even come close to larger headsets, but in a compact and easy-to-carry form factor. This makes them ideal for anyone who doesn't want to carry around a large headset, but still wants to work quietly in an office environment or on a long flight.
This improved quality does not come without a cost: firstly, the earplugs are not cheap at 280 euros. Moreover, in terms of comfort and ease of use, you lose out on more common wireless earbuds. Other small drawbacks are the lack of multipoint support and the delay in the connection that worsens the videos watching experience. Nevertheless, these are the earphones to go for if you're looking for wireless earbuds without compromising on sound quality and noise suppression.
8.5
Lovely sound quality
Great noise suppression
Decent battery life
No multipoint support
Clear delay in the connection
Bulky and heavy