Recently we were guests at Salesforce's Service Innovation Summit. A local event with about 500 participants where the future of customer service was discussed, but also the difference between customer service and customer experience. A valuable day full of customer stories and the opportunity for Salesforce customers to learn from each other.
The customers who took the floor during this day were certainly not the least. Aegon, Ahold, Google and Kone were present. They, in turn, have the necessary experience with customer service, all just in a different way. Plenty to learn, especially from research conducted by those companies themselves.
"A customer is four times more likely to go to a competitor if a problem is service-related, rather than price- or product-related."
A nice fact, for example, is that customers are four times more likely to go to a competitor for a service-related problem, as opposed to a price or product problem. Also, companies active in the B2B segment underestimate the effect of customer service. They still sometimes think that this is more focused on B2C companies. Research shows that personal attention and service determines for 82 percent whether a customer remains loyal or looks further.
Salesforce Customer 360 and Einstein
At a Salesforce event where it's basically not about Salesforce but about the customers, you still don't get around the Salesforce products. In a reasonably short presentation, Salesforce once again highlights the importance of Customer 360: having one overview for all customer information. The message of the annual Dreamforce user conference, one single source of truth, was also discussed here once again.
What we found more interesting, was Salesforce's research that customer agents who are well-trained are on average about 20 percent more efficient. Salesforce's Trailhead e-learning platform makes some 40 training courses available for the Service Cloud. Proof that it makes sense for companies to really focus on training employees. Moreover, Trailhead is free of charge, so it only costs the company hours and no extra investment.
With the right focus on workflows and maintaining a knowledge base, this percentage can be increased even further. Where the knowledge base really is the most important thing, also for the future.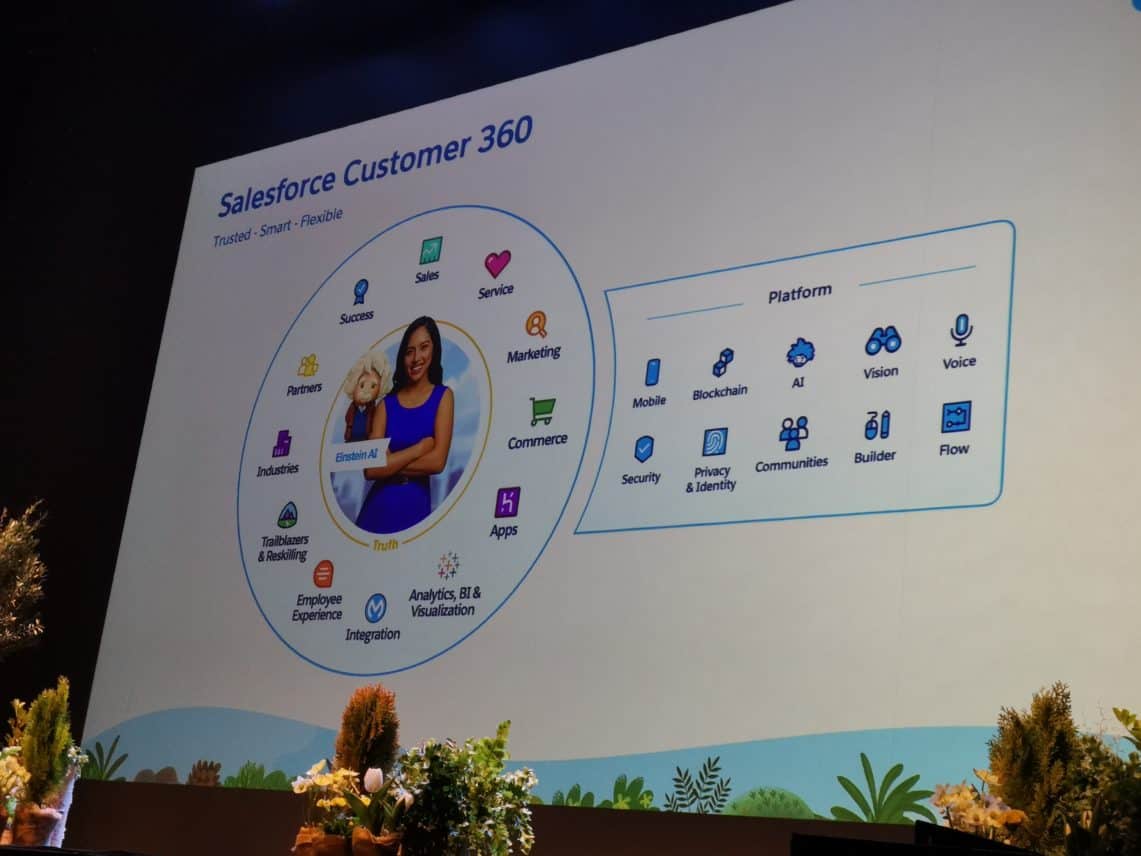 Einstein
Einstein was also featured, of course, the AI engine from Salesforce. In a self-service portal or via chatbots a big difference can be made with Einstein. Frequently asked questions can easily be detected. Even if the question does not quite match, the semantics can be retrieved by Einstein. Based on the knowledge base, an answer can then be given. First of all, the importance of the knowledge base comes to the fore.
The next step in this process is Einstein Voice, which clearly received a lot of attention in the audience. Certainly, the automatic analysis and conversion of a customer service call into a call log seemed to fall well with the audience. Einstein is able to apply speech-to-text at lightning speed. As a result, the employee no longer needs to take notes. In addition, based on this conversation is automatically searched in the knowledge base, and the best possible answers are immediately shown to the employee. As a result, the employee does not have to search for the correct answer himself/herself. This will significantly improve efficiency and customer service calls will be a lot shorter. The product is currently still in a preview phase, but should be available mid-2020.
Back to customers; similarities more important than differences
One of the best presentations of the day was given by Rien Brus of Aegon. He opened very strongly with the story that he works for an insurance company, which probably makes a lot of people think straight away, I'm not going to have anything to do with that because I'm in a completely different industry. He then starts talking about a paradigm shift, that people should approach things differently. By default, people always look for differences, as that's the simplest way. However, if you try to find the similarities, then you're going to find the added value.
Then he starts talking about the difference between customer service and customer experience, because those two terms are almost constantly used interchangeably and are often confused with each other. In his eyes, however, there is indeed a difference.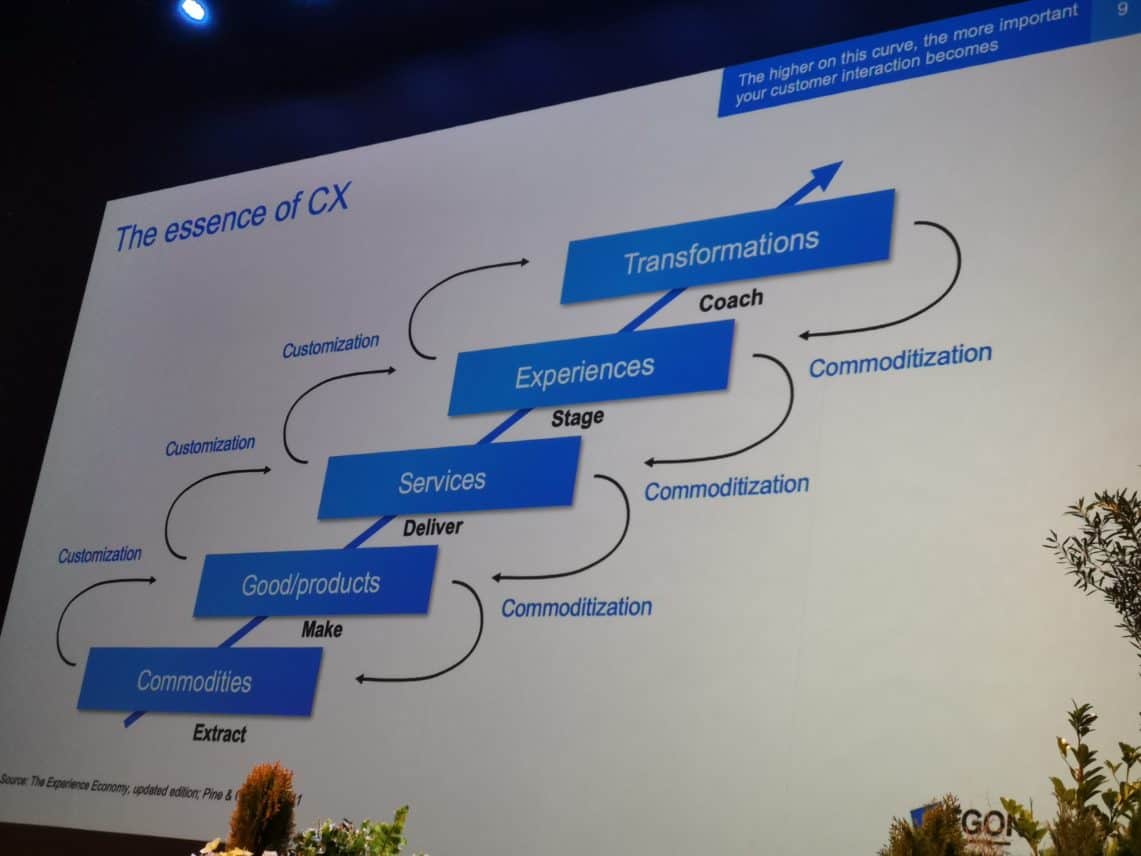 The difference between Customer Service and Customer Experience
When is something a customer service and when is it customer experience? According to Brus, the difference is in time. Is a certain action saving time or is time better spent?
One of the discussions Brus often has are optimisations in applications and websites. When, for example, apps are made clearer or simpler, companies often state that the customer experience has improved. Brus does not agree with that. The only thing that happens in this example is that the customer can save time by being able to use the application or website faster and more efficiently. The time is not better spent.
Brus argues that you have to add something to offer a customer experience; something that has value. Saving time is often part of the customer experience, but as long as nothing is added, it is not an experience. In the end, time is more valuable than money. Also, the reasoning 'by saving time the customer can spend his time better' does not apply to the definition of better customer experience. Brus argues that the customer can spend his time better with the competitor.
So what is customer experience?
Adding value: an example Brus himself quotes is Starbucks. If you stop that process, Star Bucks saves you time by making the coffee for you. The customer experience here is the choice of all the additional flavours and the conversation you have with the barista.
At the end of the day, of course, the bit of marketing adds something. At Star Bucks, everything has well-thought-out names. No coffeemaker, coffee with milk, or espresso with milk, but Barista, latte and macchiato.
If we take it to the business market a bit more, then accelerating an application isn't a better customer experience. If the application has a dashboard and based on the use of the application all of a sudden all graphs and tables are shown in which the use or the orders, turnover and sales are easy to read, then something is actually added, and the customer experience can improve.
Customer service and customer experience are very close to each other, and it is a thin line, which can be discussed at length. We think that, for the process of better customer service and customer experience, it is good to have discussions with colleagues. This might have the result of thinking a little more deeply about new projects in the future, to improve things.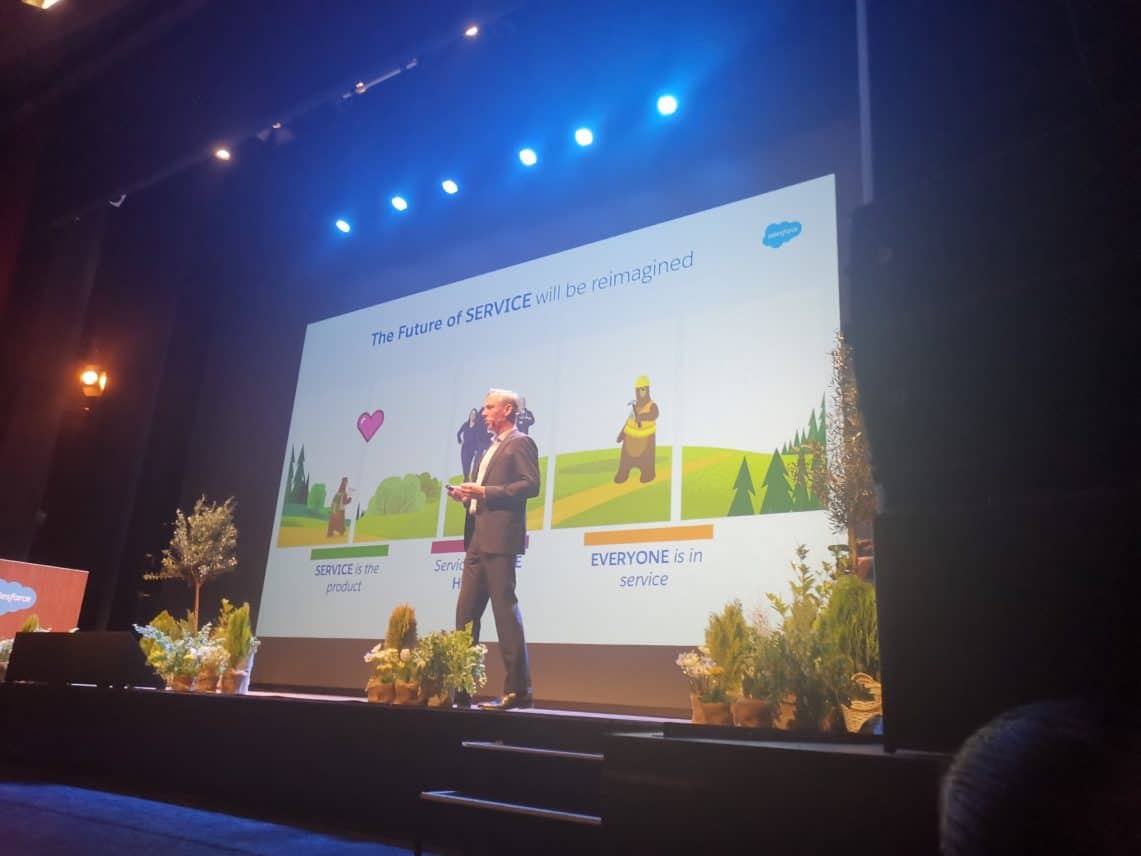 Ahold is really contacted for everything
At Ahold, parent company of the most well-known supermarket chain in the Netherlands, a strong story was shared as well. Christine Botman spoke on behalf of Ahold/Delhaize as Director Customer Service. She let it be known that they were contacted for absolutely everything. She showed three hilarious excerpts, from someone with a broken oven dish from a savings campaign to someone who couldn't find his favourite Dolce Gusto coffee on the shelf because it was always sold out.
Ahold wants to try to handle the customer contact moments digitally as much as possible. At the moment, 70 percent of the service is still handled with people and 30 percent is handled digitally. The company would like to turn that around so that most is done digitally. Ahold wants to offer shops the possibility to create service requests via a digital screen. The employees in the stores have to support customers, so that the service actually takes place in the stores.
The goal is not to reduce the number of people on customer service, but to make the experience more personal and more valuable.
Kone keeps people moving
Kone is known for their escalators and elevators. The company itself believes that it's in the business of keeping people moving. The company has combined Service Cloud with Field Service Management and the necessary AI applications via IBM Watson.
Of course, people can call to report a malfunction via the Service Cloud if an elevator is broken or an escalator no longer works. However, Kone is mainly trying to be one step ahead of that. All elevators and escalators are equipped with the necessary sensors, and all this data is now collected and stored in a database in order to be able to use IBM Watson for the necessary AI applications. IBM Watson is eventually able to detect when there is a technical problem, or when a technical problem is approaching. If the rotation speed decreases or an elevator door does not close at once, it can be detected. Before it really becomes a problem and the movement of the devices stops, action is taken.
As soon as IBM Watson detects that an elevator or escalator is no longer functioning optimally, a ticket is automatically created via the Field Service Management solution, and a mechanic on the road is notified that he needs to replace certain parts as a precaution or he needs to check certain items. In this way, maintenance can be carried out in good time, at an appropriate time, and a malfunction can be prevented.
The link between IBM Watson and Service Cloud and Field Service Management is crucial. All solutions must work well together to predict future problems and provide good customer service.