SaaSBACKUP is a Platform-as-a-Service (PaaS) that allows all solutions to connect with an API to protect all data within the SaaS application.
SaaS data is receiving increasing attention from backup and recovery solution providers. Almost all relevant players offer backup services for the major SaaS platforms on the market. These include Microsoft, Google and Salesforce. However, there is much more data within SaaS applications that is important enough to protect. Much less attention is paid to that. This while the providers of the SaaS solutions themselves only do it minimally, if at all.
Recently, we are seeing a turnaround in this. Last month we already attended the launch of HYCU R-Cloud, today it is the turn of Canadian Asigra with SaaSBACKUP. The name of this service says exactly what it does. It allows you to backup and restore data from SaaS environments/applications.
We spoke with Eric Simmons, Asigra's CEO, shortly before the launch of SaaSBACKUP. To us, Asigra was not an immediately familiar name, we must confess. That in itself is pretty crazy, since the company has been around since 1986. On the other hand, we hear from Simmons, it's not all that strange. The company focuses entirely on MSPs. "Our products are built from the ground up specifically for the channel," he points out. That also means that MSPs often whitelabel Asigra's products and services. That is, they release it under their own name without making it clear that it is Asigra.
Asigra's biggest markets are the U.S., the U.K., the EU and, of course, home country Canada. Outside of these geographic regions, Simmons talks about "the rest of the world," without further breakdown.
What is Asigra SaaSBACKUP?
Asigra delivers SaaSBACKUP as a full-fledged PaaS. Among other things, that means it takes care of all the management of the environment itself. You also don't have to build a specific infrastructure to use it. Interested parties who want to use it can connect to the platform via a connector. That then ensures that the data ends up in a backup location and that customers can also restore this data quickly.
An important thing to mention here is that data restoring can be done very granularly. No matter what you want to restore, it should be possible with Asigra SaaSBACKUP. Whether it's a single email, or an entire email system, you can restore it easily and quickly, is the promise. All you need is an API, Simmons contends. If you have that, then you can build a connector to the platform.
Building a connector can be done by the SaaS solution providers. From Asigra, however, there is also a lot of emphasis on the opportunities SaaSBACKUP offers MSPs and SIs. This makes sense given Asigra's long-standing strong focus on this part of the market. Furthermore, Asigra itself is also building the necessary connectors, which it plans to make available centrally in its own SaaSBACKUP Marketplace. Together, this should lead to a wide range of supported SaaS environments. During our conversation, Simmons is not yet willing to say how many connectors it has already built and will build. The company will announce that later this year.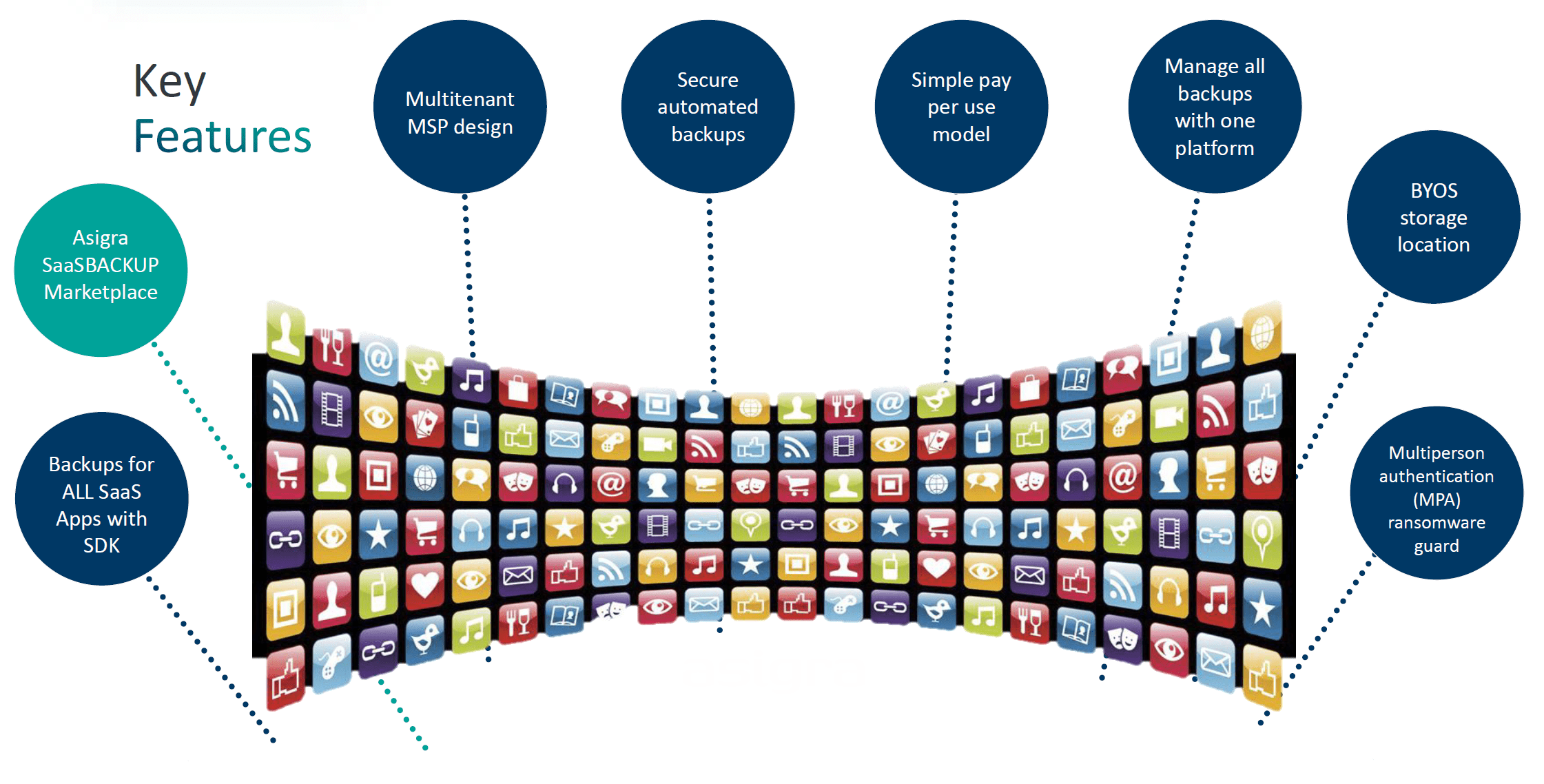 Asigra sticks to the core
Whether this will actually happen in practice remains to be seen, of course. That will have to do with quite a few factors, including how easy it is in practice to build application connectors with Asigra's SDK. We can't say much about that at this point.
What Asigra does clearly, and as far as we are concerned does well, is keeping a strong focus on what it is good at. For other parts of the proposition, it has formed partnerships with other players on the market. For example, Asigra doesn't have a discovery module for SaaS solutions running in the environment of a company. For that, it deploys Augmentt. Nor does it offer Storage-as-a-Service, that is, integrated storage locations where you can write backups to. Organizations can deploy their own S3-compatible environments for this, or else purchase this storage through partnerships with Wasabi and Backblaze.
Finally, Asigra also does not necessarily intend to retire existing backup solutions and move everything to Asigra. "We don't have to displace anyone. You can use other back-up vendors as well for Microsoft 365, Google Workspace and Salesforce, and use Asigra for all other SaaS solutions," Simmons points out.
What makes Asigra SaaSBACKUP special?
When we were asked to talk to Simmons about Asigra SaaSBACKUP and during the first part of the briefing we got from him about the new platform, we had strong flashbacks to the story of HYCU. Not surprising in itself, of course, since Asigra SaaSBACKUP offers broadly the same thing as HYCU R-Cloud. That is, both platforms are designed to enable the backup of SaaS data from any application, as long as there is a connector for it.
So what actually makes SaaSBACKUP special? If we put the two presentations side by side, we notice that Asigra put much more emphasis on the role of MSPs and SIs in the whole thing. At HYCU, the ball for building connectors was still primarily placed on the SaaS providers themselves and ISVs. We would not be surprised if this is mainly a case of a slightly different choice in terms of messaging from the companies. There doesn't really seem to us a reason why the process for an MSP or SI in building a connector should be fundamentally different from that of a SaaS provider.
To get some clarity on what makes Asigra SaaSBACKUP special, we asked Simmons this question toward the end of our conversation. Two parts of his answer to this question stuck. The first is that for Asigra SaaSBACKUP, you can build connectors in any known programming language. HYCU chose a low-code/no-code workflow. That difference could be especially apparent with complex SaaS applications. If the workflow is set up properly at HYCU, it should speed up the building of such connectors. On the other hand, "high code" within Asigra might allow you to work more granularly, resulting in a better end-product.
Strong focus on security
The second part of Simmons' answer has to do with Asigra's emphasis on security. That focus is there across the entire portfolio and thus also in SaaSBACKUP. "We support Multi-Person Approval (MPA) and other unique security features that other players don't have," he states. MPA is another step up from MFA. In short, it means that for a total of seven tasks, among other things, you can set how many people must give permission to change certain settings and, for example, within what time these people must do so. Below you can see which tasks are involved.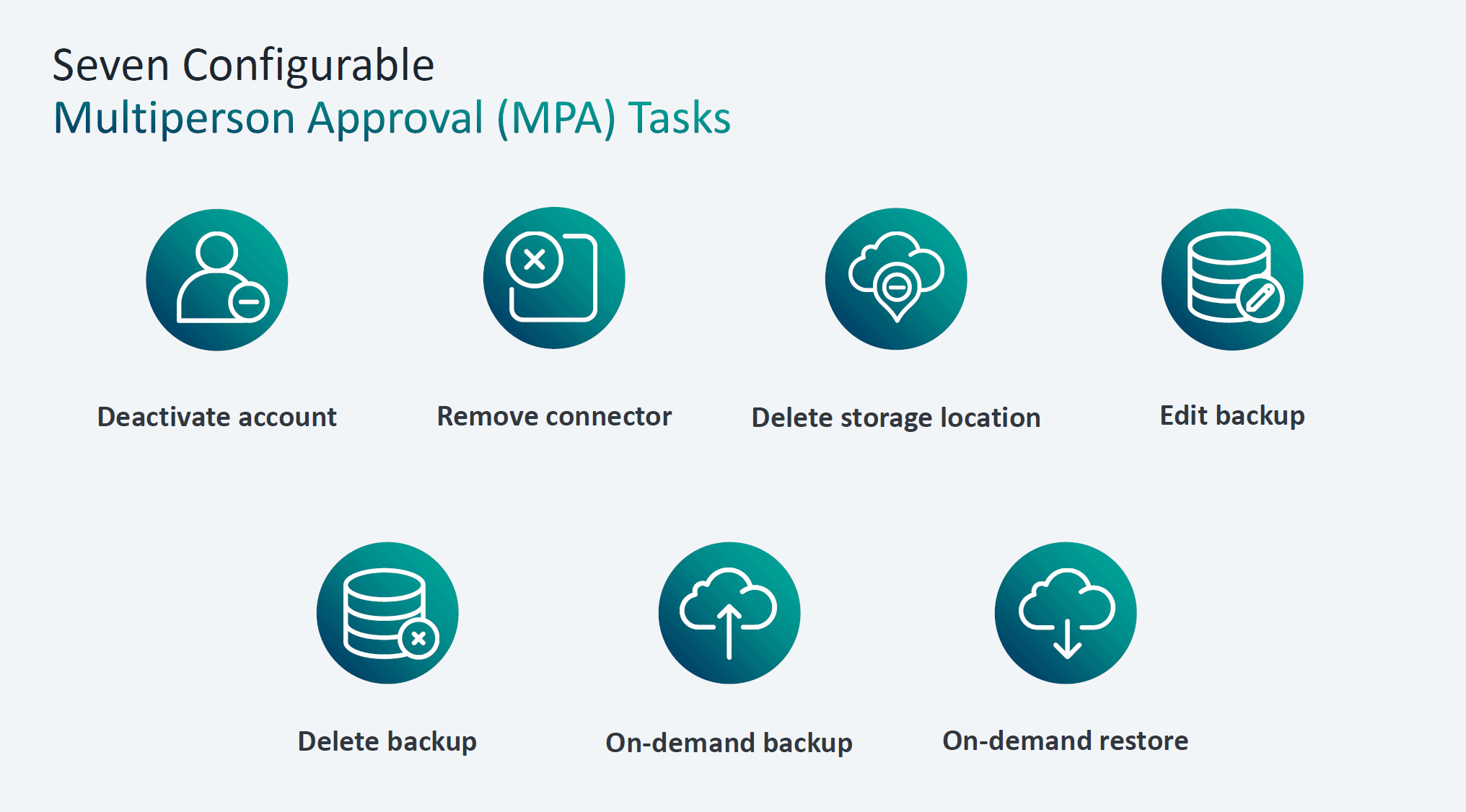 In addition to MPA, Asigra plans to add even more advanced security features from the rest of its portfolio to SaaSBACKUP. One is bidirectional anti-malware scanning, which scans the data not only at the time of backup but also when it is restored. Should something have happened to the data in the backup in the meantime (for example, due to ransomware that only becomes active in a backup), it should still be spotted this way.
A second and final example of a security feature that will be available in SaaSBACKUP in the future is bidirectional CDR. CDR stands for Content Disarm & Reconstruction and assumes that there can be malicious data at any level. To detect this, CDR takes a file completely apart and scans every particle.
As an example, Simmons cites a zip file with a PowerPoint presentation and a PDF in it. Every line in these documents is scanned. If it contains bad code, it is removed, but the document is then put back together again. Only then that code is no longer in it. Often you can then figure out what was taken out based on previous backups. The important thing is that the document remains available this way, not disappears in its retrieval.
Availability
All in all, then, Asigra SaaSBACKUP has quite a few distinguishing factors. The advanced security features now and in the future stand out the most as far as we are concerned. If you want to start using the new platform right away, we have to disappoint you, though. In Q2 of this year, Asigra will be working with a select group of customers to fine-tune the offering. In Q3, the platform will become generally available in North America and for MSPs. Europe and the UK will have to wait until Q4, as will VARs and VADs. In 2024, the rest of the world will also be able to use it, support will become available in more languages than just English and we will start seeing the SaaSBACKUP Marketplace.
In terms of pricing, Asigra is using an "X per user per month" schedule for SaaSBACKUP. What that X is going to be is not yet known. When we asked Simmons that question, he indicated that they are not announcing that at this time. For that, we'll probably have to wait until we get close to the official launch of Asigra SaaSBACKUP.