OpenText has announced Cloud Editions 23.3. The release more closely integrates Micro Focus' acquired technology with OpenText's enterprise software.
Since the completion of the acquisition on Feb. 1, Micro Focus customers, partners and employees have transitioned to OpenText. OpenText was eager to acquire the technology to be "the platform of platforms for Information Management" Attracting Micro Focus expanded the possibilities for that. As a result, the tech vendor can help secure operations more, gain more insights into information and better support the management of a hybrid and complex digital infrastructure. To this end, it offers tools for cybersecurity, Digital Operations Management, Applications Automation and advanced analytics and AI. OpenText foresees four major changes in the coming years that it plans to support with Micro Focus technology.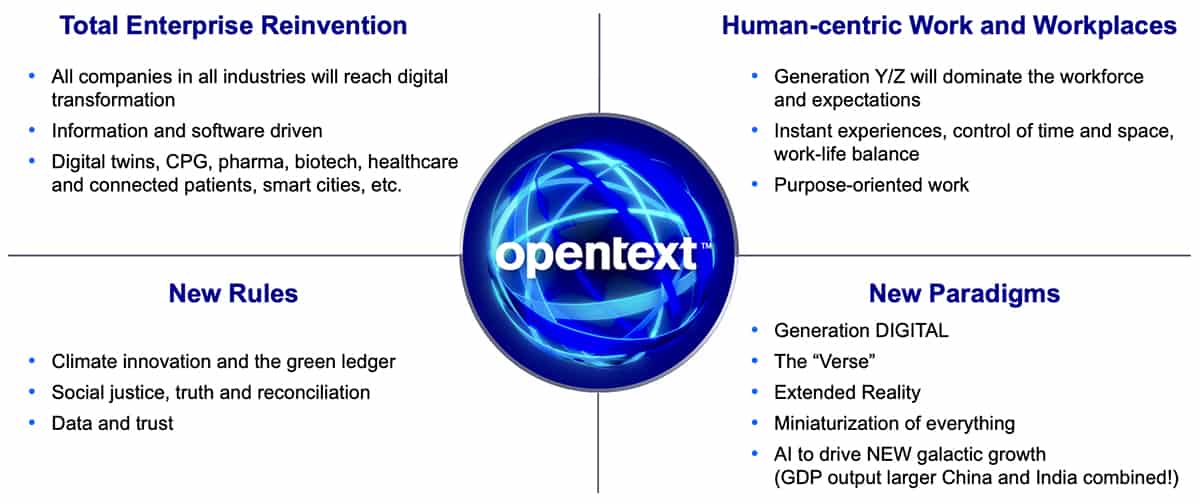 Micro Focus originally had a broad software offering, in part because it acquired parts of HPE. OpenText was experiencing growth before it acquired Micro Focus, working primarily with its cloud delivery model Cloud Editions for information management and security assets. The release of Cloud Editions 23.3 largely plays into the integration of originally Micro Focus technology. In this blog, we outline the most important updates.
Faster data-driven insights
For example, Vertica will go a long way with the update. This on-premises database has been around for quite some time and serves as the basis for analytics and machine learning. However, the database is now moving more to the cloud. On this, OpenText says, "Vertica is now available to help businesses take advantage of their data by combining the power of a data warehouse with data lakehouse capabilities through the new data lakehouse integration with Apache Iceberg. This enables businesses to access and analyze their data quickly and effortlessly across unlimited amounts of both structured and unstructured data – and without any limitations."
So with this, OpenText is also moving more toward the lakehouse architecture. That is, an environment that combines the advantages of data warehouses and data lakes. This creates an integrated environment for storing, managing and analyzing both structured and unstructured data.
Speaking to VentureBeat, OpenText adds that it wants to create synergy within its portfolio. For example, Vertica previously did not have the desired capabilities to help companies easily develop business intelligence (BI) dashboards and reports. OpenText built its own AI and analytics platform Magellan precisely for that purpose. Vertica and Magellan can complement each other in that respect, bringing the database and BI reporting and data discovery features closer together.
OpenText also describes Vertica as a columnar database, where billions of rows of data can be stored. Users then get hits back quickly when queries are made. That database is now integrated with Magellan Studio for BI to allow companies to benefit more from Vertica data. Building dashboards and reporting should therefore be faster.
Also worth noting in this area is that OpenText ValueEdge, a technology that also came in via the Micro Focus acquisition, is getting updates. The platform will start using more AI, to be able to track and predict risks around software delivery, maintenance and governance. The goal is to provide software delivery teams with visibility into every part of a software development lifecycle.
IDOL and AI
Acquiring Micro Focus also gives OpenText access to Autonomy, which includes the IDOL engine. This stands for Intelligent Data Operating Layer and makes data searchable and understandable. OpenText sees in IDOL an asset to make its software more powerful and will therefore deeply integrate the engine. The goal is to achieve more automation, insights and innovation with it. "We believe IDOL needs to be integrated everywhere in every part of our portfolio," chief product officer Muhi Majzoub explains to VentureBeat.

As an example, the CPO cites analyzing content to identify PII data. But it can also be used, for example, in security solutions to more easily detect fraud.
Tip: The right security strategy? 'Apps and data both priorities'
Strengthen employee collaboration
As part of the Cloud Editions 23.2 release, OpenText also announces that OpenText Core for Google Workspace will soon be available in the Google Cloud Marketplace. OpenText Core is a SaaS solution for content management and now gets a new solution for Google Workspace. It should help "reduce digital friction, improve worker productivity, and accelerate business processes, allowing users to embed automated governance workflows wherever and however they work on Google Workspace."
On the collaboration front, OpenText is also releasing Documentum for Healthcare. This is a central place for all patient data, to support health systems and hospitals in managing the data. It should also improve the way they manage, access and share patient information by turning unstructured content into actionable insights.
All in all, OpenText is pushing hard for innovation with the release of Cloud Edition 23.3. And another leap has been made in further integrating Micro Focus technology.
Tip: AppSec is a fundamental requirement, but does it get enough attention?