At Dell Technologies World, Michael Dell was responsible for the most important presentations and introductions. Dell Technologies presented the company's vision and told us what the future looks like. It positions itself from the edge, to the core, to the cloud. What stood out was the role of VMware. After all, VMware technology is at the heart of everything, over and over again.
If you ask Michael Dell, he won't say that VMware is at the heart of just about every Dell Technologies plan for the future. He sees the group of companies that are part of Dell Technologies as a unit; a unit that brings new solutions to the market.
Doesn't Dell Technologies just plunder VMware's portfolio?
At Dell Technologies World on the first day, we saw a number of big announcements, including the Dell Technologies Cloud, the Dell Technologies Cloud Datacenter as a Service and the Dell Technologies Unified Workspace.
If you read the announcements and look back at the keynote, you get the impression that Dell Technologies simply plundered VMware's portfolio and put a Dell Technologies label on it. We asked Michael Dell to explain what the differences are and how Dell differentiates itself from the VMware offering. The similarities between Dell Technologies Unified Workspace and VMware Workspace One, the Dell Technologies Cloud and VMware Cloud Foundation and Dell Technologies Cloud Datacenter as a service and Project Dimension are simply huge.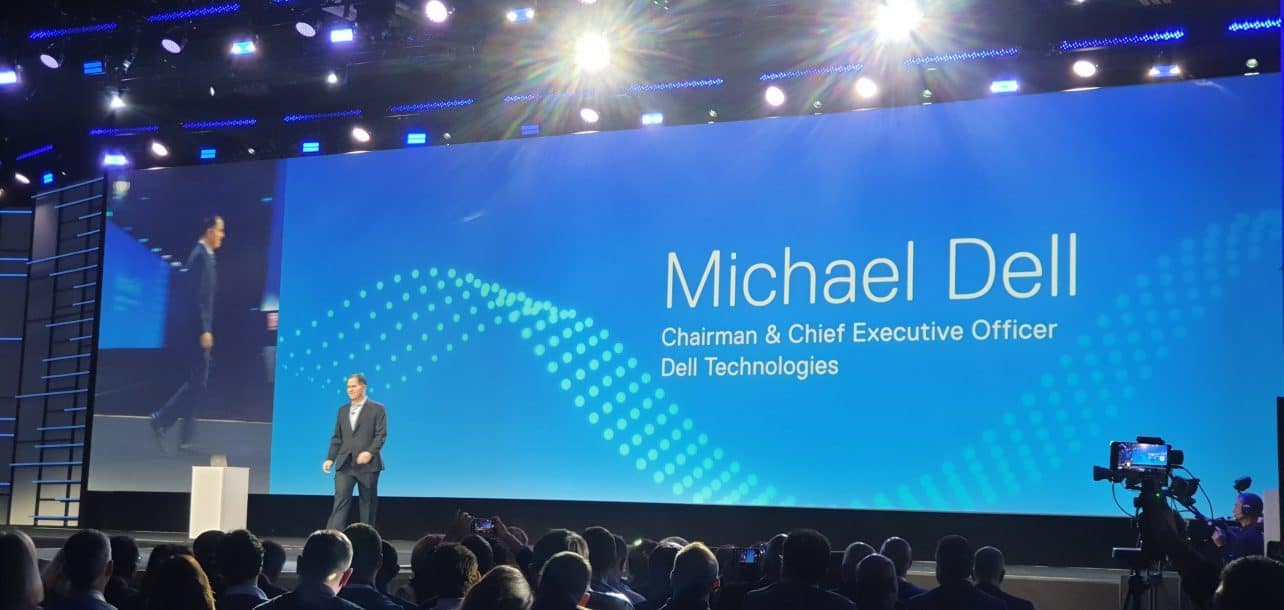 From his answer and the accompanying smile, we concluded that Michael Dell has some problems with this himself. His answer was that Dell can't steal or copy VMware because VMware is owned by Dell Technologies (for just over 80 percent), and that customers of Dell Technologies have asked for these products. Luckily, a lot of product experts did want to go into depth with us, because there are differences.
Dell Technologies World was basically a VMware showcase
Ultimately, the most important announcements made at Dell Technologies World this year consisted of VMware products, with a Dell Technologies product, managed service or automation element on top of that. VMware is a company that delivers technology to many partners who build and deliver additional services around it. A good example of this is, for example, HPE, which is Dell Technologies' largest competitor in many product categories. For example, with HPE Simplivity, HPE delivers a complete Hyper-Converged Infrastructure based on its own hardware and data platform, but VMware software technology runs on top of that.
Now that Dell Technologies is going to offer a lot of VMware products under the Dell Technologies label as well, this means that Dell Technologies is mainly adding its own hardware and services. For companies interested in these solutions, it's good to know what the differences are and what value Dell Technologies adds, so that their products can be compared to other solutions in the market.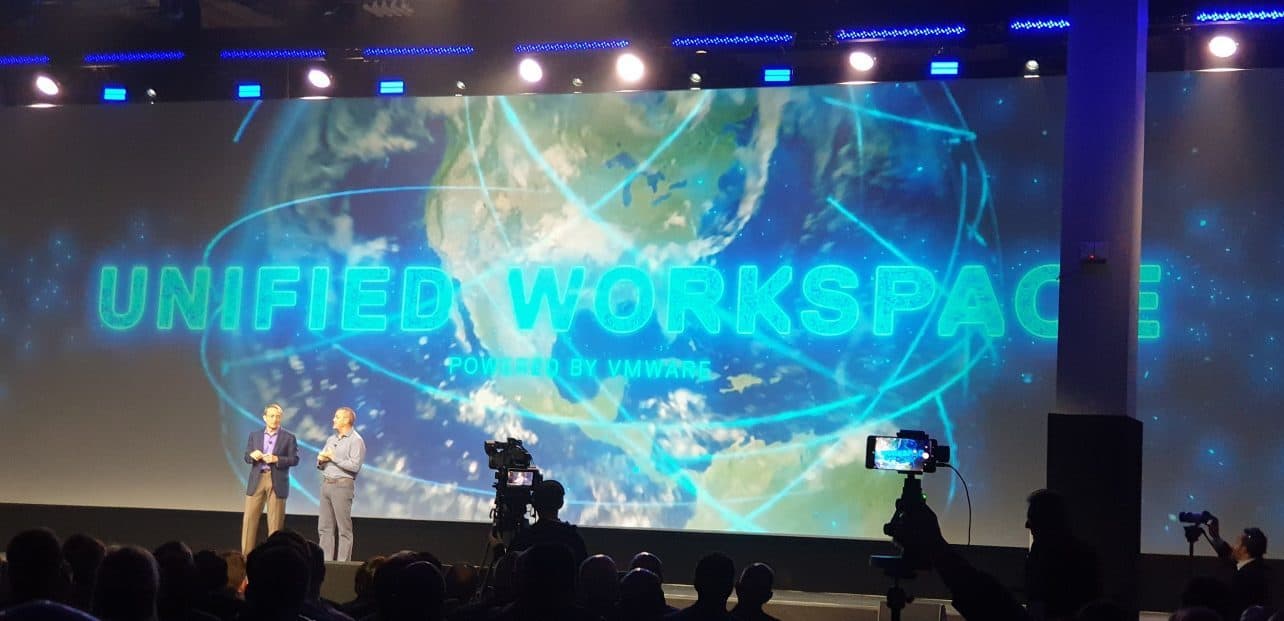 Dell Technologies Unified Workspace vs VMware Workspace One
Companies that choose VMware Workspace One can buy it separately as a cloud-managed software solution on all their client systems. They can combine this with the hardware they have today, whether it's Dell systems, HPE, Lenovo, Chromebooks or even Apple computers with macOS.
Dell Technologies Unified Workspace is not just about the software, it's about completely unburdening the client ecosystem: PC Lifecycle Management (PCLM). PCLM should be seen as the purchase of the PCs for every employee, something that happens to most companies every three to five years. This is a labour-intensive process that leads to mismatches in many companies. This leads to employees with heavy workloads working on systems that are too slow, or employees that use very powerful systems for light workloads. Another mismatch can be a wrong form factor, where, for example, a field staff member is dragging a heavy 17-inch laptop behind him instead of a mobile lightweight 13-inch system, for example. In addition, the installation, configuration, monitoring and security of the endpoint are essential. With Appdefense, VMware can secure the VDI environment, and with Workspace One Unified Endpoint Management it can manage the various endpoints, applications and data, but the endpoint will also need additional security, such as antivirus.
With its Unified Workspace solution, Dell Technologies is taking all of this off your hands. This starts with some consultancy for new customers. Dell Technologies will be able to recommend the most suitable Dell client for a job and the accompanying application usage. This applies to laptops, 2-in-1's as well as desktops.
In addition, Dell Technologies can install this system directly from the factory, so all the user has to do is log into the system. All applications are automatically pre-installed. Single sign-on support in Workspace One also allows users to access and log in automatically to all business applications. Dell Technologies also combines the systems and Workspace One with the security solution from SecureWorks, another Dell Technologies company. This protects the endpoint, from the Windows 10 environment to the BIOS.
Once companies use Unified Workspace, Workspace One also provides insight into how systems and applications are used. What is the status of certain systems, are there problems with any hardware, and which applications are most commonly used? Based on this, it can also be made clear which employees might have a mismatch with their hardware and if it might be wise to replace a laptop or pc with a different, more powerful, model.
Workspace One also has solutions that take a lot of IT management off your hands. This addresses problems such as lost passwords, a VPN connection that does not work properly or employees who need certain applications. Workspace One also has its own App Store, which allows users to install an application themselves with a single click. This works on both PCs and smartphones.
The Dell Technologies Unified Workspace takes care of the entire client PC chain, from the hardware (laptops/desktops) to the configuration, installation and security. With VMware Workspace One, companies still have to take care of the hardware choices, configuration and installation themselves. This could also be outsourced to a partner.
If your company already has a relationship with VMware, but not with Dell Technologies, then there is a good way out. VMware will offer the Dell Technologies Unified Workspace through its own sales organization, so companies can also join VMware on this new product.
Dell Technologies Cloud Platforms vs VMware Cloud Foundation
Just like Unified Workspace uses VMware Workspace One, VMware is at the heart of the Dell Technologies Cloud Platforms. In this case, VMware Cloud Foundation technology has been used. With VMware Cloud Foundation, you can bring your virtual machines (VMs) to the cloud. If it's up to VMware, customers will do this using their preferred supplier, Amazon Web Services. However, it is also possible to use IBM, OVH, a number of smaller players, and soon Microsoft Azure as well. Google Cloud Platform will undoubtedly follow in due course. Google has a real multi-cloud strategy, and VMware fits in perfectly with that.
Dell Technologies Cloud Platforms is, in turn, an extension to that. The communication around this new product essentially refers to two platforms. These are VMware on AWS and VMware on Dell EMC. Why no others? These two platforms are built and managed by VMware and Dell Technologies. The others are managed by the cloud provider behind them.
But it doesn't stop there. VMware on Dell EMC is a well thought-out product that Dell Technologies has developed together with VMware. VMware on Dell EMC is, in principle, not a real cloud platform, but it is controlled as such. VMware on Dell EMC is an on-premise solution that can be located in the company's data center. The environment is then managed via VMware Cloud Foundation.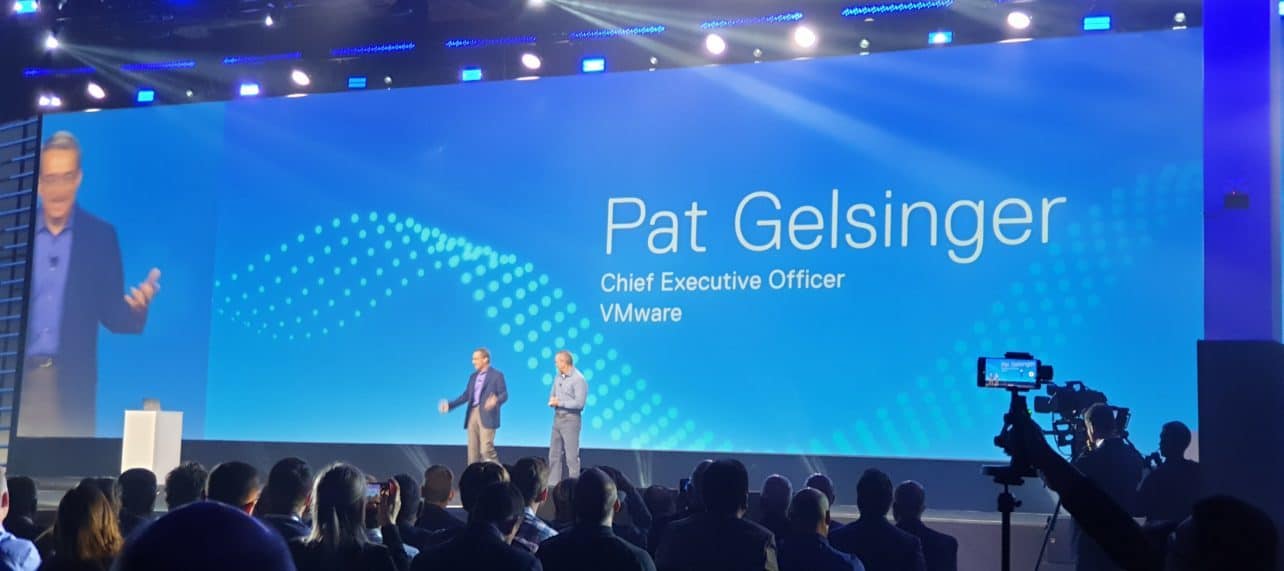 VMware on Dell EMC runs on-premise, but it has all the characteristics of a public cloud product. In the public cloud, you always run the latest software version of VMware (vSphere/vSan) and the configuration, update and installation process is completely taken out of your hands. This is no different in the case of VMware on Dell EMC.
Dell Technologies provides a VXrail infrastructure, a hyper-converged infrastructure that can easily be scaled up by simply adding nodes. In this way, the compute, memory and storage can easily be expanded. This infrastructure runs the VMware-on-Dell-EMC platform, which in turn is based on VMware Cloud Foundation.
Customers are used to the fact that everything works at the touch of a button, that a VM is automatically created, that the network configuration is controlled, the firewall is configured, the security is controlled and of course that the necessary resources are allocated. All this is possible with VMware on Dell EMC. Even VMware NSX is included and configured automatically, making network segmentation even more secure.
To stay ahead of the competition, Dell Technologies goes one step further. VMware on Dell EMC also includes the management of VXrail and other Dell hardware. The VXrail hardware and Dell network switches can be automatically included with firmware updates. This can be done at the touch of a button. The same applies to the VMware software. Upgrading to new versions of vSphere, vSan and vCenter is also all done at the touch of a button. The software ensures that all VMs remain available during this process and are moved to another node if necessary, so that the upgrade can take place.
VMware experts know from experience that such upgrade processes can, sometimes, take months. A plan must be developed for the upgrade to take place. This means planning how the migration process is carried out, without things becoming inaccessible. This process is what Dell Technologies is now able to automate completely, at the push of a button.
This makes Dell Technologies Cloud Platforms an on-premise cloud, but it can easily be expanded with the public cloud, in combination with VMware on AWS or other partners. Moving workloads is seamless and gives businesses much more flexibility. Companies looking for a multi-client or hybrid cloud solution will certainly benefit from this. Especially since they would no longer have to be involved in the management of the on-premise infrastructure. As a company, you only need to purchase new nodes on time.
Dell Technologies Cloud Platforms is now available worldwide from both Dell Technologies and VMware.
Dell Technologies Datacenter as a Service replaces Project Dimension
Finally, we looked at Dell Technologies Datacenter as a Service. This is an alternative model for Dell Technologies Cloud Platforms and the definitive name of VMware's Project Dimension. With Project Dimension, it is possible to lease hardware 'on the edge' or in the data center via VMware. This was announced last year. Dell Technologies now presented Dell Technologies Datacenter as a Service as a replacement for Project Dimension. This will be available in the United States this summer, but Europe will have to wait a bit longer.
Dell Technologies Datacenter as a Service is mainly aimed at customers who find the cloud model interesting, but want to keep most (or all) of their workloads running on-premise. These are customers who want to get rid of the purchase of hardware, the malfunctions, the management thereof and all the challenges that come with using their own infrastructure.
With Dell Technologies Datacenter as a Service, the customer can choose to pay for what they actually 'consume'. The hardware needed to keep those workloads up and running will be installed by Dell Technologies in the customer's data center. When the customer needs more capacity, Dell Technologies can simply add it. If the company shrinks or has a lot of resources left over, the nodes can also be removed. Like Cloud Platforms, this infrastructure works on the basis of VXrail Hyper-Converged Infrastructure.
Customers can also roll out a virtual machine or update the firmware and software versions automatically with one click. The technology that Dell Technologies has developed for Cloud Platforms is also partly available here. Instead of multi-cloud, this really is an on-premise data center as a service. This can still be at multiple locations. From a data center to e.g. different branches of a retail chain.
This means that the 'from edge to core to cloud'-strategy has also been achieved here. For Dell Technologies, the innovation mainly happens on the side of VMware. We are curious to see what VMware has in store for us at VMworld later this year – in essence the company now has three major events a year.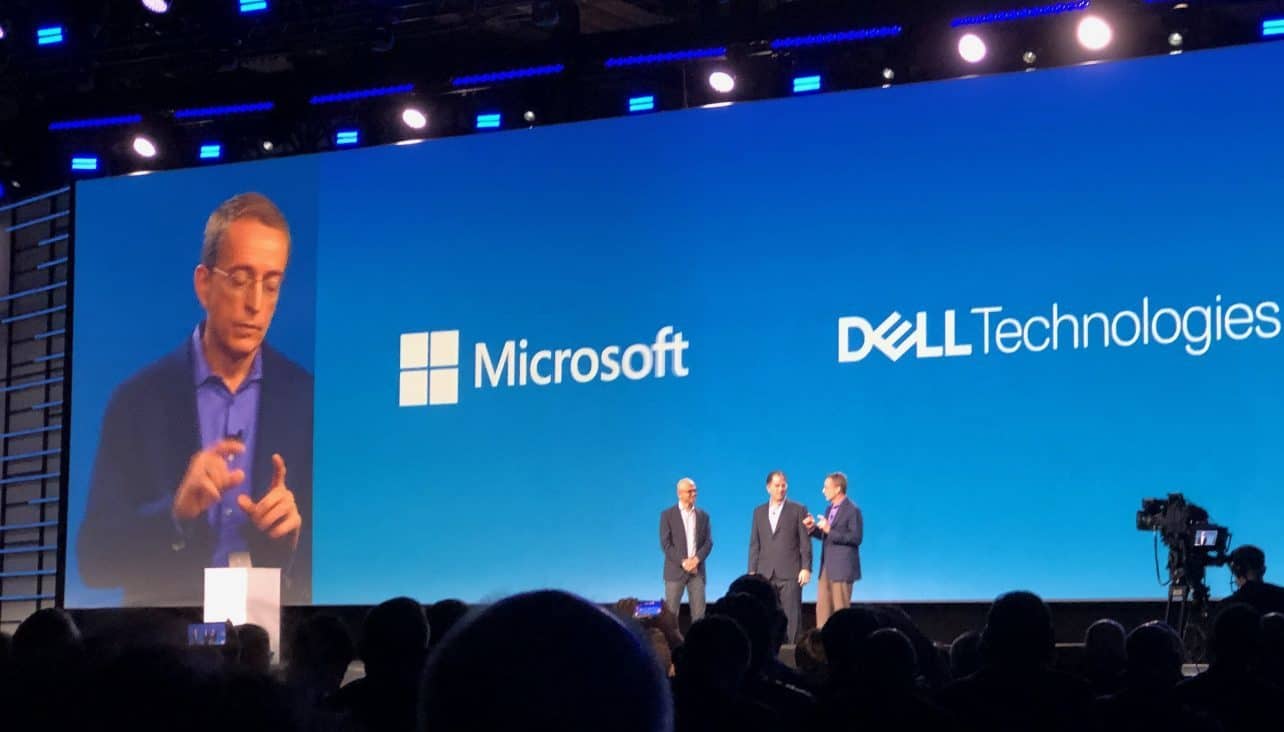 What about VMware on Microsoft Azure?
Of course, we have to talk about the Microsoft Azure announcement. It will at some point be possible to run VMware on Microsoft Azure. Although this was announced with the CEO of Microsoft on stage at Dell Technologies World, we could quickly conclude that the priority for this is a bit lower. The choice for more cloud partners is excellent, but in the end, VMware in Azure will really be Microsoft product, with which VMware is not very involved. Microsoft is working with CloudSimple and Virtustream to deploy and manage VMware on bare-metal servers in Azure. This is comparable to the VMware product in the IBM Cloud. This is different from VMware on AWS, where VMware itself has built an environment on Amazon Web Services' bare-metal servers. The extra option with Azure is therefore very welcome, but for Dell Technologies and VMware, it is not a core activity.