Veeam is making its data protection platform more relevant to enterprise organizations. The platform that was initially built attracted mainly small and medium-sized business (SMBs). However, an increasing number of customers are of enormous size and have completely different needs than smaller companies. In order to further meet these needs, there is focus on object storage, immutability and Salesforce data protection.
Anyone who has followed Veeam over the past few years knows that the data management vendor's ambition generally remains the same. Veeam wants to help organizations protect data by focusing on simplicity, flexibility and reliability. By focusing on these areas, the company has become one of the largest providers of backup and recovery solutions for data protection. It is tied with Dell EMC as the number one provider worldwide.
Veeam's goal is rock solid. However, things are changing on the product level and in terms of market approach. Veeam has really found its way into enterprise organisations in recent years. At the annual VeeamON conference, CTO Danny Allan said more than 52 percent of sales now come from enterprise organizations. The company also sees plenty of opportunity for further growth in that area. How exactly does Veeam plan to achieve this?
Investor support, new CEO
Looking at what Veeam is doing at a higher level to strengthen its position in the market, we can see that it has made a turnaround in less than two and a half years. Initially, the two co-founders Ratmir Timashev and Andrei Baronov owned Veeam. They gave Bill Largent and Danny Allan a lot of power, as CEO and CTO respectively. However, in early 2020, investment company Insight Partners acquired Veeam, after which the founders left the company. Allan is still CTO, Largent is now the Chairman of the Board of Directors and the new CEO is Anand Eswaran.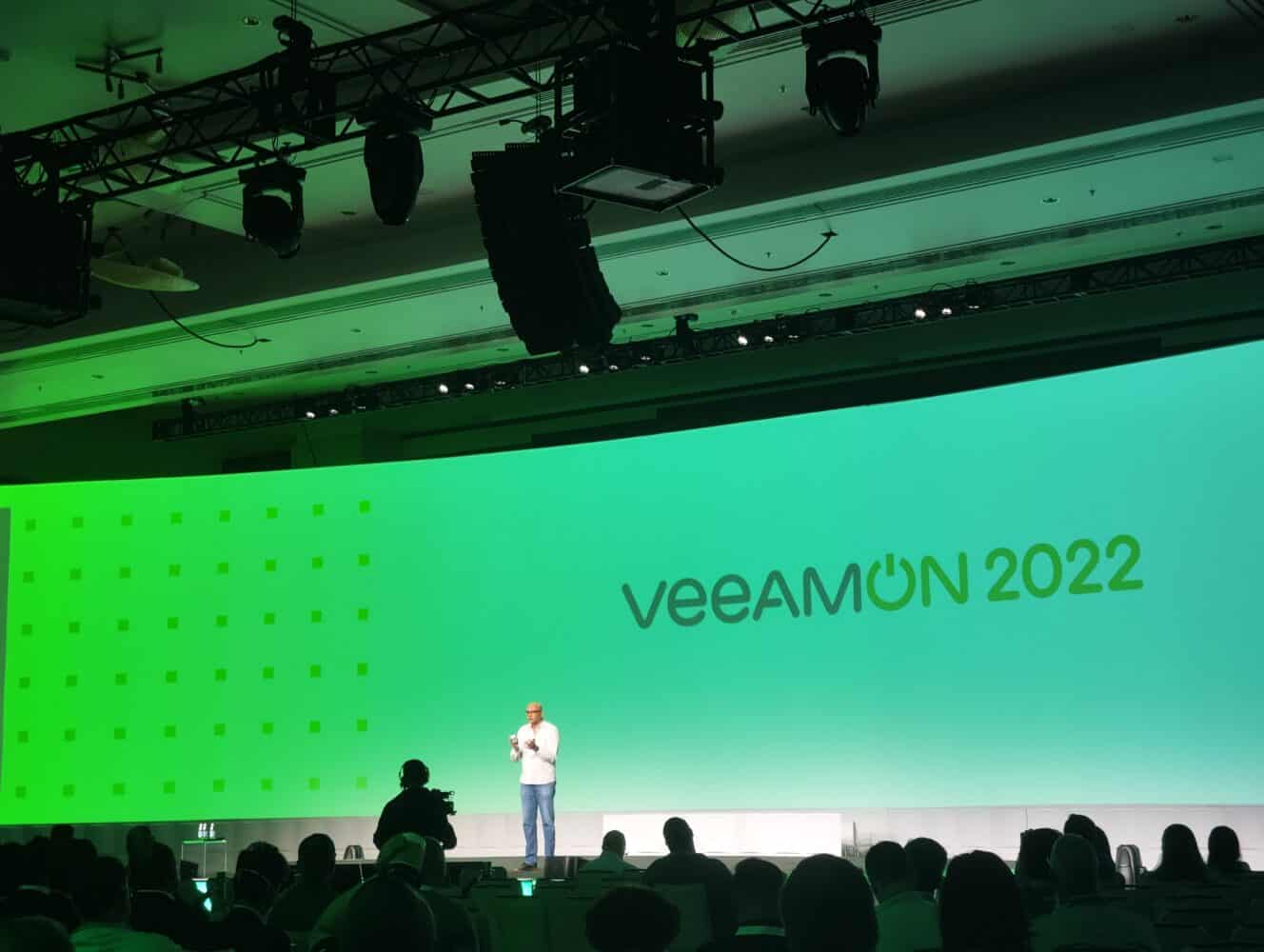 The changes at the top should strengthen the ambitions to gain a stronger market position. After all, Insight Partners sees potential in further growth of Veeam and offers support in that. This with Eswaran as the new face. The CEO told us during an interview that his hire was completely made by Insight Partners. He is confident that with the investment company there is a solid foundation to build on in the coming years. In combination with his experience with leading large teams at Microsoft, SAP and RingCentral, Eswaran sees enough opportunities to move forward with Veeam.
Natural growth, possibly supplemented by additional steps
Eswaran believes that the current policy will largely herald growth. In other words, the platform meets expectations and can be further expanded. At the same time, the organisation has also undergone a professionalisation process. In order to better serve the enterprise organisations, sales also had to step up. In some locations, new sales professionals have been hired, who deal with nothing but the large enterprises. In addition, the ties with service providers have been strengthened. On that side, you also need parties who can serve the higher segment.
At the same time, Eswaran does not rule out the possibility that growth could come from acquiring other vendors. A good example of what Veeam is looking for in acquisitions is Kasten (Now kasten by Veeam. This Kubernetes startup was acquired during the Insight Partners period, although Eswaran was not the CEO then. With this technology, Veeam is one of the few dedicated data management vendors to focus on Kubernetes backup. Kasten is a good example of what Veeam is aiming for with acquisitions: attracting unique technology and bringing it to the Veeam platform as much as possible. Later this year, when Veeam Backup & Replication Version 12 launches, Kasten will be fully integrated into the platform.
Role of Kubernetes and containers
This also highlights one of the technologies that makes Veeam technologically attractive to businesses, both in the SMB and enterprise segments. The management of Kubernetes data protection should become easier with V12, with a Veeam plug-in for the new Kasten by Veeam K10 V5.0. This version of Kasten is primarily intended to bring about change by applying shift-left for data protection. This way, backups are considered earlier in the development process. For this purpose, the platform has add-ons for Amazon EKS Blueprints and Red Hat OpenShift Operator, as well as Kanister blueprints for MS SQL and PostgreSQL Operator.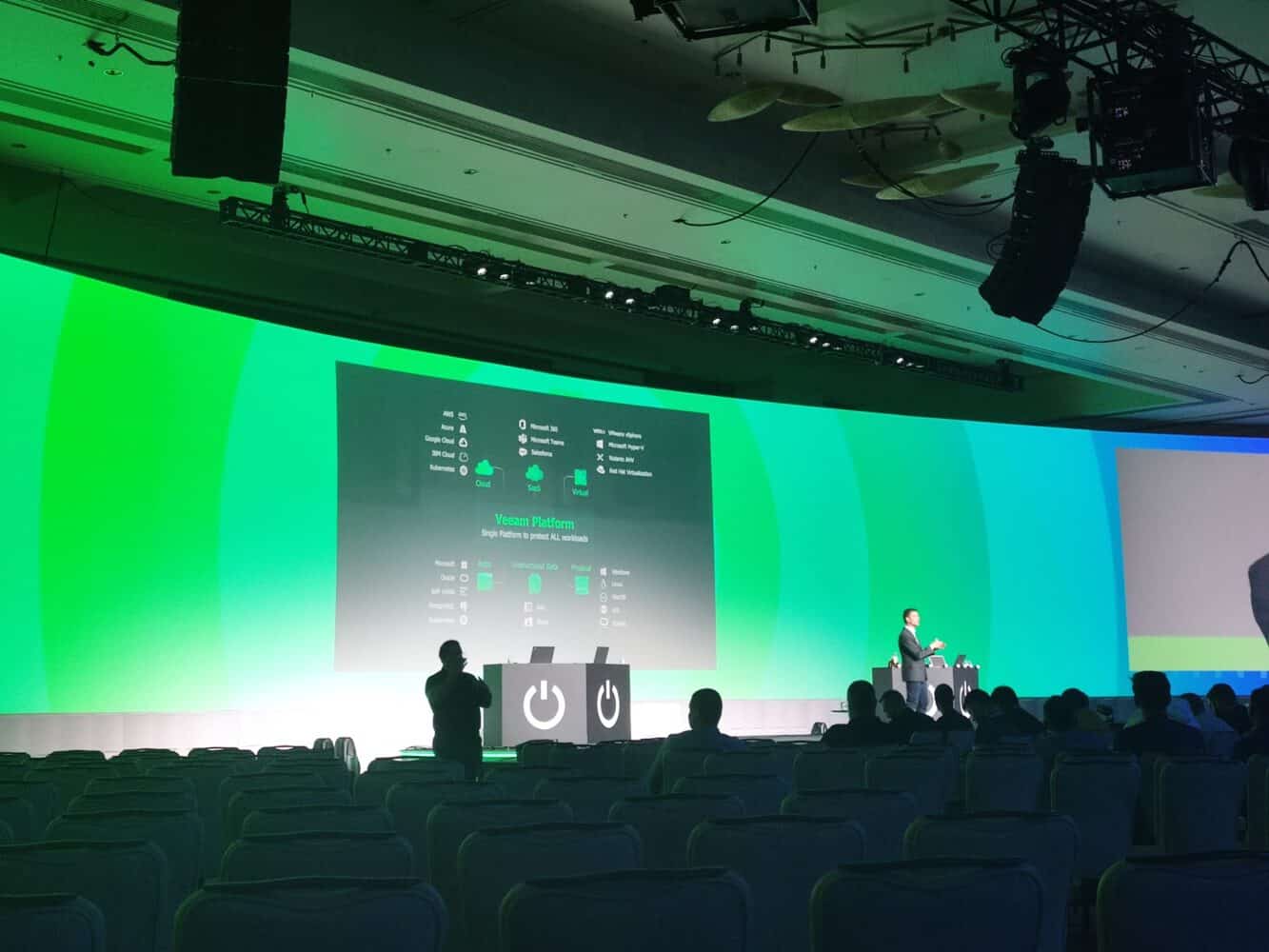 Object storage and immutability
At the same time, Veeam has looked at where other customer needs currently lie. Based on that, it has come up with focus on object storage and immutability. Veeam started to use object storage as a target when it released Veeam Backup & Replication 9.5 Update 4 in January 2019 by introducing the use of AWS S3 compliant object storage via the Capacity Tier. A year later, it launched Veeam Backup & Replication v10, which featured support for object locking to provide data immutability for object storage. In V11 Veeam introduced Immutability as a Hardened Repository for the first backups to land.
Companies were, according to Allan, facing limits of block storage. This was the case, for example, with organisations running VMware on AWS. If they want to backup, they want to do it directly on S3 and avoid block storage due to high costs. Another common use case is companies with systems at the edge of the network. There is no backup infrastructure at the remote location. They want to send data directly to the cloud with object storage.
This need has grown over time. Initially, performance left much to be desired when object storage was used as the primary data repository. Today, however, object storage is easy to deploy. It is cost-effective and the speed is extremely high. Moreover, it comes with immutability, which is very suitable for backup purposes. Immutability means the backup cannot be changed, deleted or encrypted. It helps enormously in preventing hack attacks directed at the backup.
Object storage takes central role
The new object storage functionality will be coming to the Veeam platform later this year. A big part of this is the direct-to-object storage support. This gives the user a repository which behaves like a normal repository, but which is supported by object storage. The performance tier (for fast access to data) can be used to store backup data in object storage first. Besides direct-to-object storage support, version 12 offers end-to-end object storage for scale-out backup repositories. These kinds of repositories are scalable, support any backup purpose and offer possibilities to apply performance policies.
Veeam also focuses on supporting as many object stores as possible in V12. Enterprise organizations use many different object storage solutions, which Veeam wants to support.
Backup SaaS data
Another topic that Veeam regularly focuses on is backing up data from software as a service (SaaS)-applications. Currently, Veeam Backup for Microsoft 365 plays a major role in this story. Veeam is currently playing a major role in this area by protecting data from Microsoft applications such as Teams and OneDrive. Organisations need to protect data from Microsoft 365 software themselves to prevent data loss due to ransomware or accidental deletion. During VeeamON, Allan mentioned that many companies recognise this: more than 11 million companies are now paying for Veeam Backup for Microsoft 365.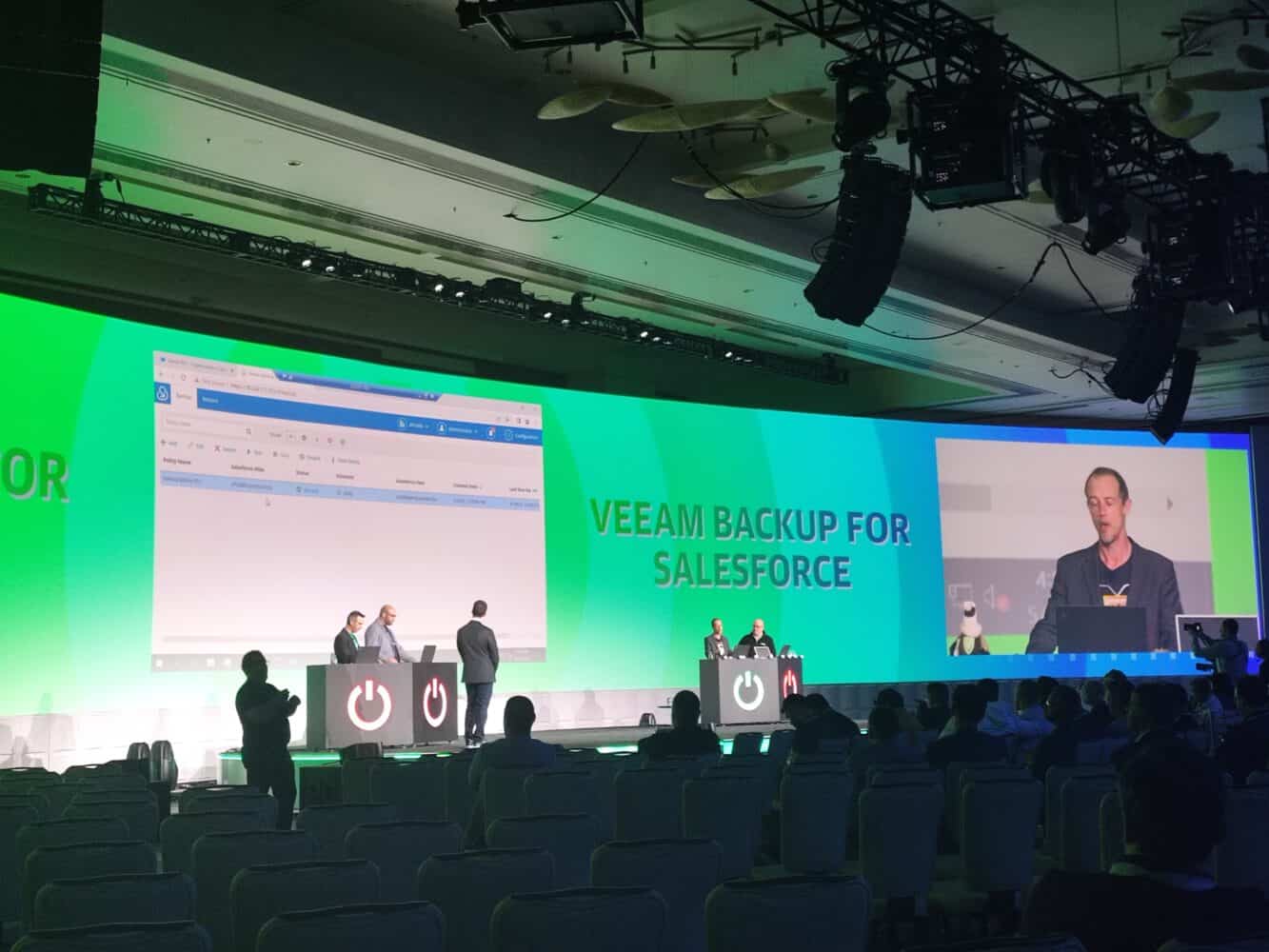 To further support its customers, Veeam is going to add more enterprise reporting and monitoring capabilities to the solution. To do so, it is setting up an integration with Veeam ONE. Veeam ONE is a monitoring tool for identifying and alerting that there is an issue with the backup. The tool uses AI to detect early signs of problems that are imminent. By integrating Veeam Backup for Microsoft 365 with Veeam ONE, Veeam provides businesses with greater certainty about keeping Microsoft software running. Administrators get real-time alerts to quickly resolve data breaches.
Salesforce soon to be supported
With the backup product for Microsoft 365 now in place, Veeam also believes it is time to launch more dedicated solutions for SaaS software. It will therefore launch Veeam Backup for Salesforce later this year. Veeam has been using this solution internally for years. There was also increasing demand for it from customers. Companies using Salesforce will be able to use the Veeam solution to back up data in the cloud and/or on-premises, to prevent losing data and metadata from the CRM platform.
Several Veeam executives told us that, due to internal use of the tool, Backup for Salesforce is already an advanced version. The product is tailored for Salesforce using native APIs. This allows records, hierarchies, fields, files and metadata to be restored when necessary. It provides protection against human error, integration issues and other common Salesforce data loss scenarios. Furthermore, Veeam's upcoming product aims to allow companies to avoid backup and storage lock-in and deploy the backup environment wherever the company wishes.
Veeam puts technology at the heart of growth
Ultimately, Veeam sees its technology as the way to continued growth in the future. The company is also in a good momentum for that growth, when you realize that organizations are giving more priority to ransomware protection. The new CEO, Anand Eswaran, made no secret at VeeamON of wanting to take advantage of the position and grow the company into a player with a very substantial share of the market. He sees a quarter or more of the market as a realistic goal, something that would require Veeam to double its current position. An ambitious goal, which will have to be achieved with new people at the top and by finding a way to reach a broader target group.
Also read: Veeam unveils V12 with focus on cloud and security