Juniper Networks still sees the self driving network as the future. The deployment of artificial intelligence (AI), and the so-called 'AI-Driven Network', is the key to this. This is especially true now that companies are making the step to the (multi)cloud. Fortunately, Juniper Networks has not yet forgotten its traditional technological background. This became clear during our visit to the Juniper NXTWORK EMEA 2019 conference.
For companies and service providers, networking is no longer only relevant for connectivity and capacity within their own IT environments or data centers. Nowadays, connectivity to the various (multi)cloud environments for their data, workloads and applications is often at the top of their wish list.
It should not matter where all data, workloads and applications are located. At the edge, within campus and industry environments, in on-premise data centers and especially in the various private, hybrid and public cloud environments; the multicloud. This is how companies can get the most value out of data and applications, innovate and grow.
This step makes it important that network suppliers adapt to this, says CEO Rami Rahim of Juniper Networks. For network vendors, it means that they no longer have to focus exclusively on delivering and building better networks, but rather ensure that networks improve themselves. Preferably fully automated.
Strategy
Juniper Networks wants to help its customers as much as possible with this. First and foremost, to let customers develop that fully automated and efficient cloud data center. The company believes that the data center is the heart from which all future cloud services will be delivered.
Juniper Networks also wants to bring these cloud services closer to end users. Especially for the development of the so-called 'edge cloud'. All cloud services and the underlying 'pools' of compute, storage, tools, applications and services must be available even better, at the edge of the network.
Ultimately, Juniper Networks wants companies to be able to use the full potential of the (multi-)cloud and all associated tools and services. In short, the 'cloud driven enterprise'.
Software-defined networking important
The step to software-defined networking is, therefore, important. Software-defined networking, such as SD-WAN, ensures that networks for those required (multi)cloud environments are abstracted, programmable and above all automated. This is coupled with good visibility, clear insights into how the network behaves and automation to perform all management tasks without too much human intervention. Especially the latter is extremely important, according to Juniper Networks. The step to the (multi)cloud brings with it a lot of complexity and this needs to be simplified.
Self-driving network
Ultimately, this should result in a self-driving network (SDN). This network consists of a combination of telemetry, workflow automation, DevOps and AI in the form of machine learning. As a result, networks become responsive, adapt automatically and can act in a predictive manner. These networks can configure themselves, monitor, analyse and optimise themselves.
With these fully automated networks, companies can work much faster and easier towards a cloud driven enterprise. For them, SDNs improve flexibility, generate cost savings and ultimately accelerate development and deployment processes.
AI-Driven Network basis of SDN
For Juniper Networks, the deployment of AI is an important step towards realising the ultimate 'self healing' SDN of the future. According to Juniper Networks, AI will have an extremely large impact on future business; even more impact than the Industrial Revolution, says Rahim.
According to Juniper Networks, AI has a lot of influence on the development of SDNs. For all activities that these networks will perform fully automatically, AI will collect the necessary data from all IT environments and systems that make up the network within companies, learn from this data and ultimately enable automatic action based on this information. The 'AI-Driven network' is actually the core of what the SDN consists of.
Mist
For Juniper Networks, the AI-Driven network is concretely the implementation of the technology of the acquired specialist in the field of cloud-based wireless WLAN applications and solutions, Mist.
With this technology, AI is deployed as standard on the basis of machine learning. The technology collects metadata from the entire network, analyses it and makes decisions accordingly. Based on these decisions the technology not only adapts the rollout of the entire network, but also the operational activities and improves them automatically, Mist founder and CEO Sujai Hajela says.
Also for 'wired' portfolio
Initially, this technology was only used for Mist's wireless wifi portfolio. Recently, the technology has also been made suitable, via the Wired Assurance Service, for Juniper Networks' wired portfolio; the routers, switches and firewalls. The Wired Assurance Service offers customers automated processes and service level management.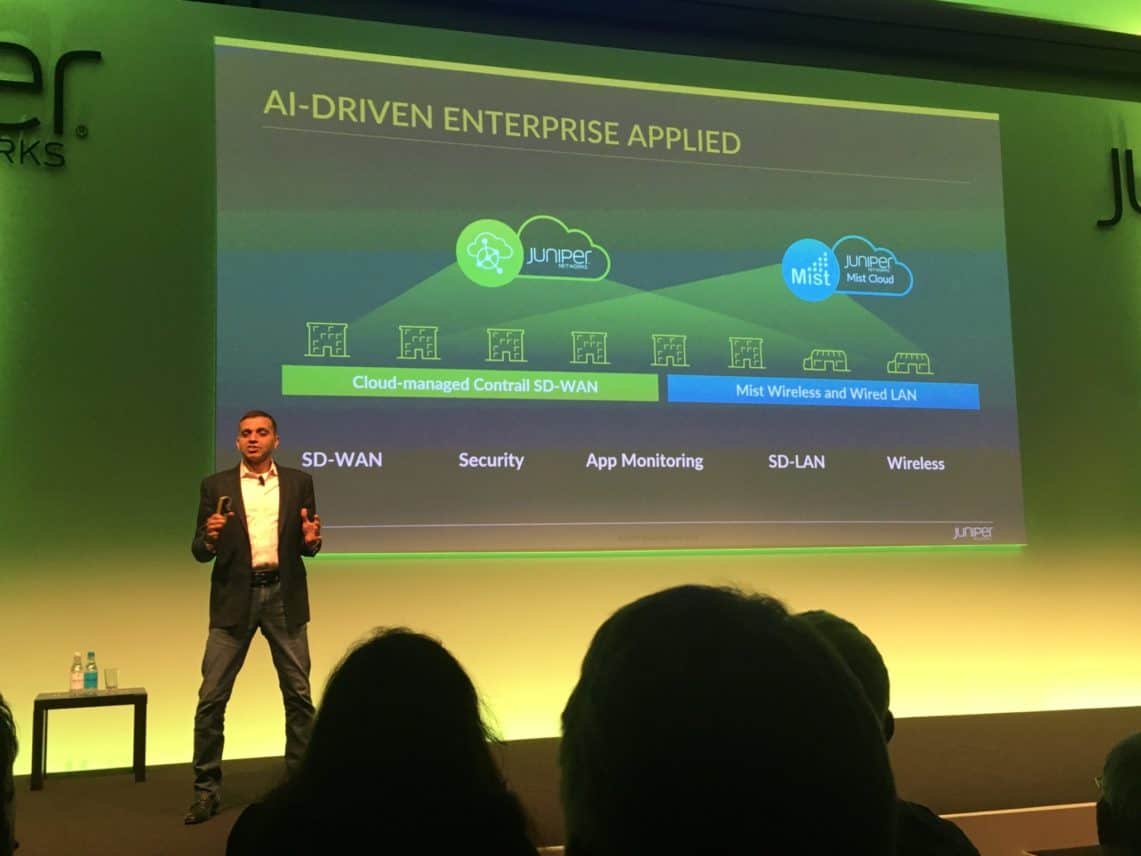 Marvis Actions
AI, based on machine learning, is deployed via the virtual intelligent assistant Marvis. Marvis is also part of the Mist technology. Marvis was developed for the wireless portfolio, but the real added value of the AI solution is certainly visible on the wired side.
With Marvis Actions, the virtual intelligent assistant automatically discovers the cause of Juniper routers and switches within the network. Marvis then tries to solve these problems. The virtual smart assistant provides administrators with a set of recommended actions, among other things.
Metadata
The Marvis Assistant extracts the information for these recommended actions from the insight it has developed using the AI engine. It collects the necessary metadata, completely anonymised from customers' network applications. Based on this data, Marvis arrives at its insights and recommendations.
Automatic troubleshoots
Also, Marvis can solve these found problems entirely automatically according to their 'own' insight, without human intervention. This not only speeds up problem-solving, but of course also prevents possible errors due to human intervention.
Automatic troubleshooting is now only possible for Juniper Networks' own routers and switches. The Mist technology is now fully optimised for Juniper's own core OS Junos. This makes it even easier to collect the necessary metadata and perform actions.
In the near future, the AI technology will also be rolled out to Juniper Networks' industry SD-WAN solutions and security applications. Soon the metadata of Mist will be combined with all security soft- and hardware of the supplier. Think, in particular, of the Sky Advanced Threat Prevention (ATP) technology and the application Contrail Service Orchestration (CSO). In this way customers really get a complete 'end-to-end experience' that optimises their networks fully automatically for the AI-Driven Enterprise, says Haleja.
Usable for other vendors
The Mist technology is also suitable for network equipment from other manufacturers. Think of network equipment such as routers and switches from Cisco and Arista Networks. This is all in keeping with the 'open' strategy Juniper Networks claims to pursue. However, the automatic solving of found problems, as indicated above, is not (yet) possible for this interoperability with third party equipment applications.
Expansion of Contrail software portfolio
Juniper Networks' strategy is therefore to make its network applications and solutions serve primarily to optimise businesses, and, above all, to make them automatic. In addition to the aforementioned Mist technology, this also includes the software-defining Contrail Enterprise Multicloud Suite.
Extensions have also been made for this, so that customers have a 'single pane of glass' for all development, orchestration, management and insight of data, applications and workloads for the multicloud.
The expansion includes Contrail Insights. This tool provides complete overviews of customers' data center infrastructure, from the overlay and underlay networks to physical and virtual servers and, of course, all associated workloads.
The solution uses machine learning to collect and process real-time data as well as historical telemetry data. This smart information in turn provides recommendations for the underlying infrastructure.
Other Contrail developments
Juniper Networks has also extended its Contrail SD-WAN solution with SD-LAN functionality for branch offices. Also, a container orchestration platform based on Kubernetes was recently announced. With this, Juniper Networks follows other (network) infrastructure suppliers.
For whom is this portfolio suitable?
Juniper Networks now has a complete portfolio of AI-Driven applications and solutions that should accelerate the step to the SDN. According to CEO Rami Rahim, the introduction of the Mist portfolio has led to more and more large business companies embracing Juniper Networks' technology.
For Juniper Networks, these companies are a welcome addition to the current focus on Tier 2 service providers, such as telecom companies, cloud providers and Managed Service Providers (MSPs). Parties that provide services to third parties.
Melchior Aelmans, Lead Engineer Cloud Providers at Juniper Networks Netherlands, indicates that the Tier 2 service provider segment remains extremely important to Juniper Networks. The scale and type of services provided by these specific providers make it possible to collaborate at a technical level on innovative applications and solutions for end customers. Real use cases are being developed.
Segment routing
For Tier 2 service and cloud providers, Juniper Networks is now developing technology and standards for segment routing. Instead of the current MPLS connections, with all the additional latency, segment routing allows the servers at the service providers themselves to determine the quickest route for traffic to the individual end users. Among other things, this improves latency. Segment routing is, therefore, very suitable for the increasing streaming of audio and video, and soon also for (streaming) gaming services.
Exciting combination between new and old
Juniper Networks is busy perfecting its holy grail, the self driving network. Something which, of course, is also seen by many other providers as the ultimate goal.
The fact that it focuses on the deployment of AI – the smart technology of the acquired Mist for the entire spectrum of wireless and wired connections – is exciting. Juniper Networks is already capable of automatically detecting, interpreting and solving problems using this technology with the help of a virtual assistant.
As a driver of the self driving or autonomous network, AI has gradually become a standard for network infrastructure providers. Yet Juniper Networks' AI technology seems to anticipate this. Other vendors' AI technology detects and interprets problems, but does not yet automatically resolve them. Mist technology does.
Juniper Networks also invests in hardcore network technology and solutions. Think, for example, of continuing to deliver new network and security hardware and software, increasing throughput to 400 GbE and developing technology as a routing segment.
The combination of modern and constantly evolving applications and solutions with old school network technology, keeps things interesting at Juniper Networks. We will keep an eye on future developments.